MICHAEL Gibbons remembers listening to the voicemail. And then deleting it.
It was a Thursday afternoon, just before Christmas. Gibbons, having risen at 6am to begin another day of laying carpet, was preparing to drive straight to Williamstown for another night of gruelling pre-season training.
On most nights like these, he wouldn't be home before 9pm.
Much to his surprise, Gibbons has played every game for the Blues this season.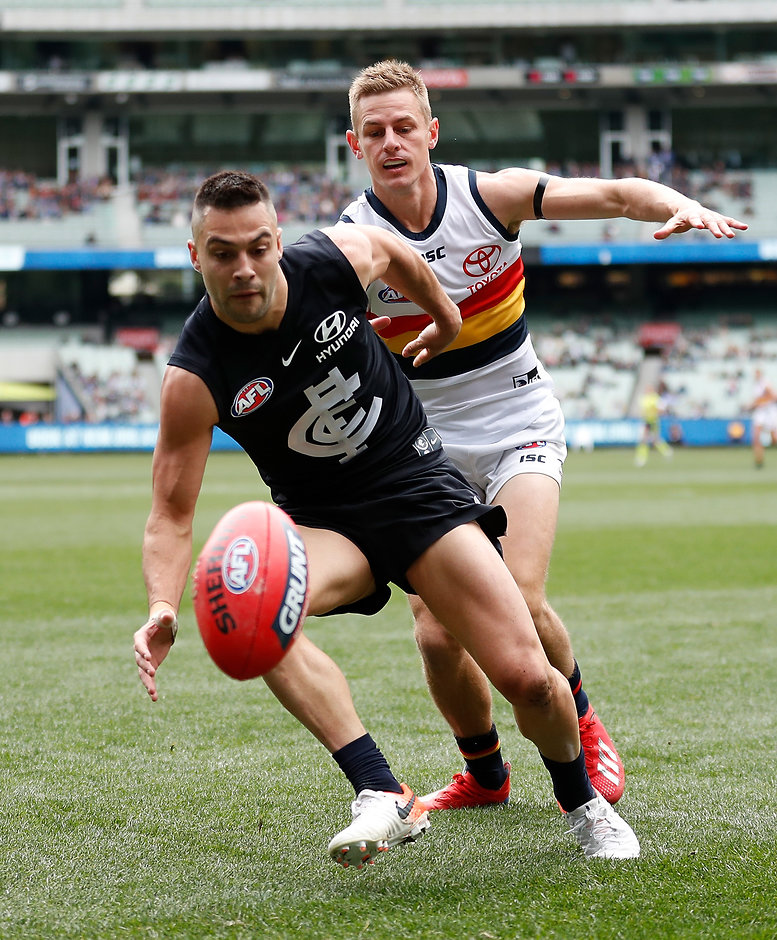 A couple of months had passed since he once again went through an emotional NAB AFL Draft night – his sixth in a row – without hearing his name called by a club.
The thought of giving up on his AFL dream had passed through his mind so often, that when Carlton list manager Mick Agresta left his name and number and told Gibbons to call him back immediately, he instantly dismissed it as a practical joke from a friend.
"I listened to the voicemail and I thought it was one of my mates taking the piss out of me, so I didn't even respond to it," Gibbons tells AFL.com.au.

"Then the same number rang me again and I didn't answer again. I just thought, 'I'm not dealing with this'. But then 'Nudge' (Gibbons' manager Nigel Carmody) rang me and said, 'Gibbo I think you better pick up the phone'."
Agresta was calling after Carlton's co-captain Sam Docherty went down with a second successive ACL injury that would ultimately rule him out for the entire 2019 campaign.
It opened up a spot on the Blues' list, and Agresta was offering Gibbons the chance to train with the club during the summer in the hope of earning a rookie deal via the newly introduced pre-season Supplemental Selection Period (SSP) rules.
It meant he would have to quit his job laying carpet, while deferring his business management degree at university, for something that was by no means a sure-thing.
In action for Williamstown in the VFL last season.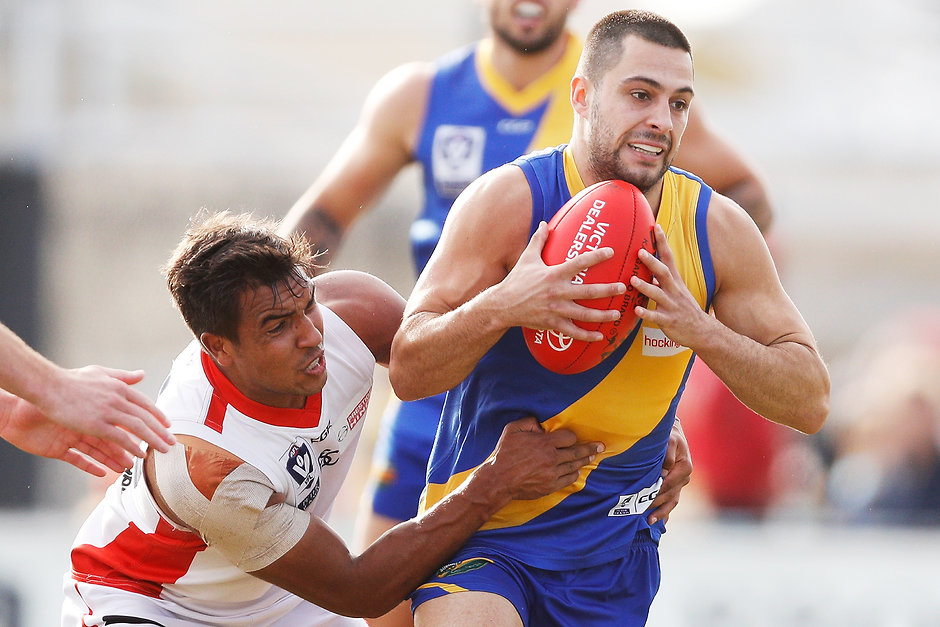 That in itself was a huge sacrifice and risk for someone who had come so close to realising his AFL dream countless times before, only to miss out on each occasion.
"I had to put my whole life on hold," Gibbons says.
"But when they rang, straightaway I said, '100 per cent I'll do it'.
"I was still pretty broken from missing out at the draft. I didn't want to put myself through that all again one more time, but to be fair this was the best opportunity I'd had – to train with a group of AFL players.
"I quickly spoke with my old man, I spoke with my manager and we said, 'let's do it'.
"I basically walked off the job, but my boss was great with it. He told me to put all of my eggs in this basket and go for it and it's all worked out from there."
Gibbons' scepticism when hearing Agresta's voicemail was well founded. He hadn't spoken to the Blues at all throughout the most recent draft process and was unaware of their interest.
But, eventually, Carlton became the side to finally pounce on the two-time JJ Liston Trophy winner and the player widely regarded as the best footballer outside the AFL.
Carlton finally pounced on the two-time JJ Liston Trophy winner in the SSP.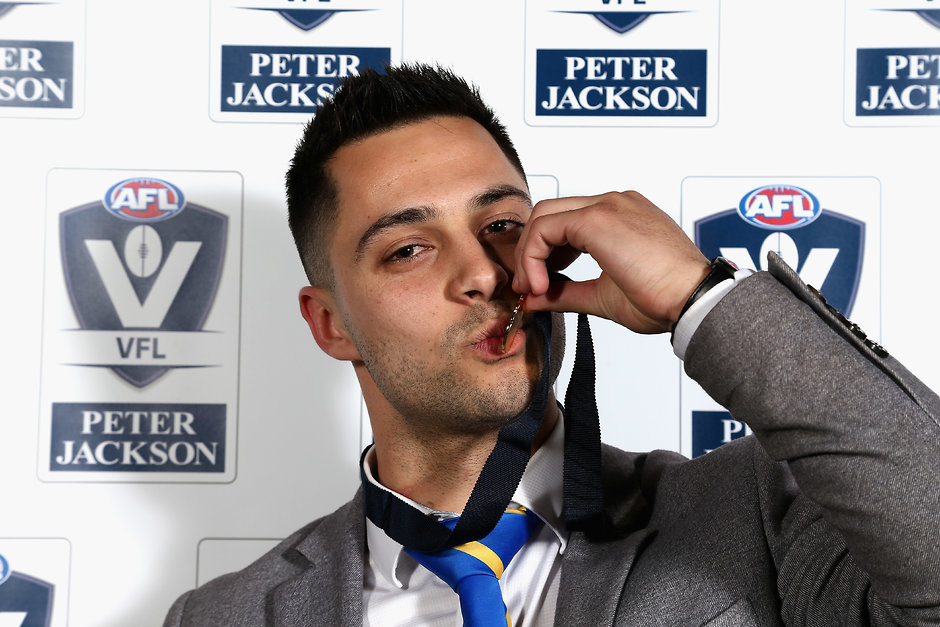 Not that he wasn't made to wait. And wait. And wait.
First draft eligible alongside his now captain and good friend Patrick Cripps in 2013, Gibbons was forced to take the long road to finally claim his spot on an AFL list.
Having dominated through his prolific ball-winning abilities for five straight seasons in the VFL with Williamstown, the diminutive 175cm midfielder could hardly have done more to earn his chance.
But having been left heartbroken so many times before, Gibbons concedes each successive snubbing made him lose more and more faith that his opportunity would come.
"Last year was probably the toughest one," Gibbons says.
FULL FIXTURE Every round, every game
"I thought I got myself into a pretty good position over the last few years, where I didn't think footy was the be-all and end-all in terms of getting picked up. I had to, because after the first two or three years I was really disappointed by it.
"But last year, I had a lot of interest from a couple of interstate clubs. I wasn't told I was going or anything, but from all indications I was pretty confident. When I missed out, I had a couple of mates around at my joint and it was pretty devastating."
Gibbons built resilience during his time in the VFL through setting himself goals. His aim at Williamstown this season was to reach his 100-game milestone.
Blues players congratulate Gibbons after a goal in the JLT Series.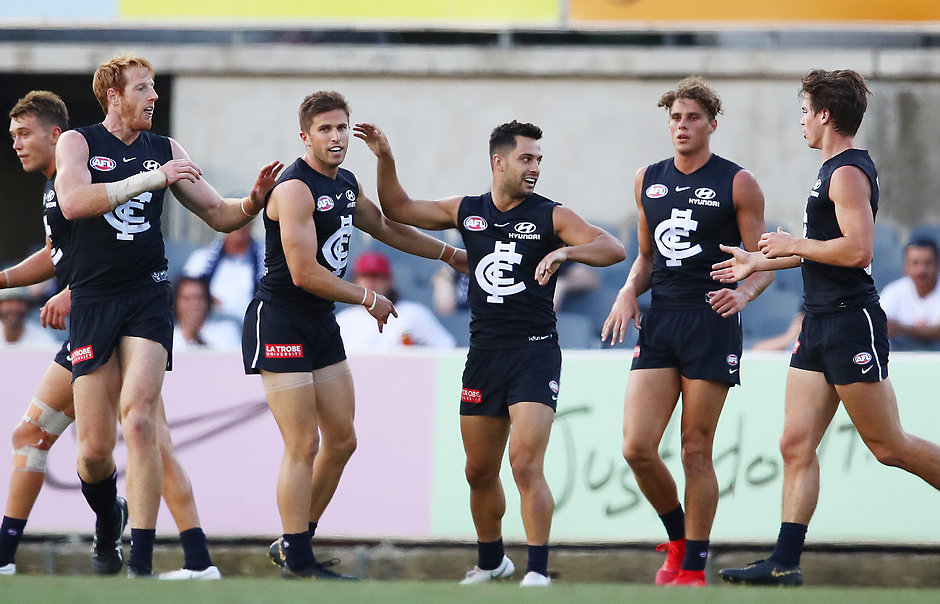 That didn't change once he arrived at Ikon Park.
His first goal, as a member of the training squad, was to get himself on an AFL list. He ticked that off in February, when he was told of his rookie elevation at the club's pre-season camp in Mooloolaba.
Being put through his paces during the pre-season training camp in Queensland.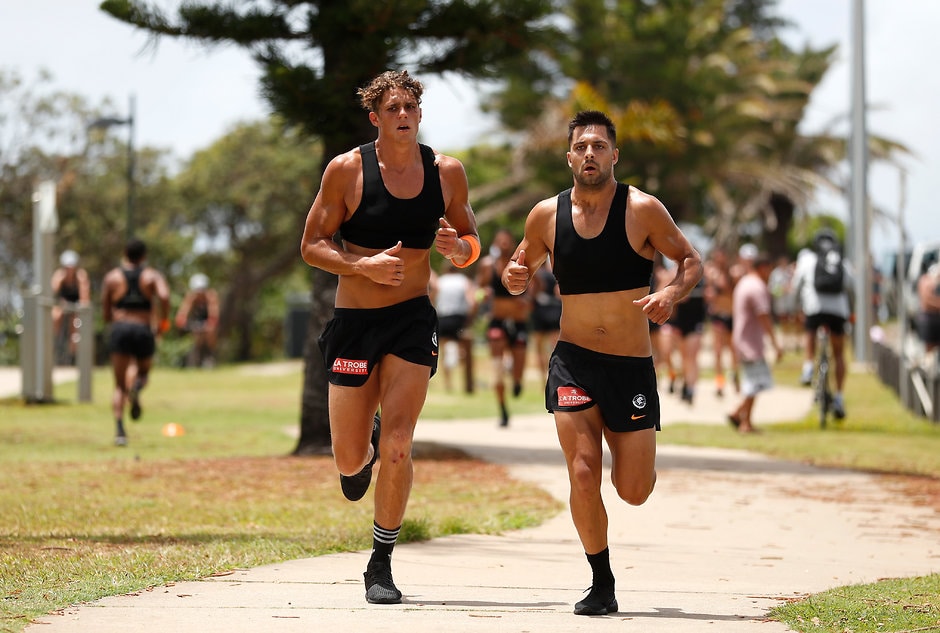 His next goal, devised during a chat with former Carlton coach Brendon Bolton, was to play round one. That was ticked off in March, when he made his AFL debut at the MCG – in front of 85,016 people – in the club's blockbuster season opener against Richmond.
His final goal was to play 10 games in his maiden AFL season. He's played all 18 so far.
Overlooked in six drafts.
Two JJ Liston Medals.

Mick Gibbons' first goal was so sweet and his teammates loved it!#AFLDogsBlues pic.twitter.com/Jqq7gp8Rdr

— AFL (@AFL) April 21, 2019
But while the 24-year-old does admit he's exceeded his own expectations this year, he believes that the experience has been slightly different to what he thought it would be. He got a taste of that during his first day at the club, back before Christmas.
"We went over and did the hill runs at the zoo and I nearly died," Gibbons laughs.
"You have a feeling about AFL players, thinking they train hard in pre-season but then they're home by 4pm every day. But I remember my first week here, I was absolutely rat shit.
"We did a massive session on the Friday – it was one of the biggest sessions I've done – then we went to the gym, then you train, then you go and do your meetings. I was absolutely knackered by the time I got home at 5.30pm.

"My mate came around that night to have a feed and I fell asleep on the couch by 8pm. He had to let himself out."
While the adjustment took Gibbons some time to get used to, he now looks at home at AFL level.
He has locked down a niche role in Carlton's forward line, swinging through the midfield at certain stages during games, and has seen his output improve with each week as a result.
Desperation and feverish persistence finally pays off for Carlton.#AFLBluesLions pic.twitter.com/Ss4pq3ObXg

— AFL (@AFL) June 8, 2019
He's averaged 17.4 disposals, three clearances and a goal per game in the seven matches since caretaker coach David Teague took the reins, influencing more contests with his smarts around the ball.
And it's not just on the field where Gibbons has looked more comfortable. The players, some members of the coaching group – and Gibbons himself – will tell you he's one of the biggest "smart arses" at the club.
But that has also made him one of the most endearing and loved members of the team already.
Find AFL Exchange on Apple Podcasts, Google Podcasts and Spotify.
Now, that highly respected figure has just one more goal to tick off – a long and successful career in the navy blue.
"It's definitely strange, being an SSP signing," Gibbons says.
"There are times that I realise I'm only contracted until October. But we'll wait and see what happens there. I'm doing everything I can at the moment, in terms of my footy and playing my role, and it feels like they're happy with how I'm going.
"Eventually, I'd hope to have an eight- or nine-year career here. That's the main goal now."