I come from Pingelly, a small town in the Western Australian Wheatbelt. I lived on the reserve there until I was about eight. My parents were my biggest fans, but they showed their support differently.
My old man would drop me at the five mile outside of town and get me to run behind the car. I'd get pretty annoyed with him because we'd been working all day. The last thing I wanted was to be running home. But he was teaching me about discipline and dedication. He took footy seriously. If I played badly he would give me the silent treatment for days.
Mum on the other hand had the soft touch. She'd cry every time I played. You have never seen anyone go through a box of tissues like her. Best cook going, my Mum. If I could have anyone at the launch of the statue in Perth on Saturday it would be them. I miss them so much it hurts.
Winmar's iconic pose standing up to racism will be turned into a bronze statue.
As a kid growing up in town, the best show on TV was The Winners. We never missed it. I was a Kangaroos supporter so Keith Greig and Malcolm Blight were stars to me. We'd give our backyards nicknames like the MCG or Waverley. We'd get the hose and turn it into a big muddy patch because that's what those grounds looked like. We used a bench seat from an old EK Holden to do high jumping. Looking back, it was the best training.
I tried a bit of cricket, but I was terrified of the balls whizzing past my head. As a swimmer I made a good rock. I played a bit of basketball also but footy was my game. When I was 15 I played seniors and won the fairest and best with the Pingelly Panthers. That's where it all started.
It's been a fair old journey that I have had. Going to Perth to play with South Fremantle was hard. All I wanted to do was go home. I stuck at it and was rewarded playing alongside a legend, Stephen Michael. Moving to the other side of the country I remember going to Moorabbin and looking at the cages around the players' race. I'd never seen anything like it. But when the Saints won, which wasn't often, the crowd were so happy and determined to get to their favourite players it was tough to get back to the changerooms - it helped a bit to have those cages in place.
Winmar in action for the Saints in the 1997 preliminary final against North Melbourne.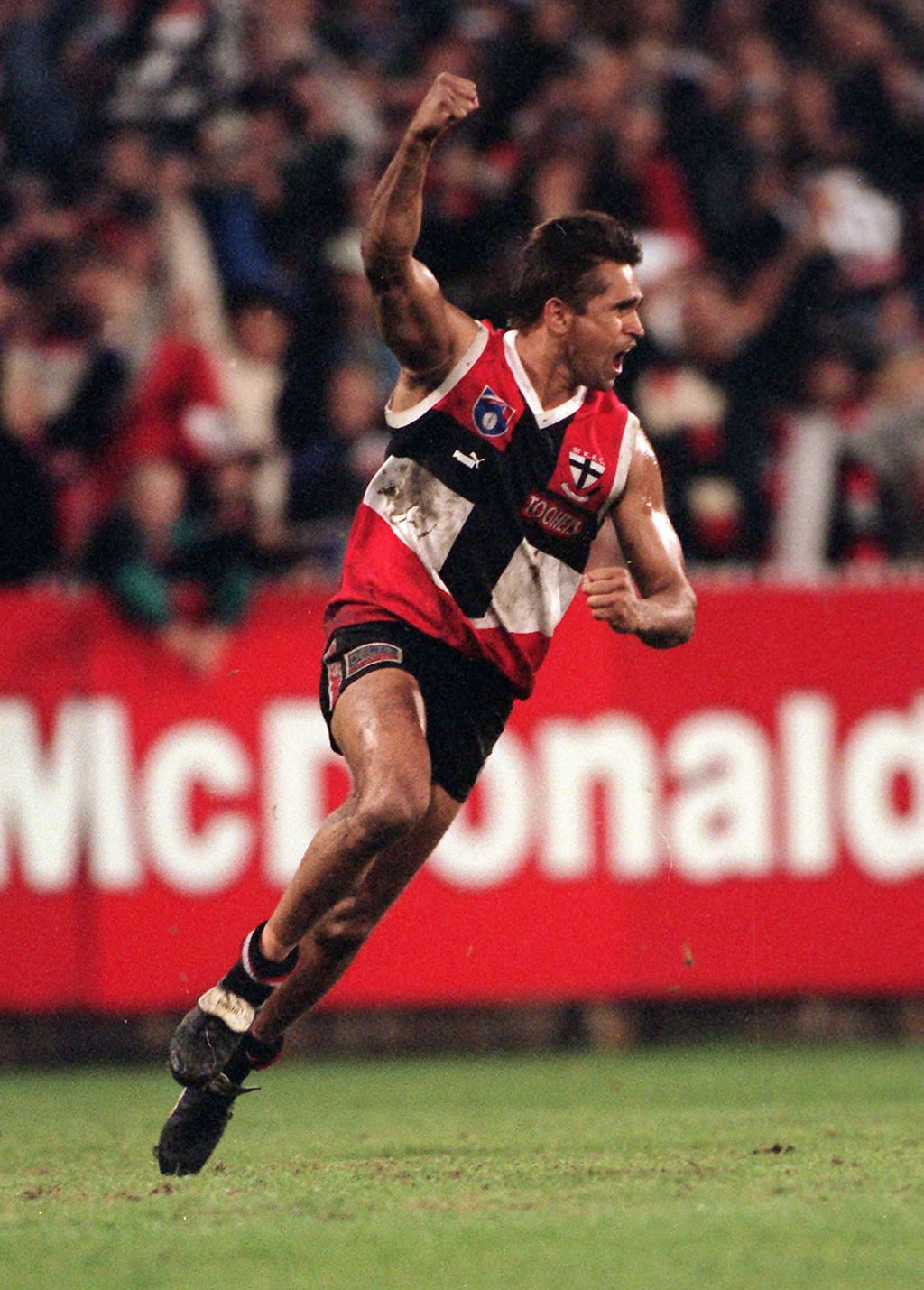 In my first year this guy comes up and says, 'G'day, I'm Tony Lockett'. That year he won the Brownlow Medal. The first game I played at Waverley I ran out onto the field and here's these guys, Tim Watson, Paul Van Der Haar, Billy Duckworth.
I played 251 games, the first Aboriginal player to play 200. That makes my Nyoongar mob proud. I'm also proud I stood up on the day at Victoria Park and after we had beaten the Pies, the sound coming from the supporters was like nothing I'd ever heard. It scared me, and I don't jump at shadows easily. All I wanted from them was respect for what I was trying to do. It was a tough day.
These days I'm stopped in the street everywhere I go. People want to talk about the photo. Some days it's great and I'm up for the chat. Other days it's difficult. If I'm a bit down or I have seen something like the treatment of Adam Goodes or Eddie Betts, I just don't want to do much talking at all. But then my old man's voice comes into my head. "C'mon, get up" he tells me and it's like I'm running behind the car again, heading back to Mum's cooking and home.