"Gold Coast will win its first flag around 2014 (or) '15, and then between them and GWS they will win the next 10" – Adelaide's then-national recruiting manager Matt Rendell, circa 2010.
RICHMOND'S second premiership in three years on Saturday, at Greater Western Sydney's expense, doubles as this squad's application for dynasty status.
GRAND FINAL MATCH REPORT Orange crushed as Tigers roar again
Maybe they need at least one more, but this was a conversation starter.
Losing this Grand Final, after last year's shock preliminary final defeat to Collingwood as the hot premiership favourite, would have been oh so #Richmondy.
The Tigers timed their run perfectly to snare a second flag in three seasons. Picture: AFL Photos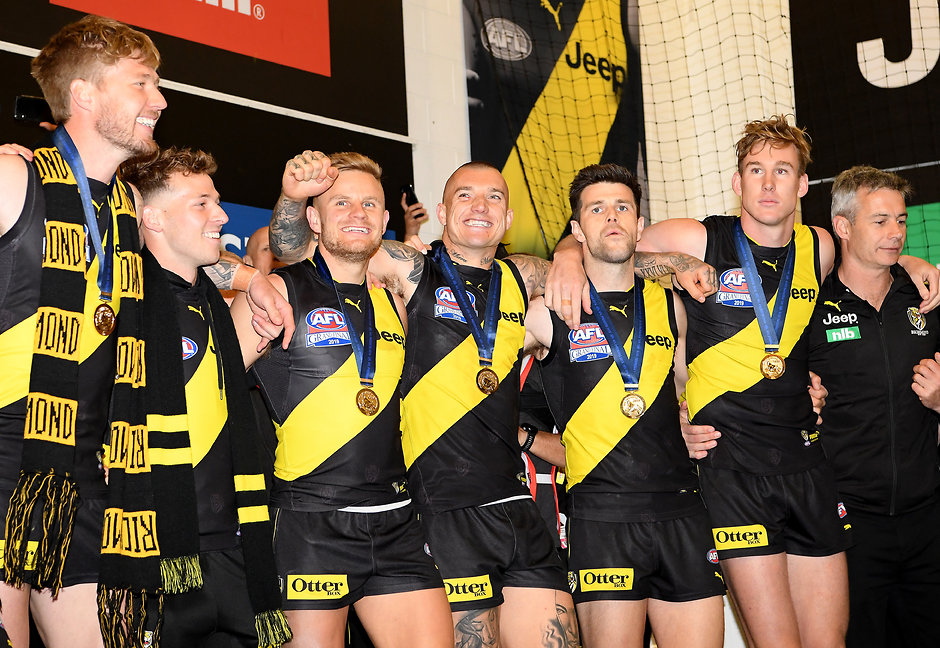 Especially after pulling off the mother of all recruiting coups in the off-season, in convincing free agent power forward Tom Lynch to become a Tiger rather than a Hawk or Pie.
Instead, Richmond comfortably upended one of the clubs Rendell – and many others, it must be added – tagged for long-term domination because of their generous draft concessions.
Meanwhile, the other of those clubs, Gold Coast, claimed the wooden spoon for the first time this year.
DUSTY'S DOUBLE Martin joins an elite Norm Smith group
Damien Hardwick's men also achieved this latest feat in a season widely considered the most even of all-time as the AFL's equality measures kick in.
They were drought-breakers in 2017 but now the rains are 'ere, as the Tigers eye more premiership glory. So how did they do it?
It's a question with many answers but among them, particularly this year, was a determination to do things their way and to let no hurdle prove too much.
When the steady stream of injuries that threatened to derail Richmond's 2019 flag bid finally relented, the external advice was for Hardwick to gradually ease his stars back.
The Tigers' response, post the bye, was to bring in seven players at once: David Astbury, Kane Lambert, Shai Bolton, Shane Edwards, Trent Cotchin, Jayden Short and Ivan Soldo.
Damien Hardwick kept the faith, and another flag was just reward. Picture: AFL Photos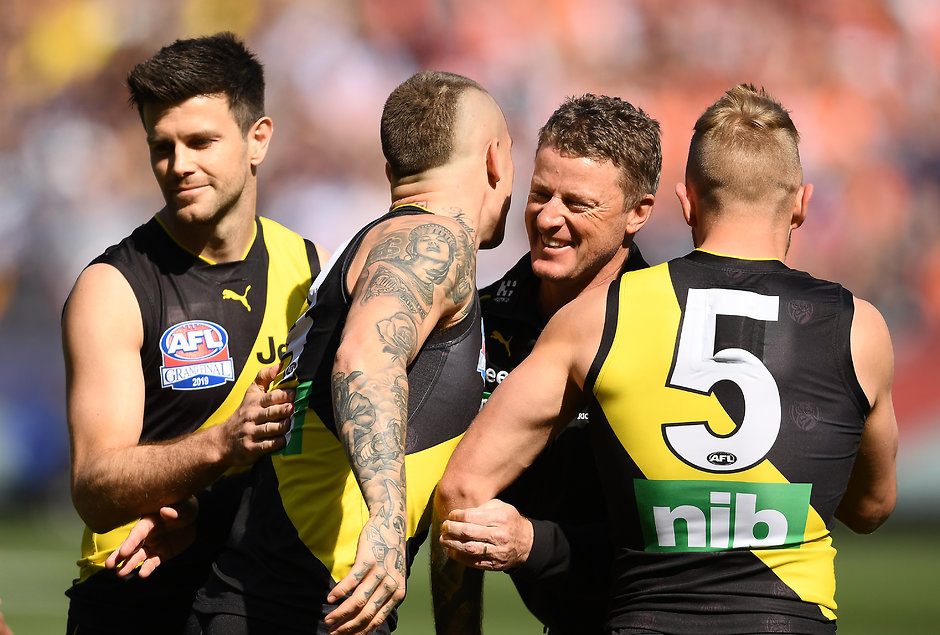 "I'm not too sure what Dimma's logic was, but he had belief in us," Short told AFL.com.au after the Grand Final.
"Obviously, he trusted us that we could come back and it would take some time to jell, but I think getting us back in together formed a bit of a jell for us.
"It was a bold move from him, and I was very appreciative that he gave me the opportunity to come in, and to play today is awesome."
WHO TORE IT APART? Every Tiger rated from their record Grand Final win
Richmond never lost again, yet remained versatile, if not exploratory, at the selection table.
The ruck was supposed to be a problem this year, too, with the AFL introducing the 6-6-6 rule that further opened space at centre bounces.
Some even suggested the new starting positions could be the Tigers' Kryptonite, or that it might at least force them to adapt.
However, Hardwick insisted modern football was a turnover game, and cheekily suggested on season eve he might again use 'premiership ruckman' Shaun Grigg in the middle once he was fit again.
Grigg never did recover, and his mid-season retirement created a list spot that we'll get to later.
There was eventually a switch of philosophy, in that Richmond started playing two ruckmen rather than one, even with Toby Nankervis sidelined for most of the season.
In came Soldo and Mabior Chol, who had a combined nine games between them before the year began.
Then, when 'Nank' returned from his adductor injury, the consensus was he would eventually reclaim his mantle as the Tigers' No.1 big man, with the athletic Chol as his deputy.
That wasn't Hardwick's plan.
Soldo, the cousin of former cult hero Ivan Maric and a late football convert from basketball, stayed on as the main ruckman, with Nankervis no more than splitting the duties.
THE ODD COUPLE Twin towers instrumental in GF win
Then there was five-time All Australian defender Alex Rance's season-mashing right knee injury in round one.
That was supposed to be crippling for Richmond's defence, but Rance's backline brothers coped just fine.
Dylan Grimes took his All Australian spot and David Astbury, Nathan Broad, Nick Vlastuin and co. held up beautifully.
The Tigers also abandoned in early August any thought of Rance returning this year, removing that distraction and again being firm with selection.
10 THINGS WE LEARNED The Grand Final gamble that backfired
The final curveball came in last week's preliminary final, when Jack Graham – one of the best stories from the 2017 triumph – dislocated his right shoulder to immediately put himself in doubt.
Graham's situation didn't linger for long, with Richmond ruling him out by Tuesday of Grand Final week.
As a precaution for that very scenario, the similarly rugged Jack Ross and one-time senior regular Kamdyn McIntosh were both kept out of the VFL Grand Final a few days earlier.
What wasn't necessarily factored in was a Marlion Pickett masterclass in that very VFL contest.
It was hard-hitting rookie sensation Sydney Stack who was touted as a potential inclusion, but the jungle drums were soon beating about Pickett.
One game, one flag: Marlion Pickett's remarkable debut was the icing on the Tigers' cake. Picture: AFL Photos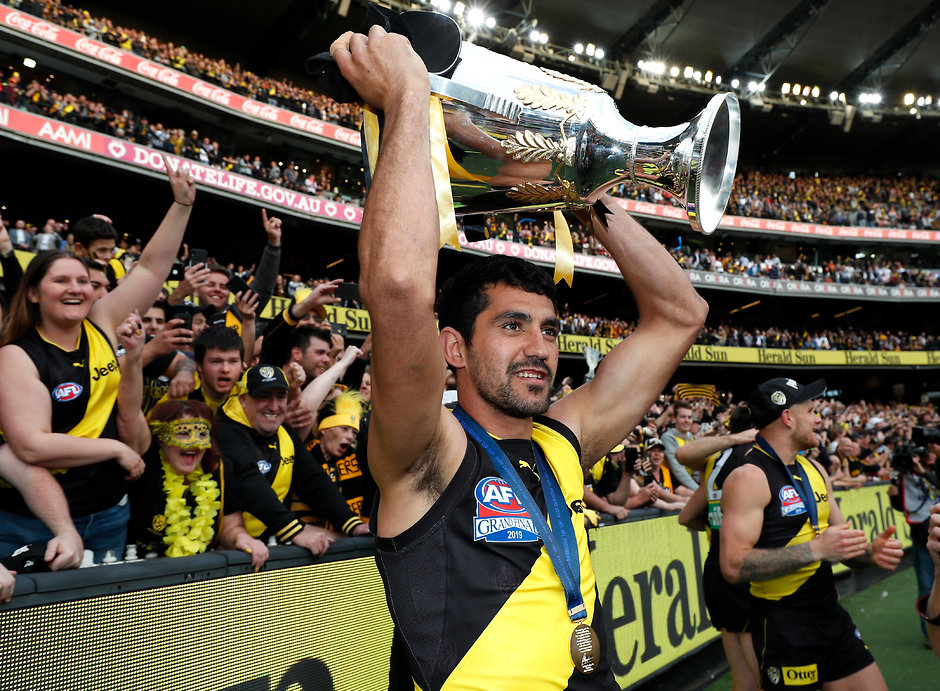 Pickett scored a belated AFL shot in the reincarnation of the mid-season draft this season, after the Tigers drafted the 27-year-old despite him re-breaking his finger the weekend before.
And it all happened only once Grigg's retirement enabled them to open up a list spot.
Pickett started in the rehabilitation group, immediately showed promise once he played, then accepted the Norm Goss Medal as the best player in the state league Grand Final.
His performance was so irresistible that Hardwick boldly made him the first player to debut in an AFL Grand Final for 67 years.
Pickett wound up being hugely instrumental in the match-winning second quarter, and deservedly finished third in Norm Smith medal voting.
THE MOMENT How the Tigers got their Hollywood ending
Richmond's preparedness to go where others won't is now a trend – and a huge reason why Hardwick's Tigers are creating the unlikeliest of dynasties.
They're strong, they're bold and they're a fighting fury that will take some serious stopping next year and beyond.