2019 INDUCTEES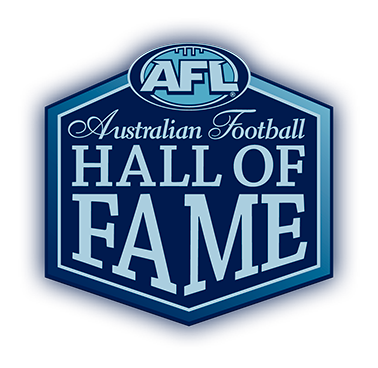 MICK MALTHOUSE
MICK Malthouse has taken his place in the Australian Football of Fame after a career that delivered one premiership as a player and three more as a coach.
Here Malthouse shares his thoughts on some of the pivotal moments throughout his record-breaking 718-game coaching career. He starts with the tactic borrowed from ice hockey tactic that was pivotal to Collingwood's 2010 premiership.
ROAR DEAL How the Tigers missed two chances to land master coach Mick Malthouse
I love watching other sports. Midway in 2007 we were going nowhere. Ice hockey intrigued me: how they can be coming on so fresh? They come off and then power on. [I thought] can we get a lift in intensity around the ball? I didn't think we had any A-graders in the middle, we had a lot of B-graders, more than most clubs. So could we knock over their A-graders and still have our B-graders when their C-graders come on? We increased our rotations from 44 to 100 so that got us into a strong position and we made the preliminary final that year. That was a lead-up to 2010. There's always a genesis and to me that's when it was."
I was disappointed [at the end at Collingwood] because it was a really good group of players and we probably had the potential to maybe pinch one or two more Grand Finals. You can't guarantee victories or premierships, but you can guarantee having an effort to achieve them, and that group was very dear to me. It was running well, confident, playing together and I thought we had a chance to get another one or two. But it wasn't the case and Nathan [Buckley] wanted to have a complete new start.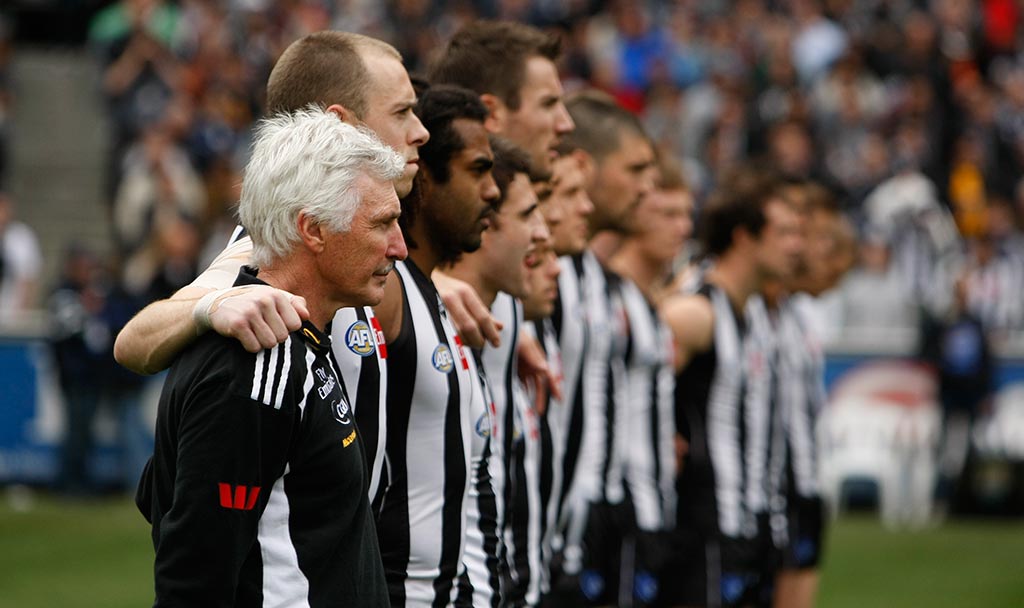 Contrary to what people want to say, I didn't leave Nathan Buckley high and dry at all. The idea was to have a coaches' director, but he didn't want me in the box, he didn't want me on the bench and he didn't want me talking to his coaches. So it's very hard to be coaching director if you can't have access to the coaches. I thought if that's the way he wants it – it was contrary to what we'd agreed to – I respect the coach and what he wants to do. You don't want to be encumbered by something you don't want, so it was best for me to leave.
I wanted to go to Richmond [after finishing at West Coast in 1999], but there was someone at Richmond I couldn't work with. (Collingwood president Eddie) McGuire had easily the best case because what he presented was about the future. I'm very much a windscreen person, not a rear-vision mirror person. You can look back too often. [McGuire] painted a picture of where he wanted the club to be. You've got to remember Collingwood was on the bottom, 16th, low membership, broke, totally on its knees playing at Victoria Park, when he said, 'This is what our vision is'. I would have loved to have coached Richmond, loved to have. But not while that person was there. And history is now that I coached at Collingwood for 12 years.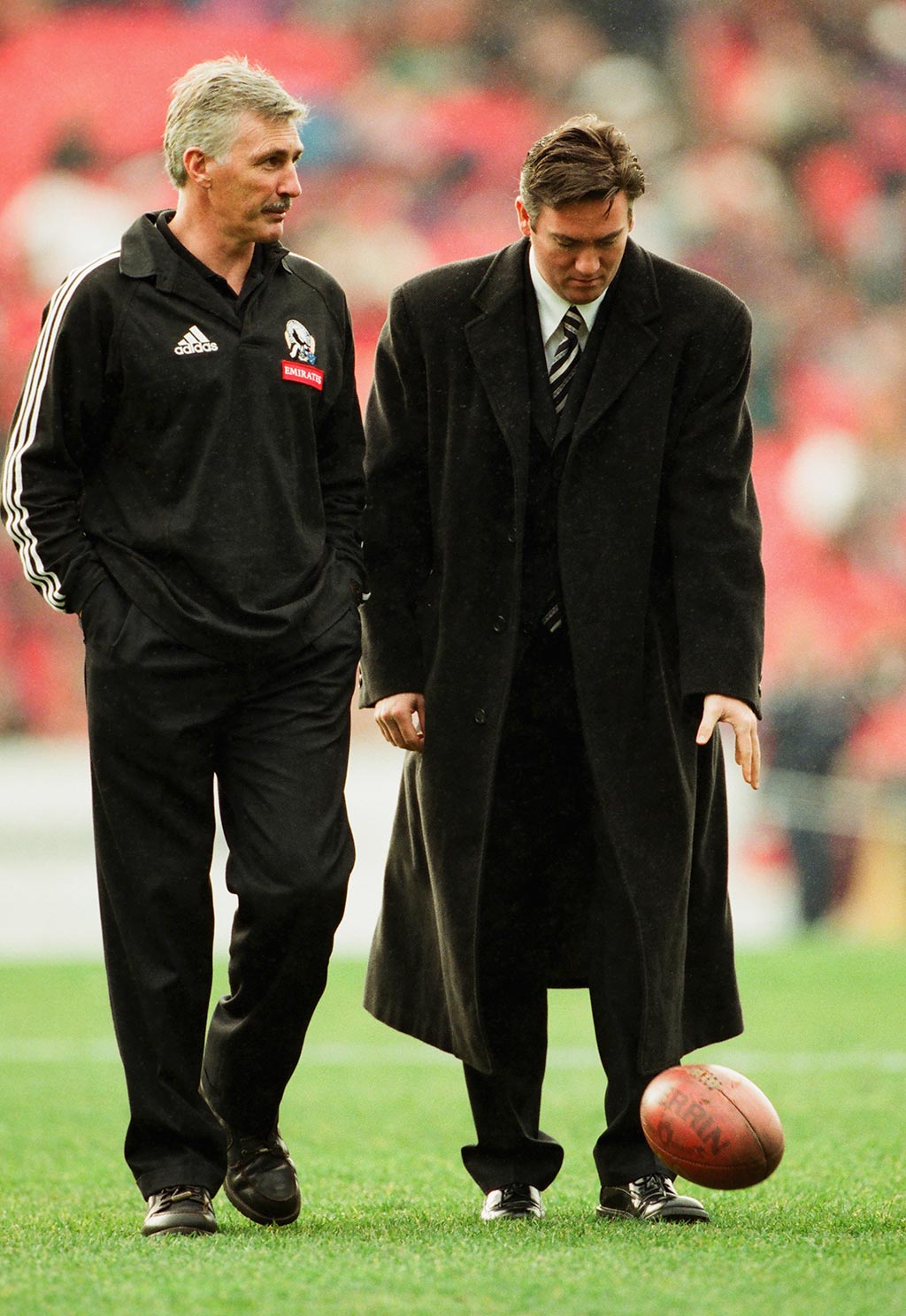 When I went to West Coast they had no money. Football was absolutely on its knees in Western Australia, including West Coast. It's a bit of a fallacy that it was always dominant. They were eight million in debt and hardly any membership. No home ground, no identity. Travelling in those days we would get three away games in a row. You couldn't have a home final or a pre-season game at home. It masks a lot of the dialogue that was coming from Victoria saying we had a state side and we had all this money. On the contrary we had absolutely nothing. You were like a pioneer. That's one of the things I liked about it.
You've got to know the players' personalities. One of the best things you can do as a football coach is to take yourself away from the club and put yourself in a different environment with players to see who can add what, and try to read the play a bit. I got on reasonably well with people and could read people pretty well. I found it pretty easy to work people out, whether they were genuine or not. Most players want to be good footballers. I'd like to think I gave them a good chance to be good footballers and a good member of our team.
The three best players he coached?
In no order, Glen Jakovich, Doug Hawkins and Dane Swan. I look at it as the best players when I was coaching [and not necessarily across their careers]. There's a lot of others: Buckley, Paul Licuria, James Clement, Dale Thomas, Anthony Rocca, Peter Matera, Dean Kemp, Chris Mainwaring, Guy McKenna, Peter Sumich, Chris Judd. People will say, 'Why don't you have Buckley first, and he won a Brownlow?', but he did his hamstring so I didn't have a lot of him [at his best].
Mick Malthouse – 2019 Australian Football Hall of Fame inductee

| | |
| --- | --- |
| Born | September 17, 1953 |
| Playing career | April 28, 1957 |
| Games played | 174 (53 for St Kilda, 121 for Richmond) |
| Player honours | VFL Premiership player (1980) |
| Coaching career | Footscray (1984-89), West Coast (1990-99), Collingwood (2000-11), Carlton (2013-15) |
| Games coached | 718 (135 for Footscray, 243 for West Coast, 286 for Collingwood, 54 for Carlton) |
| Coaching honours | Three-time AFL Premiership Coach (1992, 1994, 2010), Two-time All-Australian coach (1991, 2010), Australia coach for 4 games (2008, 2010) |
WHO'S IN THE HALL OF FAME? Find all the Legends and inductees