COLLINGWOOD captain Steph Chiocci is backing the club's culture after six star players left during the AFL Women's expansion and trade periods.
Forwards Jasmine Garner, Jess Duffin, Moana Hope and ruck Emma King moved to new club North Melbourne, forward Christina Bernardi is heading north to Greater Western Sydney, while inside midfielder Amelia Barden has crossed to arch-rival Carlton.
All six, as well as Caitlyn Edwards (who has retired to focus on her rugby career in Western Australia) finished in the top 10 of the club's best and fairest count this year.

AFLW U18: Allies teams enter the fray
By comparison, Melbourne also lost six players, the Western Bulldogs and Brisbane lost four each and Carlton lost two, but it was the calibre of Collingwood players moving that raised eyebrows.
"The way the landscape is in AFLW – and some of the general public didn't realise this was going to happen – clubs were going to lose players," Chiocci told AFL.com.au.
"I know Brisbane was pretty hard done by too, but I'm excited about the players we do have at our club. We retained all our draftees from 2017, we've got lots of picks in the upcoming draft to target some really talented youngsters.
"I'm really confident we're going to have girls who want to be at the club, buying into our culture and it'll be an inclusive and cohesive group."
Collingwood finished fifth and sixth in the two AFLW seasons so far, both years losing the first three games before breaking through in round four. The Magpies finished each season with three wins.
"We didn't start well again (this season), which unfortunately for us is a bit of a trend. We're the 'round four specialists'. It's something we'll reflect on and look to change…you can't afford to lose the first few rounds," Chiocci said.
"I'd say we under-performed, and we're not going to accept that. We've got to be better.
"We've had a few changes both in and out of our control, and I think we're going to go into season three in a much better position than the last two years."

Steph Chiocci with Mo Hope. Picture: AFL Photos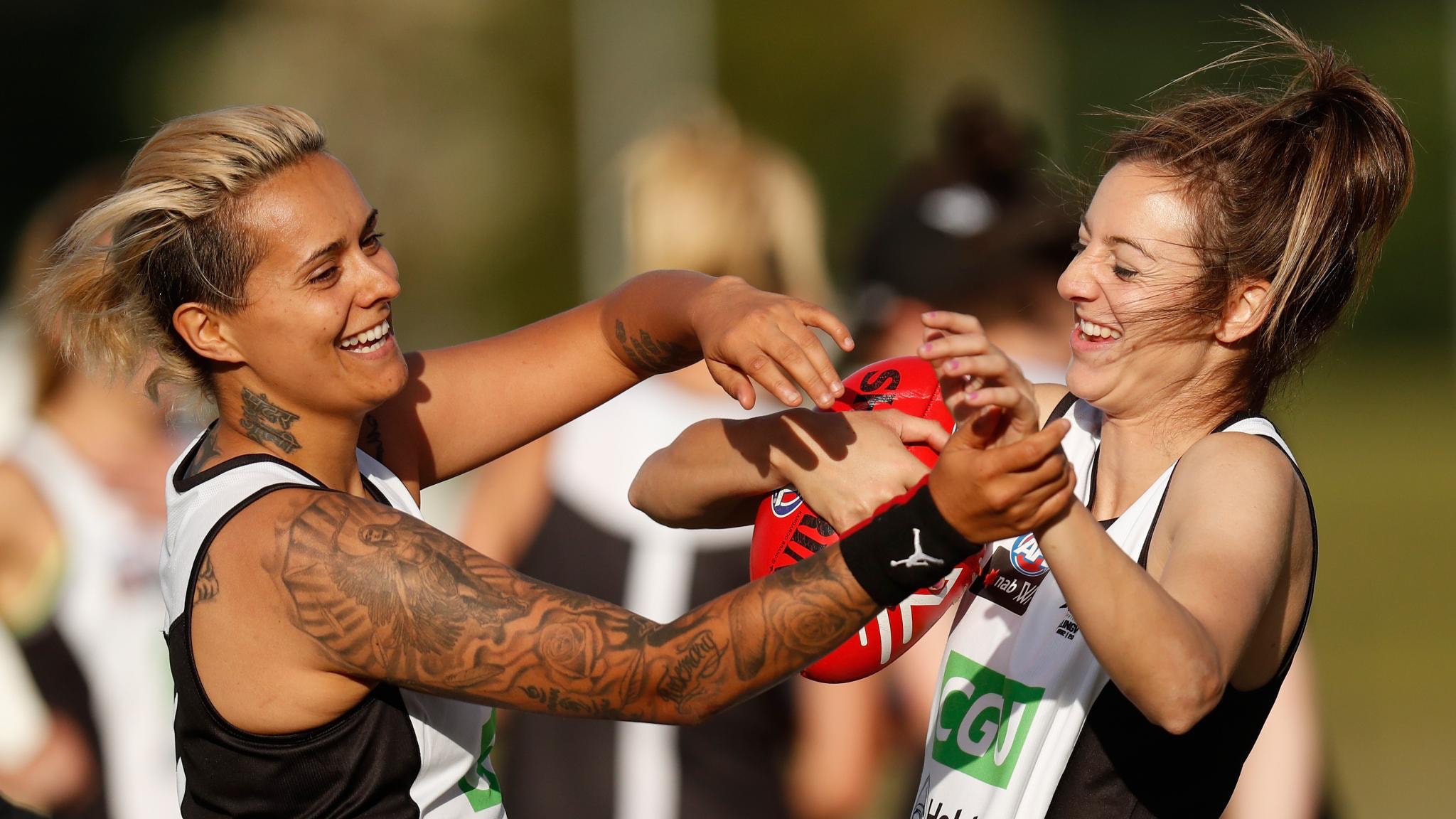 The club is putting plans in place to avoid falling for the same trap for a third consecutive season.
"If you asked me about year one, I would have said we over-complicated the game-plan, and where women's football was at. We tried to be technical.
"We thought we'd rectified that going into season two, but I think the way we were playing just wasn't where the game was at.
"So, we came into round four again, we had an honest conversation, we changed things up and we started moving the ball a bit differently to how we had in pre-season and we got results.
"Going into season three, we'll have a big chat as a club with coaches and players and get on the same page early. I have a feeling it'll be a shift from, 'This is the game plan, this is what you'll be doing', to a game plan where everyone has contributed to it."
Chiocci has not yet played for the Magpies in the VFLW season, as she is managing an Achilles issue. She is the midfield and bench coach while on the sidelines.
"It's just overuse from running for years and not having access to top physios and doctors.
"If it wasn't for the club and our strength and conditioning program and medical staff, there's no way I'd be in the position I am today.
"I'm not saying I'm old (Chiocci is 29), although I do feel it at times, but they (the medicos) have been phenomenal."
Collingwood is yet to appoint a new football operations manager, after Mathew James resigned during the trade and re-signing period with the aim of pursuing a career in player management.
"Matty's gone to pursue other opportunities and I think he's studying as well, so I was really happy for him.
"I know (performance and strategy manager) Marcus Wagner and (leadership and culture manager) Nick Maxwell have a lot to do with (the appointment).
"They did a really good job (through the trade period), considering we didn't have someone in that role."
COLLINGWOOD'S ROUND FOUR TEAM
(The Pies had their best win of the 2018 season, a 34-point upset of Melbourne in Alice Springs)
B: Emma Grant, Ruby Schleicher, Iilish Ross
HB: Chloe Molloy, Cecilia McIntosh, Melissa Kuys
C: Amelia Barden
HF: Sarah D'Arcy, Jasmine Garner, Steph Chiocci
F: Meg Hutchins, Moana Hope, Christina Bernardi
R: Emma King, Jaimee Lambert, Brittany Bonnici
I/C: Holly Whitford, Sarah Dargan, Lauren Tesoriero, Jess Duffin, Caitlyn Edwards
Players in bold are no longer with the club. Six moved to other clubs; Bree White and Caitlyn Edwards retired, while Morgan, Tesoriero and Hutchins were delisted.
Stacey Livingstone (shoulder), Ashleigh Brazill (quad) and Darcy Guttridge (collarbone) are in the club's best 21 but were injured at the time.

The Magpies celebrate after downing Melbourne in Alice Springs. Picture: AFL Photos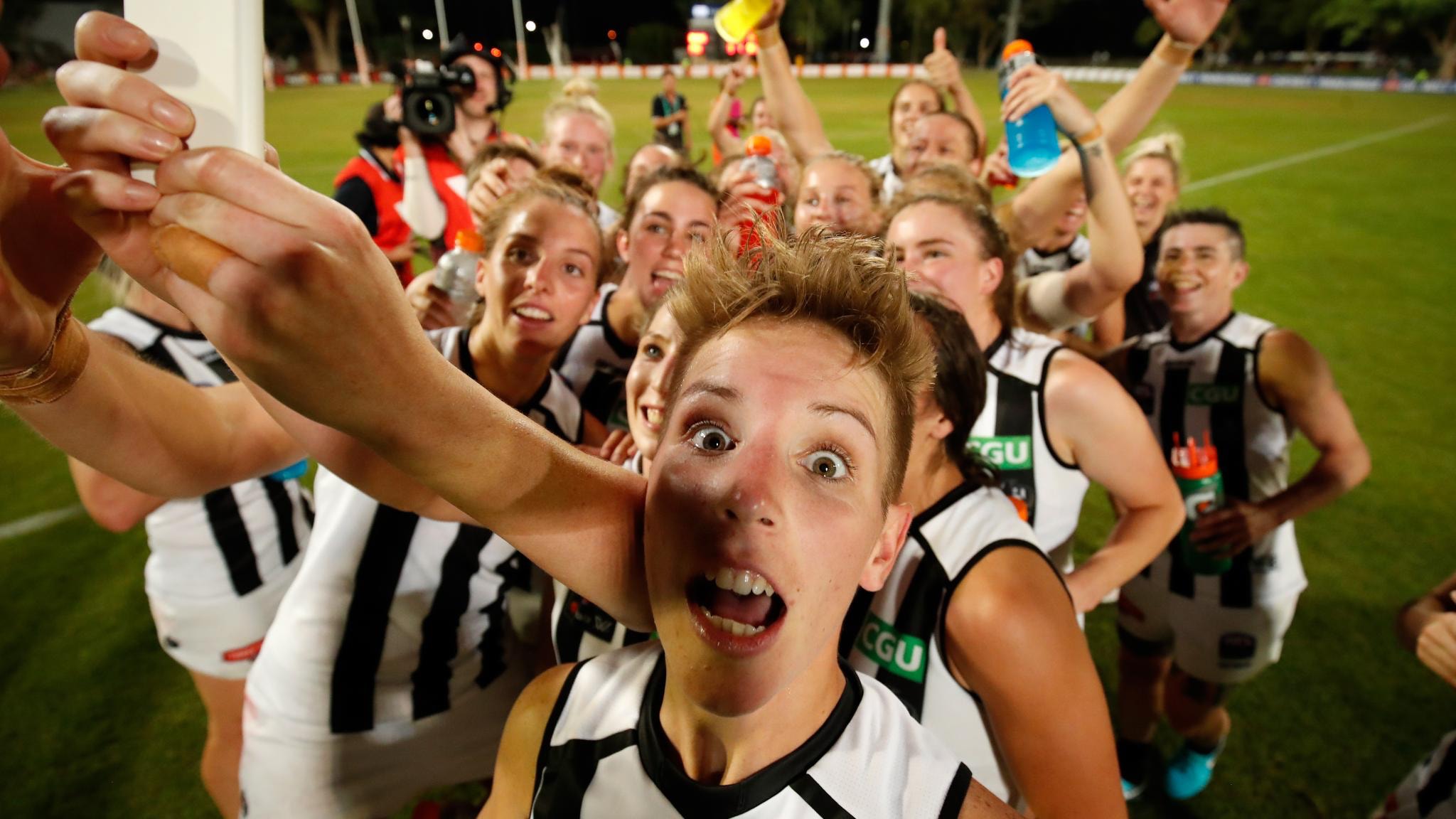 COLLINGWOOD'S 2018 BEST AND FAIREST COUNT
Chloe Molloy (66 votes)
*Jasmine Garner (55)
*Christina Bernardi (52)
Jaimee Lambert (52)
*Caitlyn Edwards (36)
Steph Chiocci (35)
*Amelia Barden (34)
*Jess Duffin (29)
*Emma King (29)
*Moana Hope (23)
* No longer with the club