SUPPORTERS think clubs are too secretive with their injuries.
That's according to over 48,000 fans who completed the 2018 fan survey conducted for AFL.com.au and the AFL Record.
The Crows are among the clubs criticised for how they have reported injuries. Adelaide denied Brad Crouch had osteitis pubis before the tough midfielder admitted the diagnosis a week later.
Crouch has since been ruled out for the year following groin surgery, though the Crows deny hiding information.
Fans have another qualm with clubs – 64 per cent said clubs should not be allowed to operate poker machines.
Eleven clubs operate pokies, though Melbourne and Geelong want to remove themselves from the gaming industry.
Adelaide, Fremantle, Gold Coast, Greater Western Sydney, North Melbourne, Sydney and West Coast do not earn revenue from pokies.
Fans are unwavering in wanting the Grand Final to remain in the traditional daytime timeslot. The 67 per cent preferring the status quo is identical to last year's result, as is the 24 per cent in favour of a twilight start time.
Only a fifth of fans would like to see the premiership cup named after a great of the game.
Over half of fans would like to see names on the back of jumpers. That initiative was trialled in 2014, when many thought the writing was too small to help spectators identify players.
There is lukewarm interest for an AFLX tournament in the style of the Indian Premier League, where players are auctioned to competing franchises. Interest is higher among young fans, with the idea favoured by 36 per cent of under-18s and 29 per cent of fans aged 18-24.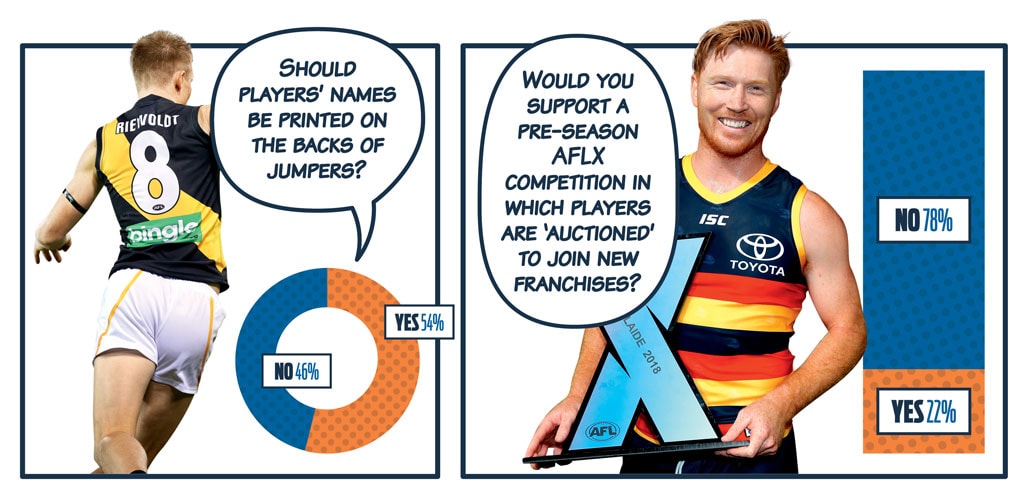 Esports has stronger support with young fans. Almost half of fans aged under 18 say they'd support an esports team linked to their club 46 when looking at the under-18 bracket. The figure is 38 per cent for 18-24 year-olds
Tasmanian football has been through a tumultuous time but fans want the Apple Isle to have its own side, with 71 per cent of respondents holding that view.
Just one Tasmanian (Fremantle forward Hugh Dixon) has been drafted in the past two years, though more success is expected soon with North Melbourne-bound Tarryn Thomas likely to lead a big crop from that state.
More from the 2018 Fan Survey
LOUD AND CLEAR Fans back the bump and the AFL says: it's here to stay
FREE AGENTS Who's flying the coop, who's staying put?
DEAD HEAT Fans say the flag race is neck and neck
WEST IS BEST WA dominates as fans name footy's MVPs