WEST Coast's last remaining 2006 premiership player Sam Butler will retire "pretty content" after wringing everything out of his injury-ravaged career in his final few seasons.
Butler, nursing a surgically-repaired right shoulder, confirmed that he has played his last game in Eagles colours on Tuesday afternoon.
The 31-year-old finishes on 166 games and declared that becoming a life member of the club stands among the greatest achievements of his resilient 14-season career.
Butler's body let him down in his prime when he managed only 26 games between 2007-10, and he never played a full season.
"If I went back through those times again, knowing what I knew now, then I would've done things slightly different and I probably would've played more," Butler said.
"So I have regrets about that, obviously.
"I've ticked off a lot of boxes I wanted to tick-off, especially late in my career, the main one being life member of this football club, which I love.
"I can retire now pretty content."
One of Butler's regrets is injury denying him a farewell match against Adelaide this Sunday, in what looms as the final games for retiring Brownlow medallists Matt Priddis and Sam Mitchell.
But the reliable backman has long been prepared for retirement and played every game like it could his last for "three or four years".
His final AFL match was in round 15 against the Western Bulldogs when he strained his hamstring during the third quarter.
"I've been playing on a knife-edge for a lot of my career really, with the way my body is," Butler said.
"I've had to make certain sacrifices in terms of my training and my performance because of it.
"With the injuries, now at the end it's taken away from me the way I would've liked to finish.
"But injuries have probably typified most of my career so it's probably any apt way to go out."
Butler was drafted as a midfielder from Central Districts with pick No.20 in 2003, arriving at the Eagles as the club was on the verge of premiership success.
"The way I see the premiership is I was extremely lucky to come into a club on the edge of great success," Butler said.
"I feel gratitude to the older guys that basically pulled me along for that time.
"A premiership later in my career would've felt a million times sweeter, unfortunately we just couldn't get there."
Sam Butler and Chad Fletcher after the Eagles' win in the 2006 Grand Final. Picture: AFL Photos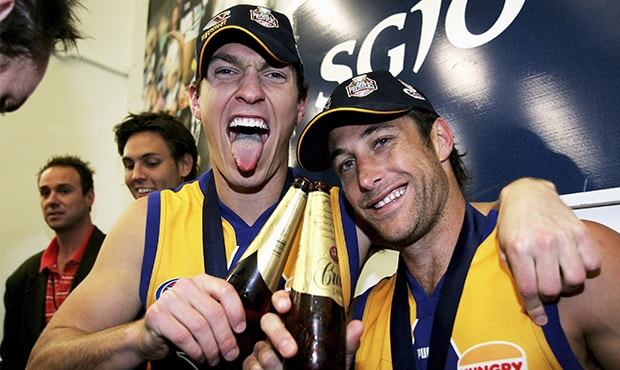 Butler hailed premiership coach John Worsfold, former skipper Darren Glass and close friend Beau Waters as the biggest influences on his career, and was humbled by the opportunity to represent West Coast on the field and in the community.
"The legacy he leaves within the four walls is probably undervalued," coach Adam Simpson said.
"It's really hard to describe the impact this man has had on our playing group."
Butler rated Brownlow medallists Chris Judd and Ben Cousins slightly ahead of champion ruckman Dean Cox as the best teammates he played with.
He only has positive memories of the controversial '06 premiership era – not that he needs to gaze upon his medallion to remind him of those good times.
"It's in my mate's parents' garage in Gawler," he said.
"Me and Beau (Waters) sent our medals back to South Australia to get framed up about two weeks after the Grand Final.
"I haven't seen it since … but I'm pretty sure it's still there."