FORMER apprentice mechanic Charlie Cameron wants to be the man to spark Adelaide's midfield.
In an exclusive interview, the lightning-quick forward told AFL.com.au it was last year's semi-final against Sydney at the SCG, when he had 17 possessions, six inside 50s and booted two goals in a cameo performance on the wing, which gave him the belief he could have an impact on the ball.
"I hadn't had much time there before the Sydney game," Cameron said.
"Now I know what I can do, I'm looking forward to going up there for a longer time.
"I asked to work with the midfielders, so now I'm confident when I go up to the wing I can add a little bit more speed to the midfield."
Cameron has spent the majority of the pre-season with the midfielders, working with wingers Rory Atkins and David Mackay to learn where to be in certain situations.
"It's about finding that balance, whether it's in packs or sitting outside at the stoppages," Cameron said.
"I've been working more with the midfielders than the forwards, so hopefully I can get a lot of minutes on the wing."
He's also increased his running capacity and set personal bests in two of the club's three 2km time trials.
Cameron's immense potential put him on the radar of rival clubs and Carlton raised his name as a possible target in a trade for Bryce Gibbs at the end of last season.
Cameron was in Bali at the time when he heard about it through social media.
"I was a bit surprised, but I knew the Crows really liked me and I had two more years (on my contract), so I didn't think I'd be going," he said.
"I'm happy where I'm at and we've got a really good team, so I'm really looking forward to what the future holds."
He joined the Crows at the same time as star forward Eddie Betts, who moved across from Carlton at the end of 2013 on a four-year deal.
"Eddie and his wife Anna helped me settle because as a young, indigenous kid it can be tough," Cameron said.
"They helped me out and kept me in line for the eight months I was living with them.
"I know if I need help from Eddie, that I can go to him and he's a shoulder to lean on."
Charlie Cameron has leant on Eddie Betts for support as he's learned the AFL ropes. Picture: AFL Photos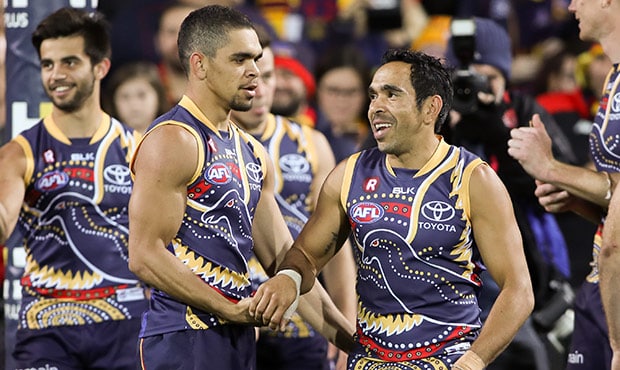 Cameron is set to play his 50th game for the Crows in round one against Greater Western Sydney at Adelaide Oval.
It's an impressive achievement, given the 22-year-old only played his first game of Australian football in 2012 when his family relocated from Queensland to the Western Australian mining town of Newman, a 12-hour drive from Perth.
Before that, Cameron played rugby league and rugby union at Marist College Ashgrove in Brisbane.
Cameron played every game for Swan Districts in the WAFL in 2013 and represented WA at the under-18 national championships, but was overlooked at the 2013 NAB AFL Draft.
"After I didn't get picked up in the main draft, I went back to work because I was an apprentice mechanic," he said.
"I was at TAFE and didn't have my phone on me.
"I got a phone call after I finished saying I'd been picked up by the Crows (with the seventh pick in the rookie draft), so I was pretty happy.
"I had a lot of people push me when I was at Swan Districts.
"I lived with (player development officer) Steve Thompson, who told me to work hard and everything else would sort itself out.
"He was one of the keys for me to get to the AFL."