TRADE Deadline Day had arrived.
Aiden Bonar still craved a move home from Greater Western Sydney to Victoria – and he wasn't fussy about the club.
Essendon's recruiting team was interested enough to meet with him, without going to the trouble of putting him under the medical microscope or offering any guarantee.
Then, suddenly, there was a new suitor.
INDICATIVE DRAFT ORDER Your club's latest picks
Bonar's agent, Robbie D'Orazio, had locked in a D-Day morning meeting for them with North Melbourne coach and temporary list boss Rhyce Shaw, at a café just around the corner from Arden Street.
The 20-year-old, who underwent two right knee reconstructions before being the No.11 pick in the 2017 NAB AFL Draft, completed his medical testing for the Kangaroos shortly afterwards.
"We had the meeting and it went really well and I thought, 'They're probably going to take me here'," Bonar told AFL.com.au.
Aiden Bonar found it tough to break into the strong Giants midfield. Picture: AFL Photos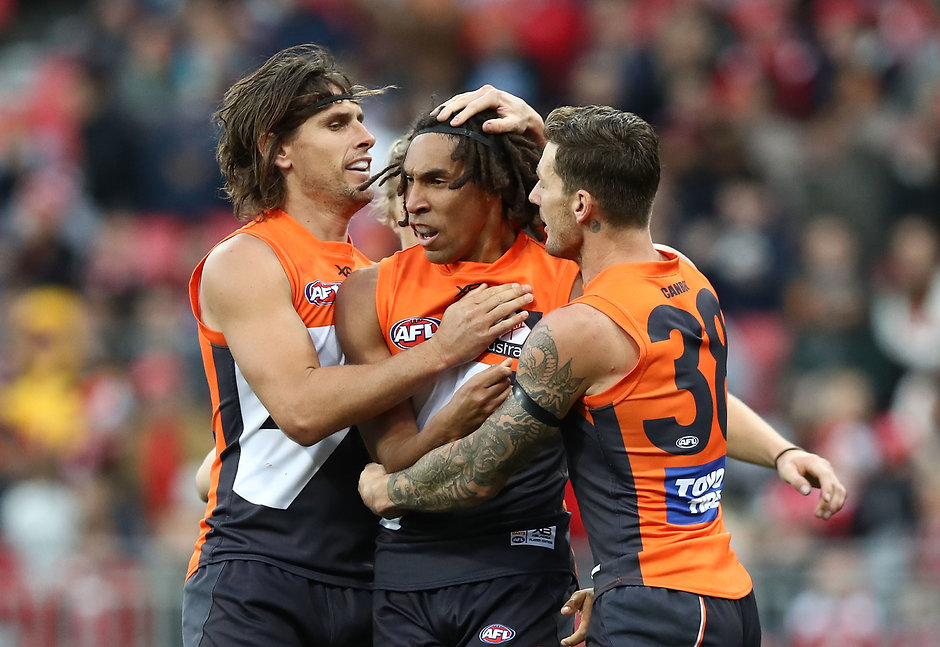 Bonar's suspicion was right. Eventually.
D'Orazio warned him he would have to "wait" and the ensuing hours proved an agonising rollercoaster of emotions and jangling nerves.
Bonar called D'Orazio repeatedly, then with half an hour to go until the deadline, he stopped watching the AFL.com.au stream and resigned himself to playing a third season for the Giants.
PHANTOM FORM GUIDE Cal Twomey's October update
His mum and two sisters kept watching in the family's Cranbourne home, and knew they were getting their son and sibling back when "royal blue and orange" emerged in Ken Wood's trade room.
Bonar's was the second-last trade completed – and rubber-stamped after the doors were shut to signal no more deals could be done other than between the parties already in the room.
That's how close he came to staying in the Harbour City, and the experience gave him a chance to reflect.
"It's weird going so high (in the draft two years ago), then I could hardly get something done to get back home," Bonar said.
RETIREMENTS, DELISTINGS AND TRADES Your club's list changes
"I spoke to my manager and he said, 'You've just got to perform, even if it's at NEAFL level. Keep playing well'. But my footy dropped off when I was playing NEAFL at the backend of the year.
"I wasn't playing that great. I was mentally and physically drained and I just wanted to get back home with Mum and Dad and friends.
"I just wanted support, so I think that was in the back of my head all the time. It's going to really enhance my footy being back."
Bonar confirmed he put the wheels in motion with D'Orazio many months ago, with AFL.com.au revealing in May that rival clubs felt he was gettable.
The reality had set in on how difficult it was to break into Greater Western Sydney's senior side, let alone its star-studded onball brigade.
Bonar admitted he naively expected to be playing regular AFL football in his first season as one of the best players from his draft class.
TRADE PERIOD VERDICT We rank your club from worst to best
Instead, he made only six senior appearances across his first two years on the Giants' list and none before round 20 in either campaign.
North Melbourne promises to be more forthcoming with opportunity.
Bonar, a raw 188cm prospect gift-wrapped with power and speed, has already planned a huge summer of running to prepare for an inside midfield role.
He moved in with close friend and fellow Roo Luke Davies-Uniacke in their Elwood pad on Tuesday.
Schoolmates ✅
Best mates ✅
Now AFL teammates ✅ pic.twitter.com/FCMoIpfRG3

— North Melbourne (@NMFCOfficial) October 17, 2019
They played together at NAB League team Dandenong Stingrays and were both on scholarships at Haileybury College's Keysborough campus and represented the school in football.
"We're genuine best mates – we do most things together. I don't surf with him, because I can't swim," Bonar said, laughing.
"We met up most weekends when I was back here, so it's great to move in with him. It's just us two, so we have a nice little joint there."
>> The 2019 NAB AFL Draft runs from November 27-28. Follow all the latest news in the draft hub
However, football rather than fun will be Bonar's top priority and he is ready to embrace being back in the Melbourne football "buzz".
"I'm coming here to work my arse off and I just want to play at the best level. I want to play the AFL level," he said.
"I want to come here and make this club better and make myself better. I'm a hard-working person."
Aiden Bonar playing under-18s football for the Stingrays in 2017. Picture: AFL Photos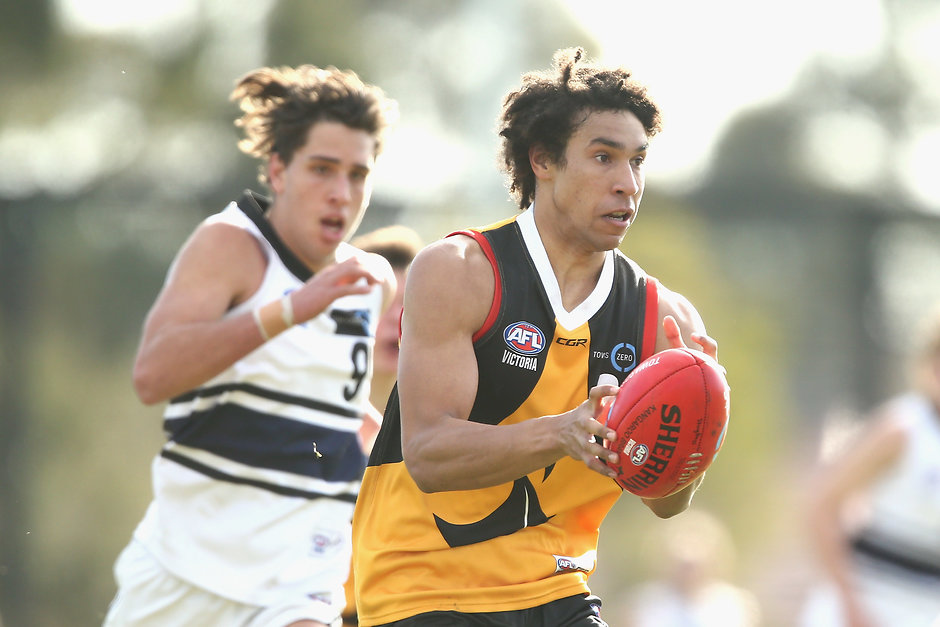 New Kangaroo Aiden Bonar on…
Shedding his dreadlocks:
"I woke up one morning, the NEAFL campaign was done and we'd just lost finals, and I wanted a change. (Teammate) Tommy Sheridan took me down to his local barber and we took it right off – a 'one' (shaved) all-round the head. (The dreadlocks were) my thing. During pre-season when it was hotting up in western Sydney, I was about three degrees hotter on the top of my head. I started growing it in high school real roughly. We weren't allowed to have dreadlocks, so it was a loose afro, I'd say, but as soon as school finished I started growing them out."
That North Melbourne photoshop:
"My sister showed me straight away when it was done and I was in tears. It was pretty funny. My mates came around that night and we were having a good laugh about it, too. It was a real good laugh."

The original tweet: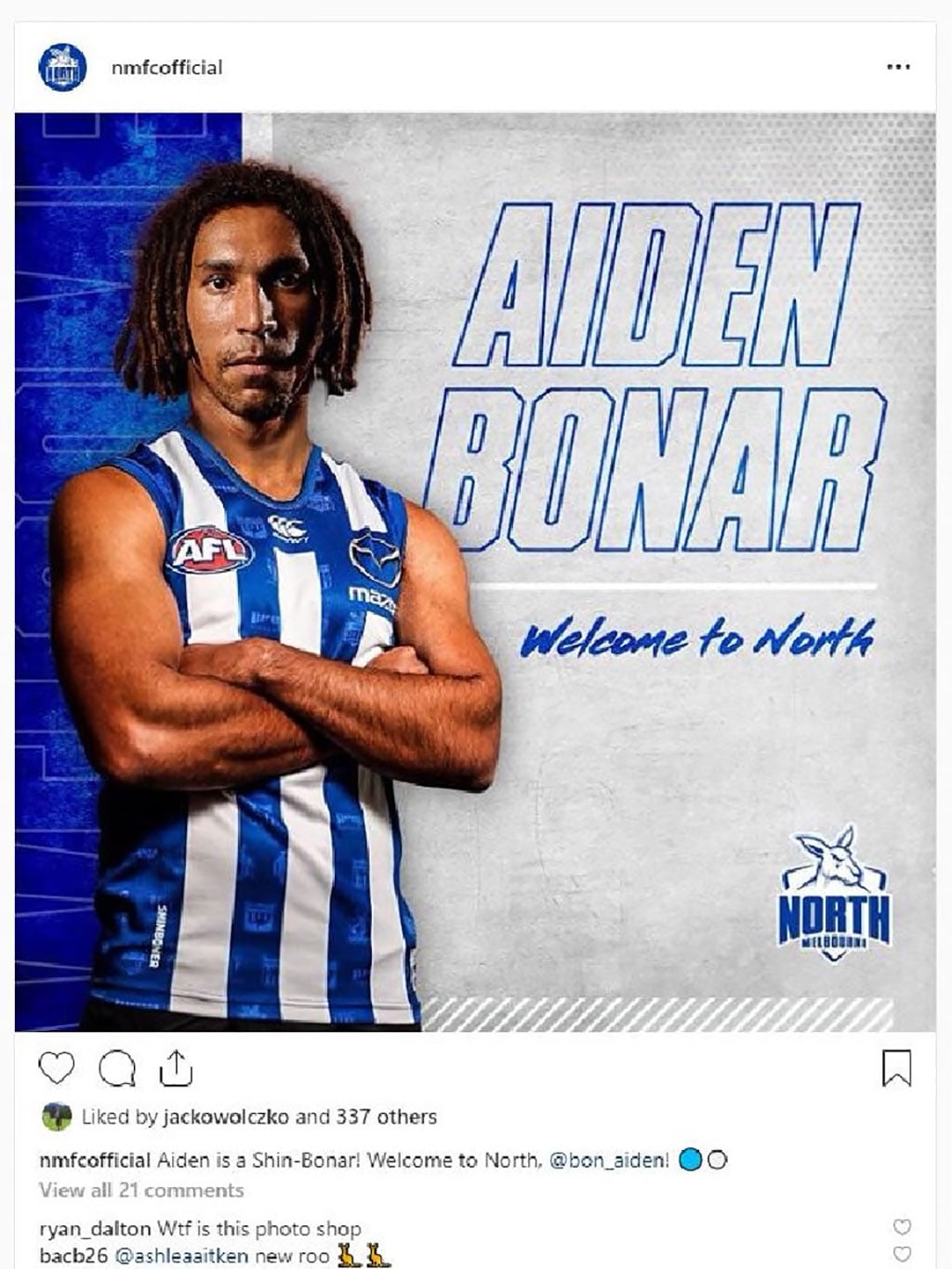 And when North could see the funny side:

Welcome, Aiden #photoshopfail pic.twitter.com/FXyJwsijt6

— North Melbourne (@NMFCOfficial) October 16, 2019
Wearing retired defender Scott Thompson's No.16:
"I haven't spoken to Scott yet, but there are three reasons why (I chose that number): I got traded on the 16th, my sister (Roseanna)'s birthday is on the 16th and it's Shawry's birthday as well. Rhyce was saying I was his birthday present."
His twice reconstructed right knee:
"There are no worries. I haven't looked back since coming back playing TAC (Cup in 2017). At the Giants I used to go through a few protocols before main weights – maybe a couple of leg extensions beforehand or a longer warm-up."
His friendship with GWS defender Heath Shaw:
"I shot him a text to say thank you. I'm not too sure if he had much to do with the trade, but I just wanted to say thank you for the past two years – he's done a lot for me. Being alongside him, he's the best at what he does. He was just a good mate up there and helped me out."
How his parents met:
"My (Scottish-born) dad did volunteering work in Papua New Guinea, met my mum there and they had my sister Roseanna and ended up getting married over there. So he brought back Roseanna and a wife back to Australia and introduced them to his mum and dad. He moved to Australia when he was six years old, then he went and did volunteering work over there."