SAM MITCHELL and Trent Cotchin have officially become Brownlow medallists after retrospectively receiving the 2012 award in a unique ceremony attended by family and close friends in Melbourne.
Before a crowd of about 100 people, Mitchell was presented with his medal by 1999 winner and former Hawthorn teammate Shane Crawford.
Richmond skipper Cotchin was crowned with the game's highest individual honour by triple Brownlow medallist Ian Stewart.
The duo have known for a month they would be awarded the 2012 medal after it was handed back by Essendon star Jobe Watson following the Bombers' doping scandal, but the reality hit home on Tuesday.
"It's obviously different, something no one else has really been through, so Trent and I will share something unique for the rest of our lives," Mitchell said.
"It's a happy day for us ... being able to go next door and share it with 20 or 30 people that you have been through most of the journey with is something you can't anticipate.
"Most of them are never going to get to go to another Brownlow, so you're bringing joy to all the people closest to you in a way that you would rarely get to do.
"So that's something you've got to be thankful for."
Sam Mitchell with wife Lyndall and their three children at the ceremony. Picture: AFL Photos
Cotchin, who was supported at the event by coach Damien Hardwick and teammates Alex Rance and Dustin Martin, plus close friend Matthew Kreuzer from Carlton, tried to embrace the unusual circumstances.
"I'll enjoy the moment. I've tried to be really humble in the whole thing, and obviously the decisions have been out of our hands so we just went with the flow," Cotchin said.
"I've contacted Jobe, I thought that was the right thing to do, but I don't need to comment any further on that."
Cotchin becomes the Tigers' fifth Brownlow medallist and breaks Richmond's drought stretching back to Stewart in 1971, while Mitchell is also Hawthorn's fifth medallist and first since Crawford in 1999.
The gun onballer requested that Crawford present his medal and also invited former teammate Richie Vandenberg to the event, but no current Hawks players could attend due to a training camp on the Sunshine Coast.
Trent Cotchin with his daughter Mackenzie. Picture: AFL Photos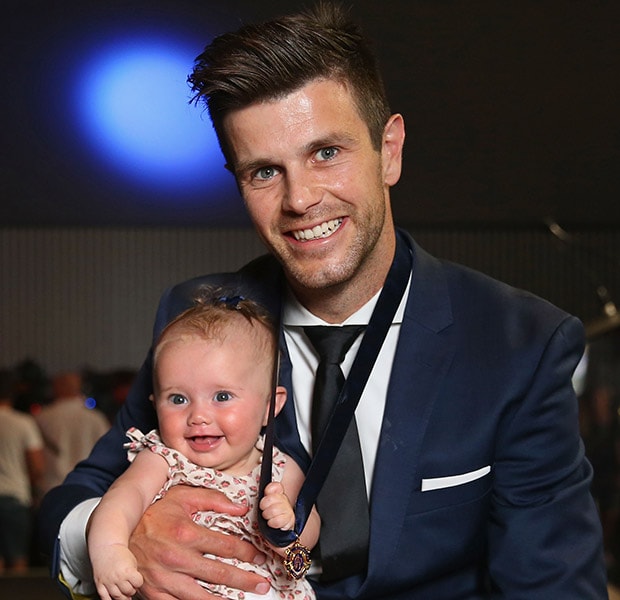 "There's a few of them who were invited, but Clarko (coach Alastair Clarkson) has them up at training camp and didn't give them the day off to come back," said Mitchell, who recently started life as an Eagle after his bombshell trade.
"I got a lot of messages this morning, my phone has been ticking over, so I'm sure I'll catch up with those guys – I still talk to them fairly regularly."
"The transition (to Perth) has been really smooth for me, I'm loving being over west, and the Eagles are such a fantastic football club, I've really loved being there, but certainly I've still got pretty strong connection to Hawthorn."
Mitchell, a five-time club champion, adds the medal to his burgeoning trophy cabinet, and Cotchin conceded he was envious of the four-time premiership Hawk's achievements in the game.
"I wouldn't say I'm a jealous person, but I'm certainly envious," Cotchin said.
"Every bit of blood, sweat and tears that you put into this game is based on trying to win a premiership.
"It's an honour and such a prestigious award, but it is an individual award, and we've got lots of work to do at Richmond.
"It's nice to have it (the Brownlow presentation) out of the way and really hone on in on the focus being the season ahead."
The Cotchin family at the presentation. Picture: AFL Photos