• NAB AFL Draft Hub: Get to know your club's future stars
• Listen to this week's Road to the Draft podcast
• Draft mailbag: Cal Twomey answers your questions
JOSH Schache remembers his extended family being over for dinner, his cousins and relatives mingling, but can't recall the occasion. He remembers the ambulance lights, and the panic in his house. He remembers people crying, but trying to keep calm for him and the other kids.
Schache was only five years old when his dad died suddenly, but the details of how it unfolded remain clear. "It's one of the nights I still remember a lot about," Schache said.
Laurence Schache played 29 games for the Brisbane Bears in 1991-92. In his first season, he led the club's goalkicking, booting 47 in 17 games. In one game he kicked six against Adelaide, and footage of the haul has surfaced on YouTube.
Josh was digging through the online archives a couple of years ago when he came across the package.
"It was exciting to see," said the 17-year-old, who is one of this year's most highly touted draft hopefuls and a contender for the No.1 pick. "He took a few marks, and I think he was a pretty good shot at goal."
Laurence's career at the Bears ended when he was 24, when he was delisted at the end of 1992. He went on to star in the SANFL for Woodville-West Torrens, including playing in the club's first premiership in 1993, before knee injuries forced his retirement.
In Adelaide he met Rachel, Josh's mum, and Josh was born in 1997. In 2002, Laurence was diagnosed with cardio amyloidosis, a rare heart disease. He was told he had three years to live, but collapsed three months later and died aged 34.
"I was sitting on the couch with him watching the footy, and dinner was almost ready. He went off to the toilet and I went to the kitchen where all the family was," Schache told AFL.com.au.
"Unfortunately we heard a big bang down in the lounge room and that's when he passed away. I remember all the ambulances, and people trying to keep calm. At that age I didn't really know what was happening, and my little sister was about one at that stage so people were looking after her too.
"He was expected to pass away [from the disease], but not as soon as what he did. It was a big shock to everyone."

Josh Schache is a chance to be the first name called out at this year's draft. Picture: AFL Media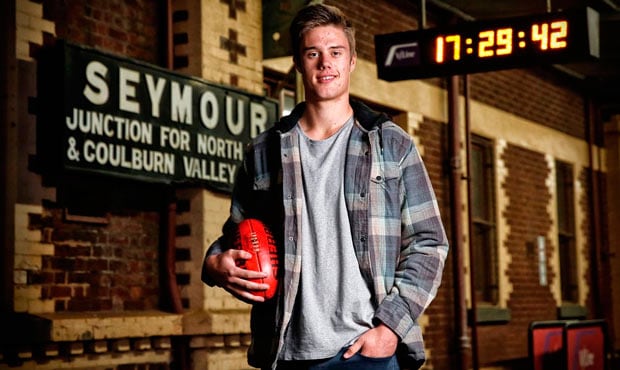 Schache's family remained in Adelaide for three more years before moving to Seymour in country Victoria, where Rachel remarried with Darren Waite, who she had met through a family link.
Darren has three kids from a previous relationship – Jeremy, Lachie and Sarah – and they also live in Seymour with their mum, only a couple of minutes away from Schache. "We need a big car to get us all around when we're all together," Schache said.
Schache hasn't let the adversity in his early life affect him. He's a happy, smiley teenager on the verge of an AFL career. He is close with his siblings, and trained hard through the pre-season with Lachie, who is a year younger than him but also an aspiring footballer having played for Vic Country at last year's NAB AFL Under-16 Championships.
"We went flat out over summer and he got extremely fit," Schache said.
Lachie's hard toil was rewarded last week, when his form for Seymour at local level saw him picked for the Murray Bushrangers' TAC Cup team (also Schache's club).
Selection hasn't been as much of a concern for Schache this season. Having starred at the under-18 championships for Vic Country - and a big reason it will likely claim the division one title - the tall forward is among a handful of key position prospects tipped to be taken near the top of the 2015 draft.
The 199cm left-footer is the leading goalkicker of the carnival (with 17 goals in four games) and has vastly improved his game since getting a taste of under-18s footy last season. If he continues his form in the carnival in the final two rounds, he will be hard to beat for the Larke Medal as the best player in division one.
"I've tried to have a real presence on the ground this year, and I think I've been able to do that so far," Schache said.
"It probably didn't come naturally to me at first, but it has started to the more I've worked on it. I know if there's a ball there I'll have to go for it otherwise the coaches aren't going to be very happy. It's just about maintaining it now; after a few good games, I want to keep doing it."
Tall, powerful and skilled, Josh Schache could become a dominant AFL key forward. Picture: AFL Media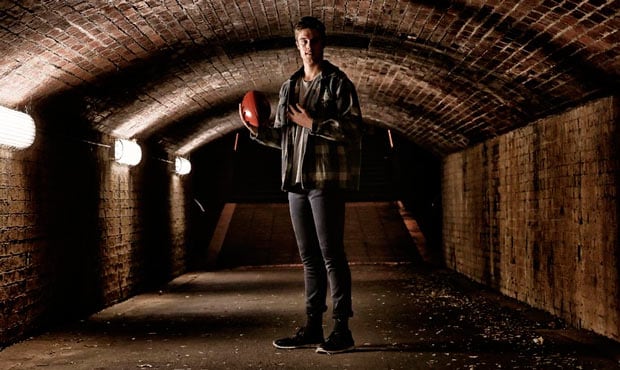 There are few chinks in Schache's game. He runs a level 14.1 beep test, and enjoys pushing up the field and working over his opponent. He can take a mark on the lead, but is equally able to snap, dribble or squeeze through shots at goal in general play.
More often than not they go through. His simple, uncomplicated goalkicking routine has impressed recruiters, and he rarely misses a shot he should convert. He built his kicking technique at the local park, where he focused on keeping the ball still, walking straight at the goals and having the ball in line with his foot.
"If I'm in kicking range all the coaches say go for it. I think I'm an all right shot at goal, so I back myself," Schache said.
"If there's someone closer or in a better position and they have nobody around them, then I'll obviously give it off, because I just want to make sure the goal's put on the board one way or the other. But I am happy with my routine."
As a likely early pick, Schache hears the talk about his draft chances. He is, of course, happy to go anywhere and wear any colours, and is happy his form is being noticed. But with the Brisbane Lions struggling near the bottom of the ladder – and in desperate need of a young tall forward – he thinks it would mean a little more if they called his name at the end of this year.
"I think that'd be pretty cool if I ended up at Brisbane. I could go back to where dad was and finish off what he did there," Schache said.