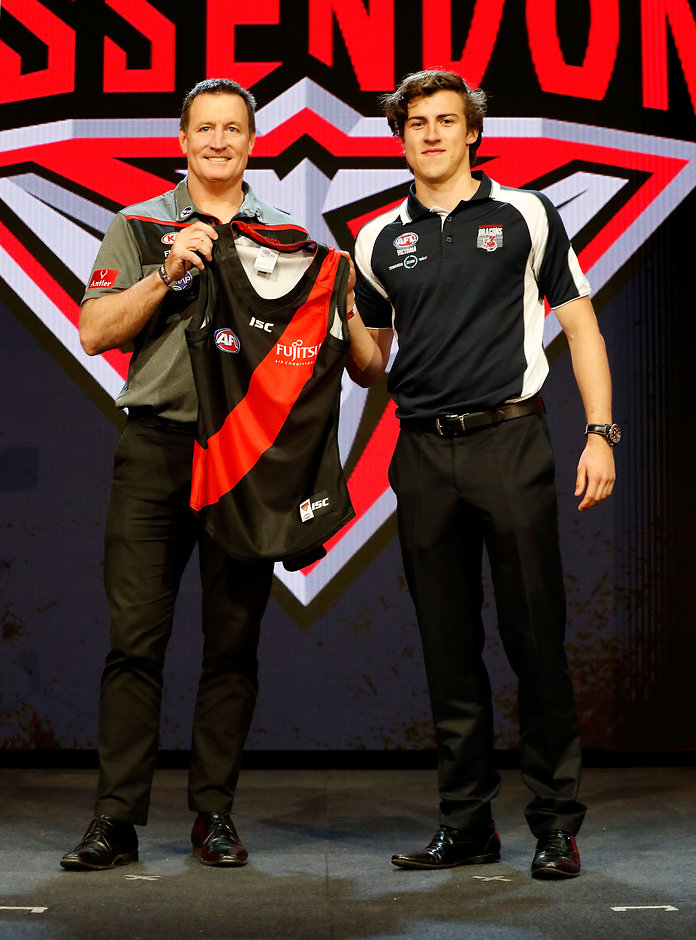 • Every pick, every club on the NAB AFL Draft Tracker
INTRODUCING Canada's newest sporting hero.
Andrew McGrath's accent well and truly has an Aussie twang to it and he's developed a love of Vegemite, but the No.1 overall pick of the 2016 NAB AFL Draft is one the Canucks can be proud of.
Born in Toronto, McGrath lobbed in Melbourne when he was five after his father moved the family halfway around the world for work.
It's up to his father Mike to keep the rest of the family in Canada updated with Andy's progress.
"They don't know a whole lot about footy back home, but I think dad's Twitter account and Facebook account is heavily watched by all them back at home and he keeps them posted," McGrath said.
Some progress it was.
McGrath rocketed up the draft board this year with a string of sensational performances for the Sandringham Dragons.
The All-Australian defender had 38 possessions in the TAC Cup grand final to lead his side to the premiership.
• Tight at the top: Who did rival recruiters like at No.1?
McGrath bases his game on run and carry off half-back, a trait he displayed with great effect captaining Vic Metro at this year's NAB Under-18 AFL Championships.
There are the obvious similarities to Norm Smith medallist and Western Bulldogs star Jason Johannisen.
As a Canadian in the AFL, there will also be the comparisons to Sydney Swans' premiership-winning ruckman Mike Pyke.
Pyke represented Canada in rugby union – famously scoring a length of the field try against the All Blacks in the 2007 Rugby World Cup – before switching codes.
He was a resounding success with the Swans, playing 110 games in seven seasons, including winning a flag in 2012, before hanging up the boots last year.
Pyke told AFL.com.au he was looking forward to seeing McGrath develop into a quality player.
"I'm very excited for him and I will follow his career closely," Pyke said.
"Everything I've read about him points to him being a class act.
"I'm sure someone of his talent will attract a lot of interest back home."
McGrath also faced a difficult choice before concentrating on Australian football.
An outstanding athlete, McGrath was set to represent Australia in the 400m hurdles at the world youth championships in Colombia last July.
However, with football taking precedence, he watched the event in the middle of the night on his laptop rather than jumping hurdles in South America.
He was touted as a top selection for the past few months, but McGrath was kept in the dark about which way the Bombers would go.
"It's a surreal feeling," McGrath said.
"None of us even knew, not at all.
"Adrian (Essendon list manager Adrian Dodoro) sent three of us a text before saying we can't give anything away, but you'll find out when everyone else finds out.
"I couldn't have asked for anything more, it's so exciting and I can't wait to get started."