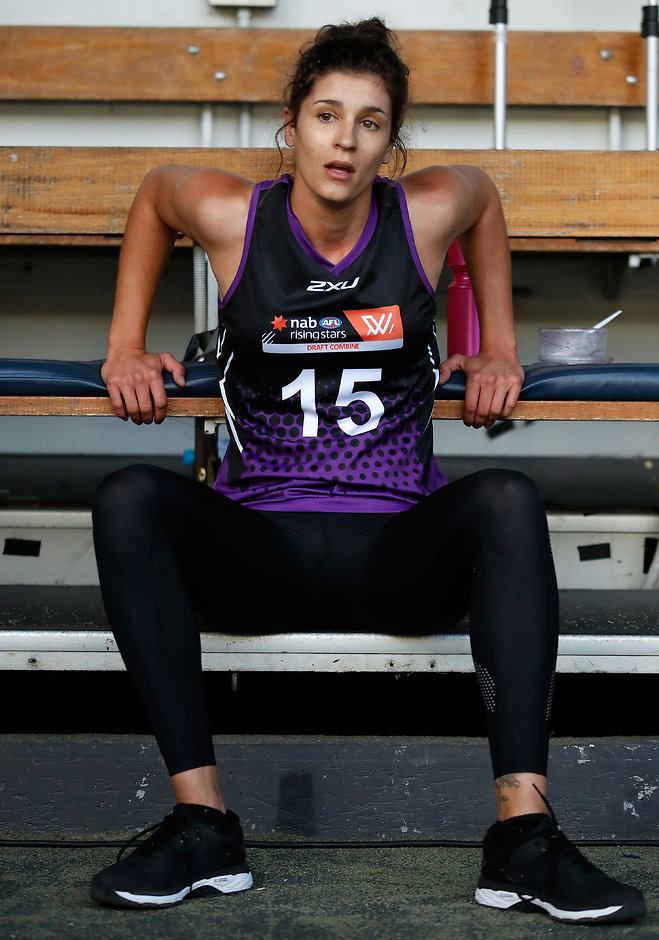 TWO ADELAIDE-bound prospects were among those to shine brightest at this week's inaugural NAB AFL Women's Draft Combine at Etihad Stadium in Melbourne.
Key-position pair Jessica Allan and Jasmyn Hewett already loomed as early selections for the reigning premier Crows before brilliant performances in testing.
There was also plenty to like about athletic rucks Pippa Smyth and Bridie Kennedy.
Nelson Bay's Smyth won the 20m sprint, while Dandenong Stingrays' Kennedy took out the 2km time trial and the Yo-Yo test, a high-intensity modification on the beep test.
Coolangatta's Ruby Blair was the standout in the agility test.
The AFL's female football talent Operations Manager Aasta O'Connor was thrilled with how the players embraced the combine.
"We're all stepping into the unknown, in a way, but it was just really special," O'Connor told AFL.com.au.
"To see the camaraderie built [among] the 46 players and doing something like this on a national scale for the first time was great.
"It was something I'm sure every player will be really proud to be part of. Essentially, it is a one-stop shop for the clubs to get as much information on the player as possible, so there's always going to be improvements … but it's something that's really of value."
Allan is the 18-year-old sister of Adelaide premiership player Sarah Allan, and starred for the Bec Goddard-coached Allies at the NAB AFL Women's Under-18 Championships in Queensland in July.
The Salisbury and Glenelg product won the vertical and running vertical jumps with respective efforts of 61cm and 76cm and placed sixth in the 20m sprint (3.34sec).
"Jess had an amazing under-18s carnival up on the Gold Coast earlier in the year and is a really young leader, the way in which she conducts herself off the field," O'Connor said.
"She's ruck, half-forward, half-back and you sort of think, 'Wow'.
"She's 184cm and so driven, so I'm sure whichever club takes her – you'd be crazy not to if you're the Crows – but I'm sure she'll find herself on a list. As soon as she gets into that club environment, she'll work really hard and have an impact year one."
Hewett, 24, finished in the top 10 in all six physical tests, including ranking second in the Yo-Yo, the vertical jump and the 2km time trial.
She is originally from regional South Australia, but had not played football until relocating to Darwin last year and joining St Mary's, where she quickly became the talk of the competition.
O'Connor was also impressed with Hobart key-position talent Loveth Ochayi, who has nominated in the Victorian part of the October 18 draft.
The 18-year-old could yet be a target in next year's draft for the North Melbourne-AFL Tasmania side set to enter the AFLW in 2019.
"Loveth missed nationals with a hand injury this year, but was consistent across all testing," O'Connor said.
"She's someone who has jumped out of the box a bit the last minute and clubs would be looking at her, whereas prior to the combine she might not have been on as many people's list."
Top 10 AFLW Combine results
20-metre sprint
Pippa Smyth 3.24 seconds
Calista Boyd 3.30
Renee Cowan 3.30
Maddy Guerin 3.32
Loveth Ochayi 3.33
Jessica Allan 3.34
Emma Pittman 3.35
Sophie Abbatangelo 3.35
Ruby Blair 3.36
Jasmyn Hewett 3.39
Running vertical jump
Jessica Allan 76cm
Pippa Smyth 65cm
Jasmyn Hewett 60cm
Rachel Ashley 57cm
Tiahna Cochrane 56cm
Darcy Guttridge 56cm
Calista Boyd 55cm
Kate Bartlett 55cm
Renee Cowan 54cm
Daria Bannister 54cm
Agility
Ruby Blair 8.495 seconds
Daria Bannister 8.574
Sophie Abbatangelo 8.681
Darcy Guttridge 8.723
Renee Cowan 8.726
Reni Hicks 8.730
Tahni Nestor 8.777
Jasmyn Hewett 8.799
Loveth Ochayi 8.803
Eden Zanker 8.810
Yo-Yo
Bridie Kennedy 17.3
Jasmyn Hewett 17.1
Loveth Ochayi 16.8
Ashleigh Riddell 16.6
Sophie Abbatangelo 16.5
Pippa Smyth 16.4
Haneen Zreika 16.3
Courtney Webb 16.3
Ruth Wallace 16.2
Renee Cowan 16.1
Maddy Guerin 16.1
Vertical jump
Jessica Allan 61cm
Jasmyn Hewett 60cm
Renee Cowan 58cm
Pippa Smyth 57cm
Tiahna Cochrane 54cm
Ashleigh Riddell 53cm
Reni Hicks 51cm
Loveth Ochayi 51cm
Tayla McAuliffe 50cm
Maddy Guerin 50cm
2km time trial
Bridie Kennedy 7min 29sec
Jasmyn Hewett 7min 40sec
Haneen Zreika 7min 51sec
Ashleigh Riddell 7min 54sec
Loveth Ochayi 8min 02sec
Courtney Webb 8min 3sec
Jessica Henning 8min 4sec
Pippa Smyth 8min 5sec
Tiahna Cochrane 8min 9sec
Tahni Nestor 8min 10sec