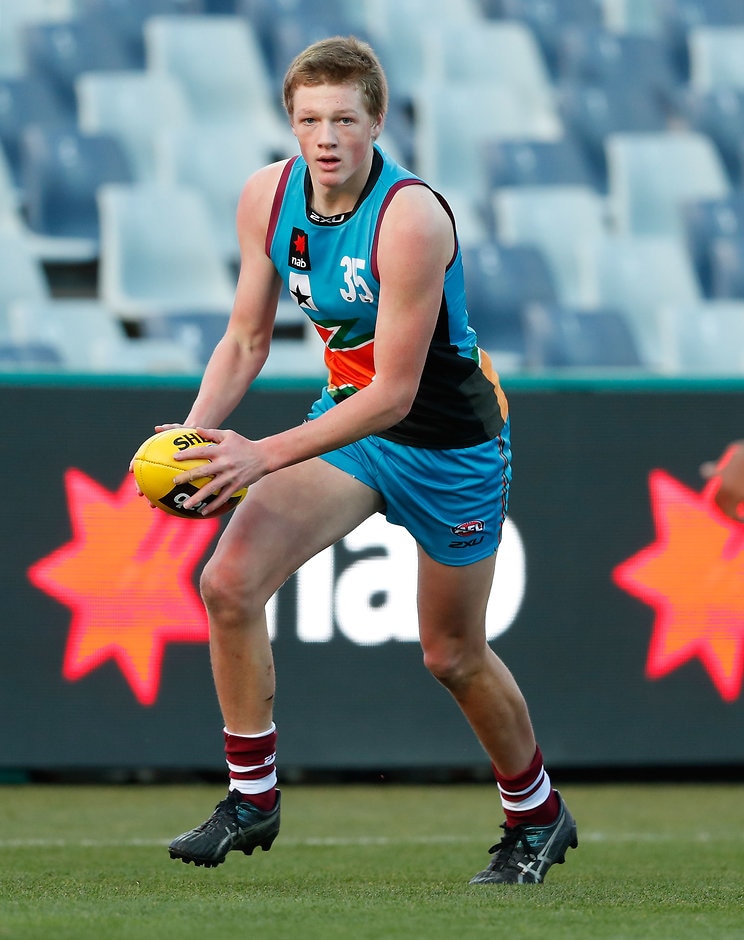 THIS time Hugh Dixon said no.
The new Fremantle forward's mother, Julie Homer, regularly brings home a bag full of Nutella donuts from the bakery opposite her work.
Her son turning down the chocolate-filled treat was a reminder of what was at stake, for him and Tasmania.
Tasmanian football bosses were still reeling from last year's humiliation of having no players drafted into the AFL for the first time in the state's proud history.
Then, as the 2017 NAB AFL Draft Combine approached, there was a chance it could happen again.
Dixon, the broad-shouldered boy from Kingborough whose grandfather played alongside the legendary Darrel Baldock at Latrobe, was Tasmania's great hope.
An impressive NAB AFL Under-18 Championships for the Allies, when he kicked nine goals and led the carnival with 2.5 contested marks per match, made him a legitimate prospect.
But there were still question marks about the 195cm teenager's body shape. His response was to lose six kilograms in almost as many weeks leading into the Combine.
"We encouraged him towards the end of the season to drop some weight, because he was a big kid and he's still got a lot of growing to do," AFL Tasmania's state talent manager Jy Bond told AFL.com.au.
"He's got amazing skills for his size and really brings other players into the game, but we had to prove that the program could turn him into a bit of an athlete."
Hugh Dixon evades Jaidyn Stephenson at the NAB AFL U18 Championships. Picture: AFL Photos


Homer noticed a shift when her son was Tasmania's sole invitee to the Combine.
Dixon's sacrifices and commitment went to another level, and the attention on him – from AFL Tasmania coaches to the media to the general public – ramped up with it.
"It's almost like a different experience," Homer said.
"He's on his trajectory for what he wants in his life, then all of a sudden it becomes interesting to the rest of the world that he could be the only Tassie (draft pick).
"But that, for him, wasn't the point."
Dixon's manager, Tasmanian-raised ex-AFL footballer Tim Hazell, of Vivid Sport, also observed the laidback kid's "professionalism kick in", but also the stress he went through.
Hazell flew down from Victoria on several occasions to play his role in the key forward's transformation, which still provided some complications.
"I think just being with the Allies, he started to realise he's got to build his tank, eat well and train a bit more," Hazell said.
"To his credit, he started applying it, but clubs questioned it. They couldn't work out why he did it now and not earlier in the season – it just took him a little longer."
Hugh Dixon goes through his paces at the NAB AFL Draft Combine in October. Picture: Getty Images

Dixon's fascinating personal journey to AFL ranks, clinched with the No.44 pick in the draft, played out more publicly than an equivalent selection from Victoria.
The difference between one and none was enormous for Tasmanian football – and there was a collective sigh of relief that came with Dixon's success.
Saying no to donuts helped prevent a second straight draft donut for Tasmania, if you like.
Dixon's achievement comes with North Launceston's Tarryn Thomas and Launceston's Chayce Jones, both NAB AFL Academy members, considered as-good-as-certain selections next year.
Thomas, a possible top-10 pick, is linked to North Melbourne through the club's Next Generation Academy zone and trained at Arden St this week.
Jones is doing the same with Essendon, but a better indication of whether the state's football program has turned the corner might be if other Tasmanians come along for the ride.
Tarryn Thomas dodges a tackle at the U18 championships. Picture: AFL Photos


Names to watch include Lachie Gadomski, Mitch Anderton, Matt McGuinness – another North NGA member and the brother of ex-Brisbane Lion Josh – Blair Rubock, Ethan Jackson, Nick Baker and Fraser Turner.
Insiders suggest it is not unreasonable to predict five Tasmanians could be off the board before the 2018 draft is over.
AFL Tasmania staff are also scouring rival sports, and are already in the process of converting a couple of basketballers.
"I don't want to shout too early, but we're definitely on the way with Hugh this year," Bond said, with cautious optimism.
"You never know what's going to happen, but we have Tarryn and Chayce next year – and a few more would be fantastic – and if we get a couple the year after, I think we're back on track.
"Nowadays, competing with other sports, it's going to be a constant work in progress, so it's something that needs constant attention and nurturing, so we don't have that drop-off again."
The Kangaroos continue to strengthen their partnership with Tasmania, announcing on Thursday they would offer VFL and VFLW playing opportunities to Apple Isle footballers.
That will be critical, given any rebirth of the Tassie Mariners in a season-long playing fixture, in something like the TAC Cup, seems unlikely because of financial constraints.
The two parties also came together for a successful AFLW bid that will see a joint team – the name remains a work in progress – enter the fledgling competition in 2019.
It was the lack of an AFL-run academy in Tasmania that prompted then-high performance manager Mathew Armstrong to issue a doomsday prediction in 2014 for the state's medium-term draft prospects.
His point was the difficulty the state would have in keeping pace with developing football states Queensland and NSW as they benefited from AFL academies.
Armstrong, now Tasmania's talent manager in the south, was proven eerily right. Thomas and McGuinness could be the first pay-offs for the NGA program.
Dixon (third from left) at Freo with his fellow draftees. Picture: AFL Photos

Bond, who began his role in May, orchestrated the new AFL Tasmania restructure that sees programs mirrored in the north, north west and south of the state.
"When I took on the role, I didn't realise how big Tasmania was, and the difficulties in getting a consistent program," Bond said.
"We don't have one hub where we get a full team that comes in regularly, but it's good to see kids coming through from across the state.
"Tarryn and Chayce are from the north, Blair and Ethan are in the north west and Matt, Mitch and Lachlan are from the south, so we've got a good spread."
There is also the Hugh Dixon effect, one his mother – who was overwhelmed by the support and congratulations from people she doesn't even know – hopes triggers more Tasmanian hopefuls.
Dixon himself received guidance from Hawthorn's Kieran Lovell, who hails from the same Tasmanian club, Kingborough.
"It makes it really possible," Homer said of Dixon's drafting.
"I know we didn't have anyone last year, but we had some the years before.
"All Hugh did was be good and work hard and have the backing of the club and the Mariners – and that's the thing that's important for us to remember."