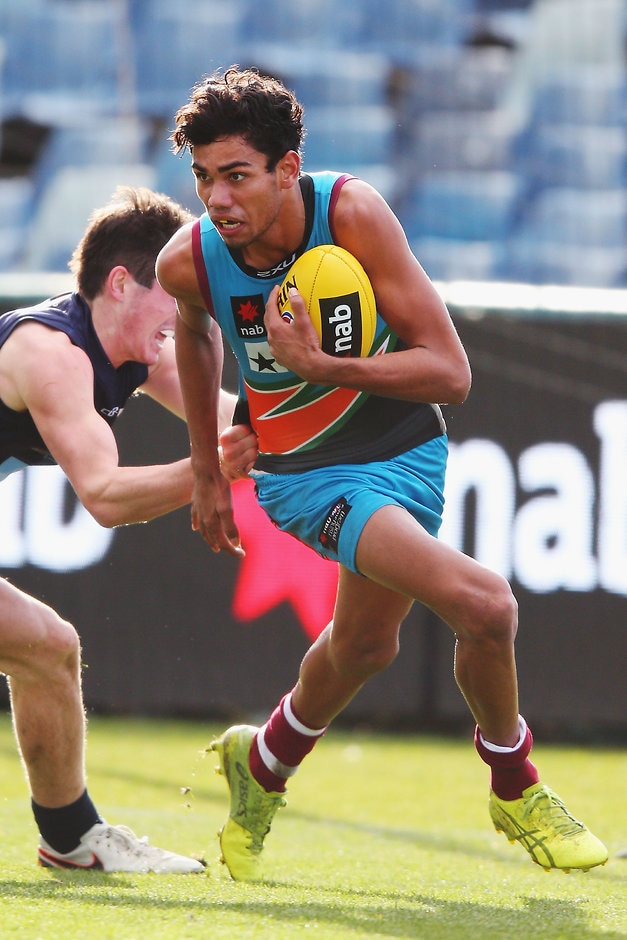 THE ACADEMY series finished on Saturday with Tasmania taking out the title after it was unbeaten in its five games.
Star Tasmanian Tarryn Thomas took out the Hunter Harrison Medal for the best and fairest player of the division two championships, polling 37 of a possible 45 votes.
Sydney Academy forward Nick Blakey was second on 24 while Gold Coast's Bailey Scott and Tasmanian Fraser Turner shared third place with 14.
Sydney Academy v Gold Coast Academy
Sydney-destined forward Nick Blakey put in another impressive performance, booting three goals in the Sydney Academy's two-point win against the Gold Coast Academy on Saturday at Blacktown International Sports Park.
Blakey mainly played in attack but also drifted into the midfield on his way to collecting 15 disposals, five tackles and four clearances.
Onballer Sam Wicks thrived in a stoppage-filled game, racking up 30 disposals, seven tackles and six inside 50s for the Swans.
Meanwhile, Suns prospect Bailey Scott notched up 31 disposals, six clearances and two goals in an excellent display.
Scott, who could end up at Geelong or North Melbourne after his father Robert played at both clubs, could have finished with a couple more goals had he kicked accurately in the last term.
Fitroy Greenwool was another to play well while Timakoi Bowie's pressure, evidenced by his 11 tackles, stood out.
Sydney Academy 2.1 5.2 6.3 8.8 (56)
Gold Coast Academy 3.1 4.3 6.3 8.6 (54)
GOALS
Sydney Academy: Blakey 3, Reinhard, Ellem, Stern, Loone, Barling
Gold Coast Academy: Scott 2, Lowah 2, Crossley, Gore, Portelli, Graham
Tasmania v Greater Western Sydney Academy
North Melbourne-bound young star Tarryn Thomas capped off a magnificent Academy series with yet another best-on-ground display for Tasmania against the Greater Western Sydney Academy on Saturday in Kingston.
It was a tight match but Thomas booted three goals in five minutes during the second quarter to give his side a boost as Tasmania went on to record a 42-point win.
Its captain Chayce Jones supported Thomas well in the midfield and was inspirational with his pressure while ruckman Tim Auckland competed well all day.
Mobile ruckman Kieren Briggs was awarded the Giants' Most Valuable Player award while elusive forward James Peatling slotted three goals.
Matthew Walker, the cousin of former Carlton star Andrew, looked good for the Giants on a ground which showed off its phenomenal drainage system by being in pristine condition after copping 200mm of rain two days before the match.
The Allies team, made up of players from the Academy series, will be announced next week ahead of the division one championships.
Tasmania 2.2 6.5 9.6 14.10 (94)
Greater Western Sydney Academy 3.4 4.5 5.9 7.10 (52)
GOALS
Tasmania: Thomas 5, Rubock 3, Dakin, McGuinness, Mundy, Jackson, O'Neill, Peppin
Greater Western Sydney Academy: Peatling 3, Delahunty 2, Corbett, Driscoll
BEST
Tasmania: Thomas, Auckland, Jackson, Anderton, Jones, Dakin
Greater Western Sydney Academy: Briggs, Richardson, Peatling, Foley, Walker, Evans
Northern Territory v Brisbane Academy
On-baller Ben Jungfer led Northern Territory to its first win of the series with the hosts accounting for Brisbane Academy by 14 points at TIO Stadium.
Matthew Cumming rounded out a fine carnival with three goals for Northern Territory, while Leonard Ferreira, Michael Mummery and Izaak Wyatt all chimed in with two.
Former rugby league player Rodney Baird, who previously held a development scholarship with the Parramatta Eels, was instrumental in defence for Northern Territory.
Connor McFadyen (five goals) was clearly Brisbane's best, while Kiedean Coleman, Jack Cowan and Bruce Reville battled valiantly.
Full-back Toara Marango was named Brisbane's best player of the series.
Northern Territory 4.1 7.2 10.3 14.5 (89)
Brisbane Academy 0.5 4.5 8.7 11.9 (75)
GOALS
Northern Territory: M.Cumming 3, Ferreira, Mummery, Wyatt 2, Box, Brown, Jungfer, Kossack, O'Connell
Brisbane Academy: McFadyen 5, Ansell 2, Jeffrey, Wratten, Franks, Stackelberg
BEST
Northern Territory: Jungfer, Baird, Mummery, Schwarze, Ferreira, M.Cumming
Brisbane Academy: McFadyen, Coleman, Cowan, Reville