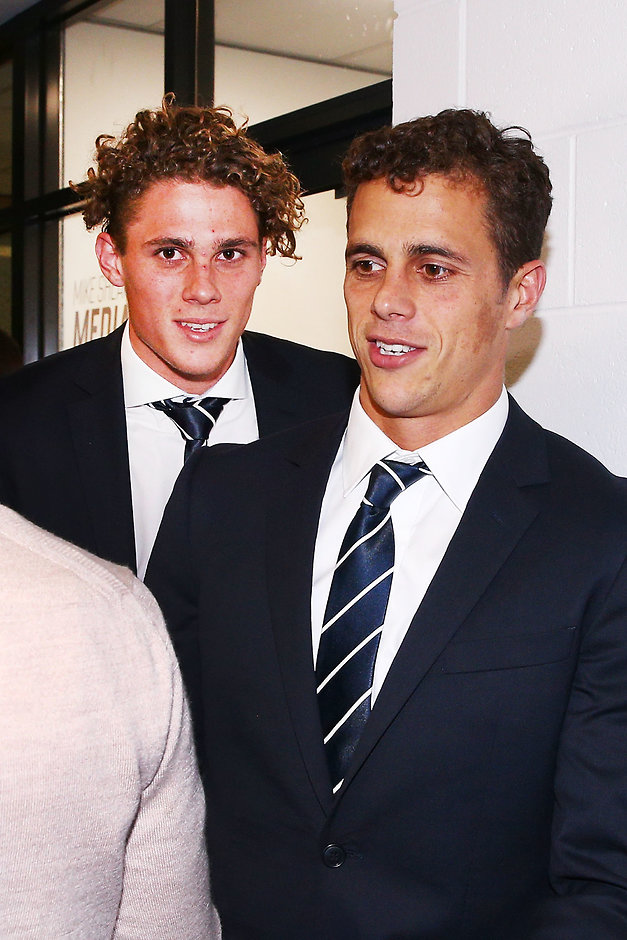 CARLTON midfielder Ed Curnow has been found guilty of intentional umpire contact by the AFL Appeal Board on Thursday and hit with a one-match suspension, but his younger brother Charlie has been cleared of the same charge.
Both Curnows were cleared of intentional umpire contact by the Tribunal on Tuesday night and fined $1000 after pleading guilty to the lesser charge of careless contact, decisions which prompted an appeal by AFL football operations manager Steve Hocking.
The Appeal Board of Murray Kellam QC (chairman), Michael Green and Stephen Jurica deliberated for 27 minutes before ruling there was no other reasonable conclusion than that Ed Curnow had made intentional contact with umpire Nathan Williamson.
The Board dismissed the appeal in relation to Charlie Curnow on the basis his contact with umpire Matt Stevic occurred while he was trying to break up a potential melee, with Kellam QC saying it was open to find his actions has been "inadvertent".
Ed Curnow will now miss Carlton's round nine clash against Melbourne at the MCG on Sunday, while Charlie's fine of $1000 for careless umpire contact stands.
Carlton football manager Andrew McKay said Thursday's hearing was "bittersweet".
"We had a very reasonable jury on Tuesday that found (Charlie) guilty of careless contact with the umpire and yet (it's) pretty frustrating that same jury has been found to be unreasonable when they found Ed guilty of that same charge," McKay said.
"So to come here is a little bit confusing. We'll cop it on the chin and move on."
On Wednesday night, Geelong superstar and AFL Players' Association president Patrick Dangerfield labelled the Tribunal's decision to clear Ed Curnow of intentional umpire contact "farcical" in the wake of Cats spearhead Tom Hawkins' one-match suspension on the same charge.
FARCICAL RULING Danger slams Tribunal
Asked about those comments on Thursday afternoon, McKay said: "I don't think I should comment on that except to say I don't Patrick should be either."
In pushing for a one-match suspension for Ed Curnow, AFL legal counsel Jeff Gleeson QC said intentional umpire contact was "a very serious matter".
While acknowledging Curnow's action was "just a brain fade", Gleeson said "clarity and certainty" were needed to let players know that if you touched an umpire and you meant to you would be suspended.
Earlier, player advocate and Carlton board member Marcus Clarke QC said Curnow's eyes had been following Essendon midfielder Zach Merrett at the time he touched Williamson, with his focus on get back alongside Merrett, who he was tagging, after giving away a free kick.
Clarke said Curnow was not aware he had made contact with Williamson until after the game, which was consistent with his action being careless rather than intentional.
In the Charlie Curnow appeal, Gleeson argued the vision of the incident alone was sufficient to find the Blues forward had intentionally touched umpire Stevic. He noted Stevic was standing away from the scuffle between Blue Jed Lamb and Bomber Mark Baguley, while there was no one else in Curnow's eyeline when he looked at the whistleblower.
"Ten out of 10 times a person watching it would say, 'Of course he meant to touch the umpire'," Gleeson said.
Clarke said it had plainly been open to the Tribunal to accept the younger Curnow brother's evidence that he had not intended to touch Stevic, while his testimony that he did not know he had touched the umpire until after the game was more consistent with careless rather than intentional contact.