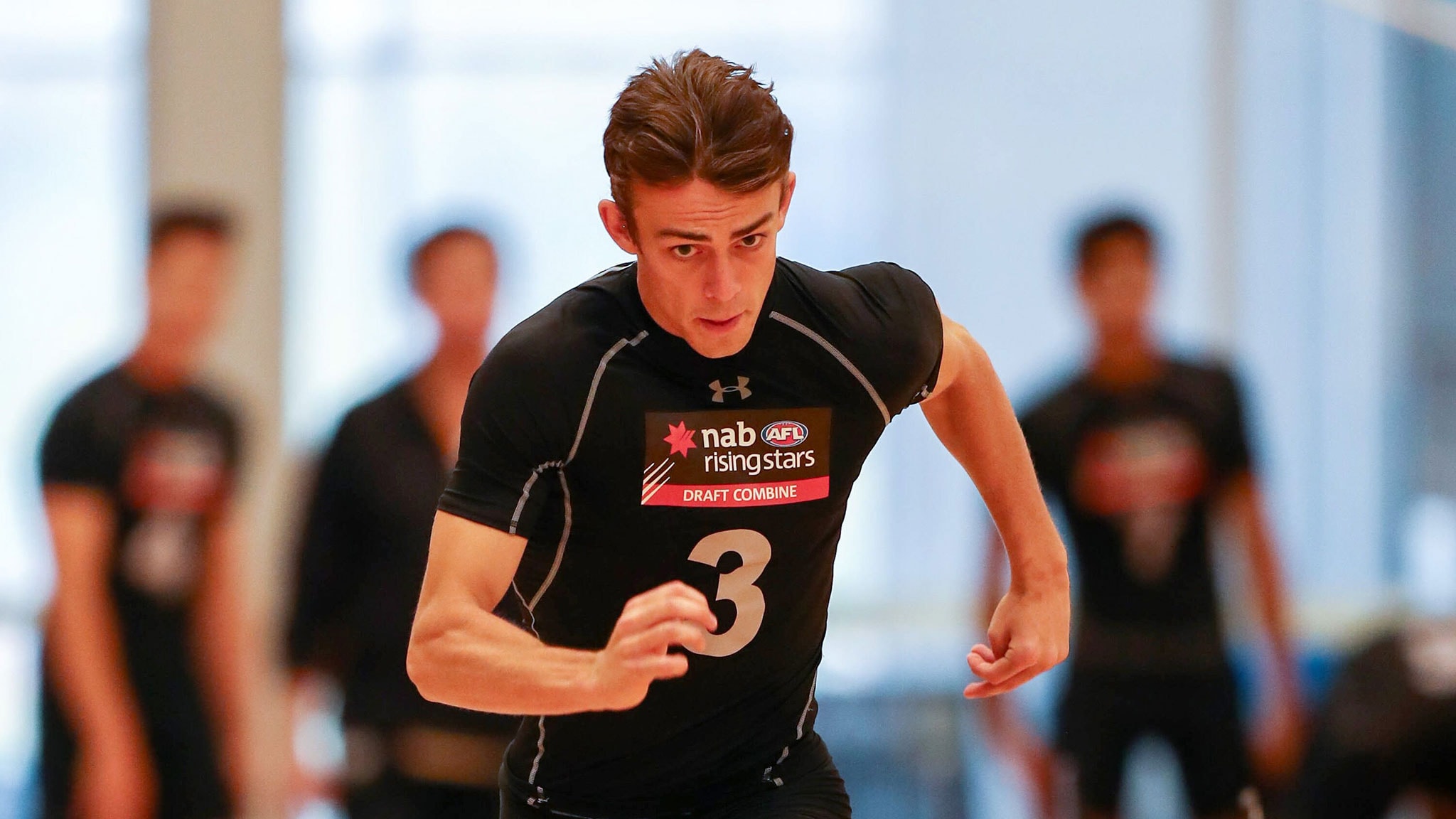 IF WIL Hickmott earns an AFL shot in the looming drafts, it's a safe bet the Subiaco teenager will be better prepared than most for the step up to the elite level.
The son of former Carlton and Geelong hard nut Adrian, who is now a West Coast assistant coach, Hickmott hails from strong football pedigree and has grown up dreaming of following in his father's footsteps.
NAB AFL DRAFT HUB Latest news, video and more
He lives and breathes the game – to the point where his mother has banned footy chat around the dinner table – and has left nothing to chance during his draft year.
While most 17-year-olds focus all their energy on school, in his spare time Hickmott has also been swotting up on his favourite subject by dissecting Andrew Gaff's playing style.
PHANTOM FORM GUIDE Cal Twomey's latest update
When his dad brings home vision of star Eagle's performances, they sit down together to analyse Gaff's prolific ball-winning ability and compare his running patterns to Hickmott's own game.
"If he (dad) has a game review that week he does some little edits and brings them home and I watch them through with him," Hickmott told AFL.com.au.
"(I watch Gaff's vision) nearly every night, to be honest.
"I love to build my game off Gaff and continue to do what he does, because I see myself as that type of player.
"He loves to run and get the outside ball, but knows when to go inside."
Hickmott senior has taken a keen interest in his son's career, advising him about the importance of preparation and diet, and was an onlooker as Wil dominated the WA State Combine last month, winning the Yo-Yo, 20m sprint and agility tests.
The Gaff comparison was easy to make after Hickmott pushed himself to level 21.3 in the Yo-Yo endurance test – a result which would have placed him narrowly outside the top 10 of the NAB AFL Draft Combine.
BEST OF THE BEST Combine's standout performers
An 180cm wingman, Hickmott was pleased to perform as recruiters watched on after being disappointed with his under-18s championships for Western Australia, when he was dropped after two games.
"The scratch matches leading up to it I did fairly well, but the actual games I didn't perform to what I thought I was going to, so that was a bit disappointing," he said.
"I feel like I was trying to change too much with my game personally and not focus on my strengths, like using my speed and getting outside of the play.
"I was trying to focus more on contested ball, where I need to improve on, but it's not my strength."
INDICATIVE DRAFT ORDER Your club's latest picks
Hickmott was recalled for WA's final game of the championships, and bounced back with some solid form for Subiaco in the run to finals.
He averaged nearly 22 disposals in the last six home and away rounds, before picking up 18 touches and impressing with his cool head during a dramatic Grand Final win over Swan Districts at Optus Stadium.
WHO'S LEAVING YOUR CLUB? All the latest retirements and delistings
WA under-18s coach Peter Sumich told AFL.com.au he believed Hickmott has what it takes to go to the next level.
Sumich coached Gaff in his debut season at West Coast in 2011, and said the gun Eagle also had to find the balance between receiving the ball in space and winning his own footy.
"I think he (Hickmott) can play AFL footy. He's got the run, the carry, he's more of an outside player, but in saying that one thing I pushed hard with him is he's got to have a balance," Sumich said.
"It's no good having 10 uncontested possessions and zero contested, you've got to have a balance of about seven and three.
"I reckon Gaff got that right after his initial year or two at West Coast and he became a bit more contested, and I reckon this kid's got a similar trait."
Hickmott will be available without restrictions to all 18 clubs in the upcoming national draft after Carlton elected not to nominate him as a father-son prospect.
His best chance of being picked up appears to be as a late selection or in the rookie draft, and Sumich said any club which takes a punt will recruit a fastidious footy nut willing to go the extra mile.
"Him and (West Perth's) Tommy Medhat, they were close mates, they were always at training an hour before (it started) doing touch," Sumich said.
"His preparation, Wil, I couldn't fault it. His attitude to just want to play football, he's one of those kids you feel like he wants to go the park every night and have a kick.
"He's got that attitude, which I think warrants him a lot of respect to hopefully get a chance to play AFL football."