JUST HOURS after Christian Petracca received the devastating news that he had torn the anterior cruciate ligament in his left knee at training in February, his mobile phone was blowing up with supportive text messages.

Dismayed by the scan results half an hour after he felt his knee buckle in a routine training drill, there was one particular message on the Melbourne midfielder's phone that stood out more than most.

It was from Port Adelaide's Robbie Gray who urged the teenager to remain positive despite the fact he was going to miss the rest of the season with the serious knee injury.
Searching for that 2006 feeling

"I was amazed as to how well the AFL community received it (the injury)," Petracca told AFL.com.au.

"It really kickstarted my rehab knowing that everyone was behind me."

Petracca and Gray have texted and spoken on the phone quite a bit since, and the pair caught up in person when the Power and Demons visited Alice Springs for their round nine clash.

"I've been through the same thing before as Christian, and copping such a big injury at such an early age was devastating for him," Gray said.

"I told him to stay nice and positive. 12 months is a long time out of the game, but I told him to follow his rehab really strictly and tick all the boxes."

The pair have developed a close bond and they have plans to catch up properly during the bye rounds.

Gray ruptured his ACL in April, 2012, fighting back to win the AFL Coaches Association Player of the Year award for an outstanding 2014 campaign.

The Port midfielder is now widely regarded as one of the premier players in the competition, a standard many think the powerhouse Petracca can reach one day.

Before the 186cm, 94kg Demons midfielder hurt his knee he was on track to being picked for the club's NAB Challenge campaign and looked well placed to join fellow draftee Angus Brayshaw for the club's season opener against Gold Coast.

Christian Petracca and Robbie Gray catch up in Alice. Picture: Ben Guthrie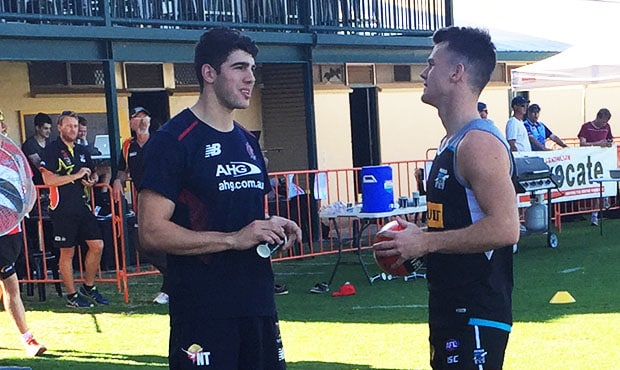 Even though he won't realise that goal this year, Petracca – pick No.2 in last year's draft - has taken steps to fast-track his development to ensure he's ready to hit the field full of running at the start of next season.

As part of that process, the youngster completes opposition analysis, viewing and cutting edits on some of the game's best players, looking for the traits that make them special.

Coincidentally, Gray is one player Petracca models his own game on, considering they both chose to pursue football after enjoying high-level basketball careers as juniors.

"I love watching Robbie play. He's got that agility and he cuts the angles so well," he said.

Petracca, who recently re-signed with the Demons until the end of 2018, is only a couple of weeks away from getting back into running as he reaches the 15-week post-surgery mark.

However, the 19-year-old has no plans to rush into things until he's ready.

"My aim is to play in round one next year and be ready for day one of pre-season, so I've got plenty of time on my hands," Petracca said.