THE WESTERN Bulldogs have managed just eight fewer scoring shots than Geelong this year, yet have scored 198 points less than the ladder-leading Cats.
Inaccuracy is killing the 12th-placed Bulldogs, despite having some of the most accurate goalkickers in the League.
Of the players who have registered at least 50 scoring shots, Tory Dickson is the second-most accurate goalkicker in AFL history, going at 74 per cent across his career.
When Tory Dickson lines up the goals, a celebration typically isn't far away. Picture: AFL Photos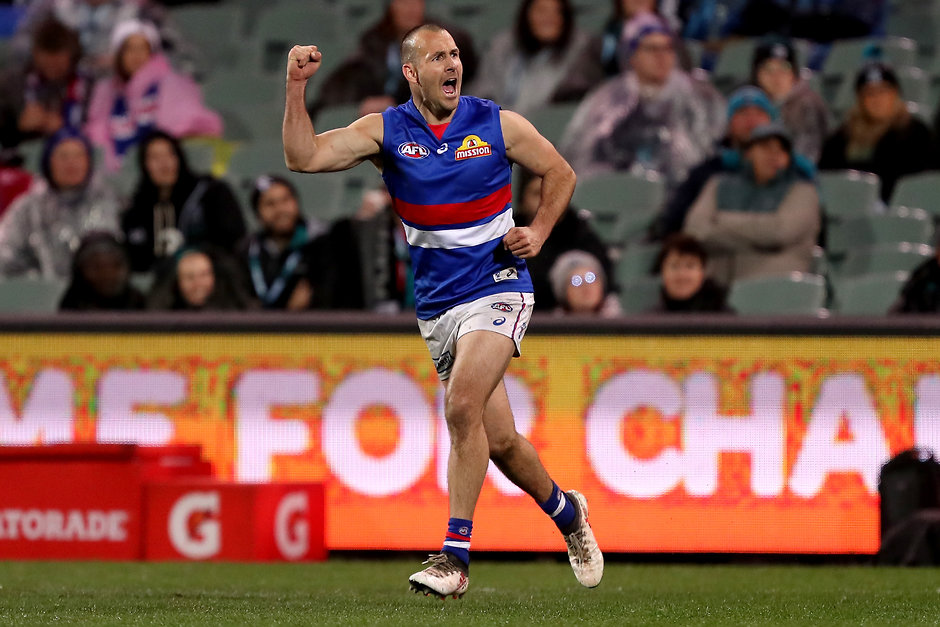 Since the start of the 2018 season, Mitch Wallis boasts the second-highest goalkicking accuracy in the League at 67 per cent, trailing only Port Adelaide's Kane Farrell.
Patrick Lipinski, Josh Schache and Sam Lloyd are all holding up their end of the bargain too.

It's when you factor in Champion Data's 'expected score' that you realise it's some of the best Bulldog midfielders who are really letting their team down.
The expected score measure is a formula that factors in where on the field a shot was taken, what type of shot it was (set shot, on the run, snap around the body) and weather conditions.
Think of it like this: a set shot from the top of the goalsquare in perfect conditions is likely to have an expected score of six points, whereas a banana from the pocket would be much lower on the expected score scale due to the difficult nature of the shot.
Jack Macrae has taken five shots at goal in 2019 – one shot from outside 50 on the forward flank didn't register a score, one shot from 40 metres out on a 25-degree angle was a behind, and the other three shots were all goals, ranging from 35 to 45 metres out on tough angles.
Due to the difficult nature of his shot chart, Macrae's expected score is 9.9, and yet he's scored 19 points from those five shots. His actual score is 91 per cent above his expected score.
The concerns lie with Marcus Bontempelli, Josh Dunkley, Lachie Hunter and Toby McLean.
Bontempelli's goal kicking has been the biggest drop off. In 2018, he exceeded his expected score by 17 per cent. This year his actual score has been 26 per cent below his expected rate, a 43 per cent difference from one year to the next.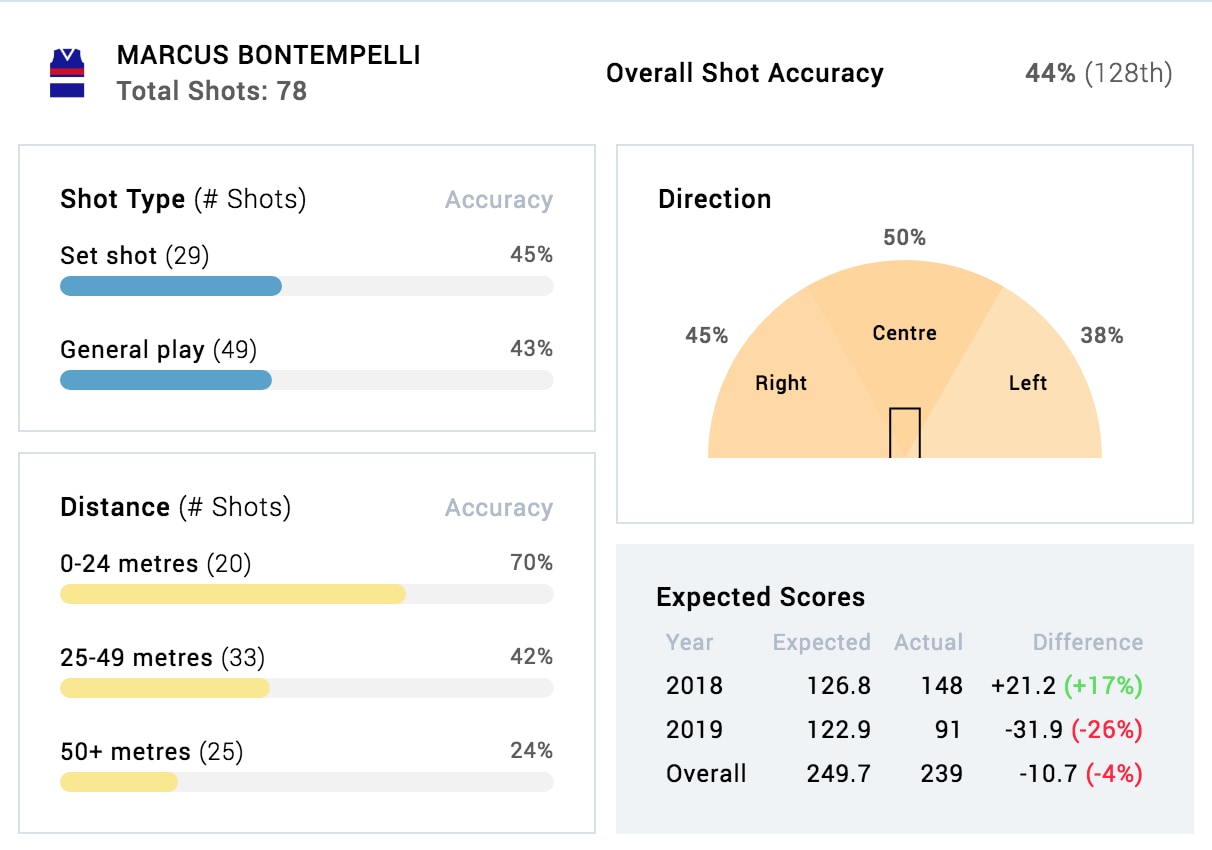 Source: Statsinsider.com.au
Bontempelli ranks seventh in the League in behinds, and 89th in the League for goals in 2019.
Hunter, Dunkley and McLean have reputations as below-average kicks, and the expected score stats for that trio have not been kind.
Hunter hasn't taken that many shots over the last two years, but his actual score was 19 per cent below the expected rate in 2018. That figure has dropped to 33 per cent below the expected score in 2019.
Lachie Hunter's goalkicking accuracy has nosedived in 2019. Picture: AFL Photos

Dunkley sits 151st in the League for goalkicking accuracy. Like Hunter, he's had a steeper decline in 2019 after already having a sub-par year in 2018 in terms of converting his chances.
In 2018, Dunkley was 16 per cent below his expected score, and he's tracking 24 per cent below where Champion Data thinks he should be in 2019.
McLean's data reads similarly to Dunkley's; he's 153rd in the League for accuracy and 19 per cent below the expected score in 2019.
With three games lost by less than 15 points this year, the Bulldogs midfielders will be lamenting their misses if they miss out on playing in September.
Find Trends on Apple Podcasts, Google Podcasts and Spotify