The NAB AFL Academy has been in America for the past two weeks on a high performance training camp.
Throughout the tour, highly rated 2016 draft prospect Jy Simpkin has written a daily diary for AFL.com.au.
He has also shone the spotlight on a teammate once a day across the tour. This is the final diary entry from Simpkin.
Day nine, Wednesday, January 20
IMG Academy, Bradenton, Florida
Our last full day at the IMG Academy started with another competitive training session on one of the soccer fields.
Our coach Brenton Sanderson put a focus on us crumbing the ball off the taller marking targets at both ends of the ground, so for us forwards there was an emphasis on making sure our timing was right and we didn't go past the contest too early or get there too late.
Playing as the marking target, Luke Strnadica was able to compete really well in the air and show his strength there.
I see this part of the game as one of my strengths, but this year I'm hoping to spend a bit more time in the midfield, having played mainly as a half-forward last year with Vic Country and the Murray Bushrangers.
Between the session and lunch we headed to the athletics track to go through some sprint techniques with Loren Seagrave, who has worked with NFL players and Olympic track athletes. He taught us new ways about planting our feet and when to lift them to maximise speed, and made us go through some awkward running programs that none of us had ever done before.
I left the session with more respect for some of the athletes we've seen around IMG. Sometimes they look like they're just running when they're training, but from an hour with Loren we realised that their training was a lot harder and more specific than we thought.
The group of players who were interviewed by clubs on Saturday had this afternoon off, so we went down to the basketball court and had some fun on the court. Myles Poholke is the best basketballer in the group, but I think Jack Rolls would fancy himself against him.
Spotlight on: Will Setterfield stood out in today's session, both with his leadership and how well he trained. He's had a few injuries over the past year and has only played a handful of games, so it was good to see him out there.
Jack Rolls (31) and Myles Poholke (27) training at USC. Picture: AFL Media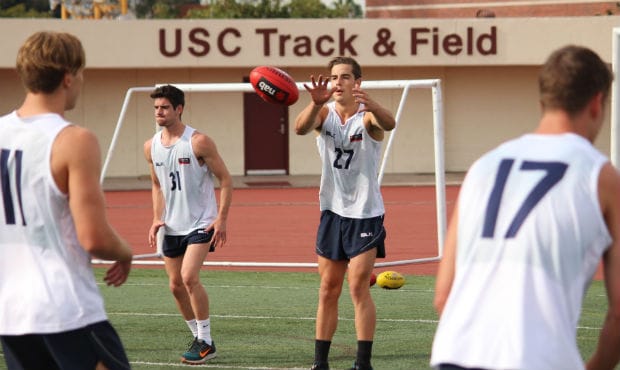 Day 10, Thursday, January 21
Florida to Los Angeles
The alarm went off at 6.30am for us to get ready to head to head to Los Angeles. It took a couple of plane trips to get into Santa Monica – crossing the country via a stopover in Atlanta.
We got in at about 4pm and we had a stretch on Santa Monica beach, and all the boys were pretty excited to see some famous sights from TV shows and movies over the years. Most of us have also played the game Grand Theft Auto 5, which is based around Santa Monica's locations, so everything already felt a little familiar.
We didn't get to do much sightseeing in Florida because it was a tough training camp, but once we arrived in LA and took the bus through the streets we all realised how lucky we are to be on this trip and to see this part of the world through the Academy program.
Josh Rotham was feeling even luckier, after misplacing his passport back in Florida but finding out it had been located at the IMG Academy. He's glad he will be fine fly home with the group on Sunday.
Spotlight on: You couldn't wipe the smile off Jack Graham's face once we got to the beach, and he was blown away by his surroundings. It's been a challenging camp for him being in the rehab group with his quad injury, so Santa Monica is obviously a highlight of his time in America.
Day 11, Friday, January 22
Santa Monica, Los Angeles
It was cool to start the day with a training session on the famous fields of the University of Southern California, a college that has had the most American footballers drafted to the NFL.
The training was a little different to other days, with a focus on marking technique and more drills to improve our short kicking under pressure.
Ben Ainsworth is one of the best marks in the group, and he talked us through how he would approach different marking contests when being out-positioned. He demonstrated the way he would go back with the flight and Sando said it was spot on, which shows why it's a big part of Ben's game.
We also did some kicking races that caused some controversy, as Jarrod Berry, Jack Bowes and I were booted out after the first race despite video evidence suggesting we definitely weren't last placed. Unfortunately Sando wouldn't accept our pleas to stay in the competition and told us to get off the field.
Everyone was excited in the afternoon to be heading to the Staples Center to watch the LA Lakers and San Antonio Spurs NBA game.
The game was the 10-year anniversary of Kobe Bryant's 81-point match, so the pre-match entertainment included a big tribute to him. It was good to see him live before he retires at the end of this season – Alex Witherden was so keen to see him he forked out more money on an official Kobe jersey that he would have been able to get for much cheaper on the Santa Monica pier.
Although the game was average, our night was made afterwards when we headed courtside and met Patty Mills, who played Australian football growing up before becoming an NBA star. He spoke to us and then got a few photos, including taking a selfie with the team on my phone.
Spotlight on: Josh Rotham had a really good session with his marking, spoiling and positioning in marking contests. He finished off his good work by getting up in front of the group and getting a sing-along going to Justin Bieber's Love Yourself.
Stretching at Santa Monica beach. Picture: AFL Media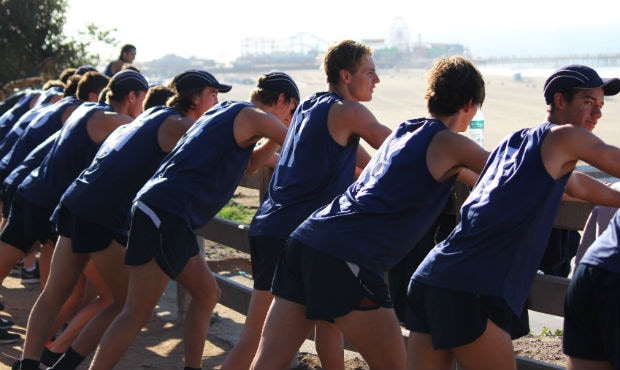 Day 12, Saturday, January 23
Santa Monica, Los Angeles
After a good night at the NBA all of the boys were pumped to go to Disneyland, which is about an hour's drive from where we are staying in Santa Monica.
Once we got there we broke up into little groups and started lining up for a few rides. Being a Saturday it was packed, which made the lines even longer, with an hour wait for most.
The Space Mountain rollercoaster was the most popular among the group. It started slowly and reminded us of the simulation ride at the Kennedy Space Centre in Orlando, but once we got to the top it dropped and frightened a few of us. It's fair to say Brad Scheer wasn't a big fan of it.
We were at Disneyland for seven hours and it was pretty draining from all the wandering around. Jack Graham clicked on his sports watch and by the end of the day had clocked up more than 10 kms of walking across the day, so once the bus rocked up it was a pretty quiet trip home.
I don't think I was the only one to get some extra sleep on the trip, but it was very quickly interrupted by Josh Battle thinking it was funny to hold my nose to stop me from breathing which woke me up.
Spotlight on: Jacob Allison didn't waste a second at Disneyland, and every time we walked past him he had been on a new ride and checked out something different. He went on every ride at the park – a good effort given the size of the place and the amount of people there.
Day 13, Sunday, January 24
Los Angeles to Australia
Our final day in America started with a light touch session at Santa Monica beach. It's probably the best weather we've had all trip with blue skies and the sun shining, and at end of it Sando made us all walk over to the lookout point and take in how lucky we are to be on the trip and to have this opportunity.
Most of the boys are pretty excited to head home and see their families but we're not looking forward to catching the long flight on another airplane.
This tour gave me a greater appreciation of what life as an AFL player would be like.
When I've talked to some AFL players they always talk about heading overseas in their off-season and seeing new things, and that's been the way for us over the past two weeks through this experience.
The insight we got at the IMG Academy was also amazing, and has been where many star athletes have trained and been coached during their junior years.
This camp has been a great start to what we hope is a big and successful year for all of the boys, and I feel very privileged to have been added to the Academy last year and to have toured America. It's been an amazing trip that I'll never forget.
Spotlight on: The final spotlight is partly an apology to my roommate from the last couple of nights, Brandan Parfitt. I woke up this morning and he told me I'd been snoring all night, so I'm sorry about that. Brandan's had a really good trip, trained well and looks set to back up what was a great year for him last year.