THE ADVERSITY Melbourne has faced in a disappointing follow-up season to last year's preliminary final run could benefit the Demons in the long run, coach Simon Goodwin says.
The Western Bulldogs inflicted Melbourne's 11th defeat in 16 games on Saturday, by eight points, after briefly trailing in the last quarter.
Goodwin's Demons are a win and significant percentage from even climbing out of the bottom four, with a consistently horror injury curse playing a major role in the current predicament.
The Dees leave the field dejected after yet another loss. Picture: AFL Photos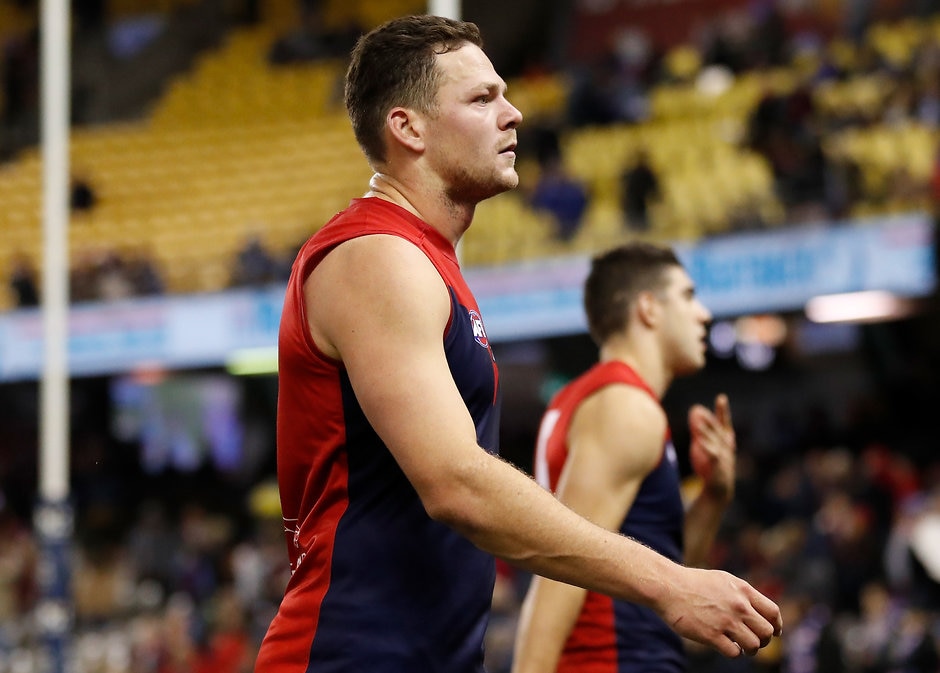 There was respite in defenders Jake Lever and Neville Jetta returning, but they lost key forwards Tom McDonald and Sam Weideman from last week's narrow win over Carlton.
"We're obviously incredibly disappointed with where we sit – we've won five games for the year – (and) a range of challenges have posed throughout the year," Goodwin said.
"Again, this week, we get players back who've spent a long time out of the team, and we lose a couple of forwards down the other end, so there have been challenges all the way through.
DOGS STILL IN THE HUNT Full match coverage and stats
"But for the Melbourne supporters, it's about staying together and it's about continuing to build.
"We've spent four years building a really strong foundation at our footy club, and … we know in this game that if you have built it the right way that it can turn very quickly."
Goodwin pointed to teenage defender Harry Petty, who kicked three goals as a makeshift forward, Jay Lockhart and Marty Hore as individual examples of how this season hadn't been a complete waste.
WATCH Simon Goodwin's full post-match media conference
Sunday's match also marked the first time Lever, Jetta, former Sun Steven May, Christian Salem, Michael Hibberd and Sam Frost played together down back.
"That's why it's an important six weeks (to finish the season)," Goodwin said.
"We're continuing to get some guys back. Lever, Jetta, May, Hibberd – they haven't played a lot of footy together, and cohesion is a big thing in footy.
"You need to develop that over a period of time and we need to use these six weeks in a way that can get that cohesive nature, especially with our backline."
GAMEBREAKER Dunkley absolutely destroys the Dees
The consistent criticism of Melbourne this season has centred on its performance away from its strength in the contest.
The Bulldogs out-performed the Demons on the outside, but Goodwin was most concerned with his players' inefficiency with the ball in hand.
"We're clearly a pretty good contested team but getting the ball to the outside and being effective with it and using it in the right way (is a focus)," he said.
Kyle Dunkley kicks his first AFL goal and flexes on his brother Josh who manned the mark! #AFLDogsDees pic.twitter.com/7ohdtOJb1a

— AFL (@AFL) July 14, 2019
"There were times today we got some really good looks and we just weren't efficient with the ball. Our fundamentals probably didn't stack up.
"In the end, I thought that's where they got us. They were more efficient with the ball, they certainly challenged us with their ball movement and we were a bit bland in that phase.
"We were easy to defend, so hence we spent a lot more time defending than attacking in the game in general."
Melbourne is understood to have shown some interest in Dockers Ed Langdon and Bradley Hill, both of whom could help the Demons in the area Goodwin referred to.
However, the coach said it was not the right time to discuss potential off-season player movement.
There also won't be any rush to push veteran ex-Hawk Jordan Lewis out of the side despite Melbourne effectively being out of finals contention.
"Are we going to keep playing him? This is really important to know; that every game we go into, we're trying to win and we're going to build a winning culture," Goodwin said.
"If Jordan Lewis is in good form, he will continue to play. He's a fantastic person for this footy club and right now he's doing a really good job for the team.
"There's no way, even if we can't make finals, that we're just going to pick players based on giving them experience. We're going to pick players based on trying to win a game of footy."