A TEARY Josh Gibson announced his retirement on Tuesday, the veteran Hawk declaring he had "nothing left in the tank", having played the last of his 225 games.
Gibson will continue his rehab at the club, but the 33-year-old suffered a right groin injury in round 12 but is at only 75 per cent fitness – he admits a farewell game will be impossible.
The former Roo knew for a long time this day was coming, as he told a room full of players, club staff and media at the Ricoh Centre.
"It's obviously something that I knew for most of the year and after getting injured, I was just really trying to fight my way to get back to playing," Gibson said.
"As I said to the group, I'm not going to play again this year.
"I just feel it wouldn't be right for Clarko (coach Alastair Clarkson) and the coaching staff and the match committee if I put them in the position of dropping someone in the last game to try and give me a farewell game. It's not really what I'm after."
Clarkson said that decision was emblematic of Gibson.
"He can nearly play. If you watched him train today, you'd think 'Gee, Gibson's right to go'," Clarkson said.
"He's decided, and we have, that the best thing for us, right where our footy club's at, the future is about now. We don't expect any different from him."
The champion backman parlayed a solid 65-game start with North Melbourne into a distinguished 160-game career with the Hawks when he joined the club in 2010.
Clarkson pointed to one key trait as his reasoning for recruiting Gibson.
"Just for us, he's a competitor. Sometimes it takes a long time for players to realise that they've got it in them to compete at that level. Sometimes they just need the belief and self-confidence," Clarkson said.
"Strangely enough, his record on 'Bud' (Lance Franklin) when we played against North in those years was really, really strong. I just liked the fact that he liked to take on big challenges.
"He was 6'2, played against bigger opponents (and) you can only do that if you're a really ferocious competitor."
Champion Hawk Josh Gibson has called time on his career. Picture: Getty Images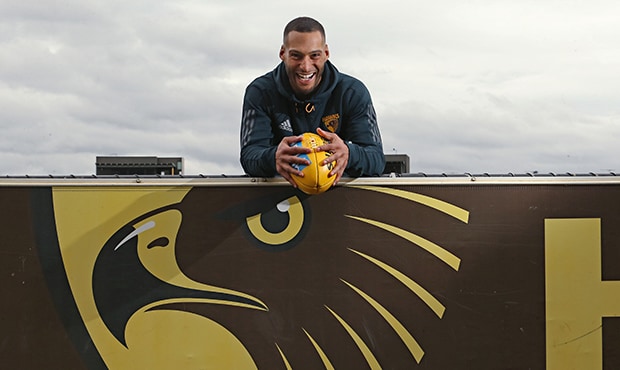 Having to take on smaller opponents, Gibson was forced to hone other parts of his game, as Clarkson noted of a player he said was one of the best trainers at Hawthorn.
"He developed a craft in terms of his game in being able to time the ball perfectly in terms of when you jump and leap at the ball and body. That's a really special trait. He had to learn that in the system of which we play defence and it wasn't easy," Clarkson said.
Lured over by the prospect of premiership glory, Gibson admitted to feeling intimidated when he arrived at the club.
"Suddenly you're running around on (Jarryd) Roughead and 'Buddy' at training and you've got the likes of (Luke) Hodge and (Sam) Mitchell and (Jordan) Lewis and these guys and I was like 'Wow, what a star-studded line-up here'."
It just made me really want to perform hard and show those guys that I was worth the club trading for me," Gibson said.
He played a variety of roles with North but crossed to the Hawks in a bid to become a key defender and he carried that role with aplomb, strong in the air and creative with the ball in hand.
Perhaps the most impressive accolade Gibson could have received was winning the Peter Crimmins Medal in 2013 and 2015, when the Hawks bookended their three-peat. He was also named in the All Australian team in 2015.
"He was ranked by our club best and fairest in two of those three premiership years. There's some pretty handy teammates in those sides. It just shows how much regard his teammates and this footy club had for the way he went about it," Clarkson said.
Three mighty Hawks - Gibson with Lance Franklin and Jarryd Roughead. Picture: AFL Photos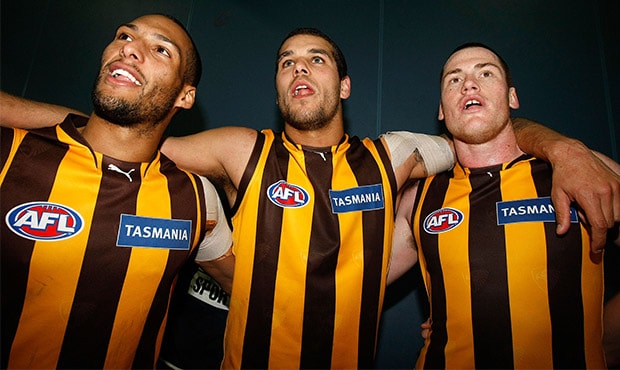 Gibson wasn't sure he would ever have his own premiership medal to drape around his neck.
"After losing 2012, I didn't know if we'd get another chance but for the next three years, to have the years we had was amazing," he said.
The coach said Gibson's toughness was exemplified by his battle with groin injuries.
"He's always had trouble with his groins and the fact that he's been so durable and played so much footy and no-one ever knew really about them, except himself and our club and perhaps North, says a lot about the passion and spirit with which he played," Clarkson said.
As for his record against Franklin, who left Hawthorn at the end of 2013, Gibson said it was too close to call.
"You've probably never got 'Bud'. You think you've got him and then he kicks a few on you. I would say they're pretty even," Gibson said.
He didn't consider retirement at the end of 2016, even as Sam Mitchell and Jordan Lewis departed for West Coast and Melbourne respectively.
"Some guys say they finish with something in the tank. I know I've got nothing left in the tank. I guess that's the way I've played. I've always trained hard and tried to give everything all the time," he said
Luke Hodge has already announced his retirement and the round 23 game against the Western Bulldogs is shaping as his last unless the Hawks miraculously make their way into finals.