THE WESTERN Bulldogs will meet on Thursday to discuss whether or not forward Stewart Crameri will take part in the NAB Challenge.
Crameri is one of 34 past and present Essendon players who received doping infraction notices for their part in the Bombers' 2012 supplements program.
It has been reported that Bombers players won't seek to have their provisional ASADA suspensions lifted and will not play in the first two NAB Challenge matches while the AFL Anti-Doping Tribunal is still deliberating on the case.
Port Adelaide players and former Bombers Patrick Ryder and Angus Monfries will also reportedly sit out the pre-season competition.
Players could potentially risk missing matches during the premiership season if they play in the NAB Challenge and are subsequently found guilty by the Anti-Doping Tribunal.
ASADA has warned that players who take part in the NAB Challenge will not be able to credit their time served in a provisional suspension against any potential ban handed down by the AFL Anti-Doping Tribunal.
"Our view is any athlete competing during their provisional suspension and prior to a final decision by a sport tribunal, has not respected their obligation under the World Anti-Doping Code and should not be entitled to a credit for the provisional suspension," an ASADA spokesperson said.
However, the AFL retains the power to lift provisional suspensions for any player who requests it. The AFL Commission does not need seek ASADA's approval, or even consult with the anti-doping body, to lift any provisional suspensions.
The Bulldogs' NAB challenge campaign kicks off on February 28 against Richmond at the Whitten Oval, with coach Luke Beveridge confirming to AFL.com.au that a decision had yet to be made on Crameri's participation.
The Bulldogs will meet with Crameri's legal team on Thursday to discuss the situation.
"It's a really sad state of affairs as far as I'm concerned," Beveridge said on Wednesday.
"The players haven't done anything wrong, so they would rather be playing than not playing.
"But the way the decision might go, and the penalty that might be handed down, and the duration they might be out for, there's a consideration around whether [withdrawing from the NAB Challenge} is the right thing to do.
"We understand that the Port Adelaide boys aren't going to play and we found out last night the Essendon boys aren't going to play.
"I spoke to Stewy about that last night and we'll get together on Thursday with our legal representatives and work out what we're going to do."
Beveridge said the possibility of Crameri not playing in the pre-season competition was disappointing given his early good form so far in 2015.
"He's had an enormous pre-season, actually," Beveridge said.
"He's gone about his work in a really professional fashion and he's in terrific nick. That's the sad thing because he's ready to go and he may not be able to play in the NAB series."
Crameri was traded to the Bulldogs at the end of season 2013 after four years at Essendon.
The 25-year-old forward started strongly in his first season at the kennel, kicking 18 goals in the first eight rounds of 2014 but towards the middle of the year his form began to drop.
Former coach Brendan McCartney admitted last year that the on-going investigation into the Essendon supplements scandal had taken a toll on Crameri both on and off the field.
Stewart Crameri with teammates on the Bulldogs' photo day. Picture: AFL Media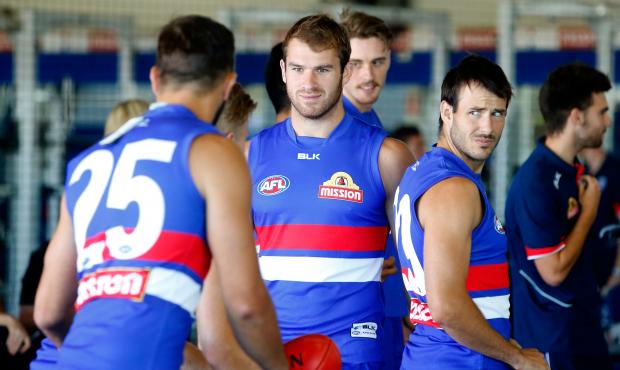 Beveridge said managing Crameri both emotionally and physically would continue to be a challenge for the club.
"Stewy needs to know that we support him, no matter what, unconditionally," he said.
"We need to make sure we continue to support him and ensure he continues to do the work, even though he's not playing, so he's ready to go.
"Stewy is handling it quite well, [but] there's no doubt it's been quite a stressful period for all the players concerned."