IRELAND'S latest two AFL offerings slipped into Melbourne under the cover of darkness in the early hours of Sunday morning.
Teenagers Cillian McDaid and Stefan Okunbor are in Australia for a battery of agility, fitness and skill tests under AFL recruiters' eyes, with the end goal of becoming professional footballers.
They already saw off an exclusive group of 23 countrymen to make it this far, advancing from the AFL Europe Talent Combine in November last year.
The best four from there, including David Shaw and Evan Murphy, scored a trip to Florida with the NAB AFL Academy at the start of 2017.
As Okunbor told the Irish Examiner in January: "I'm in college in Limerick and study engineering, and I can't see myself sitting at a desk the rest of my life."
Therein lies the Irish interest in the AFL, given their own domestic game – Gaelic football – is an amateur sport. That is despite its cult following and extensive media coverage similar to what the Australian game commands.
The biggest Gaelic stars can earn to the value of about 100,000 Euro ($AUD150,820) annually via sponsorship and plum job and educational opportunities, according to one long-time scout.
That pales in comparison to the AFL's top earners, such as Richmond superstar Dustin Martin, whose new seven-year deal landed him somewhere between $1.2 million and $1.3 million per season.
This year's collective bargaining agreement rocketed the average player wage from $309,000 to $371,000. Irish footballers start on standard AFL rookie wages of about $75,000.
But there is a complexity not everyone in Australia appreciates, and is part of why only a trickle of Irishmen have attempted an AFL career since trailblazing defender Sean Wight in 1985.
Only one-third of the 63 Irishmen who made the transition from the Gaelic game to Australian football have played an AFL match.
Of those 21, only eight – Sean Wight, Jim Stynes, Tadhg Kennelly, Setanta Ó'hAilpín, Marty Clarke, Pearce Hanley, Zach Tuohy and Conor McKenna – have gone beyond 30 matches.

Jim Stynes went from Ireland to being a legend of the Australian game. Picture: AFL Photos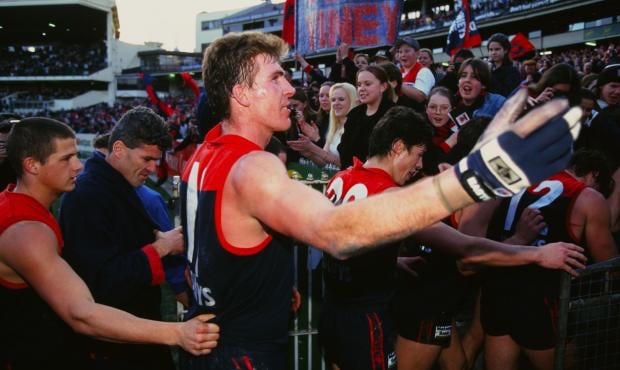 Player manager Nigel Carmody, of TLA Worldwide, had West Coast's former Irish recruit Paddy Brophy on his books.
Brophy joined the Eagles at the end of 2014 and finished third in WAFL club East Perth's best and fairest award last year, but quit in April to go home and resume his studies.
As Carmody points out, Brophy "didn't come out to play state-league footy".
"They are playing a completely new sport on the other side of the planet," Carmody told AFL.com.au.
"Think how complex the game's become with structures and what not – it's a unique sport.
"There is not a sport with so many players on the ground at any one time, who can move anywhere 360 degrees, and the ball itself is unique and you dispose of it by hand and foot."
As illustrated earlier, few Irish footballers play an AFL game and even fewer become regulars. Then add that ratio to what these kids – often just 18 years old at the time of recruitment – are leaving behind and you start to understand why making the leap is so difficult.
Gaelic football is ingrained in Irish culture. Players represent their county rather than being shipped almost anywhere in Australia, like the AFL Draft.
Often, their father or mother or uncle or siblings also played. And dangling in front of them is the chance to compete in an All-Ireland final at Dublin's Croke Park, in front of more than 80,000 fans.

Zach Tuohy is one of the Cats' most important players. Picture: AFL Photos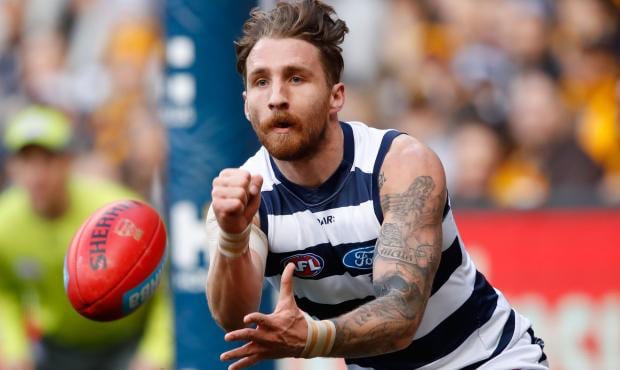 "They love it, and it's embedded in them from the time they can talk – and we haven't got that, because it's not state of origin in this country," one scout told AFL.com.au.
"Every single game these boys play is state of origin, so it's massive … if you speak to any of the Irish boys here, they're still massively interested in their club and how they're going. They're on the phone and they're on Facebook finding out what's happening.
"It's just as big to play for their local parish club as it is for them to play for Carlton, and we don't understand that here."
There is hysteria in Ireland each time one of its own chooses to leave for the AFL.
Much of that overreaction is currently centered on one particular prospect, County Kerry's once-in-a-generation talent David Clifford. Clifford is regularly lauded in the Irish press, and it is often accompanied with fearmongering about him being lured to Australia.
Ex-St Kilda and Sydney key forward Tommy Walsh was Gaelic football's Next Big Thing before Clifford, but went down the AFL path.
The Irish Times referred to Walsh last week as a "cautionary tale" who "should be entering his prime as a Kerry footballer … but after moving from St Kilda to Sydney Swans, where he made five appearances over three injury-ravaged seasons, he's been home since 2014 and is nowhere near the Kerry team".
Clifford, who engineered Kerry's fourth-straight All-Ireland minor football championship last weekend, has so far resisted AFL overtures, including that of Kennelly, despite multiple clubs showing interest.

Tadhg Kennelly (training with Ireland) tasted the ultimate AFL success. Picture: AFL Photos

Kennelly is the AFL's international talent coordinator and runs the AFL Europe Talent Combine each year. He played 197 games for Sydney and was part of its 2005 premiership team.
The AFL spends approximately $150,000 annually on the hunt for overseas talent, national and international talent manager Kevin Sheehan says, including combines in the United States and New Zealand.
"We rely so much on boys who have played the game all their life; the kids in Australia who've come through traditional systems," Sheehan said.
"But we'd be crazy not to at least explore other areas, particularly given the inspirational story that Jim Stynes was.
"Jim is one of the greatest stories in our game; to see him come out and be scoffed at initially, then eventually be a Brownlow medallist and the guy who played the most number of games consecutively, and then become such a wonderful administrator as the president of his football club."
Hawthorn is one of the most active AFL clubs in the Irish space, along with North Melbourne and the Brisbane Lions. They have men on the ground in Ireland helping them recruit the right players.
Conor Glass and Conor Nash are both on the Hawks' rookie list, along with New Zealander Kurt Heatherley. They were undeterred by early setbacks, where Irish prodigy Ciarán Kilkenny and New Zealand's Shem Tatupu did not see out their contracts.

Conor Glass impressed with Hawthorn this year. Picture: AFL Photos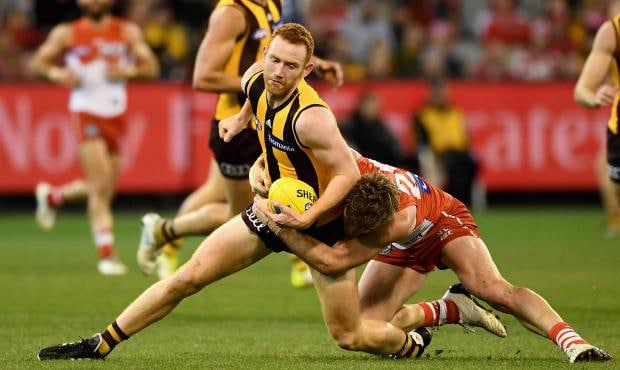 Tatupu joined NRL powerhouse Melbourne Storm, while Kilkenny's reasoning was simple: "I realised (AFL) would never matter as much to me as the sense of community and joy I get from … playing alongside the people with whom I grew up."
Kilkenny, unlike Walsh, has picked up where he left off in Gaelic football and resumed his star status.
Hawthorn's recruiting manager – east, Mark McKenzie, said the Kilkenny experience taught the Hawks to be "a bit more patient" with its international talent.
But they remain committed to the experiment, and both Glass and Heatherley played at senior level this season.
"There are plenty of similarities in the attributes of the players in those sorts of games," McKenzie said.
"It's another player who can potentially play AFL football and hopefully have a long career who can be added as a category B rookie. That is definitely an advantage if you get it right."
The AFL's Irish 21
| | | | |
| --- | --- | --- | --- |
| Player name | Gaelic club | AFL club(s) | AFL games |
| Sean Wight | Kerry | Melbourne | 150 |
| Paul Earley | Roscommon | Melbourne | 1 |
| Jim Stynes | Dublin | Melbourne | 264 |
| Dermot McNicholl | Derry | St Kilda | 3 |
| Brian Stynes | Dublin | Melbourne | 2 |
| Tadhg Kennelly | Kerry | Sydney | 197 |
| Setanta Ó'hAilpín | Cork | Carlton and GWS | 88 |
| Colm Begley | Laois | Brisbane Lions and St Kilda | 30 |
| Marty Clarke | Down | Collingwood | 73 |
| Pearce Hanley | Mayo | Brisbane Lions and Gold Coast | 142* |
| Michael Quinn | Longford | Essendon | 8 |
| Zach Tuohy | Laois | Carlton and Geelong | 145* |
| Niall McKeever | Antrim | Brisbane Lions | 22 |
| Tommy Walsh | Kerry | St Kilda and Sydney | 5 |
| Jamie O'Reilly | Down | Richmond | 4 |
| Caolan Mooney | Down | Collingwood | 6 |
| Ciarán Sheehan | Cork | Carlton | 6* |
| Ciarán Byrne | Louth | Carlton | 15* |
| Conor McKenna | Tyrone | Essendon | 33* |
| Conor Glass | Derry | Hawthorn | 6* |
| Mark O'Connor | Kerry | Geelong | 2* |
*Still playing