VETERAN Western Bulldogs defender Dale Morris is expected to find out by Monday if he has suffered a third anterior cruciate ligament tear in 17 months.
Morris was chasing a loose ball on the wing early in the third term of Sunday's 47-point win over Fremantle when a sudden change in direction forced the 36-year-old's left knee to twist.
DOGS v DOCKERS Full match coverage and stats
He was playing his first senior game of the year, after a month of games in the VFL, since recovering from a partial ACL tear in the same knee sustained in a training mishap in March.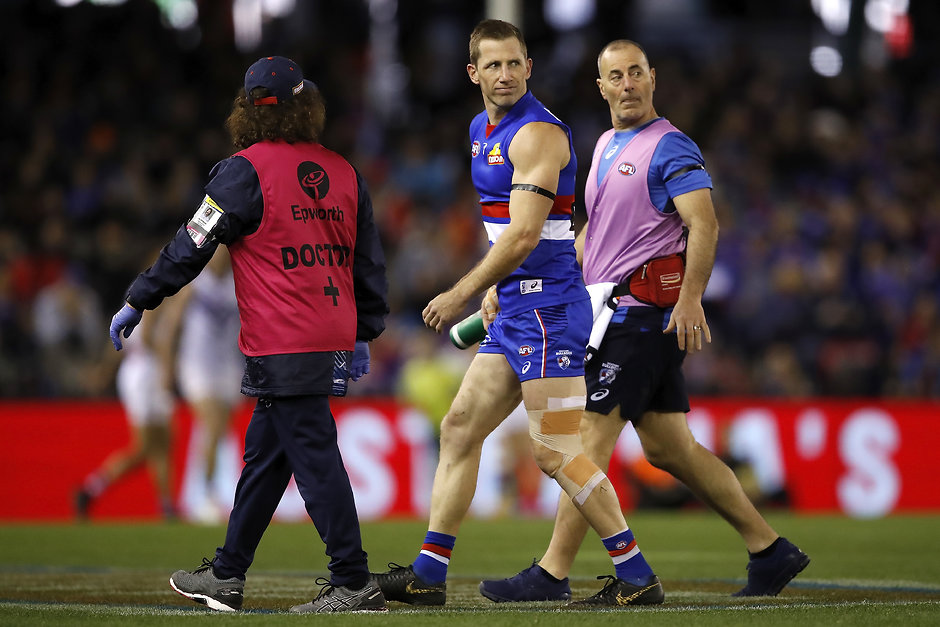 That third-quarter incident wasn't the only time his troublesome left knee came under scrutiny, with the 2016 premiership hero feeling a twinge during a contest in the first term.
Morris went to the rooms for treatment following an awkward landing when attempting a spoil, but returned to the field with more strapping around the knee.
Coach Luke Beveridge told reporters post-match that the initial issue was more of a lateral one and that the club's medical staff "couldn't see it coming".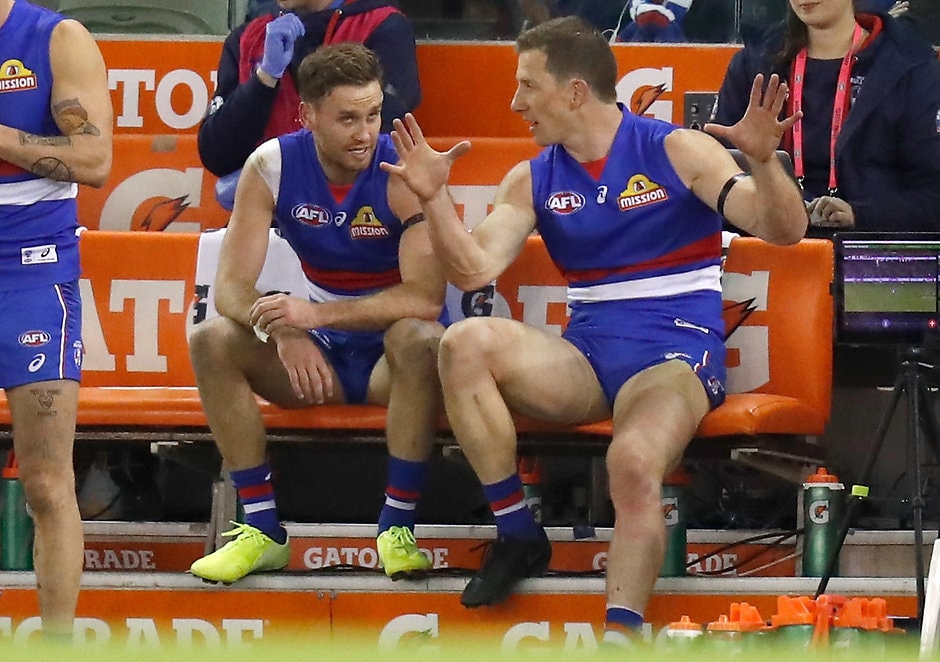 He said the odds Morris had avoided another ACL tear were "pretty slim".
"It's a suspected ACL injury, and beyond that obviously we'll just need to take some time to confirm it," Beveridge said.
"It'd be great for it to come up otherwise, then we'll communicate what the status is.
WATCH Luke Beveridge's full post-match media conference
"He's amazing. I patted him on the back at three-quarter time and he had this big smile on his face, which just shows the character and attitude of Dale Morris and we're really fortunate to have had him in our ranks for so long.
"He's obviously been an enormously influential player at our football club for such a long period of time, a great example-setter, like a father figure (or) big brother.
"For him to even be in that frame of mind and still be vocal supporting his teammates after he went down with the injury, speaks volumes for his integrity and who he is."
Premiership teammate Joel Hamling commiserates with Dale Morris. Picture: AFL Photos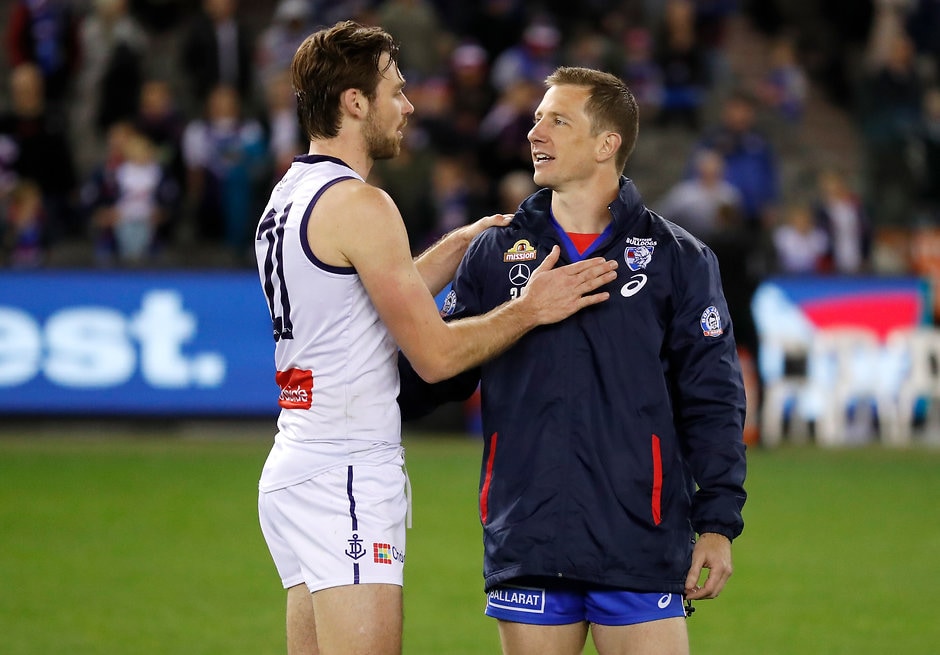 Morris opted not to undergo the traditional ACL repair the past two occasions – the first of them to his right knee in February last year – but Beveridge tipped him to have surgery this time.
Instead, he kept the injured knee in a brace and relied on the injury healing naturally, as well as drinking a litre of bone broth daily.
"When you consider with the other knee, that's fine, so it was exactly the same recovery, rehabilitation, turnaround and he hasn't missed a beat," Beveridge said.
"Then this one, I said publicly, in the (mid-week) press conference, I feel like he's come back even stronger this time – he's played better footy at state league level after this one.
"There's always a risk … (but) you look at his appearance, see the way he moves, and you know you've got all that stored experience and what he can contribute on-field for his teammates and his club, so it's just real bad luck to think he's done either side this late in his career."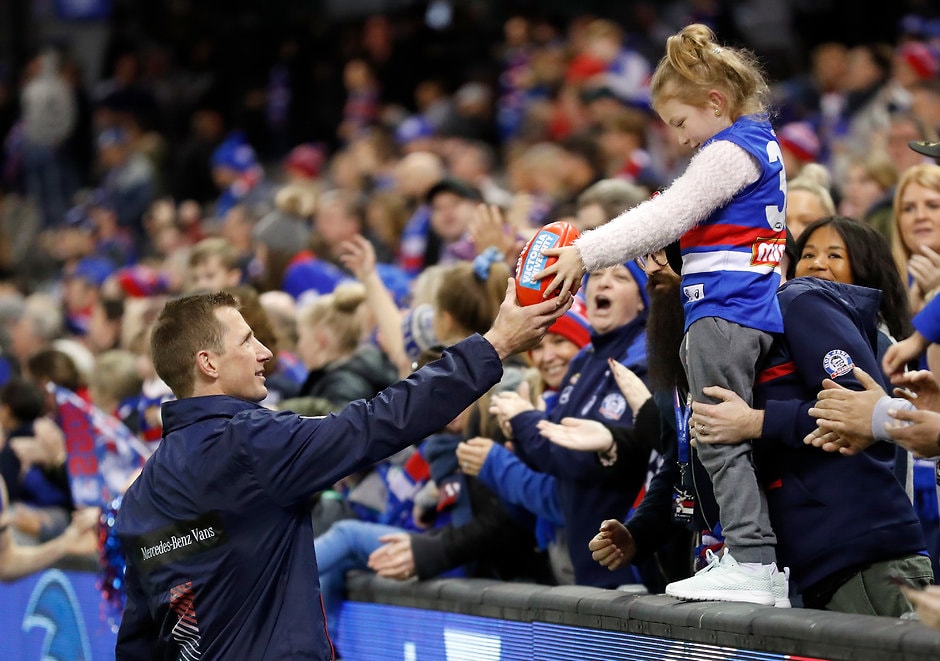 Beveridge was otherwise pleased with the "solid outing" against the Dockers, which maintains the Dogs' finals ambitions.
The victory was set up with an eight-goal opening quarter, a week after conceding six goals to one in an eventual loss to St Kilda.
"Most of the things we did in using each other in transition and creating opportunities out of turnover were as close to what you'd be after as you can get," he said.
"Obviously, Bailey Dale (who kicked four goals) makes a difference converting those set shots, and giving us that opportunity … but it was encouraging stuff."
Bailey Dale kicks at goal during the Dogs' big win. Picture: AFL Photos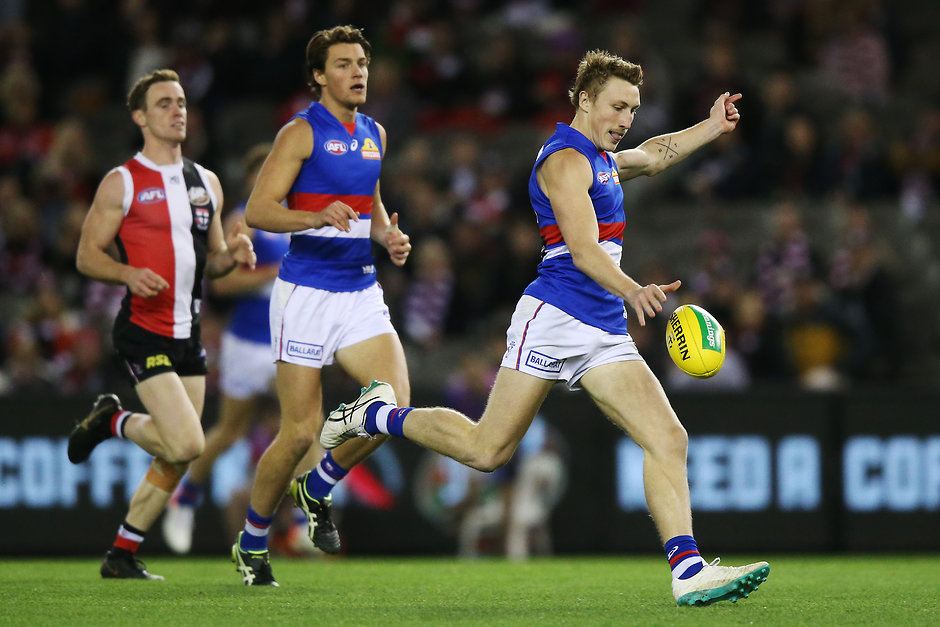 The Dogs can't afford many slip-ups in the final month if they want to return to the finals for the first time since winning the flag three years ago.
Beveridge grinned while fielding a question about his side's post-season chances, but was keen to see how his players would respond to facing Brisbane, Essendon, Greater Western Sydney and Adelaide.
"We play Brisbane this week, who we obviously beat in Ballarat last time on a reasonably windy day, where the numbers in the game were very different to what they normally are and I felt our players were quite outstanding," he said.
"Strategically, it was an unbelievable win for us. They've really kicked on since and playing them up there will be a different story – it'll be a totally different game – but beyond that, there is challenge after challenge, isn't there?
"The ball's in our court, and that's the exciting thing, but as usual we won't look any further than going to Brisbane this week."