ESSENDON coach James Hird has resigned, adding a dramatic full stop to a tumultuous period for the club.
The announcement comes just three days after the Bombers' 112-point thrashing at the hands of Adelaide at Etihad Stadium and after years under the shadow of the ASADA and WADA investigations into the club's 2012 supplements program.
Flanked by Bombers players, an emotional Hird told a media conference at Essendon headquarters on Tuesday he decided on Monday night to quit as coach.
He said it was agreed between him and club chairman Paul Little that the club could not truly move on from the drugs saga with him as coach. "I'm not disappointed [that] the club's let me down," Hird said. 
"The reason for this decision is to enable the players and the supporters some space to perform and be a normal football club again.
"I didn't know it would come to this [but] I felt that the club needed space. There was a question mark there and that was enough to say, let's try something else. 
"These players have to be allowed to play. It's not just about me resigning or moving on, the industry has to let them play and give them some space.
ANALYSIS: Hird's dreams of glory turn dark
"It's not their fault. I think the industry should give them a break.
"My hesitation in leaving this club at this time is because I believe the players still need strong guidance and care, which I hope to continue to provide from a distance." 
Hird said he did not feel like a scapegoat, but acknowledged, "I certainly don't love the game like I used to. 
"I think the whole three years has been very tough on my family. It's put a lot of strain on everyone ... a lot of stress on a lot of parts of  my family life and I think it will just been good for my family to get some space away from the media spotlight. 
"Maybe tomorrow you guys will be at the front door, but then you can give us a spell. I think we deserve it."
Where to now for Bombers, Hird?
Hird also apologised to his family for what he had put them through.
He said the club had made mistakes in 2011 when it set up the controversial supplements program.
"Were they mistakes to the level we've been crucified for? No they weren't."
Little told the media conference the board had unanimously agreed to accept Hird's resignation.
"Our on field performances in 2015 have clearly been unacceptable," Little said. 
"As the season progressed, it has become increasingly apparent to the Board that change was needed.
"To his credit, James has always accepted that he is ultimately accountable for the performance of the team.
"There have been a number of mitigating factors around our performance in 2015, including injuries to key players and the ASADA / WADA process.
James Hird leaves the media conference. Picture: AFL Media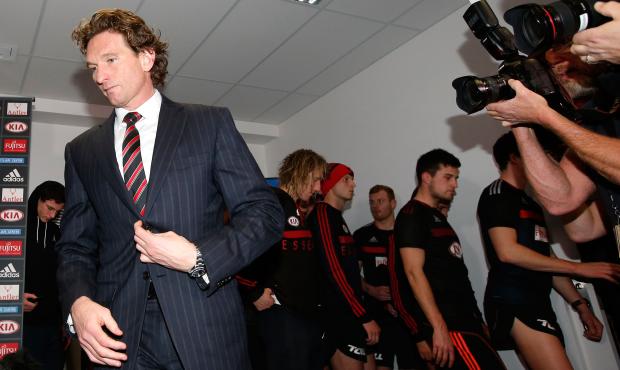 "However, across every measure, season 2015 has fallen well short of our expectations, and James' expectations.
"It is time for a fresh start, a point that James recognises.
"The players need a fresh voice, our members need a sense of hope and the club needs to be able to look to 2016 and beyond with a renewed sense of optimism."
How James Hird's downfall unfolded
Little said a settlement package had been agreed with Hird, the details of which would not be divulged.
"I don't accept we've sacked the coach," Hird said. 
"We've been to a lot of trouble to explain the culmination of events that had James offering to resign."
Assistant coach Matthew Egan, an All Australian defender with Geelong, will coach the team for the rest of the season.
Essendon started the year with a win-loss record of 3-3 from its first six games, including a two-point win over Hawthorn in round two, but has fallen in a heap since.
The loss against the Crows marked the Bombers' fifth in a row and their 10th in their last 11 games.
The club is also in the midst of conducting an extensive review into its football department, which will continue despite Hird's departure. 
The review is being led by CEO Xavier Campbell, with input from former Essendon captain and club great Neale Daniher who is acting in a consultative role.
All areas of the football department have been heavily scrutinised, including the positions of Neil Craig and Rob Kerr, who both share the load as heads of the football program.
The Bombers have also had to deal with the distraction surrounding the World Anti-Doping Agency's decision to appeal the verdict clearing the 34 past and present Bombers players for their role in the 2012 supplements program. 
Dons not playing for each other: Tex Walker
Injured captain Jobe Watson has spoken of the emotional burden he and his teammates have felt since WADA's announcement in early May.
Both Hird and Campbell have also expressed their disappointment at the way confidential information has been leaked to the media in recent weeks. 
Hird, 42, led the Bombers to top-eight finishes in 2011 and 2013, but the club was barred from competing in finals in 2013 as one of the many punishments handed down for its involvement in the supplements saga.
Hird was suspended from coaching for 12 months, backdated to August 2013, but returned to the hot seat for the start of the 2015 season. 
He finishes with an overall win-loss record of 41 wins, one draw and 43 losses from 85 games.
It leaves Hird, who was a 253-game player for the Bombers,  with an overall coaching winning percentage of 49.4 per cent.