ISAAC Smith has retained his title as Hawthorn's time-trial king, despite the addition of
beep test record holder Billy Hartung
to the club's list.
Hartung registered a remarkable score of 16.6 in the famed test of endurance at this year's NAB AFL Combine, a little more than a month before being selected by the Hawks at pick 24 in the NAB AFL Draft.
The former Dandenong Stingray's effort broke the previous record of 16.1 set by another Hawk, Bradley Hill, in 2011.
But Smith, a talented distance runner whose dash up and down the wing was crucial in Hawthorn's march to this season's premiership, broke clear of both Hartung and Hill to win the club's first pre-season 2km time-trial at Box Hill City Oval on Wednesday morning.
Hartung finished second, with Hill third.
According to a report on
hawthornfc.com.au
, recruit Ben McEvoy was among other top performers, along with Liam Shiels and Ben Stratton.
After the time trial the squad started a skills and strength session in overcast conditions before the skies opened up, ensuring a difficult end to the day.
The Hawks' will depart for a two-week intensive training camp in South Africa on Sunday.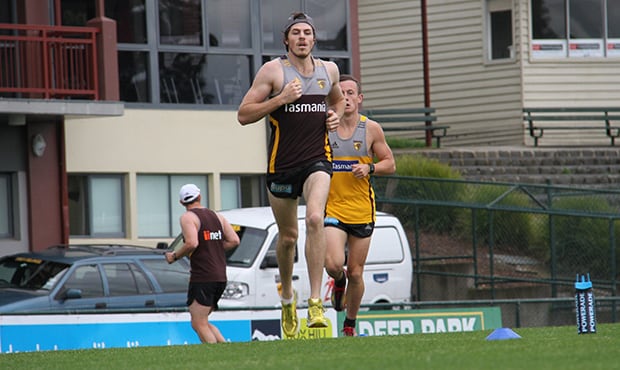 South Africa was chosen for its warm climate, with Hawthorn believing training in the heat provides long-term fitness benefits.
Isaac Smith and Billy Hartung spring to an early lead in the time trial. Picture: hawthornfc.com.au