ADELAIDE'S week from hell has Crows fans now coming to terms with the looming possibility that Eddie Betts will leave the crisis-stricken club.
Asked about a front page media report that has him returning to Carlton, Betts' response was he is contracted for next season.
Still five weeks out from the start of NAB AFL Trade Period, speculation about the much-loved goalsneak's future has reached fever pitch.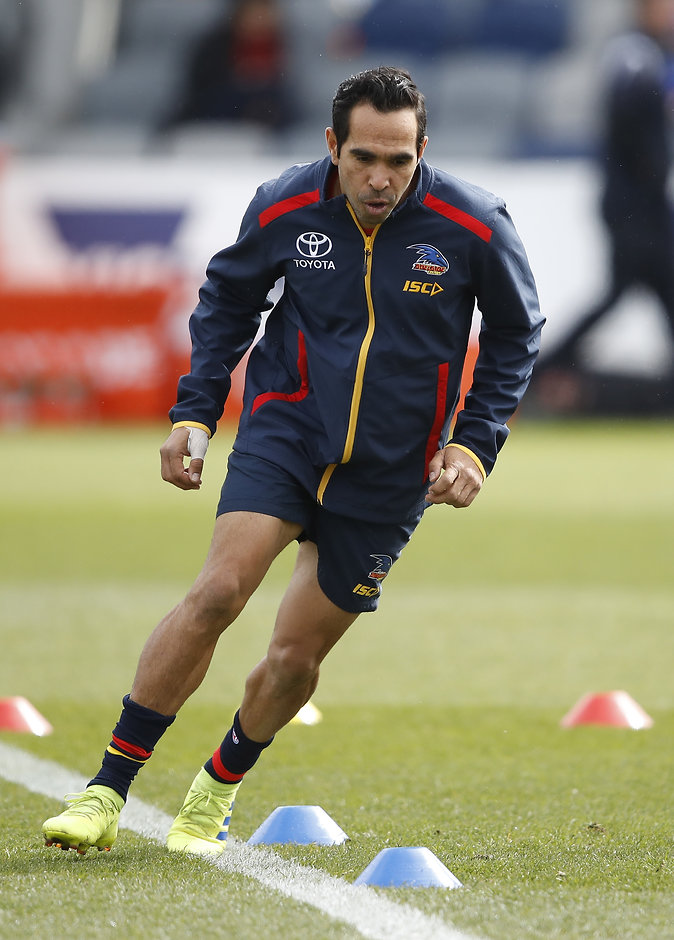 "What article is it? There have been plenty, haven't there," Betts said on Friday.
He did confirm on Thursday that Gold Coast are interested, citing a potential package deal that would also involve Hawthorn veteran Shaun Burgoyne heading north.
But for now, Adelaide says Betts is staying put.
Crows football manager Brett Burton said Betts' season exit interview went well this week.
"We haven't heard anything different, he had a really good exit meeting with the coaches on Wednesday and that was all positive," Burton said.
He said he was looking forward to playing on (with Adelaide) next year - Brett Burton
But the Crows football boss also acknowledged that given what can happen in the Trade Period, Betts' football future is far from confirmed.
"It's the silly season, with plenty of moving parts," he said.
"That's why the news is out there and it's just part of the industry."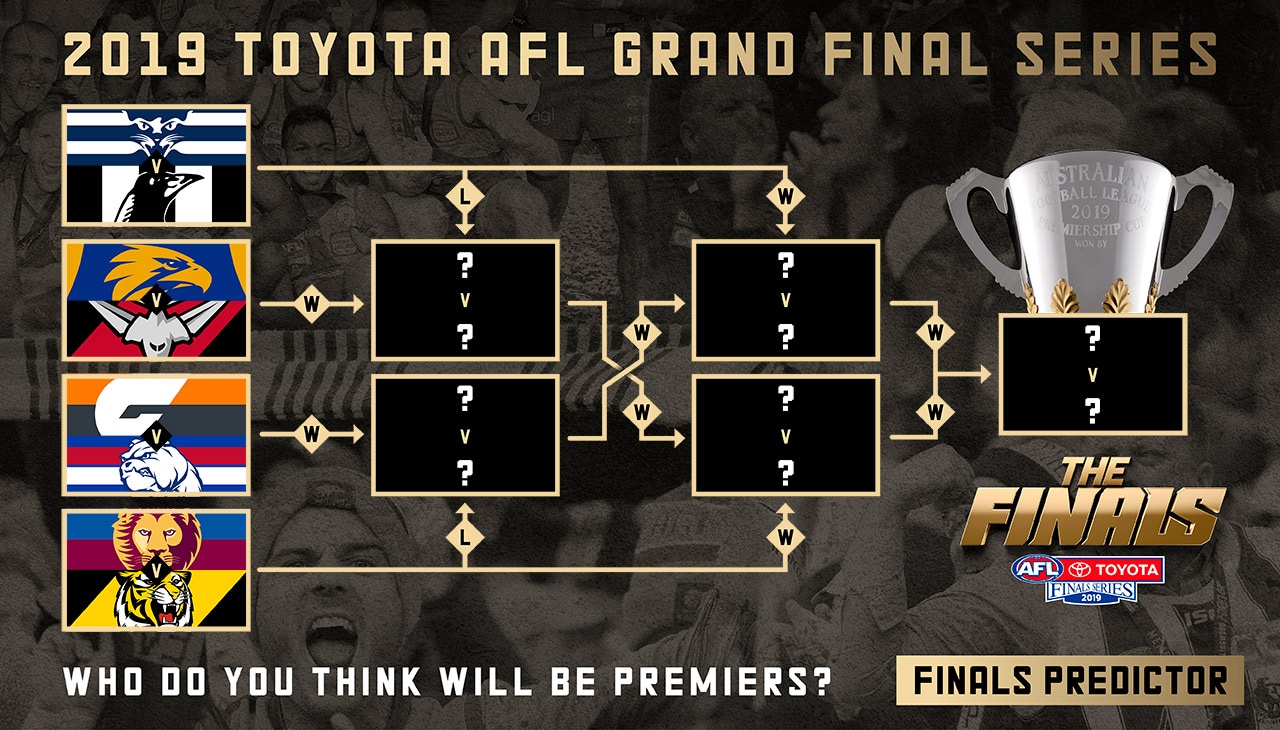 Burton was asked what would happen if Betts asked for a trade.
"We'd assess that. Obviously we love Eddie and love what he brings to the team and the town," he said.
"We contracted him for a reason, because we want him to be here next year."
Betts was dropped in round 19, for the first time since the free agent debuted with Adelaide in 2014.
The small forward has played 316 games for Carlton and Adelaide.
'INTEREST, BUT NO OFFER' Eddie speaks on Suns' speculation
Meanwhile, Adelaide announced it had appointed Australian Football Hall of Famer Jason Dunstall and Fremantle great Matthew Pavlich to its external review panel after the Crows missed the finals for the second straight year.
Dunstall will be the chairman of the four-person panel, that also comprises high performance expert Tim Gabbett and leadership and performance expert, Jonah Oliver.
Dunstall, 55, is a four-time VFL/AFL premiership player with the Hawks, booting 1254 goals in 269 games.
FINALS PREDICTOR Who will win the 2019 premiership?
Pavlich, 37, is the games-record holder for the Dockers with 353 games, kicking 700 goals, and was a six-time best and fairest and six-time All-Australian.
Crows chief executive Andrew Fagan will provide support to the panel as requested and directed by Dunstall during the process.
The review will examine all elements that impact on-field performance, including coaching, leadership, development, environment, high performance and list management.
Adelaide lost its last three games to finish 11th and out of the finals again. Picture: AFL Photos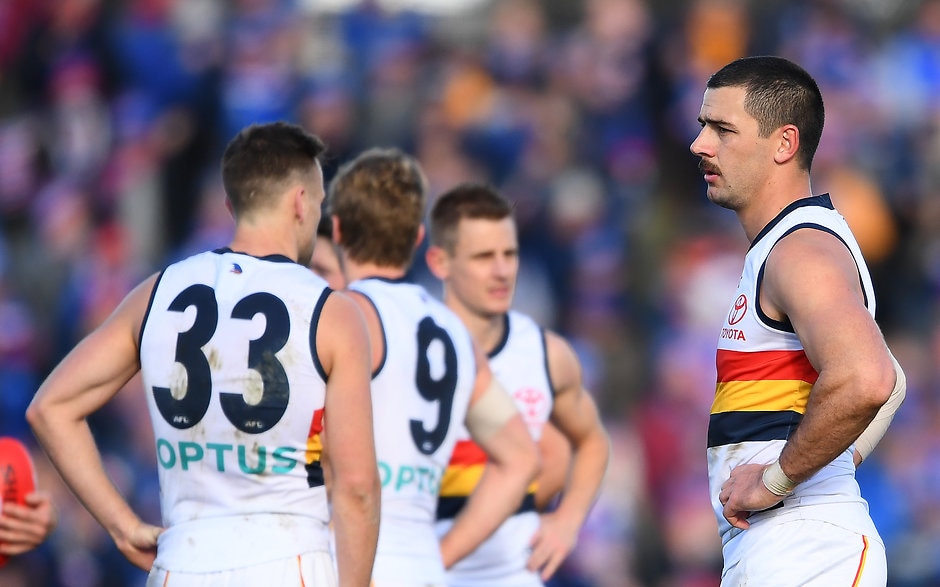 "The panel members have a diverse range of skills, knowledge and expertise across football and high-performance programs, and importantly bring a contemporary view of the AFL and professional sporting landscape," Crows chairman Rob Chapman said.
"We hear and acknowledge the concerns of our members and fans, and share their frustration regarding recent on-field performances and this will be a rigorous and thorough process.
"We are committed to challenging ourselves and current practices to ensure the football program is the best it can be, and one that produces results of which our supporters are proud."
WHERE ARE THE LEADERS? Former coach savages 'mediocre' Crows
Players are expected to be interviewed as part of the review, and the club will release key findings upon completion of the review, which is expected to run for several weeks.
The Crows called an external review after missing the finals the past two seasons after making the 2017 Grand Final.
Later on Friday, the Crows also announced they have re-signed defender Jake Kelly for two more years until 2021, and retained rookie-listed midfielder Patrick Wilson for 2020.
Find AFL Exchange on Apple Podcasts, Google Podcasts and Spotify.