IT WAS the premiership that sums up 'Bloods Culture', and if you looked at the numbers post-match, a cup that Sydney had no right to put its hands on.
However, it remains perhaps one of the club's finest flags, the Swans' 2012 triumph over Hawthorn.
They were belted in contested ball (-26), clearances (-23), centre clearances (-14) and inside 50s (-18), but somehow found a way to win a classic by 10 points.
Sydney laid an incredible 110 tackles, and it was that manic harassment that proved too much for the Hawks to overcome.
Jarrad McVeigh and Kieren Jack were key members of that premiership side, and, ahead of their final games before their retirement after Saturday's meeting with St Kilda, reflected on their greatest day in footy.
"That match was our highest pressure rating of all time by about 100," Jack said.
"In normal games if you get beaten in those statistics like that, more than likely you lose.
"I still remember going through the review and our stats sheet was all red.
"We lost every key indicator, but we were able to apply so much pressure, it won us the game."
Asked if he felt his players were possessed that day, Jack smiled.
"It looked like it."
"The best feeling in footy": Jarrad McVeigh with coach John Longmire in 2012. Picture: AFL Photos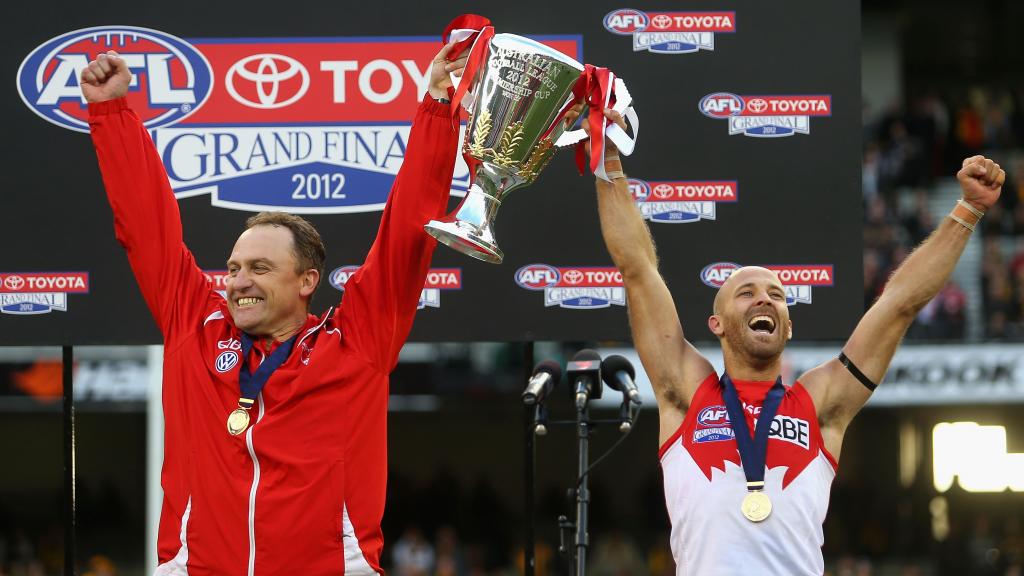 Then co-captain McVeigh had 21 possessions, nine tackles, five inside 50s, four clearances and two goals.
His second came at a pivotal moment in the third term.
The Swans had opened up a 28-point lead before a couple of trademark Lance Franklin stunners inspired a Hawks' comeback.
An Isaac Smith long bomb gave his side the lead, and it looked like Sydney might not be able to halt Hawthorn's overwhelming momentum.
That was when McVeigh willed himself to impact the contest.
A strong tackle on Jordan Lewis caused a turnover in the Hawks' half, and a 50-metre penalty took McVeigh inside his forward 50.
Jarrad McVeigh and Jordan Lewis compete for the ball in the 2012 Grand Final. Picture: AFL Photos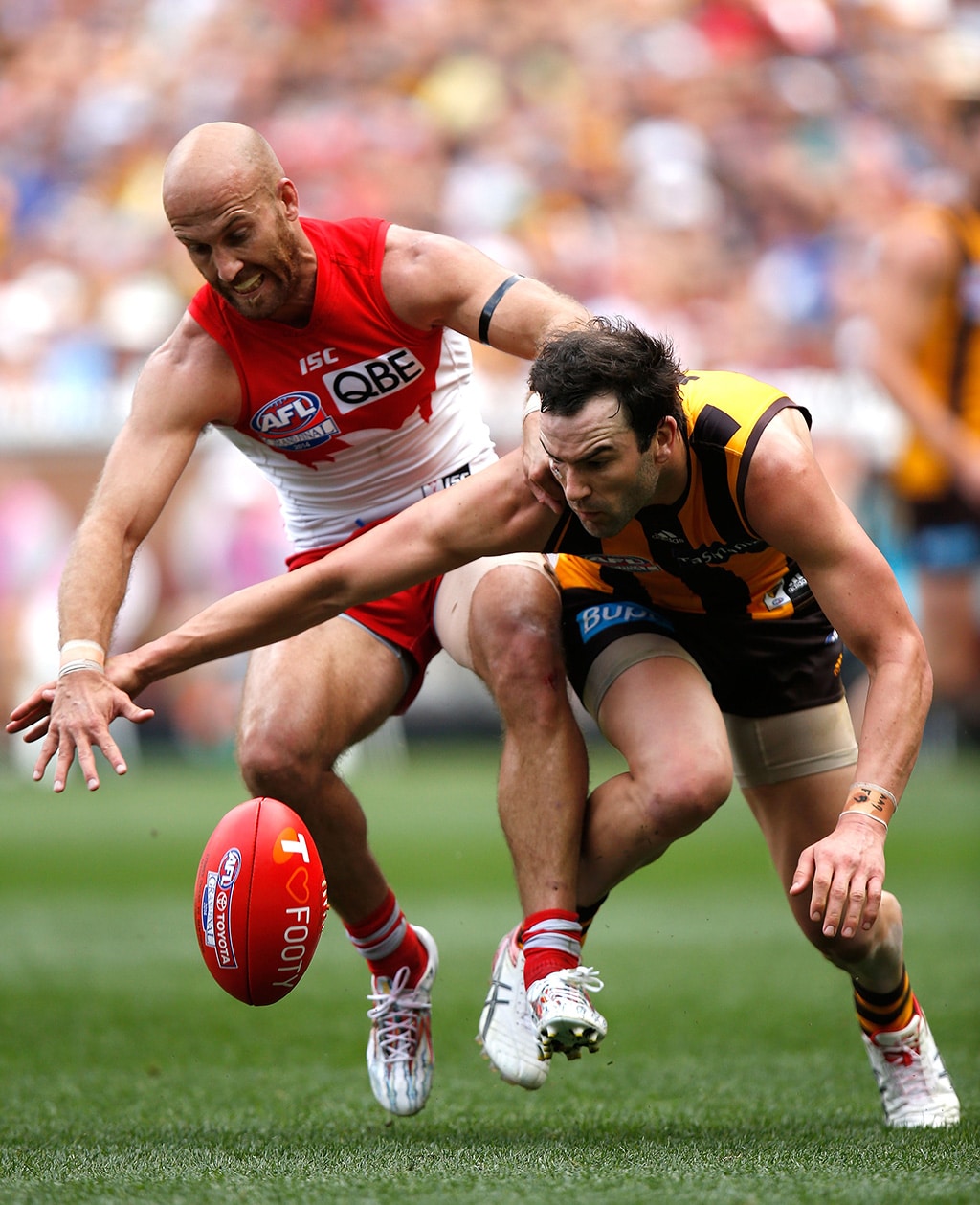 He nailed the set shot to put the Swans back in front.
"Before the game it was windy, freezing cold and raining, and when I was practicing my shots at that end I couldn't even get it off my boot," McVeigh said.
"Then when we came out for the game it was nice and sunny.
"I knew it was a big moment and because of what happened pre-game, I kept telling myself to 'keep it low and guide it onto your boot', and fortunately it went through.
McVeigh's third-quarter goal restored the Swans' momentum. Picture: AFL Photos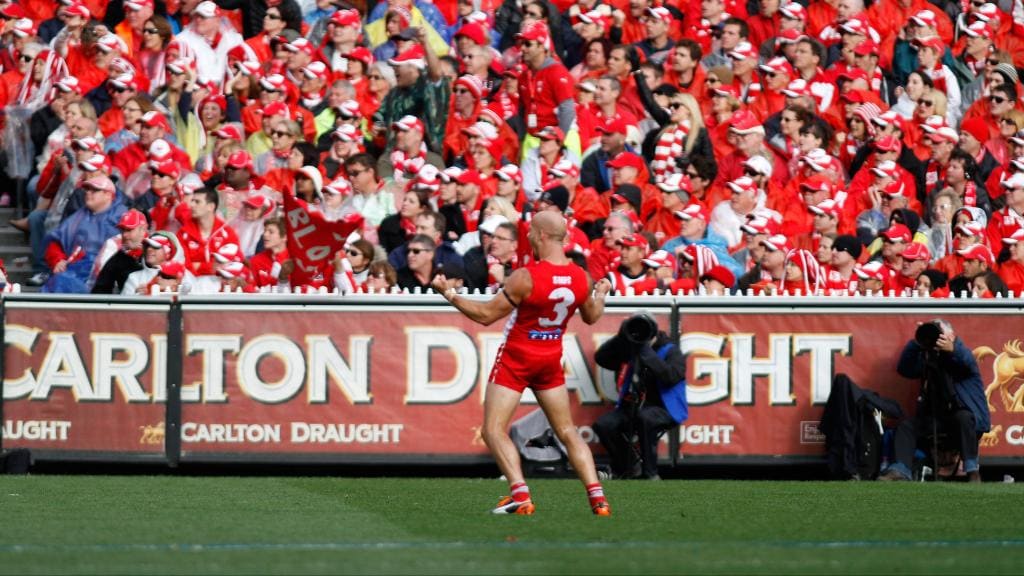 "The game see-sawed from there and it was pretty close for the rest of the day.
"Those big moments I think we nailed on the day."
Jack also laid nine tackles that afternoon, and his second goal was just as much of a game-changer.
Down by 12 points late in the last term, Dan Hannebery reduced the margin after one of his trademark gut runs.
Jack then won a crucial contest with Hawk Clinton Young and put one into the stands from the goal square.
"It's a deadset massive moment!"#ProudlySydney pic.twitter.com/8wyucFbyKk

— Sydney Swans (@sydneyswans) August 19, 2019
"This is big, this is really big, it's a deadest massive moment!" Channel Seven commentator Bruce McAvaney called it at the time.
"We rated ourselves as midfielders by our ability to be two-way runners," Jack said.
"I remember talking to 'Hanners' at three-quarter time and we said 'let's leave everything out on the field and just run'.
"His goal was similar to mine in that we both came from the wing or defensive 50 to get on the end of it.
"It was just a will to win and a pretty cool moment."
Jack's relentless running paid dividends as the clock counted down. Picture: AFL Photos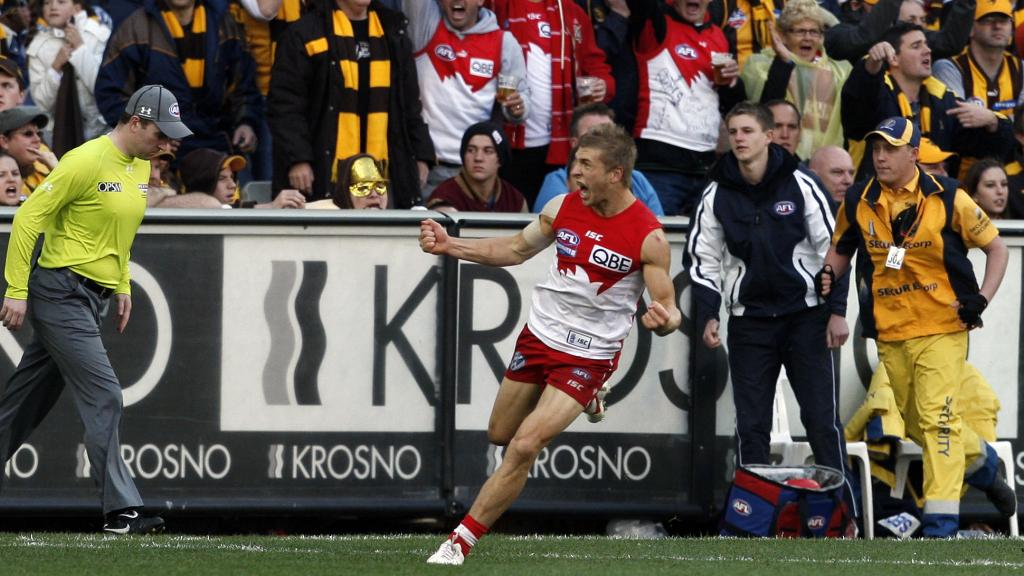 History will show that the Swans held on, and the memories of the 2012 premiership are sure to dominate the conversation when McVeigh and Jack get together next week to toast their wonderful careers.
"To be able to walk around the MCG with the medal around my neck knowing we'd finally done it, it's the best feeling in footy," McVeigh said.