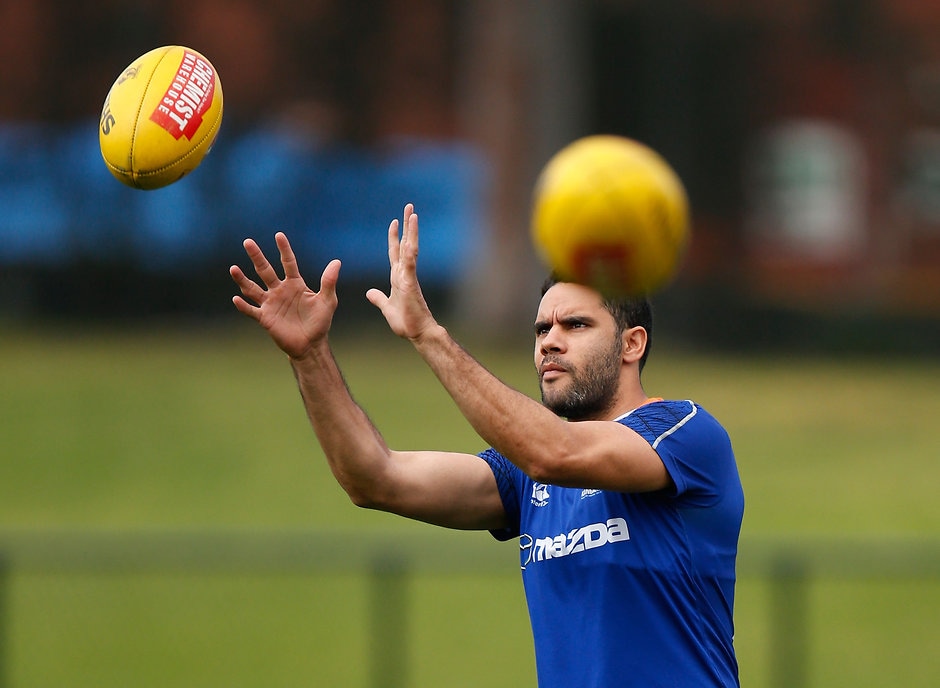 AFTER finishing eighth, the Kangaroos had an impressive finals campaign before falling short and losing the Preliminary Final to West Coast.
Brent Harvey (FWD, $451,000) had another solid year in AFL Fantasy, averaging 81, and now enters his 20th AFL season. The future Fantasy Hall of Famer has averaged over 90 on six occasions and be drinking from the fountain of youth again in 2016.
Skipper Andrew Swallow (MID, $487,000 had his best season in 2012 when he averaged 103. However since then he hasn't been close. He only managed five 100+ scores last year and will be hoping to turn that around in the new season.
The premiership window is well and truly open for the Kangaroos and after some strong off-season recruiting, 2016 might just be their year
Click here for every Kangaroo's starting Fantasy price and position
More Fantasy prices:
> Carlton: Will Brendon play the kids?
> Brisbane Lions: Fantasy Pig and friends
> Gold Coast: Sunshine and Fantasy points aplenty
> Essendon: Don't you know about the Bird?
> St Kilda: Big four won't come cheap
> Melbourne: The devil is strong in these youngsters
> Collingwood: Midfield delight but thin front and back
> GWS: Can Stevie J wind back the clock?
> Geelong: Danger in making Paddy a lock
> Port Adelaide: More than one shade of Gray
> Western Bulldogs: Young pups to score freely
> Richmond: Roll the dice on Dusty?
> Adelaide: Crouch-ing mids pounce on Fantasy points
> Sydney Swans: Buddy and the mids
Click here to subscribe on iTunes.

Todd Goldstein (RUC, $630,000): After averaging 114, Goldstein is the second-most expensive player in the competition. His 2015 season was simply outstanding, achieving eight scores over 130, which included a monster effort of 175 against Essendon in round 16. You get what you pay for, and Goldstein is a player you can build your team around.

Daniel Wells (FWD/MID, $293,000): Although Wells has only managed nine games in the last two years, he is a player who has averaged 93 in the past. This year he is priced at an average of only 53, and has lost almost five kilograms in the off-season. If he's fit and firing over the NAB Challenge, he'll be one of the most selected players going around.
Ben Jacobs (DEF/MID, $363,000): Jacobs is the Kangaroos' No. 1 tagger. This role dramatically affects his scoring output, but if this were to change he would definitely come into calculations. Liam Picken's move to ball-winner last year saw his average jump from 73 to 101, and if this was to happen to Jacobs many Fantasy coaches will be licking their lips.

Jed Anderson (FWD/MID, $224,000): Anderson struggled to get a game with the mighty Hawks and therefore he has jumped ship seeking more opportunities. He scored 97 in the Hawks first NAB Challenge game last year, but only managed four games throughout the season. Anderson has a lot of Fantasy potential if he can make it into the Kangaroos' best 22.

Mitchell Hibberd (DEF/MID, $165,000): Hibberd is a running machine who has had his fair share of bad luck. The Tassie kid averaged 24 possessions in the under-18 championships and with a knee and a shoulder reconstruction behind him, should make an impact early in the Kangaroos season.

Farren Ray (MID, $359,000): Ray turns 30 this year and has been thrown a life-line at Arden Street. Ray does have the potential to average 80+ and is priced at an average of 63. North Melbourne have a history of turning careers of recycled players around, just as they did for Shaun Higgins (FWD, $472,000) when he improved his average by 10 points last year.

Michael Firrito (DEF, $302,000): Firrito is a lock-down defender and in Fantasy you can't get anything worse. In 20 games last year, he failed to score over 80 and if you only listen to one thing I say today make it this … don't even think about it!
SATURDAY: The Traders are back to reveal the Dockers' Fantasy prices and positions for 2016.