MAVERICK Weller's remarkable turnaround in mentality and attitude has led to the St Kilda midfielder becoming a leader and role model at his second AFL club.
Once a Gold Coast discard and then a rookie at the Saints, the 23-year-old has made some monumental shifts in his approach to football to get where he is today.
In the past 12 months, he's fought his way onto the Saints' rookie list after being invited to train with them in late 2013, and is now on a two-year senior contract.
He's also been voted by his peers into the leadership group, with his non-conventional meditation and visualisation techniques making him a unique role model for his younger and older contemporaries.
"I really believe in myself. I just back myself in," Weller told AFL.com.au this week.
"I think that and the way I prepare for games is probably something that has resonated with the younger group and maybe put me in a position to be in the leadership group in such a small time.
"They know I believe in what I think and I believe in them as well."
It didn't take long for the former Sun, who slept on his manager Tim Hazell's couch during his four-week training stint with the Saints, to earn the respect of his future teammates.
The coaches were blown away by how hard Weller threw himself into the pre-season sessions when there were no guarantees he'd get a second chance.
"From day one, he performed," assistant coach Adam Kingsley recalled.
"Whatever the activity was, whether it was in the weights room or in the meeting room or on the training track, he made sure his performance was strong.
"If you do that, you quickly build respect amongst your teammates, irrespective whether you're at our club or any other.
"They saw the effort he put in, the results he was getting through that effort, and basically, the coaches were looking around at each other saying, 'This guy's got to be on our list, he's got to be at our footy club'."
It wasn't always like that for Weller.
During his three seasons as a Sun, he didn't always do everything he could to ensure he was in the best state to play at the highest level.
It meant he was in and out of the side, and his self-belief took a battering because of it.
It was during his last year at the club he started working with sports psychologist Mark Edmondson, who taught him the values of positive thinking.
Since then, he's used meditation and visualisation to help ensure he's done everything he can to aid his preparation.
"He's been fantastic. We put some stuff in place, a lot of goal setting and just how I carry myself," Weller said.
"His belief resonated in me and it's fully changed my thought pattern."
Mav Weller has made a massive impression since arriving at the club. Picture: AFL Media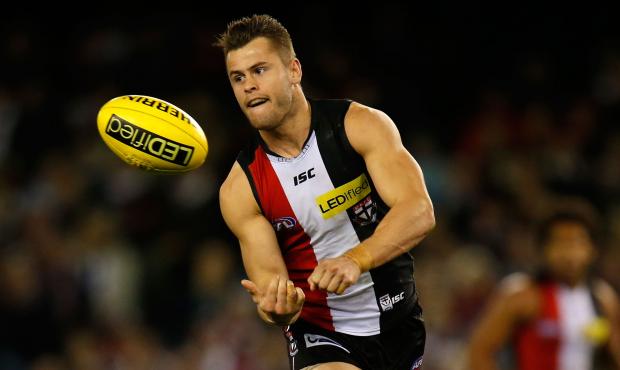 Weller played an important role for the Saints last season across 16 games.
He beat some of the game's best midfielders including Joel Selwood, Bryce Gibbs and Ryan Griffen as a creative tagger, which came after his meticulous planning before each match.
It's that diligence that makes Kingsley believe Weller has emerged as a role model for all players, whether they're coming into the system for the first time or returning after it didn't work out at another club.
"He plays hard and tough and is prepared to put his ego on the line and go head to head with people and test them out, and hopefully come out on top, which he did most times last year," Kingsley said.
"He's not afraid to do that and I think that's a real strong trait of his character, he puts his reputation on the line every week and is prepared to do whatever it takes to win and perform well."
Weller rents a Highett house with fellow Tasmanian and former rookie Eli Templeton and second-year midfielder Luke Dunstan, who lived with a host family in his first season after moving from South Australia.
He says he tries to "leave the boots at the door" when they get home but admits he's taken on somewhat of a mentoring role with both.
Kingsley said other Saints have adopted some of Weller's psychological techniques after seeing how they helped build his confidence.
Given Weller's high training standards, Kingsley also believes he will grow to hold others accountable for their own preparation and lead by setting his own strong example.
"True leaders can be hard to find at clubs and when you get them, you've got to nurture them and hang onto them as long as you can," he said.
"The underlying characteristics of Mav Weller now will hold him in great stead for hopefully a long and successful AFL career … and certainly a successful life.
"He's still got a long way to go in terms of his football career but he's taking some really positive steps forward and as long as he continues to prepare and perform as well as he has, he'll have a long career and will certainly be well respected within the AFL.
"Good things happen to good people who work hard, and I'm sure he'll have a lot success."