DESPITE everything pointing in that direction, Luke Hodge is not yet fully convinced this will be the 17th and final season of his illustrious 284-game career at Hawthorn.
It has all the hallmarks of a farewell season for the 32-year-old.
He has handballed the captaincy to Jarryd Roughead after a six-year stint that included four Grand Finals and three premierships.
Hawks coach Alastair Clarkson has given him the freedom to spend more time away from the club this year, pursuing business interests and to develop his burgeoning media career, with more match day appearances for Channel Seven and Triple M.
But in an exclusive interview with AFL.com.au at Hawthorn's community camp in Tasmania, Hodge looks and feels invigorated.
"It's funny," he said on Thursday, as he pulled up a chair in an office ahead of a meet and greet at the Lilydale District School, located about 20 kilometres north of Launceston. "At the start of the pre-season it was like, 'have one last year and help 'Roughy' (new skipper Jarryd Roughead) out'.
"But then with the lack of responsibility of the captaincy, not being the 'Grinch' and telling people what to do all the time, it's taken the stress out of it.
"I've had a lot of people telling me I'm more enjoyable this season and my wife said it's like having a different person at home."
However, there were stages throughout 2016 when he didn't think he would make it to the starting line this year.
Hawks fitness coach Andrew Russell calls it as he sees it and when Hodge first started his recovery from the meniscus tear he suffered against Greater Western Sydney in round six, he told Hodge he was long way off playing in 2017.
This was despite the only major injuries of his career being caused by freak injuries during games rather than wear and tear over such a long career.
"The good thing was he was honest with me the whole way through," Hodge acknowledged. "But then I had a good block of four to five weeks before I came back again and he said he had no issues with me playing again in 2017. My body would be fine."
Luke Hodge shares a laugh with teammates at the team photo day. Picture: AFL Photos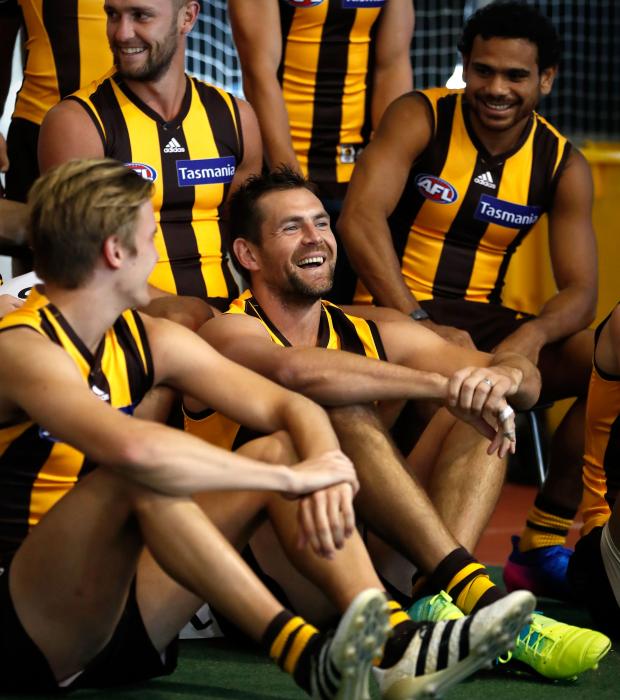 He estimates he has completed about 80 per cent of the pre-season. He will sit out the JLT Community Series opener against Geelong on Friday night in the belief that playing the two full games to follow will give him the perfect lead-up to the season.
As for Hodge's on-field role, Clarkson has yet to fully outline his expectations and requirements, although the likelihood is a bit of everything.
The Hawks demand flexibility, so Hodge can expect time across half-back, through the midfield and half-forward as well. There will be some juggling though, with the likes of Dallas Willsmore and Teia Miles expected to debut at some stage and Kaiden Brand, Kurt Heatherley, Ryan Burton, Kieran Lovell and Kade Stewart to add to their handful of games from last year.
"If you keep the same guys in the back six – myself, Shaun Burgoyne, Ben Stratton, Grant Birchall, Josh Gibson and James Frawley – you're not going to give those other guys a go," he said.
What he is getting used to is not having Sam Mitchell and Jordan Lewis around the football club. He can recall every minute of arriving in Noosa for a friend's wedding last October, when his phone lit up with news of Mitchell's rumoured move to West Coast.
He knew his friend was likely to join the Eagles to coach once he finished playing but rang him in New Zealand, which is where Mitchell was holidaying as the news broke, hoping there was only a 50-50 chance that the news was right.
"'No, it's about 95 per cent,'" Hodge recalled Mitchell telling him. "But credit to Mitch and to Clarko. People talk about Clarko throwing older blokes under the bus, but he wants to look after them. Mitch had kids starting school, so why not go a year earlier?"
The Lewis move to Melbourne, according to Hodge, was one of player and coach being honest with each other.
"He had a really good year and understandably wanted a contract extension, but we're also at the stage where we have a lot of impressive young guys coming through who just need room to play and grow as leaders."
The funny part came straight after Lewis told Hodge he was moving to the Demons. Clarkson's name came up on Hodge's phone and he froze. Was the coach planning one last move?
"I looked at it and wondered, 'Am I going to Gold Coast?'" he said with a laugh.
Hodge cracks a smile during a training run with Paul Puopolo. Picture: AFL Photos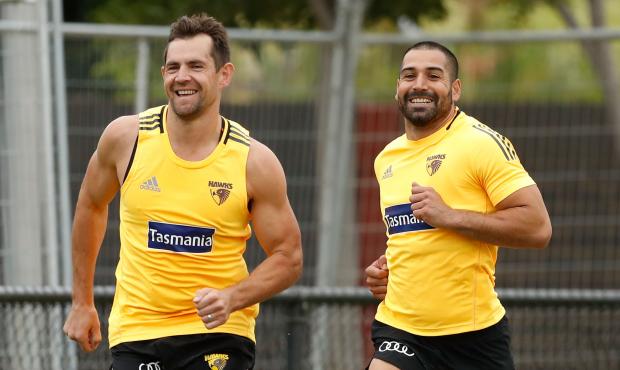 Nevertheless, Hodge has had the round five game against West Coast and the Melbourne clash a fortnight later pencilled in from the moment the fixture was released. He might be managed through various stages of this year, but rest assured it won't be either of those two weeks.
Just as he has relished games against Sydney once Lance Franklin defected there in 2014, he is itching for the chance to knock over two of his best mates.
"When you're in the leadership group you spend more time with them and with their wives and partners as well ... so there's no doubt it's going to be weird playing against them," he said.
"But at the same time, like playing against 'Bud', you try that little bit harder because you don't want him to succeed against you.
"Whether it's footy, cricket or basketball, I believe you're more competitive against a mate than a rival, and it's the same with them. They'll be bending over backwards to have a ripping game against us."
While 2017 may or may not be his final season, Hodge has one eye fixed firmly on life after footy – with Clarkson's blessing.
Hodge has dabbled in coaching at Xavier College and enjoys passing on some of the tricks learned in 17 years in the AFL system.
But to walk down the full-time coaching path is relentless and time-consuming and he's not sure that's for him. Hodge and wife Lauren have three boys aged between one and eight.
"'Clarko' is big on blokes developing outside footy so that when they leave the game there's not this massive shock to their system," Hodge said.
"When we agreed I won't be captain, with all those extra functions I'll no longer have to go to, he's already given me some half days to go to business meetings and license to ramp up my media work," he said.
Hodge owns a finance business with former teammate Daniel Elstone, and will provide match day special comments for Channel Seven and Triple M this year.
"If it is my last year (of playing), I can work with the guys on what to say and what I need to improve on. That's something I want to do for a very long time and the club is very supportive," he said.