THE CONTINUING FALLOUT FROM THE ESSENDON SUPPLEMENTS SCANDAL:
* 2011:
After finishing eighth and with an obvious lack of body strength, coach James Hird promises an intense pre-season. Essendon recruit fitness coach Dean Robinson and sports scientist Stephen Dank.
* 2012:
Essendon win eight of the first nine games but, after a spate of soft-tissue injuries, lose eight of the last nine and finish 11th.
Dank is sacked after cost overruns with the supplements program, and Robinson receives an official warning

End of the road for Hird: Dons coach resigns
* 2013:
Feb 4: Senior Essendon officials hold crisis meeting about the 2012 supplements program.
Feb 5: Essendon announce they're reporting to ASADA and the AFL about the program. The same day, Robinson is suspended.
Feb 7: The Australian Crime Commission releases a landmark report into organised crime and Australian sport, labelled "the blackest day in Australian sport".
Feb 11: Dank says Hird and other senior Essendon officials were aware of the details of the supplements program.
Feb 27: Essendon announce an independent review into governance at the club, headed by former Telstra boss Ziggy Switkowski.
April 11: Dank says he injected Hird with the banned drug hexarelin, a claim the Essendon coach says is "horrifying".
May 6: Switkowski's findings include a "pharmacologically experimental environment" at the club in 2012.
May 23: EFC chief executive Ian Robson resigns and is replaced by Ray Gunston.
June 24: Essendon captain Jobe Watson reveals he believes he was given the banned drug AOD-9604.
July 26: Robinson resigns and plans legal action against the Bombers.
July 27: Evans resigns.

Xavier Campbell, Paul Little and James Hird on Tuesday. Picture: AFL Media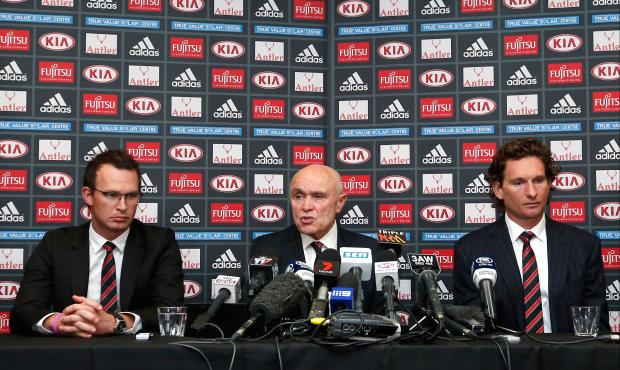 July 28: Hird's legal team accuses the AFL of repeatedly leaking information about the investigations. Paul Little takes over as chairman.
Aug 2: The AFL receives ASADA's interim report, but says the investigation is ongoing.
Aug 13: The AFL charges the Bombers, Hird, Thompson, football manager Danny Corcoran and club doctor Bruce Reid with bringing the game into disrepute.
Aug 22: Hird's lawyers issue a Supreme Court writ, which includes allegations AFL CEO Andrew Demetriou and his deputy Gillon McLachlan "tipped off" Essendon that their players had taken performance-enhancing drugs.
Aug 26: The AFL bans Essendon from the finals. Hird is suspended for 12 months, Corcoran receives a four-month ban and Thompson is fined $30,000.
Sept 13: No charges against Reid.
Oct 10: Essendon confirm Thompson will be 2014 senior coach.

Hird's dreams of glory turn dark
* 2014:
March 3: Demetriou resigns and is later replaced by McLachlan.
March 13: ASADA sends Dank a disclosure notice relating to allegations of anti-doping violations at Essendon.
June 12: ASADA issues show-cause notices to 34 current and former Essendon players, formally telling them they have a case to answer.
Aug 11: Federal Court begins hearing Essendon's challenge to the legality of the joint ASADA-AFL investigation.
Aug 25: Hird's 12-month ban ends.
Sept 19: Justice John Middleton rules the joint AFL-ASADA investigation was conducted legally. Little says the club will abide by the decision, but Hird says he'll appeal.
Oct 2: Essendon settle out-of-court with Robinson, who claimed wrongful dismissal.
Oct 2: Hird launches Federal Court appeal against Justice Middleton's ruling.
Oct 6: Essendon resolve to retain Hird as 2015 coach.
Oct 17: ASADA issues amended show-cause notices to the 34 players, detailing evidence they were administered the banned peptide thymosin beta-4 in 2012.
Nov 3: The national Anti-Doping Rule Violation Panel (ADVRP) places the 34 players on its register of findings, to initiate the anti-doping tribunal.
Nov 12: Thompson confirms he will leave the club.
Dec 15: The anti-doping tribunal gets underway, three years after the doping claims first emerged.

Little to stay on as Essendon chairman
* 2015:
Jan 30: The Full Bench of the Federal Court rules against Hird.
Feb: Essendon recruit top-up players for the pre-season competition, allowing all remaining players from 2012 to sit it out to protect the identity of those on provisional bans.
Feb 27: Hird rules out appealing to the High Court.
March 31: The anti-doping tribunal hands down a not guilty verdict, with chairman David Jones saying the tribunal was not comfortably satisfied any player was administered Thymosin Beta-4 or violated the AFL Anti-Doping Code.
May 11: World Anti-Doping Agency (WADA) announces it will appeal the not guilty verdict regarding 34 past and present Essendon players in the Court of Arbitration for Sport.
June 26: Dank is handed a lifetime ban by the AFL Anti-Doping Tribunal which found him guilty of 10 breaches of the AFL's anti-doping code in April.
July 5: The pressure intensifies on Hird after the Bombers slump to a 110-point loss to lowly St Kilda.
July 13: Hird badly concussed after falling from his bike while riding back home from training.
Aug 3: Hird sues his insurer Chubb Insurance for a breach of contract in a dispute over who should pay the legal costs from his failed court action against the AFL and ASADA.
Aug 15: The end appears nigh for Hird after his team cops a 112-point hiding from Adelaide.
Aug 18: Hird is ousted as Essendon coach late in a dreadful season with just five wins from 19 matches. He says he was told the board considered the club would never truly be free of the ASADA issue while he was coach.

Essendon players leave after the media conference on Tuesday. Picture: AFL Media