ESSENDON livewire Anthony McDonald-Tipungwuti's decision to re-sign for three years has taken a big name off the small forward market ahead of the player movement period.
DON DEAL Electric Essendon forward to stay until 2022
However, there are still some good and very different options out there – some under contract and others out at season's end, including with free agency status.
AFL.com.au has spoken to an AFL assistant coach to break down the potential targets, several of whom can offer something in the midfield as well.
Eddie Betts (Adelaide)
Age: 32 (26/11/1986)
Contract status: 2020
2019 numbers: 21 games, 1.8 goals, 1.2 score assists, 1.4 marks inside 50, 1.2 tackles inside 50.
TIME IN THE SUN? Eddie confirms Gold Coast interest
The expert: "He'll be great educating younger players on how to play particularly the small forward role, but also to play a forward six. He still kicked 37 goals for the year, which puts him in a pretty high bracket for small forwards, albeit with 12 against Gold Coast. He provides a lot on-field, but at this stage of his career, he probably provides just as much off-field. All the reputation about him is how great he is culturally, with not just the indigenous players but all players."
Eddie Betts could help any club off-field as well as on it. Picture: AFL Photos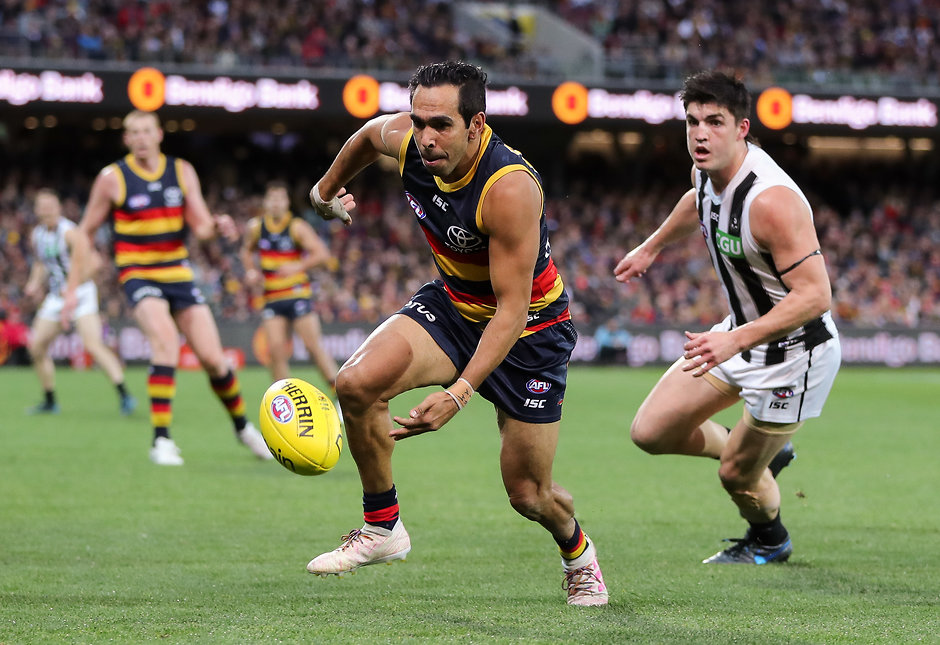 Dan Butler (Richmond)

Age: 23 (3/6/1996)
Contract status: Out of contract
2019 numbers: 7 games, 0.7 goals, 3.9 tackles, 1.1 tackles inside 50, 20.1 pressure acts.
The expert: "Butler's real strength is his ability to get up the ground as a high half-forward and then reset back with speed. He's a really strong runner, with strong endurance and strong speed. His ball use around goal isn't always great, so that's a little bit of a downfall, but he plays an important structural role in the way Richmond plays. He's perfect for a team looking for more of a defensive, pressure-type forward who will give you a little bit on the scoreboard."
Find Trends on Apple Podcasts, Google Podcasts and Spotify
Jamie Elliott (Collingwood)
Age: 27 (21/8/1992)
Contract status: Unrestricted free agent
2019 numbers: 14 games, 1.6 goals, 1.3 score assists, 2.1 marks inside 50, 1.5 tackles inside 50.
RUNNING RIOT Elliott sends Pies into top four
The expert: "Of this group, Jamie Elliott is the one who can play deepest small forward and be a really dangerous, isolated marking target. The question on him has been his injuries over the journey, but there's a feeling at Collingwood that he can spend time on the wing. He commands a taller defender generally, which means he can get them at ground level when the ball hits the deck, if he doesn't already outmark them. He's the most genuine forward of the group, along with Betts, but therefore he's the least flexible at the moment."
When he's healthy, Jamie Elliott can be lethal. Picture: AFL Photos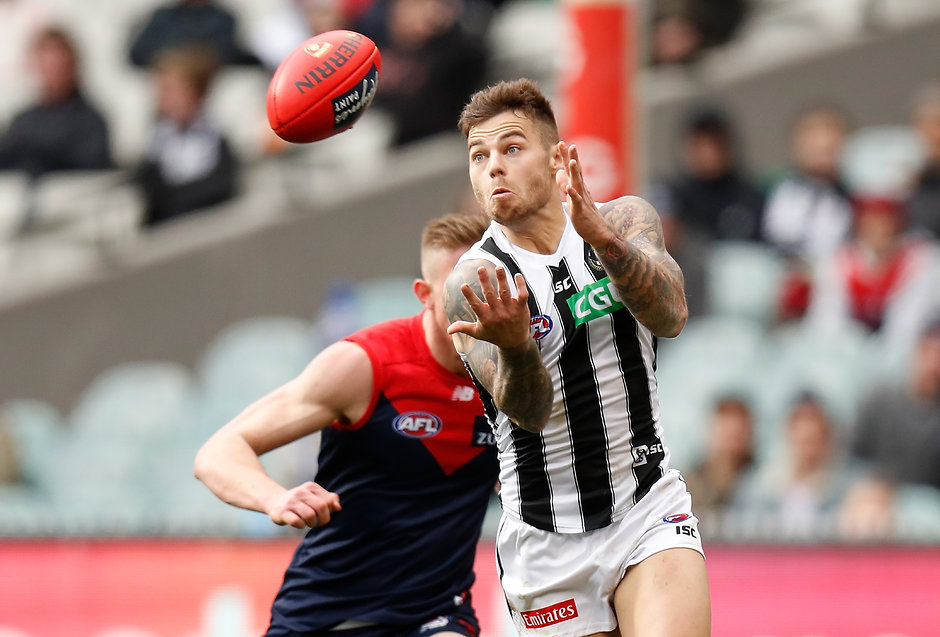 Sam Gray (Port Adelaide)
Age: 27 (1/2/1992)
Contract status: Out of contract
2019 numbers: 20 games, 1.0 goal, 17.4 disposals, 5.1 score involvements, 3.5 tackles, 1.2 marks inside 50.
The expert: "I really like Sam Gray and I can't believe they're letting him go. I'd be fighting tooth and nail to keep him. He gives you the flexibility of a midfield rotation. As a half-forward, he's dangerous around goals and dangerous around forward-50 stoppages. He works in pretty well with Robbie Gray in those situations. And he's a consistent performer at AFL level. He's more offensive than Butler, although not as good a runner as Butler. I think he would be an excellent fit for any club looking for a goalkicking forward who can pinch-hit through the midfield."
Tom Papley (Sydney)
Age: 23 (13/7/1996)
Contract status: 2023
2019 numbers: 22 games, 1.7 goals, 1.4 score assists, 15.5 disposals, 282.9 metres gained.
The expert: "He's a star, and the pick of the bunch. I know he's contracted for about 800 more years, so it's going to be hard to get him out of there. He can impact the game as a midfielder and as a small forward. Michael Walters is the comparison. You want him up the ground, because he's dangerous, he wins the ball and he uses it well, but you want him around the goals, because he kicks goals. Finding that balance between the two is almost a week-by-week proposition. He's an ideal pick-up for any club. That sort of player is worth his weight in gold."
Lewis Taylor (Brisbane)
Age: 24 (17/2/1995)
Contract status: Out of contract
2019 numbers: 5 games, 0.6 goals, 16.4 disposals, 1.8 rebound 50s, 0.6 marks inside 50
The expert: "They used him more through the wing for the last couple of years, and away more from the half-forward role, which he's really lost, with (Charlie) Cameron coming in, (Dayne) Zorko playing that mix of half-forward and mid, and (Allen) Christensen. His best footy was really good in the contest, being a pressure player and dangerous around goals, getting busy in transition, getting multiple possessions in a chain, getting up the ground pretty high, then being a bit more creative on the way through. He would offer value for money."
Lewis Taylor has been starved of opportunity as the Lions have surged. Picture: AFL Photos