JARRAD Waite has led Victoria to a win over the All Stars in a dramatic shootout finish to the EJ Whitten Legends Game.
With scores tied at a whopping 275-all at the final siren (in what was easily the highest-scoring EJ Whitten match), teams had to nominate three players to kick for goal.
Andy Krakouer (All Stars), Travis Cloke (Victoria), Scott Cummings (AS) and Cameron Ling (Vic) all kicked successfully, before Richmond legend Matthew Richardson – in a moment many a Tiger fan has seen before – sprayed his shot out of bounds from directly in front.
Waite then stepped up, sealing the game for the Vics.
Earlier, Richardson looked to be the hero for the All Stars after booting a game-high 10 goals, while Stephen Milne was running rampant down the other end with seven of his own, winning the EJ Whitten Medal for best on ground.
It was the full Richardson on show on Friday night. Wearing the brightest of fluoro boots, 'Richo' kicked a bag, missed a crucial shot and delivered a hammed-up dummy spit, booting the ball into the top row after it had crossed over the line. He followed up with two crunching tackles on Jimmy Bartel and Campbell Brown, before being sent off by the umpire to cool down.
Not to be outdone, one of Milne's goals landed on the curved roof of AAMI Park in Melbourne.
Milne pulled out his bag of tricks that made him so beloved by St Kilda fans, with dribble kicks, bananas and taunting opponents all on show.
Stephen Milne receives his best-on-ground medal from Ted Whitten jnr.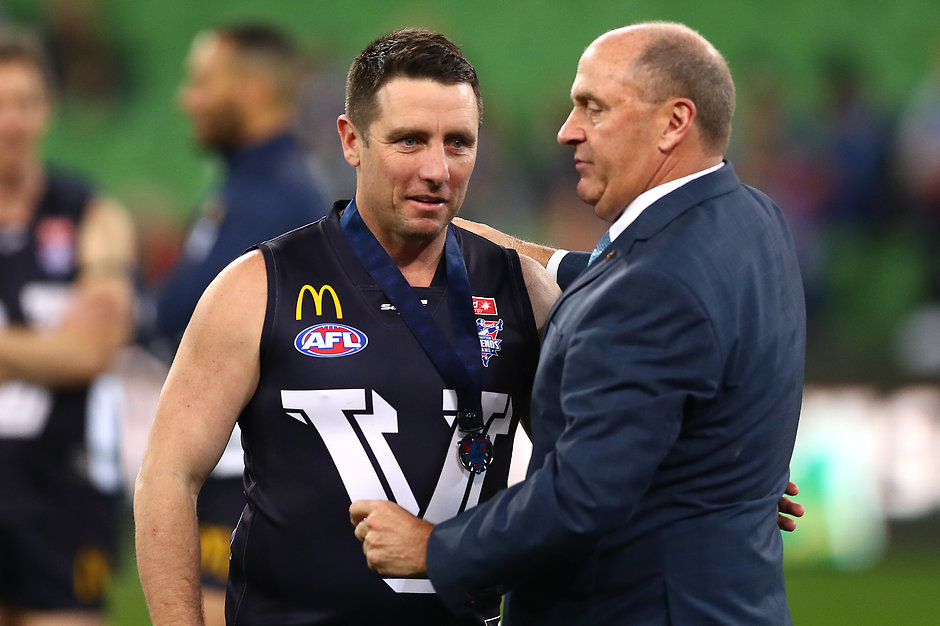 The match was played under AFLX rules at AAMI Stadium in Melbourne.
Victoria's skipper Brendon Fevola got off to a flyer, booting three quick goals and leading well playing against Glen Jakovich.
But the night finished far too soon for the former Blue and Lion, "popping a kneecap" (in his words) at the end of the first term and restricted to the pine for the rest of the night.
Brendon Fevola tells Vic coach Dermott Brereton the bad news.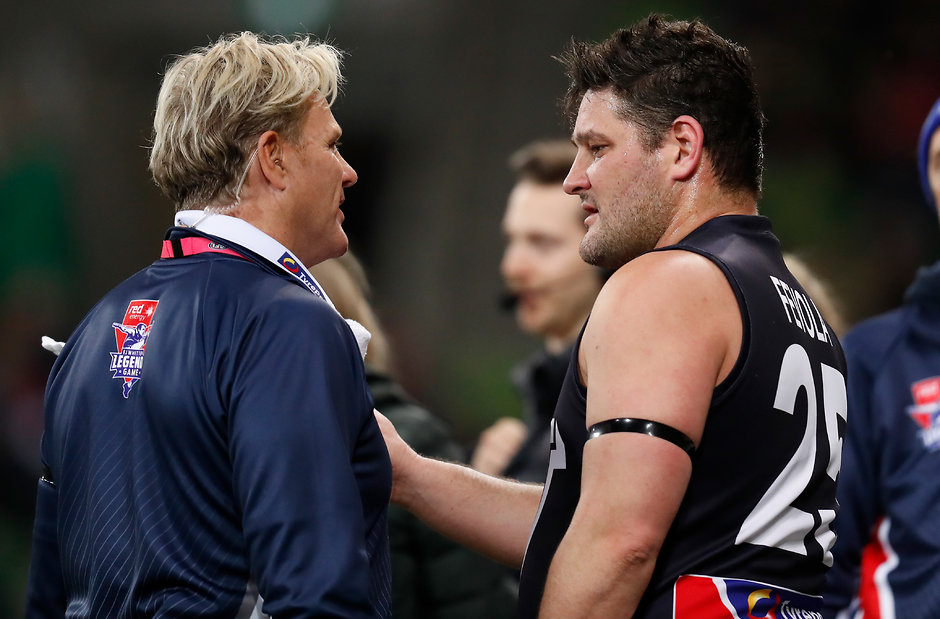 Ryan Crowley was known for his irritating tagging techniques in his time at Fremantle, and had his eyes firmly set on a player who also got under the skin of opponents in Jason Akermanis.
The Vics swung a quick change before the opening siren, Crowley sprinting onto the ground and bringing the Brownlow medallist to ground, happy to ignore Justin Koschitzke and Waite contesting the opening throw-up.
Geelong star Jimmy Bartel, wearing his customary long sleeves, seemed determined to boot as many 'supergoals' – worth 10 points – as possible from the zone in the middle of the ground.
Emboldened by an impressive barrel at the start of the match, he hovered in the zone for the rest of the game to mixed results.
The "power player", on the field for the final five minutes of the 15-minute quarters and able to score 12-point goals, proved to have a big impact on the game.
The Vics found a unique way to celebrate a goal.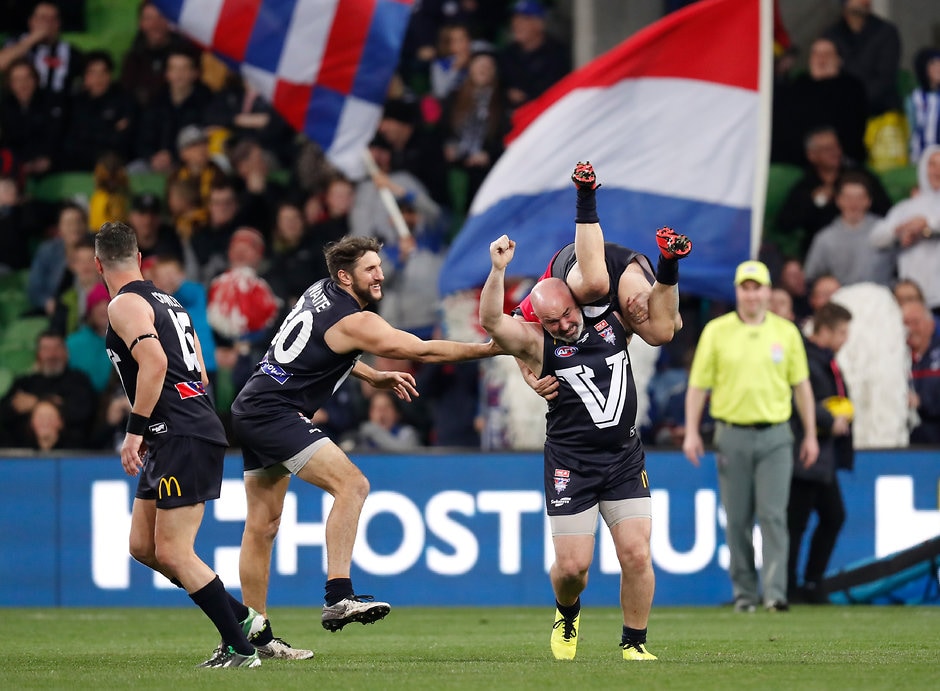 A variety of celebrities with varying levels of skill and former AFL stars rotated through as power players, with former Stawell Gift winner and racing commentator Jason Richardson impressing for the Vics with three 12-point majors.
Comedian Anthony "Lehmo" Lehmann was the pick of the All Stars power players, while radio host Byron Cooke provided a moment he'd rather forget, managing to miss kicking the ball completely just one metre from goal.
The smaller rectangular ground didn't lend itself to long passages of play, with players seemingly keen to kick as many torpedos as possible throughout the match.
Victorian runner and Collingwood AFLW ruck Sharni Layton even got involved, working alongside Carlton AFLW coach Daniel Harford and delivering a lace-out pass to Crowley.
Coaches Wayne Carey (All Stars) and Dermott Brereton (Victoria) attempted to add a layer of contested play after half-time, increasing the number of players on the field per side from eight to 10, much to the confusion of the players themselves.
Krakouer may have been playing above his AFL weight but provided the highlight of the match with a stunning snap from the square pocket.
McLeod to Ricciuto... not the first time we've heard that!#EJWhittenLegendsGame pic.twitter.com/eHdEFyMgwu

— AFL (@AFL) August 30, 2019
VICTORIA 7.8 15.16 21.21 33.23 36.23 (293)
ALL STARS 7.2 17.5 23.6 31.17 33.17 (287)

SHOOTOUT GOALS
Victoria: Cloke, Ling, Waite
All Stars: Krakouer, Cummings
POWER PLAYER GOALS (12 points)
Victoria: Richardson 3, Cloke 3, Price
All Stars: Richardson 4, Krakouer 3, Lehmann 2
SUPER GOALS (10 points)
Victoria: Bartel 2, Brown
All Stars: Akermanis, Krakouer, Ricciuto

GOALS
Victoria: Milne 7, Fevola 3, Richardson 3, Brown 2, Johnson 2, Ling 2, Crowley, Dickson, Cloke, Koutoufides
All Stars: Richardson 6, Wanganeen 4, Cummings 4, Akermanis 2, Koschitzke 2, Krakouer, Lehmann
BEST
Victoria: Milne, Crowley, Harvey, Kouta, Harford
All Stars: Richardson, Wanganeen, Krakouer, Cummings, McLeod
Campbell Brown had his pants pulled down - but had the last laugh.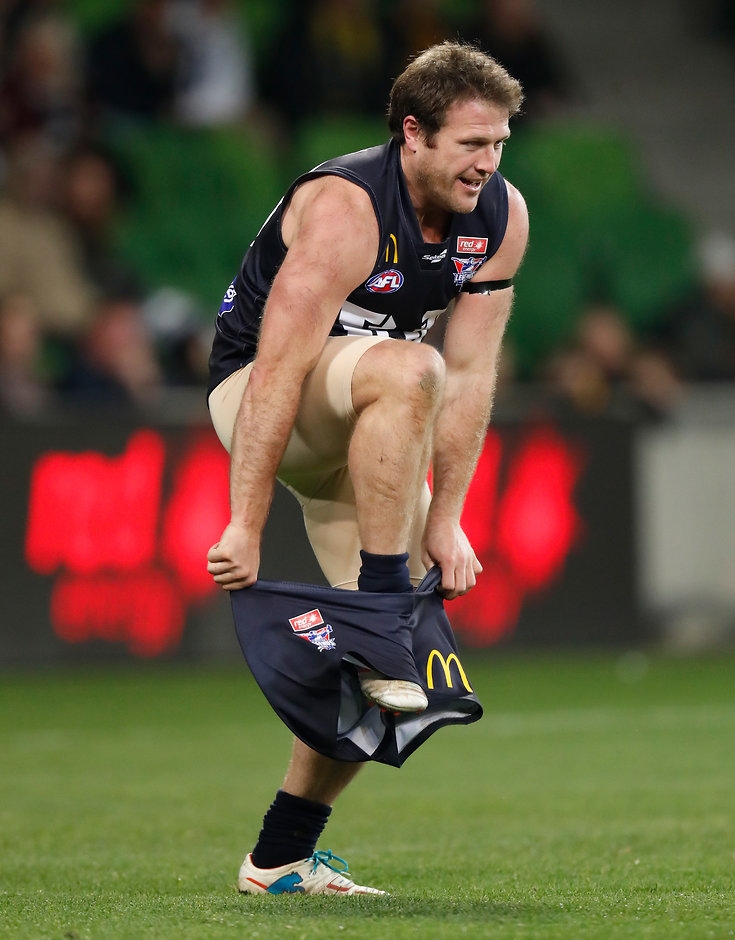 Picket Palace perform at half-time of the match.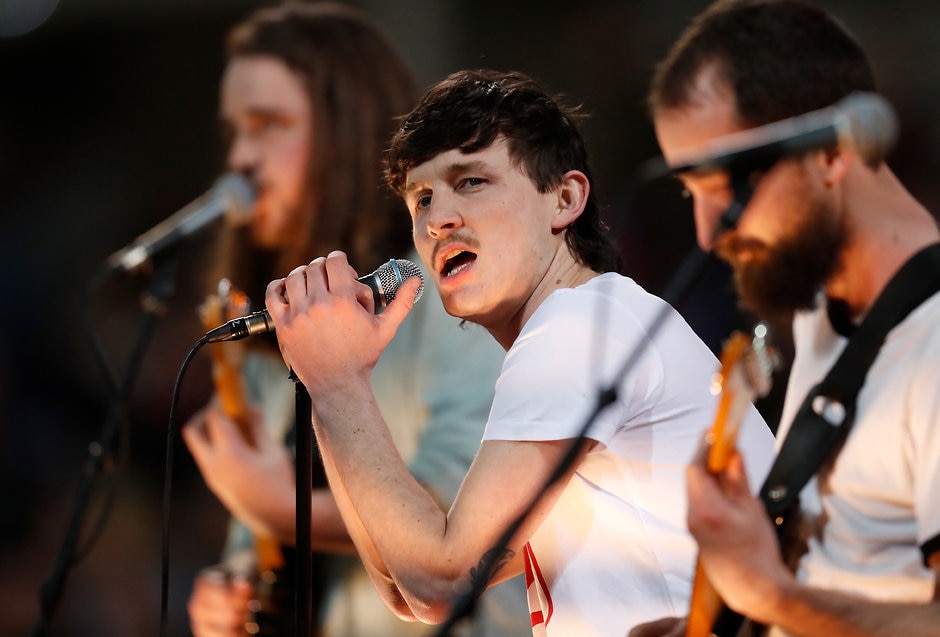 Scott Cummings tangles with Ryan Crowley and Daniel Harford.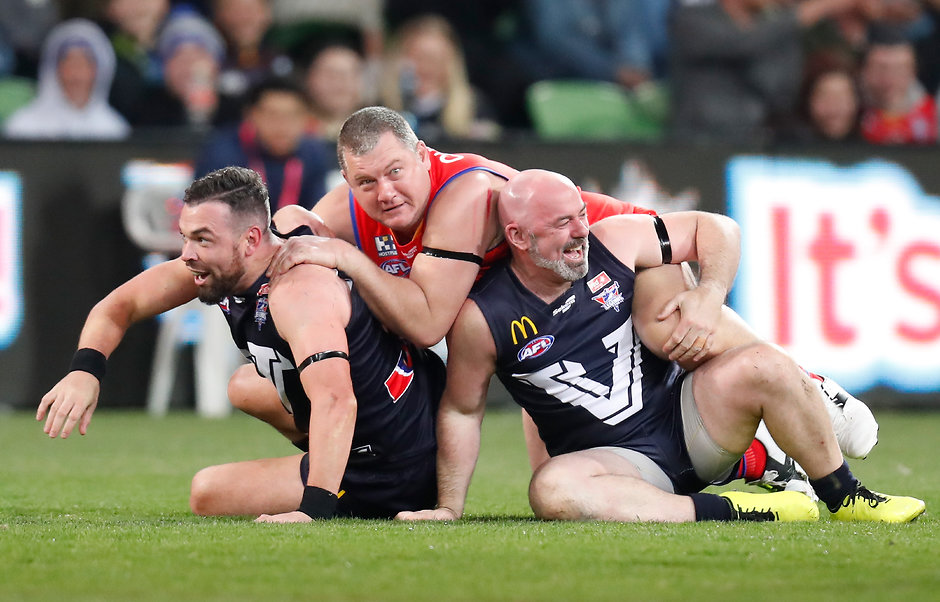 Both teams pose after the thrilling conclusion to the EJ Whitten Legends Game.