WEST Coast was the last club standing at the end of another eventful AFL season, while the Western Bulldogs reigned supreme in the AFLW Grand Final. There was controversy, brilliance – team and individual – and shattering lows in between. AFL.com.au is counting down the year's top football storylines in order and the series continues with those rated from 40-31.
TOP 50 STORIES Check out 50-41
TOP 50 STORIES Check out 30-21
TOP 50 STORIES Check out 20-11
TOP 50 STORIES Check out 10-6
40. MCG Grand Final until at least 2057
A $500 million Victorian Government commitment to upgrade various football venues – $225 million of which will be pumped into a revamp of Marvel Stadium and the Docklands precinct – doesn't necessarily make for sexy reading. But the impact on the game is obvious. As part of the deal, the MCG's Great Southern Stand will eventually be rebuilt to ensure the stadium's capacity remains more than 100,000. What really set tongues wagging was the announcement that along with these upgrades, the MCG will continue to host the AFL Grand Final until 2057. The news sparked outrage outside of Victoria and there was even a call for a best-of-three Grand Final series that divided the football public.
The Grand Final will remain at the MCG until 2057, much to some clubs' chagrin. Picture: AFL Photos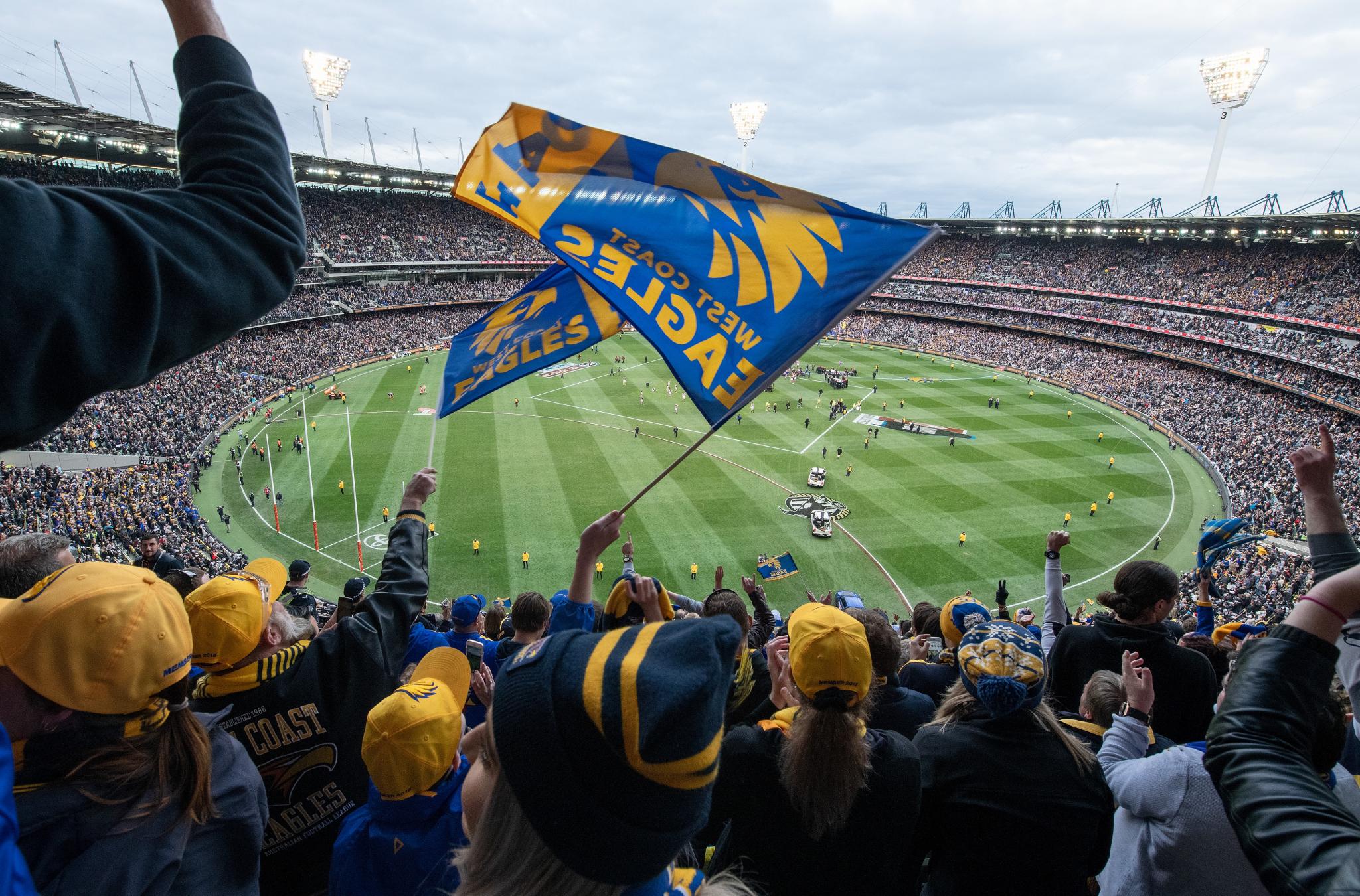 'A DUMB IDEA' Cats great slams best-of-three GF proposal
39. Port Adelaide fans' heartwarming tribute
Few people, let alone teenagers, have experienced tragedy like Power rising star Todd Marshall, who lost both his parents in a six-month period from October 2017. Marshall took compassionate leave in late April after his father Robert's passing, before returning to the AFL in mid-June against the Western Bulldogs. In what Marshall's teammate Ollie Wines called a "super special" gesture, Port Adelaide's fans gave Marshall a planned standing ovation at the 13-minute mark of the first quarter. Bulldog Hayden Crozier, who was on Marshall at the time, also gave the now-20-year-old a supportive tap as the Adelaide Oval crowd remained on its feet. It was a great and touching example of the AFL community rallying around one of its own.
13th minute applause for @PAFC's #13.

The whole footy world is with you, @toddmarshalll.#AFLPowerDogs pic.twitter.com/5iFQYf9wiO

— AFL (@AFL) June 14, 2018
38. Gazza (finally) comes home
Eight years – 2828 days, to be exact – passed between Gary Ablett jnr playing in Geelong as a Cats footballer until he ran on to GMHBA Stadium in round 10 against Carlton. The hype-o-meter leading into the contest was off the charts as Geelong fans officially welcomed the Little Master home after seven seasons at Gold Coast. Making the anticipation greater was the hamstring injury that prevented Ablett from appearing in the Cats' round four, six and seven games at their home base. The dual premiership star was good against the Blues without dazzling, gathering 25 disposals and kicking one goal, but the crowd lapped it all up. Ablett's return was a source of news all season, from evaluating his individual form to his so-called Holy Trinity combination with Patrick Dangerfield and Joel Selwood.
Gary Ablett didn't dazzle but the Cats got the points in his homecoming. Picture: AFL Photos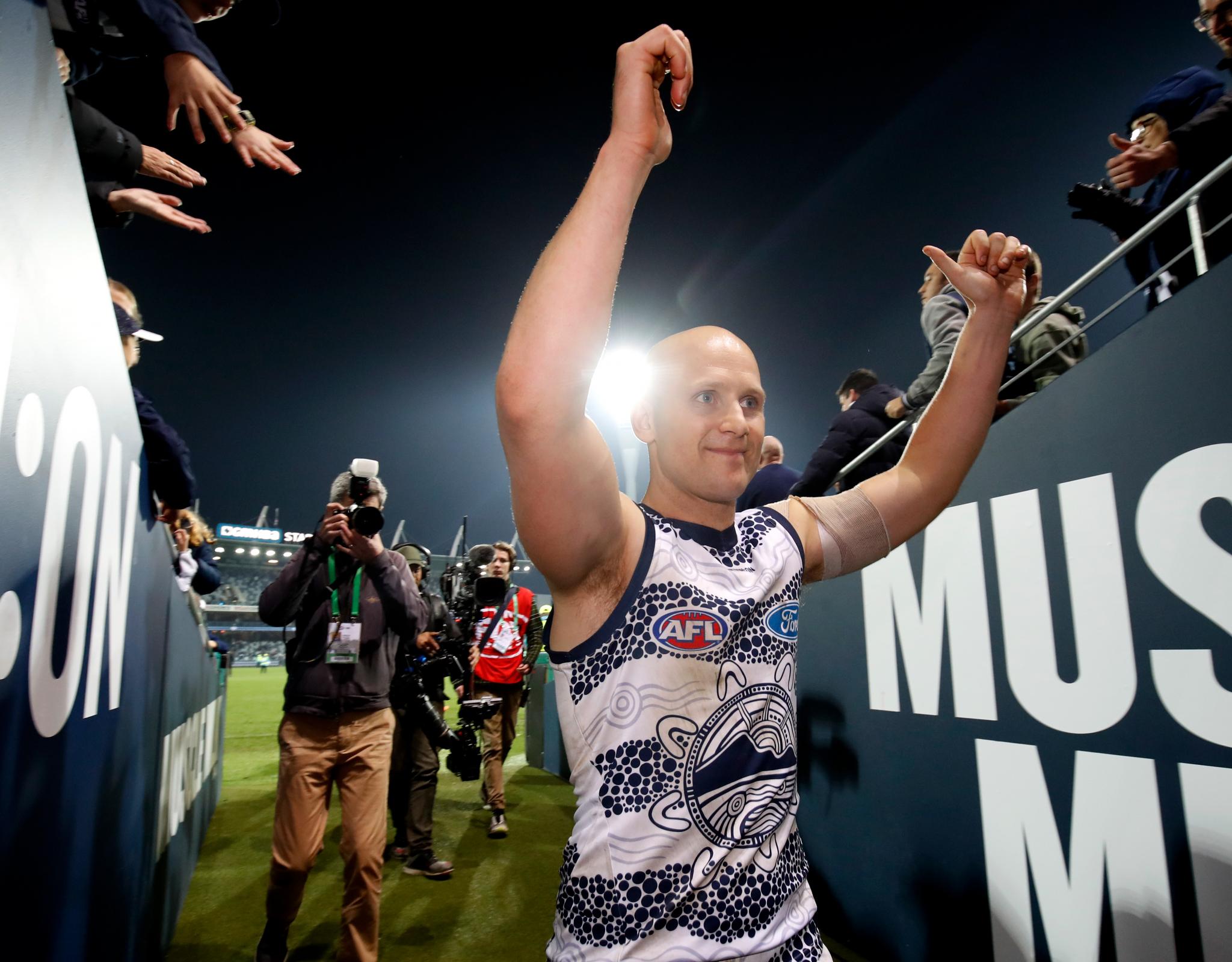 37. Buddy's captaincy shock in 'frustrating' year
Lance Franklin has always been a walking headline – and the 2018 season proved no different. Sydney coach John Longmire blamed Franklin's lingering heel injury on the Optus Stadium surface then suggested after the round 19 loss to Essendon that his superstar spearhead had trained for only 20 minutes all year. Individually, his eight-goal, season-opening effort against West Coast christened the new home of Perth football like only 'Buddy' can and he kicked 57 in total. Franklin earned an eighth All Australian selection, but it was the captaincy honour bestowed on the former Hawk that surprised him and most others. The dominant forward, who described his season as "frustrating", wasn't even in the Swans' leadership group this year, with his skipper nod considered a legacy recognition.
Lance Franklin laughs with Gerard Whateley at the Virgin Australia AFL All Australian awards. Picture: AFL Photos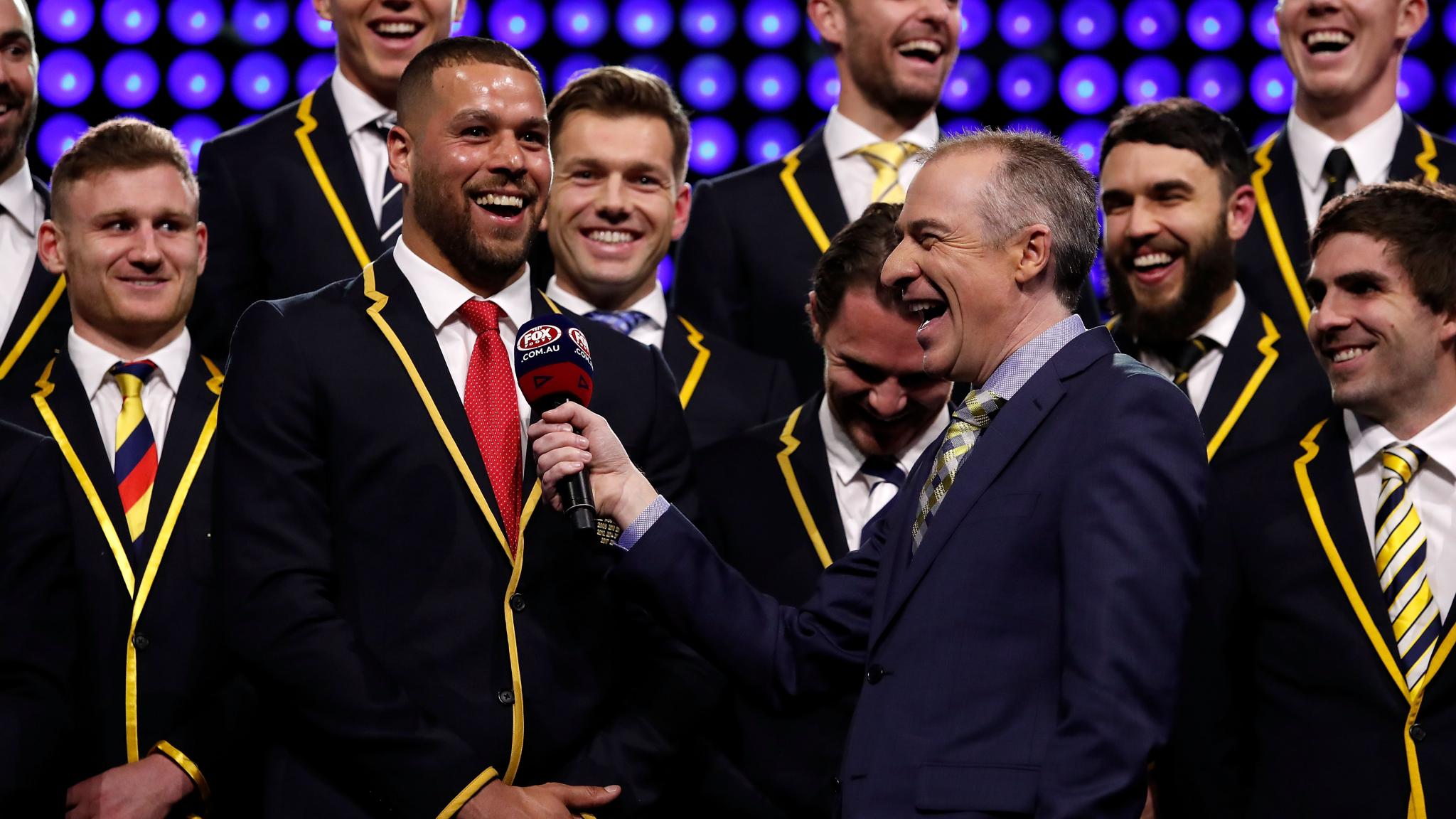 36. Misbehaving fans give game a bad name
Fans weren't always on their best behaviour this year, ranging from violence in the stands and on the streets to the Crows diehard who rose from his fence-side seat to tap Easton Wood on the bum. There was even the remorseful Essendon supporter who aggressively abused Demon Max Gawn from close range over the fence, then issued a public apology days later. At one stage there were three separate incidents in the space of a week, but AFL chief executive Gillon McLachlan said at the time it felt "like an aberration" rather than a trend. The big boss wouldn't have enjoyed the scenes after Richmond's finals victory over Hawthorn at the MCG. Some post-match banter turned ugly, ending in a vicious assault that resulted in the three alleged attackers each facing eight charges including conduct endangering life and recklessly causing serious injury.
Max Gawn and an angry Essendon fan exchange words. Picture: Screenshot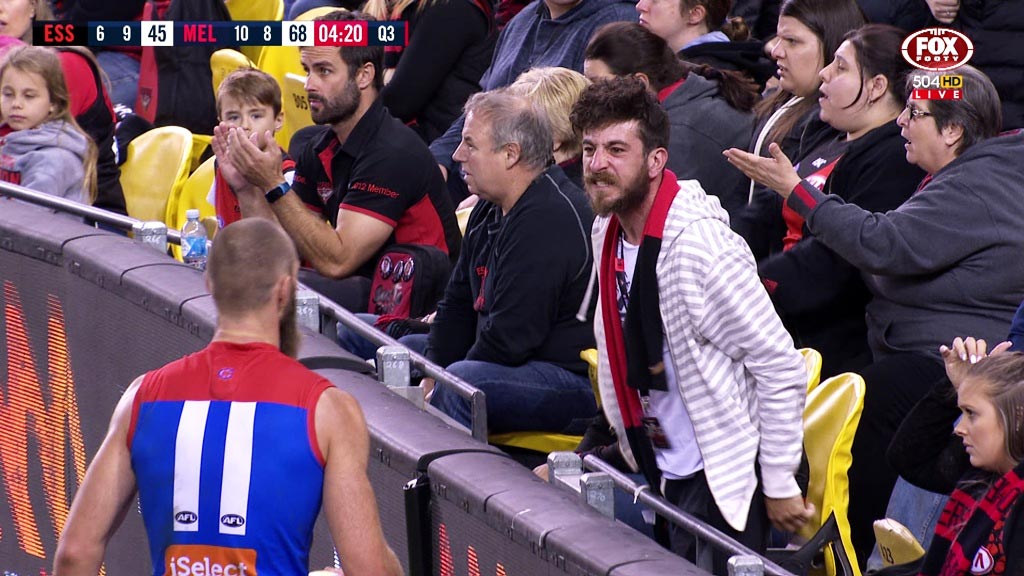 35. Spike in heart problems a cause for concern
St Kilda defender Dylan Roberton's shocking on-field collapse in round four against Geelong – caused by an irregular heartbeat – was the scene that encapsulated a series of heart-related problems suffered by AFL players. The 27-year-old Saint wasn't sighted in the AFL for the rest of the season and had a device implanted in his chest to monitor his condition. Collingwood's Kayle Kirby, who collapsed in a VFL practice match in March, and Blue Matthew Kreuzer, who underwent a procedure after suffering from an elevated heart rate that ended his season, were others afflicted. Kirby retired as a result. It came against the backdrop of Jaidyn Stephenson's drafting to Collingwood at the end of 2017 despite a pre-existing heart condition. Stephenson, who lived with Kirby, won this year's NAB AFL Rising Star award.
Trainers attend to Dylan Roberton after he collapsed mid-game against Geelong. Picture: AFL Photos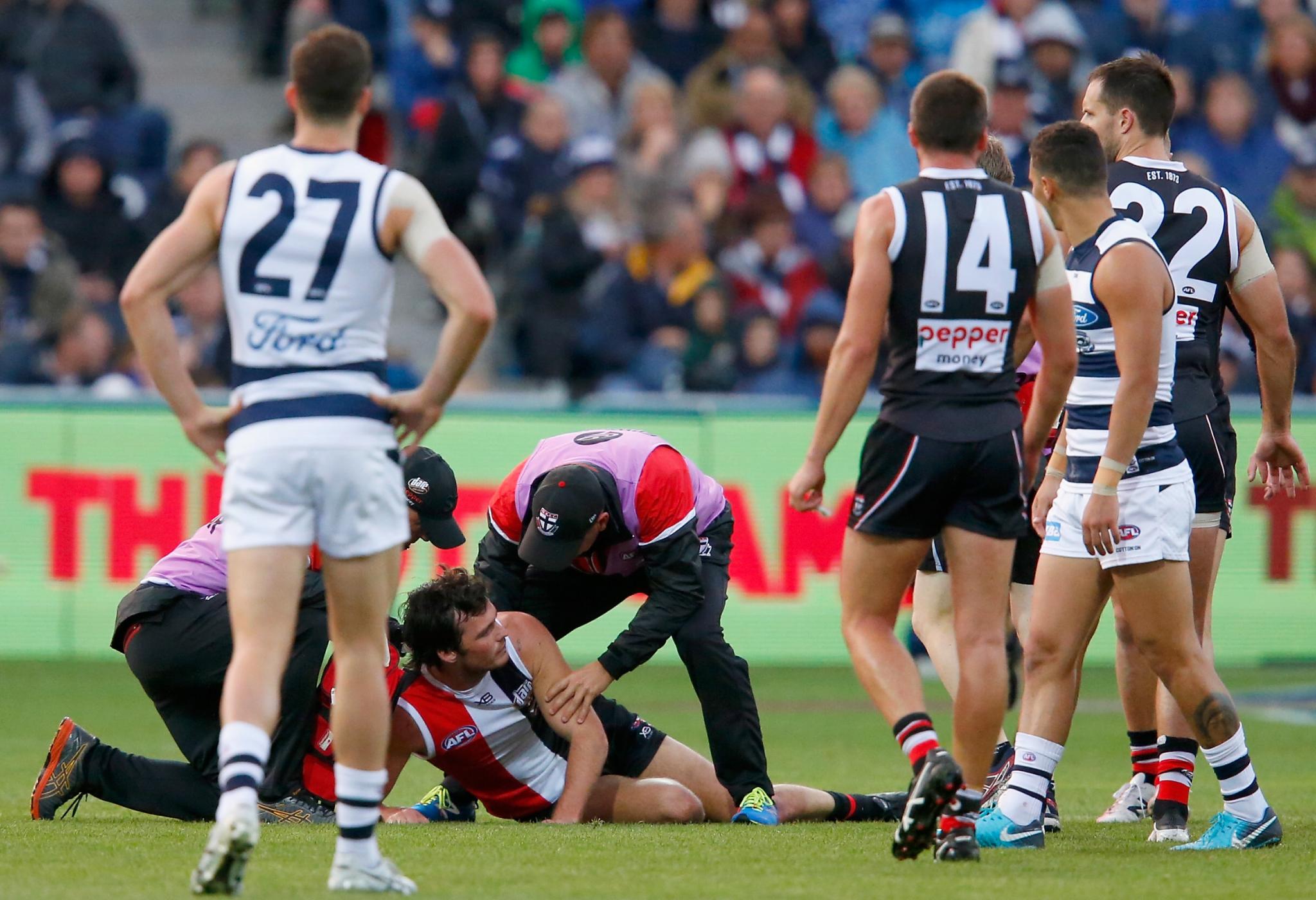 34. Power midfield bull sanctioned for late-night incident
This April saga ended with Port Adelaide's Sam Powell-Pepper receiving a three-match ban, although the AFL sanction came after he had already missed a fortnight. League headquarters found from an elongated investigation, the length of which frustrated the Power, that Powell-Pepper made inappropriate contact with a woman and his behaviour, including being drunk in a public place, was "unbecoming for an AFL player". The second-year player accepted the ban and apologised publicly. However, club chief executive Keith Thomas was disappointed in Channel Seven's initial coverage, which alleged Powell-Pepper was being investigated for a sexual assault, and said the report "set the tone for the entire investigation" and "way over-played the incident". In an unrelated matter five months later, Powell-Pepper again apologised for accidentally uploading a suggestive photo of him and his girlfriend to Instagram.
Sam Powell-Pepper endured plenty of controversy during the season. Picture: AFL Photos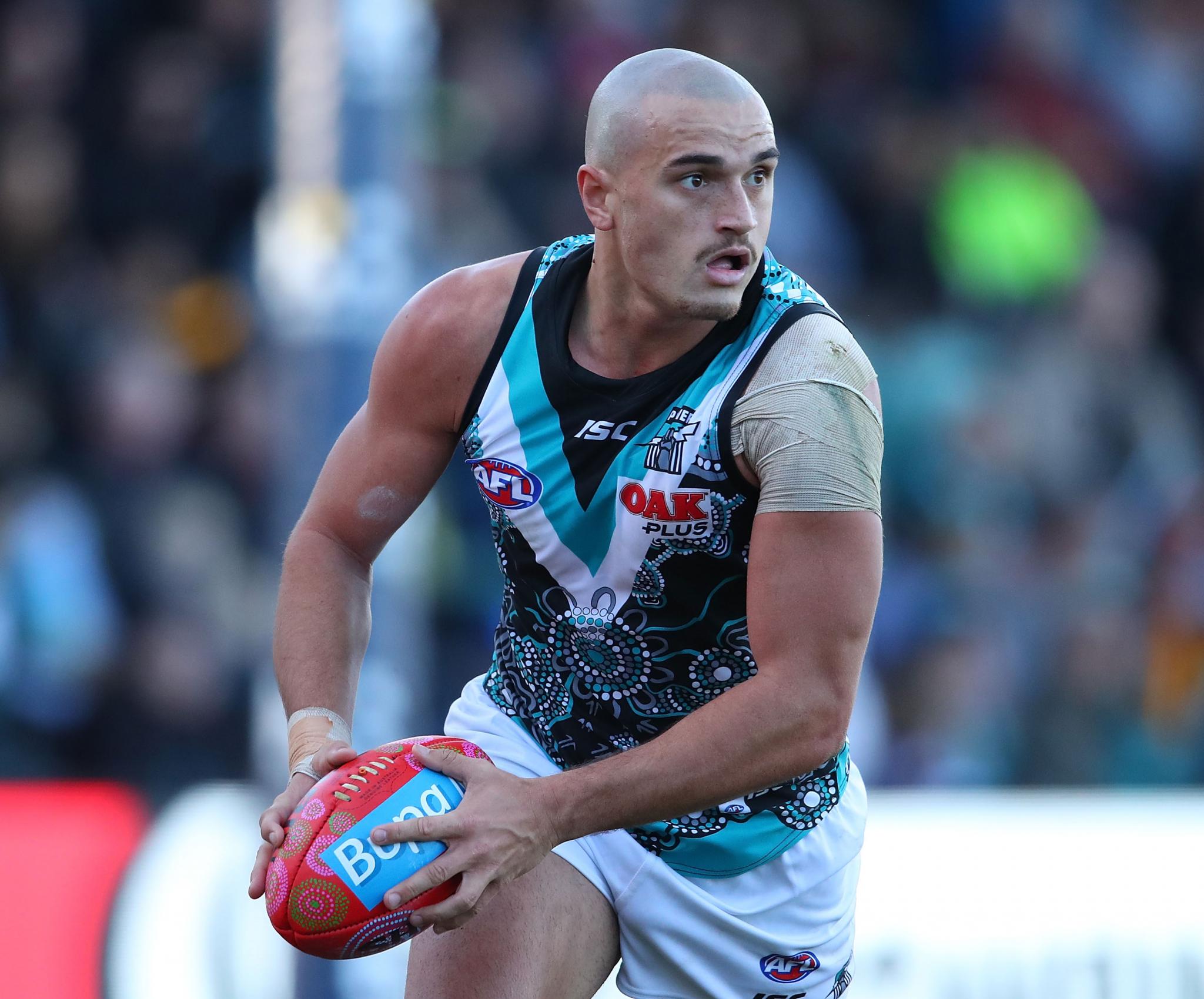 33. Memo to AFLW: controversy reigns
Controversy and outrage were never far from the surface of the fledgling NAB AFL Women's competition in 2018. AFL football boss Steve Hocking's memo to AFLW clubs in February – which was mostly about player positioning – after a low-scoring, subpar opening round triggered widespread condemnation. Even Leigh Matthews had his say. AFLW boss Nicole Livingstone said the memo wasn't "a kneejerk reaction", but was necessary to improve the style of play. Eleven new rules will be in place next year, including three specific to AFLW, that are designed to ease congestion and encourage free-flowing play. The other big talking point was the fixture, given two new teams will enter the competition in 2019. Early suggestions about each team playing six games – down from seven – in a conference system drew the ire of many, including Melbourne captain Daisy Pearce, who called it "a gimmicky tournament". Ultimately, it remained at seven, but with two weeks of finals, and the conference system will be in place.
Melbourne superstar Daisy Pearce was outspoken in her criticism of the fixture proposal. Picture: AFL Photos

32.

'The Toby Rule' is introduced

We found out in 2017 that Toby Greene's feet can cause more damage than just on the scoreboard. His 'studs-up' attempt at the time to collect a high handball resulted in his boot contacting and bloodying Bulldog Luke Dahlhaus' face. There was much ensuing debate, but Greene escaped with a $1500 misconduct fine. The Giant's marking style put him in hot water again this year in two separate incidents in Greater Western Sydney's elimination final win over the Swans. Channel Seven commentator Basil Zempilas said after one of them: "There's an old saying – does it pass the pub test?" The AFL effectively decided it didn't, and there will be a crackdown from next year on players using their studs to aid their marking attempt. Greene joins a long list of AFL footballers whose actions have contributed to a rule change.

Marking attempts like this from Toby Greene will be penalised in 2019. Picture: AFL Photos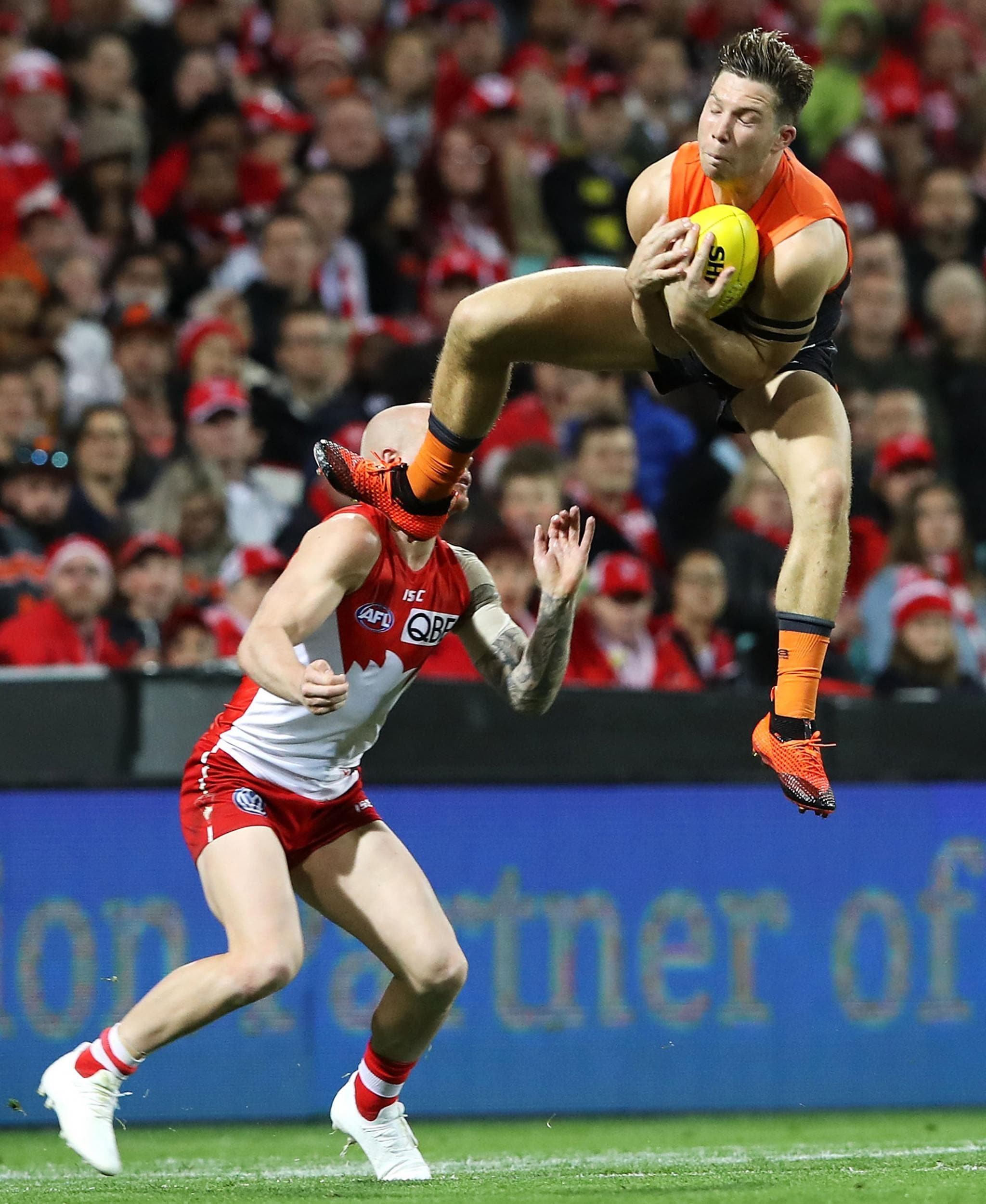 31. Jarryd's Rough form a cause for discussion
There is no doubting Jarryd Roughead's tremendous contribution to Hawthorn's golden era under Alastair Clarkson, which reaped the club four premierships between 2008 and 2015. But the 31-year-old version in 2018 wasn't the same Roughy who kicked at least 70 goals in a season three times. Age catches up with everyone and while still more than serviceable, questions were raised about whether Roughead might retire. That speculation was heightened when Clarkson said: "He's still contracted and we're really keen to see out contracts where we possibly can, but his form wouldn't have been to the standard he would have liked throughout the course of this year." That led to a Roughead media conference, where he made it clear – in his straight-shooting, sometimes-irritable way – that he would play on in 2019. However, he hinted he was willing to relinquish the captaincy, and two months later that happened officially.
Jarryd Roughead's form was a point of contention throughout 2018. Picture: AFL Photos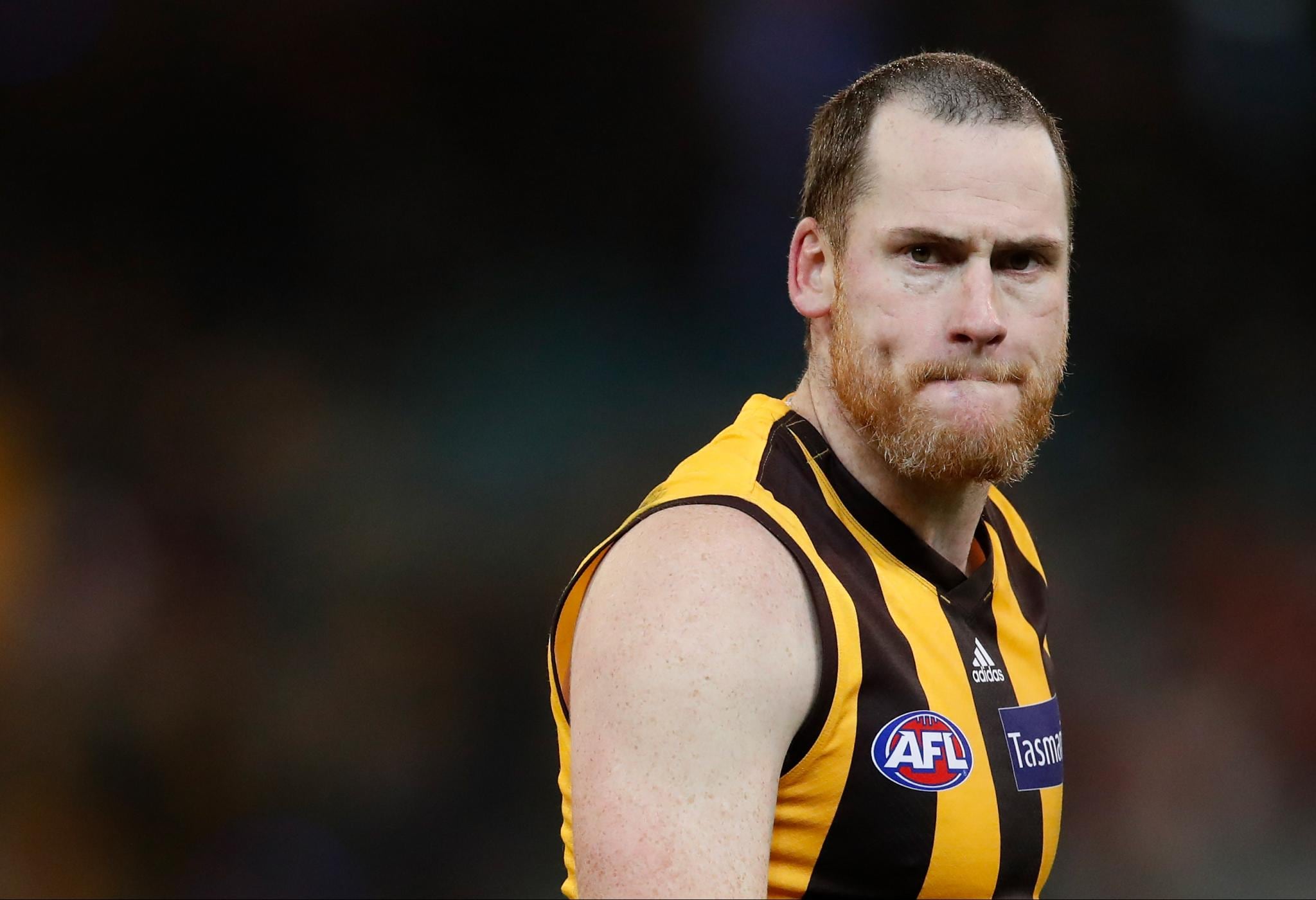 Read more
TOP 50 STORIES Check out 50-41
TOP 50 STORIES Check out 30-21
TOP 50 STORIES Check out 20-11
TOP 50 STORIES Check out 10-6