LEIGH Adams knew something was wrong earlier this year when he occasionally struggled to remember people's names, where he had put his keys or why he had walked into a room.
He was also prone to debilitating headaches that lasted for days, had little to no energy and, most concerningly, had an unusually short temper.
Adams' ordeal began when he was concussed in North Melbourne's round 23 win over Melbourne at the end of last season.
The side-effects of that concussion lingered long enough that Adams saw a neurologist and was ruled out of North's three-week finals campaign.
Adams already had a history of concussions – his most recent one having come less than three months earlier when he was driven to the ground in a strong tackle by Richmond's Troy Chaplin – and the neurologist wanted to monitor him closely, concerned by his slow recovery.
Six months later, Adams suffered another concussion just 10 minutes into his second game of the 2015 pre-season.
He was playing for North's VFL affiliate Werribee in a practice match against Footscray. It would be another 10 weeks before he felt like himself again.
"That's when it was starting to get a bit of a worrying trend towards obviously some long-term damage," Adams told AFL.com.au.
"It was more frustrating than anything. The specialists told me it was definitely going to get better, but early on I couldn't really see it getting better because I was in a bit of a fog.
"A lot of blokes do get those concussion symptoms for a week, maybe two if they've had a severe concussion - but I was having them for eight to 10 weeks, which is obviously not a great sign.
"The specialists just kept reiterating, 'It's going to get better, it's just a matter of time'.
"I think that really helped, knowing they were saying I was going to come out of it."
Despite his concerns, Adams wanted one last shot at resuming his AFL career. At 27, he did not want to retire before his time.
He returned in the VFL in late May and showed no signs of rust, racking up 28 possessions for Werribee in three-and-a-half quarters against Sandringham.
But in his third game back, Adams was again concussed after copping a head knock against Collingwood's VFL team.
It would be another six weeks before he officially retired. In that time, he continued to be closely monitored by his neurologist, with North keen for the side-effects of his latest concussion to pass before he made any decision on his future.
But Adams knew almost as soon as he came off the ground that June afternoon that his football career was over.
"After I got that minor hit to the head (against Collingwood's VFL team) and was suffering those concussion symptoms I knew it was probably time to retire," he said.
In the end, reaching a final decision was easy.
"When the neurologist is telling you that if you walk away from the game now your chances of anything going wrong long-term are really slim, but if you play on and get another hit that could obviously change things, that makes it a pretty easy decision," Adams said.
He understandably remains frustrated that his AFL career has ended on 104 games.
But he can take solace knowing that despite the low profile he kept throughout his nine-year career – he remains best known to some as the victim of Chris Judd's 'chicken wing' tackle late in the 2012 season – he was extremely highly rated inside Arden Street.
Leigh Adams feels the affect of Chris Judd's 'chicken-wing' tackle in 2012. Picture: AFL Media

Upon his retirement, North coach Brad Scott said Adams had "re-defined" the forward/midfielder role.
It was in that hybrid position that Adams finally found his niche in his fourth year at North.
After a promising debut season in 2007, Adams had spent most of the next two years battling to get back to full fitness after rupturing an anterior cruciate ligament at the start of 2008.
At the end of 2009, Adams had played just eight senior games in three seasons and feared his AFL career was on borrowed time.
But when Scott arrived at Arden Street in 2010 Adams quickly found his groove.
Despite missing seven weeks with injury that year, Adams finished fourth in North's best and fairest award.
In 2011, he finished fifth, one vote behind third-place-getter Drew Petrie.
They were Adams' best seasons and came – not coincidentally – after he completed rare complete pre-seasons.
In 2012, Adams helped spark North's stunning late-season revival that took it into its first finals series under coach Brad Scott.
After a flat 4-6 start to the season that was capped by a 115-point loss to Hawthorn in round 10, North escaped with an unconvincing seven-point win in its next game against Gold Coast in round 12.
The game that kick-started the Roos' revival was the 32-point win over Adelaide the following round.
Adams was best on ground in that match with 26 possessions and three goals, and when North beat St Kilda for the first time in three years a week later, he was again outstanding with 32 possessions and two goals.
Adams helps Andrew Swallow put the squeeze on Jarryd Blair. Picture: AFL Media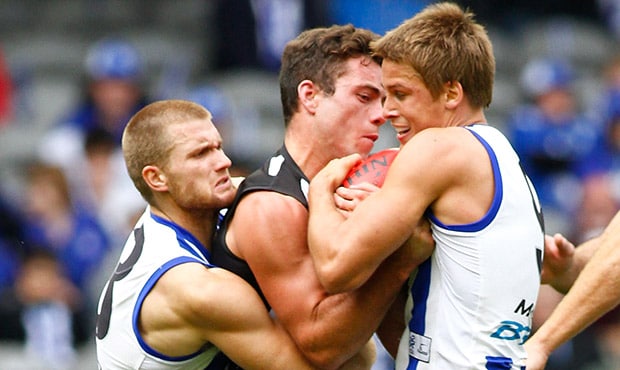 Unfortunately, recurring shoulder dislocations ended Adams' season a month before North took on West Coast in that year's first elimination final.
It would ultimately mean Adams would retire without playing a final.
Of the other three finals series North contested in his time at Arden Street, he was overlooked as a first-year player in 2007, and sidelined by an ACL injury in 2008 and, of course, concussion side-effects last year.
Adams is frustrated he never got to experience the excitement of playing before a finals crowd but admits the gap in his football CV had escaped him until he sat down to write his retirement speech.
He remains hopeful, however, that he can still make a contribution to North's bid to make this year's top eight.
Adams hopes to do so as a development coach working two days a week with the Roos' forward/midfielders, mostly those playing in the VFL.
The 27-year-old is grateful to Scott for giving him the opportunity, and will take the rest of the season to work out whether he wants to pursue a career in coaching.
If he doesn't, he will look to work in excavation and earthmoving, having worked in the industry in his spare time over the past two years.
Regardless of his choice, Adams is grateful he can look forward to a long and healthy future with his wife Cassie.
"I would love to have played on until I was 30 but I've got to look at the bigger picture of my life and footy's only a small part of that," he says.
"So I'm just happy to get away with no long-term damage and I can move on from footy and into the next part of my life with no long-term effects."