THE FLEDGLING NAB AFL Women's competition has hit its first serious speedbump.
The first year was primarily about getting the competition off the ground. The second would likely see more scrutiny come, the demands for improvement from all-comers, but primarily talkback callers, commentators and tweeters.
We've had just one round of footy this year – and 33 games of AFLW in total – but already the game has been subject to myriad rule changes, including some radical choices from the start (going with a 16-a-side format, rather than the usual 18 women play with in their state leagues).
Understandably, this rule – implemented after data analysis from three years of AFL-sanctioned exhibition matches – was aimed at reducing congestion and presenting an attractive, free-flowing product.
Curiously, 28 games were played last season without time-on. But just two days before last year's Grand Final between Brisbane Lions and Adelaide, the AFL announced time-on would be added after all scores, when the ball was out of bounds, or any significant time delay. It was strange timing to say the least.
Post-season, the AFL embarked on an extensive review of year one, consulting club coaches and football and list managers with the view to addressing (low) scoring and congestion. The outcome? Further changes: the last-touch rule, reducing team size from 22 to 21 and time-on only in play during the last two minutes of each quarter.
Although more goals were scored (35 last weekend compared to 27 in last year's opening round), several matches featured either goalless or scoreless halves. Fremantle did not score until the third term, Adelaide failed to add to its half-time tally of 19 points against the Brisbane Lions, and the Carlton-Collingwood season-opener on Friday night saw no goals kicked after half-time and just five in total.
Be patient on scoring, says Freo coach
Despite a healthy cumulative attendance of around 44,000 people and a noticeably higher standard across the board, Friday's showpiece was never going to escape deserved scrutiny. In fact, clubs started getting the message on Friday night and over the weekend. They wouldn't have been surprised on Monday and Tuesday when they were reminded what was expected.
New AFL head of coaching David Rath was heavily involved in providing this week's feedback to the coaches, including showing them vision from last weekend's matches.
This type of post-round feedback wasn't provided last season.
Richelle Cranston celebrates a goal against GWS. Picture: AFL Photos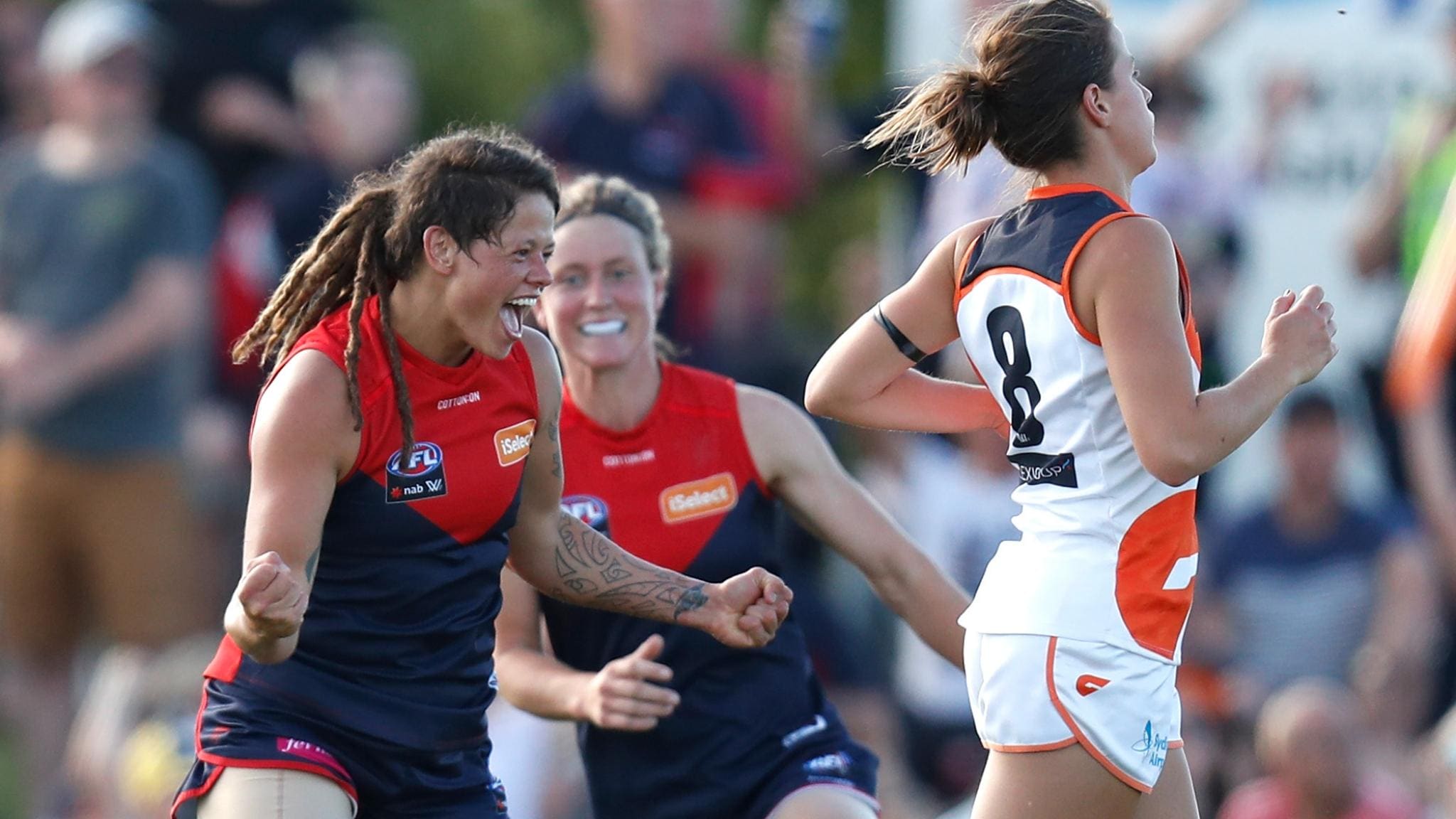 Just before lunchtime on Wednesday, clubs were sent a memo confirming the recommended guidelines, with a reminder they'll likely receive ongoing feedback.
The guidelines, which AFL head of women's football Nicole Livingstone described as "spirit of the game initiatives", will see:
- Teams start a centre bounce with five forwards, six midfielders and five defenders in place. Umpires will not start play until players are in position.
- A 15m protected area around a stoppage where forwards are not able to encroach
A general intent to pull forwards back from stoppages
Umpires will not have the power to directly penalise players, with the exception of halting play until the centre bounce formation is in place.
The AFL said clubs were in agreeance with the guidelines and that no objections were directly raised.
Livingstone refused to rule out zones being introduced at some point this season. The topic, a curly one in AFL circles, has already been discussed with AFLW teams.
"It may be out of the comfort zone of fans to think about the AFL being involved in giving guidance in terms of that review process, but I think in this day and age, it's important for us to actually be guiding the competition when we have such a new start to it," Livingstone said.
AFLW: Latest news, fixture and results here
Why the apparent heavy-handed approach – seen by many as a knee-jerk reaction – after just one round?

The AFL is juggling a wide range of growing pains as it tries to shape the AFLW competition, not only for 2018, but for the medium-to-long-term.

Before this year ends, it will need to strike a broadcast deal for 2019 and beyond, sign sponsors, find common ground with a growing player base on a new CBA, and outline draft concession and player rules for two new clubs in 2019 (North Melbourne and Geelong) and another four in 2020 (Gold Coast, Richmond, St Kilda and West Coast). It's hard to do any of these things from a strong position without a quality product.
"It's interesting when people talk about the commercial aspect and the flow-on affect it may have when we look at the style of game," Livingstone said.
"We talk about wanting to have the girls better paid [and] having longer contracts [and] the clubs are talking about wanting to control players' destinies a bit more.
"So, when we look at that in totality, yes, we want the game to be a good style, something which people will watch and will get good ratings.
"The commercial space is really important because we want this game to be viable and we want girls to be able to make the choice to be full-time footballers."
The guidelines may have been brought in under the guise of the "spirit of the game", but as Livingstone conceded, the recommendations would be "challenging", especially for coaches.
And they won't necessarily be easy for the players, either.
In the short-term – starting on Friday night when Greater Western Sydney hosts Carlton at Drummoyne Oval in inner Sydney – the pressure to produce a 'better look' will fall on the coaches (as a rule, competitive beasts who want to win above all) and the players.
It's worth noting the vast majority of players work or study full-time on top of their limited team-sanctioned training commitments and have already had to make continual adjustments to their games, whether it be adapting to the last-touch rule or suddenly having to take on new team rules and abandon ones they worked on all pre-season.
Coaches and players will be rightly annoyed. Fans should be scratching their heads. But if a minor bump helps shape the competition's long-term future, we'll look back at this as a turning point.