PLAYER names on jumpers could become a permanent feature in the AFL as soon as next season if reaction is positive to the round five trial of the concept.
All 18 teams will be part of the test, with every player to have his name printed above his jumper number, starting with Thursday night's clash between the Brisbane Lions and Richmond.
The concept has strong support from the clubs, particularly in Queensland and New South Wales, but tradition prevented it from being introduced without a trial.
Space is also at a premium on the back of AFL jumpers and the round five experiment will allow the AFL to examine how names can fit on jumpers and how helpful it is to supporters.
If reaction from supporters, broadcasters and clubs is positive, planning could start to introduce the change for the start of the 2015 season. It could not be introduced permanently later this season.
"Clubs have been coming to us for a while now asking us to consider this idea," League football operations manager Mark Evans said on Monday.
"There's lots of young people and new people to our game who they think could have some benefit by being able to recognise names.
"In our game we've had a long-standing history of looking at the numbers and knowing the stars of our game via the numbers.
"We've always got one eye on the traditions of the game, but we should also have one eye on what the future could be."
There will be little trouble with players like Gold Coast's Steven May, St Kilda's Farren Ray and West Coast's Dean Cox, who have the shortest surnames in the League.
Greater Western Sydney's Will Hoskin-Elliot, meanwhile, will have the longest name to be printed on the back of a jumper.
Sydney Swans defender Lewis Roberts-Thomson has opted to have his name abbreviated to L.R.T on his jumper, as his full name would not have fitted above his number 30.
There will also be players using their first initial, including Adelaide's Brad and Matt Crouch and Sydney Swans brothers Kieren and Brandon Jack.
Many clubs, including the Swans, Western Bulldogs and the Brisbane Lions, feature lettering that recognises their past, such as FFC, for Footscray Football Club, on the Bulldogs' guernsey.
Below: How Bombers' and Hawks' jumpers will look. Picture: AFL Media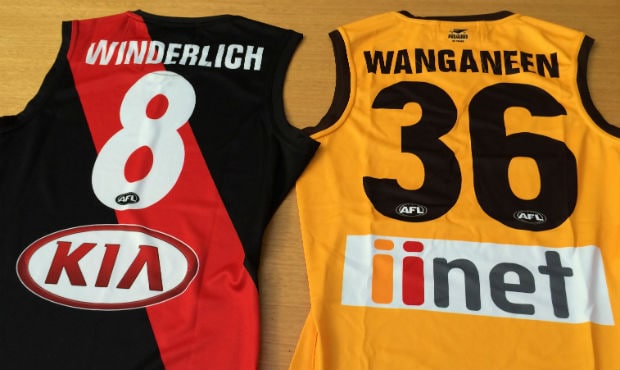 Evans said that tradition would not be touched.
Jumper numbers were first introduced in 1903, when Collingwood played Fitzroy for premiership points at the SCG in round four.
Spectators were handed a list of the players and their allocated numbers with the system designed to assist spectators new to the code.
Gold Coast and Greater Western Sydney are particularly hopeful names on jumpers will help their supporters identify players if they are new to Australian football.
In 2014 there are five pairs of players with identical names – Mitch Brown (Geelong and West Coast), Josh Kennedy (Sydney Swans and West Coast), Tom Lynch (Adelaide and Gold Coast), Sam Reid (Greater Western Sydney and Sydney Swans) and Scott Thompson (Adelaide and North Melbourne).