MELBOURNE'S first pick at this year's NAB AFL Draft is up for grabs, with the Demons open to trading the selection.
The Demons' dreadful season saw them finish second-last on the ladder and with the No.2 draft choice.
>> FULL INDICATIVE DRAFT ORDER BELOW
However, that could be pushed back to No.3 overall with clubs believing the AFL will hand Gold Coast a priority pick at the top of the draft, essentially seeing the Suns hold the No.1 and No.2 picks. The Suns presented to the AFL Commission on Tuesday.
Find Road to the Draft on Apple Podcasts, Google Podcasts and Spotify.
AFL.com.au understands the Demons have told rivals they would be interested in turning their top pick into multiple selections, otherwise known as 'splitting' it.
The club has been creative with its first selection at the draft in years gone by.
In 2013, they used pick two in the draft to land pick nine (Christian Salem) and Dom Tyson from Greater Western Sydney.
Christian Salem has played 90 games in six seasons. Picture: AFL Photos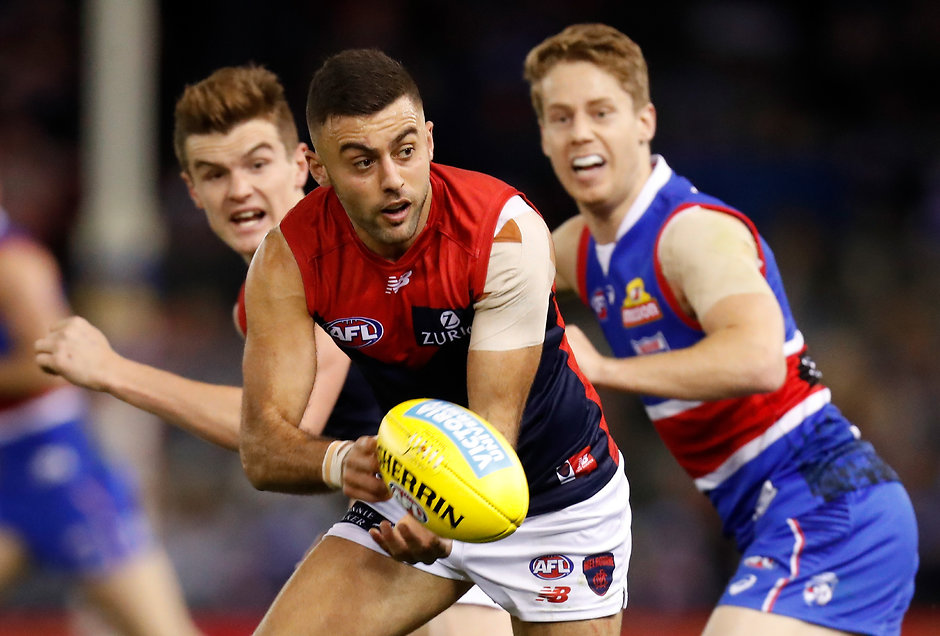 Two years later, they moved up the draft board by offloading a future-first rounder to Gold Coast in exchange for pick three (which was used to draft gun midfielder Clayton Oliver) amongst a complex deal.
In 2015, the Demons also used the then-incoming points system to smartly work with the Academy clubs to secure an extra top-10 pick.
Again the Demons are looking at their options, including moving back in the order but bringing in an extra selection to add to their draft hand.
While the Suns are considered likely to draft Victorian midfield pair Matt Rowell and Noah Anderson if they are given an extra draft choice, there would still be a number of talented options available at No.3 – for the Dees if they keep it, or a rival if they offload it.
Noah Anderson and Matt Rowell are expected to be the top two picks. Picture: AFL Photos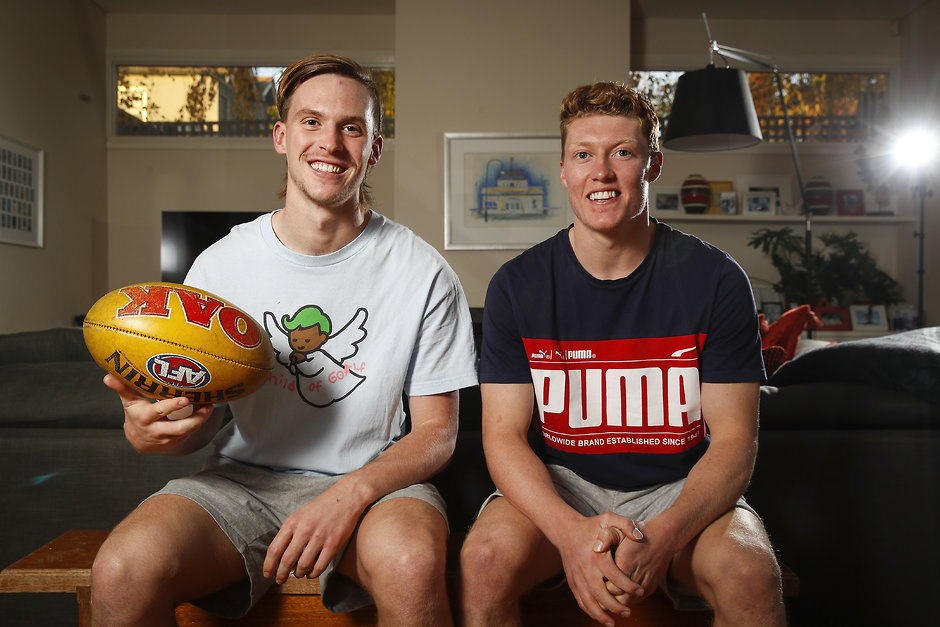 Classy half-back Hayden Young, powerful midfield/half-forward Caleb Serong and Greater Western Sydney Academy ball-winner Tom Green are among the other highly-rated prospects in that range, although the Giants will be able to match a bid for Green.
PHANTOM FORM GUIDE Which young guns are rising the ranks?
Adelaide and St Kilda, who also hold top-five picks, have also informed clubs they are willing to do 'two-for-one' deals with their respective first picks at the right price.
Brisbane, which has two top-20 selections, is a club looking to get up the order, while the Giants, who have two first-round picks (including one tied to Essendon's finishing position) is another.
Melbourne's first pick in this year's draft was up for grabs last year, when the Demons looked to move up the order with live trading.
The Dees started their draft night last year at pick 27, but were looking to get into the action earlier, with an interest in crafty forward/midfielder Zak Butters.
They would have needed to trade their future 2019 first-round selection to push into last year's group to nab Butters, but no deal was done and the Power grabbed the exciting youngster.
Indicative draft order after round 23
ROUND ONE

GCFC

1. Gold Coast

MELB

2. Melbourne

ADEL

3. Adelaide (tied to Carlton)

SYD

4. Sydney

STK

5. St Kilda

FRE

6. Fremantle

NMFC

7. North Melbourne

CARL

8. Carlton (tied to Adelaide)

PORT

9. Port Adelaide

HAW

10. Hawthorn

GWS

11. Greater Western Sydney (tied to Essendon)

WB

12. Western Bulldogs

GWS

13. Greater Western Sydney

WCE

14. West Coast

BL

15. Brisbane (tied to Collingwood)

RICH

16. Richmond

GCFC

17. Gold Coast (tied to Brisbane)

GEEL

18. Geelong
ROUND TWO

BL

19. Brisbane (tied to Gold Coast)

MELB

20. Melbourne

ADEL

21. Adelaide (tied to Carlton)

WCE

22. West Coast (tied to Sydney)

SYD

23. Sydney (tied to St Kilda)

FRE

24. Fremantle

NMFC

25. North Melbourne

ADEL

26. Adelaide

PORT

27. Port Adelaide

HAW

28. Hawthorn

ESS

29. Essendon

WB

30. Western Bulldogs

ESS

31. Essendon (tied to Greater Western Sydney)

WCE

32. West Coast

COLL

33. Collingwood

RICH

34. Richmond

BL

35. Brisbane

GEEL

36. Geelong
ROUND THREE

RICH

37. Richmond (tied to Gold Coast)

MELB

38. Melbourne

CARL

39. Carlton

SYD

40. Sydney

WB

41. Western Bulldogs (tied to St Kilda)

BL

42. Brisbane (tied to Fremantle)

NMFC

43. North Melbourne

CARL

44. Carlton (tied to Adelaide)

HAW

45. Hawthorn (tied to Port Adelaide)

WB

46. Western Bulldogs (tied to Hawthorn)

ESS

47. Essendon

WB

48. Western Bulldogs

GWS

49. Greater Western Sydney

SYD

50. Sydney (tied to West Coast)

COLL

51. Collingwood

GCFC

52. Gold Coast (tied to Richmond)

BL

53. Brisbane

GEEL

54. Geelong
ROUND FOUR

STK

55. St Kilda (tied to Gold Coast)

MELB

56. Melbourne

SYD

57. Sydney (tied to Carlton)

SYD

58. Sydney

WCE

59. West Coast (tied to St Kilda)

ESS

60. Essendon (tied to Fremantle)

PORT

61. Port Adelaide (tied to North Melbourne)

PORT

62. Port Adelaide (tied to Adelaide)

PORT

63. Port Adelaide

COLL

64. Collingwood (tied to Hawthorn)

ESS

65. Essendon

PORT

66. Port Adelaide (tied to Western Bulldogs)

CARL

67. Carlton (tied to Greater Western Sydney)

STK

68. St Kilda (tied to West Coast)

COLL

69. Collingwood

RICH

70. Richmond

NMFC

71. North Melbourne

RICH

72. Richmond (tied to Geelong)
ROUND FIVE

GCFC

73. Gold Coast

MELB

74. Melbourne

GWS

75. Greater Western Sydney (tied to Carlton)

SYD

76. Sydney

STK

77. St Kilda

FRE

78. Fremantle

NMFC

79. North Melbourne

CARL

80.Carlton (tied to Adelaide)

PORT

81. Port Adelaide

HAW

82. Hawthorn

ESS

83. Essendon

WB

84. Western Bulldogs

GWS

85. Greater Western Sydney

GCFC

86. Gold Coast (tied to West Coast)

HAW

87. Hawthorn (tied to Collingwood)

RICH

88. Richmond

BL

89. Brisbane

GEEL

90. Geelong
AFL DRAFT VALUE INDEX
| ROUND ONE | ROUND TWO | ROUND THREE | ROUND FOUR | ROUND FIVE |
| --- | --- | --- | --- | --- |
| Pick/Pts | Pick/Pts | Pick/Pts | Pick/Pts | Pick/Pts |
| 1. 3000 | 19. 948 | 37. 483 | 55. 207 | 73. 9 |
| 2. 2517 | 20. 912 | 38. 465 | 56. 194 | 74. - |
| 3. 2234 | 21. 878 | 39. 446 | 57. 182 | |
| 4. 2034 | 22. 845 | 40. 429 | 58. 170 | |
| 5. 1878 | 23. 815 | 41. 412 | 59. 158 | |
| 6. 1751 | 24. 785 | 42. 395 | 60. 146 | |
| 7. 1644 | 25. 756 | 43. 378 | 61. 135 | |
| 8. 1551 | 26. 729 | 44. 362 | 62. 123 | |
| 9. 1469 | 27. 703 | 45. 347 | 63. 112 | |
| 10. 1395 | 28. 677 | 46. 331 | 64. 101 | |
| 11. 1329 | 29. 653 | 47. 316 | 65. 90 | |
| 12. 1268 | 30. 629 | 48. 302 | 66. 80 | |
| 13. 1212 | 31. 606 | 49. 287 | 67. 69 | |
| 14. 1161 | 32. 584 | 50. 273 | 68. 59 | |
| 15. 1112 | 33. 563 | 51. 259 | 69. 49 | |
| 16. 1067 | 34. 542 | 52. 246 | 70. 39 | |
| 17. 1025 | 35. 522 | 53. 233 | 71. 29 | |
| 18. 985 | 36. 502 | 54. 220 | 72. 19 | |