BIG PROBLEMS at Collingwood.
Not insurmountable ones, but unless resolved immediately, season-destroying ones with seven matches remaining.
Coach Nathan Buckley knows it. He was prepared to bag his players after a win against the Bulldogs in round 14, and went as far as using the phrase "white flag" when his team lost in round 15 to North Melbourne.
But in an albeit closer, but similarly disappointing overall performance against Hawthorn on Friday night, he was prepared to talk his players up.
The beautiful, natural, organic buoyancy and positivity around everything and everyone at Collingwood which propelled the club to within a kick of a premiership of 2018 is gone by round 16 of 2019.
That doesn't mean the year is a write-off. It just means it is going to be a real slog from here.
Collingwood last year had the freedom of zero expectation. It is being suffocated in 2019 by expectation.
Taylor Adams and Brodie Grundy embrace after the 2018 preliminary final. Picture: AFL Photos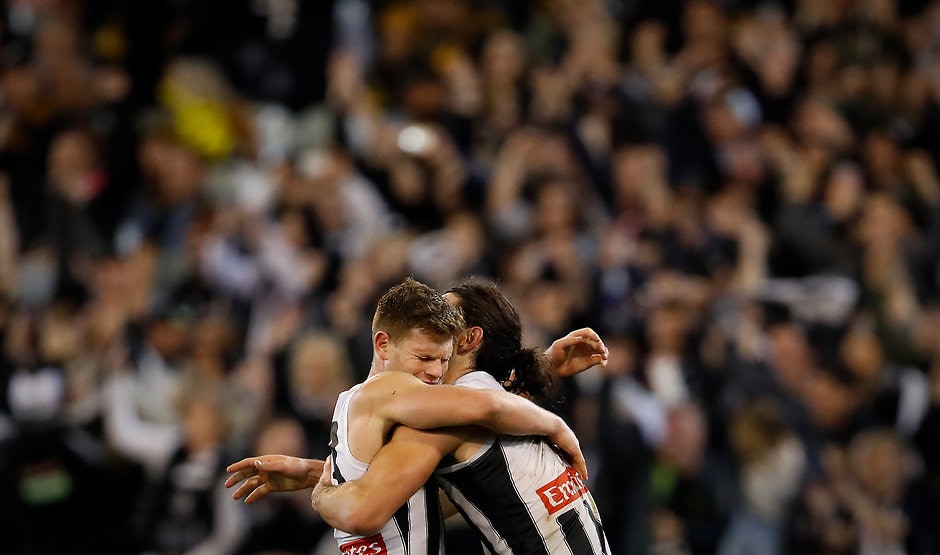 Little issues are always big issues at Collingwood. Being caught by police for using a phone while driving is a relatively small matter in most lives, but when it's Jordan De Goey's life, given his status as one of the game's genuine A-grade Magpies talents and with his police-involved driving history, it becomes a distraction the club doesn't need.
Not after Sam Murray's drug use, and Jaidyn Stephenson's punting. And Ben Reid's latest injury, and Mason Cox's inability to cover.
And as good clubs do, there will be a need for De Goey to be counselled, again, for his behaviour by Collingwood officials.
In Perth on Friday night, the 2018 premier West Coast awaits. There will be no bigger home-and-away season match this year.
Giant lessons out of Lions' stunner
The Giants are not up to it, won't be winning their first premiership in 2019.
Premiership outfits generally don't lose six matches after 15 outings, but even without that damning stat, there is simply none of the unconditional preparedness to fight against the odds.
Their loss to Brisbane on Sunday evening was a bad one, and now they face a resurgent Richmond at the MCG next Sunday. Will be viewing that as one, final last chance for success this season.
But to highlight GWS's problems is actually a disservice to Brisbane, which was outstanding at Giants Stadium.
Christensen off the outside of the boot!#AFLGiantsLions pic.twitter.com/b4u1WJ1VgB

— AFL (@AFL) July 7, 2019
Thought the Lions were a nice team only, after they lost to Carlton in round 12. They smashed the lowly St Kilda and Melbourne in the weeks after, but the win against GWS was proof they are genuine top-four talent.
If the Eagles-Pies game on Friday night is massive, then the Power-Lions one in the Sunday twilight fixture is very, very big.
Find In the Game on Apple Podcasts, Google Podcasts or Spotify
Six years without finals? Not even Clarko could survive
Mathematically, St Kilda can still make finals.
But with each accumulating loss – the latest to North Melbourne in Hobart on Sunday evening – the maths catches up with the reality.
When the two – maths and reality – actually meet, the club will be able to officially have the conversation with its coach of six years, Alan Richardson, that will inform him his contract – which has a 2019 clause of needing to make finals and win one – won't be renewed.
It is unfortunate for Richardson, as the unavailability of key players this season has wrecked his chances, but it needs to happen, as not even Alastair Clarkson is going to survive six consecutive seasons without a finals appearance.
FULL INJURY LIST Who's ruled out and who's a test?
Even more unfortunate for him that his footy department boss Simon Lethlean felt the need to sit next to him in the Hobart box on Sunday, obviously ensuring he was in the TV cameras' frame.
Understand Lethlean may have needed to get a "feel" for the workings of the Saints' box, but that could have been achieved in a seat up the back and out of sight.
Away from the glare of cameras, Lethlean single-handedly signed a banged-up Daniel Hannebery to a near-$4 million contract as Richardson was about to enter his personal make-or-break season.
Dan Hannebery has managed just two games in his first season at St Kilda. Picture: AFL Photos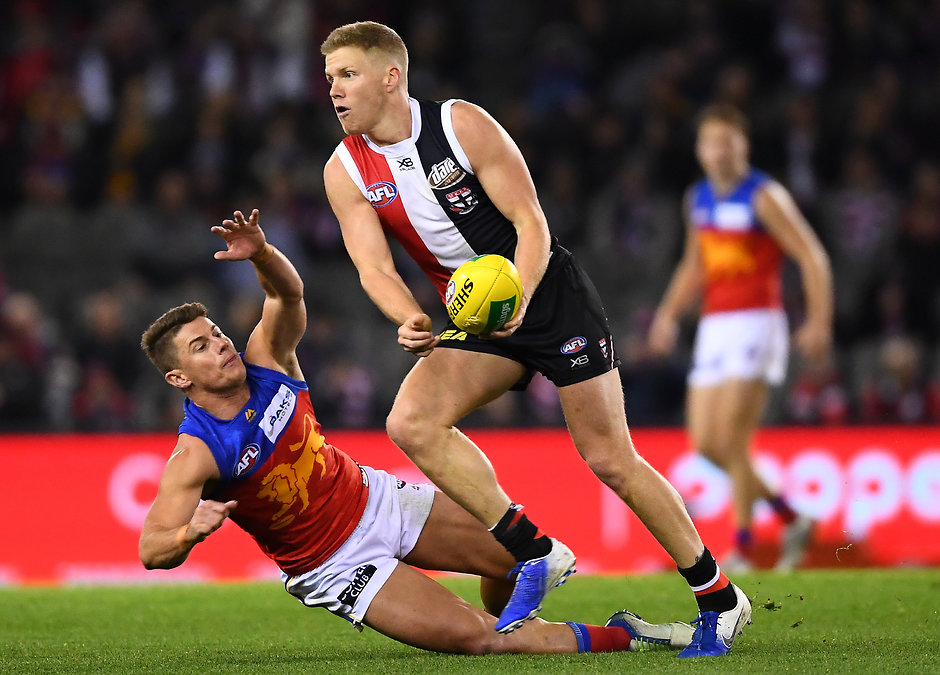 Hannebery's body had to be "rebuilt" – that's a club word – in the first half of 2019. He played his first AFL football in 2019 in rounds 14 and 15, but was "managed" out of the loss to North. Richardson would have benefited from actually being able to have access to a player probably on the highest wage at his club this year.
When Richardson is eventually told by Lethlean that he won't be around in 2020, the coach would be entitled to ask him if he actually did any form of proper homework on Hannebery to justify the tenure and money, when no other club was going near either.

Was that the best win of the season?
Have long questioned Port Adelaide's ability to get itself up for run-of-the-mill matches.
That doubt still remains. But what can't be doubted is that its absolute best, on its day, is competition-best.
NINE IN A ROW! #AFLCrowsPower pic.twitter.com/6jX7EQd1Ew

— AFL (@AFL) July 6, 2019
The Power's mauling of Adelaide in the Showdown on Saturday was as impressive a win yet produced in the 2019 home-and-away season.
Loved how Justin Westhoff bounced back from adversity, and never cease to be in awe of the class and, more importantly, mind power of Robbie Gray to continually influence the biggest matches.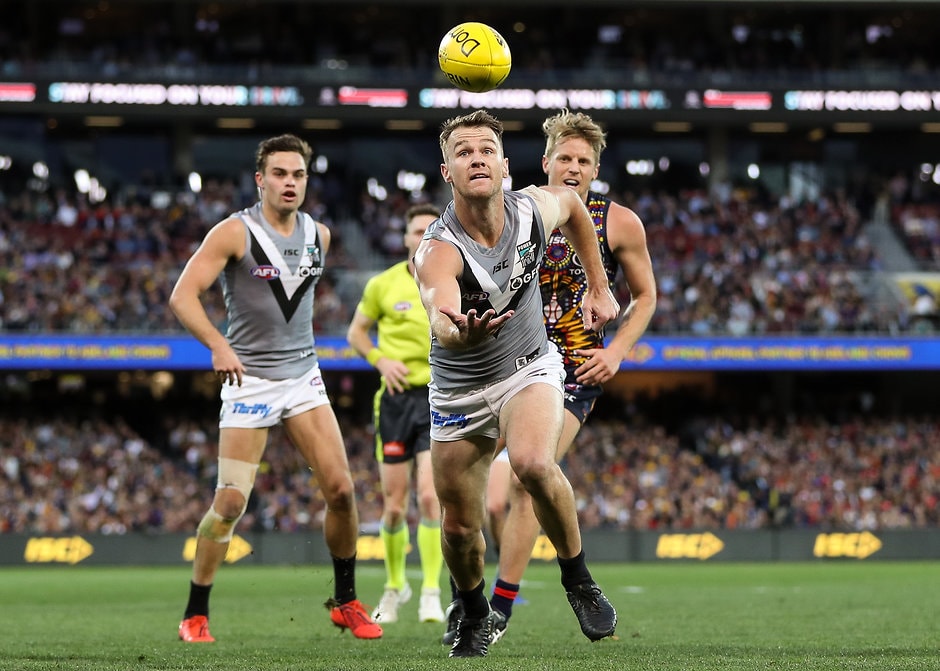 Reigning premiers' perfect timing
The premiership is now the Eagles' to lose.
Their round 16 demolition of Fremantle was proof they have been timing their premiership defence to perfection.
Some footy fans still don't appreciate the genius of Nic Naitanui. Stats have never mattered to him, presence has always been his marker, and in two matches since resuming from a second knee reconstruction, he has transformed the already more-than-OK Eagles into a dominating force.
Nic Nat!

The sublime pick-up sets up Jarrod Cameron.#AFLFreoEagles pic.twitter.com/rfeGqbPkNL

— AFL (@AFL) July 6, 2019
West Coast won a premiership in 2018 without Nic Nat, Andrew Gaff and Brad Sheppard. Think about that.
That trio is back and firing, Sheppard being best afield in the Derby. Oscar Allen is another massive addition from last year, and Jarrod Cameron could be.
Every other premiership contender exited round 16 with question marks. West Coast came out of it with answers.
The Eagles congratulate Brad Sheppard on his Glendinning-Allan Medal win. Picture: AFL Photos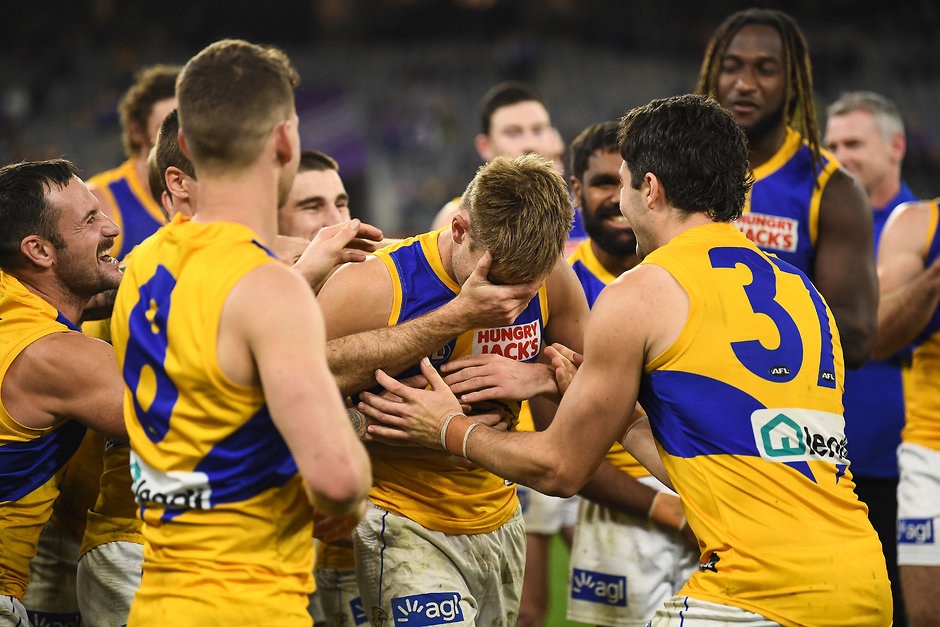 The most unlikely finalist in 25 seasons?
Four from five, and five from six.
The first is North Melbourne caretaker coach Rhyce Shaw's personal win-loss record, the second is the club's scoreline after going public with its decision to exit Brad Scott.
Combined, it means the Roos are the most unlikely of potential finalists since the Brisbane Bears' come-from-absolutely-nowhere surge of 1995.
Brisbane's Craig Lambert in action during the 1995 qualifying final against Carlton at the MCG. Picture: AFL Photos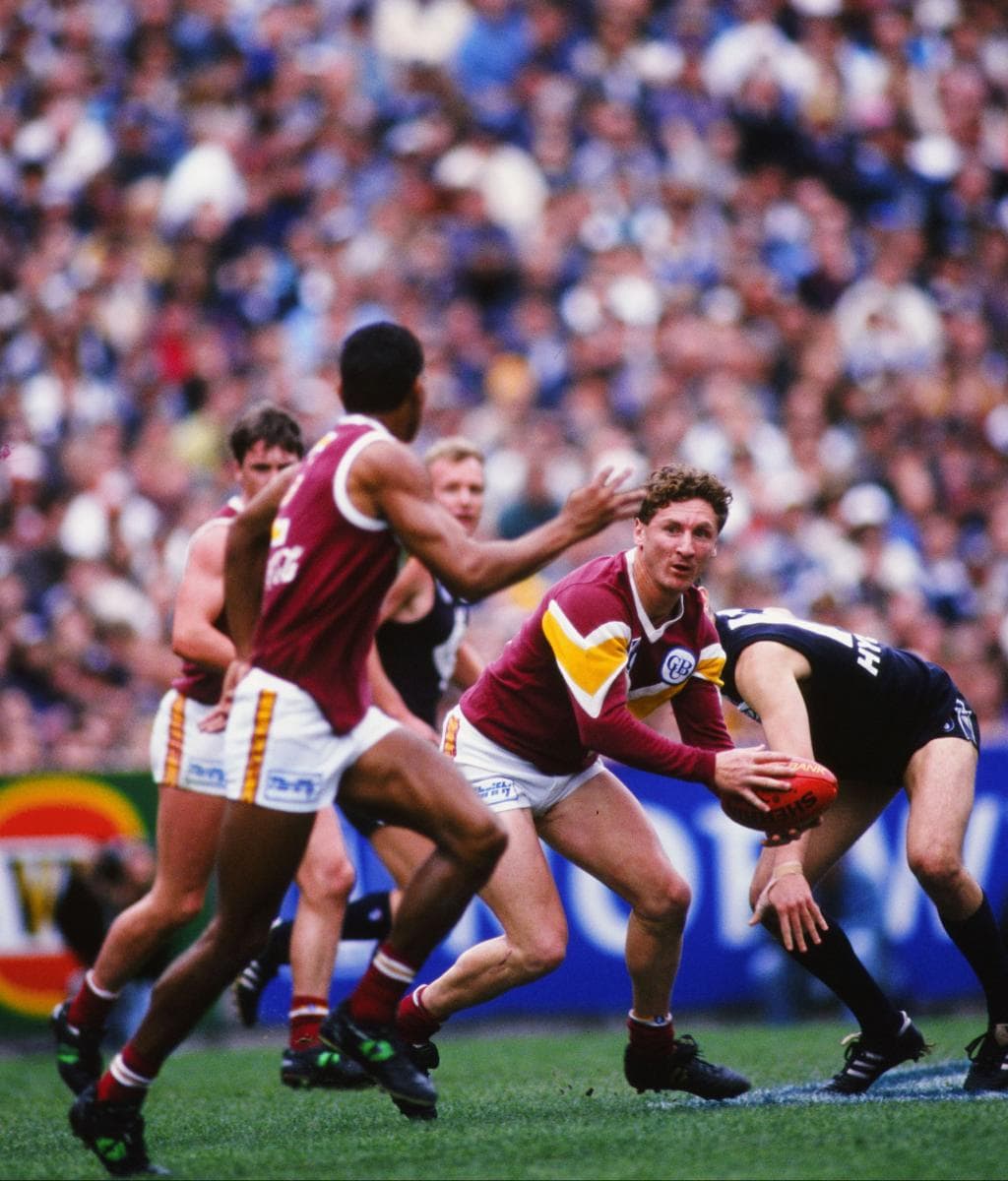 Their win against St Kilda in Hobart on Sunday was expected, but at the same time impressive, as they were challenged in the second quarter, weathered it, and cruised to a win which left them just a game and percentage out of the top eight.
Cam Zurhaar is a genuine find of 2019 and endured a near-concussion to boot five goals, the same tally as Nick Larkey, who is thriving and proving himself as a good AFL player.
Jy Simpkin picks up where he left off last week!#AFLNorthSaints pic.twitter.com/U7yPpCvtPq

— AFL (@AFL) July 7, 2019
Jy Simpkin is more than justifying his high draft position, Jasper Pittard and Jared Polec have been sound recruits, Jack Ziebell is re-establishing himself as an AFL-wide serious leader, and Ben Cunnington, though quieter yesterday than other 2019 performances, was still crucial to how the game unfolded.
Massive, career-shaping match for two coaches, and season-defining contest for two clubs next Saturday at Marvel Stadium in the twilight fixture. Essendon v North. Can't wait.
A career-best five goals for Nick Larkey! #AFLNorthSaints pic.twitter.com/6KDVMwfaQo

— AFL (@AFL) July 7, 2019
Under-Dogs no more

Difficult to believe the Western Bulldogs lost to Carlton in the midst of that club's 2019 misery, and also to Gold Coast, in a four-match losing sequence early in the season.
TRIPLE FIGURES FOR THE BLUES!#AFLDogsBlues pic.twitter.com/tpkGUxIflD

— AFL (@AFL) April 21, 2019
Their past three weeks have been very, very good, with wins against Geelong and Port Adelaide following a narrow loss to Collingwood.
The mojo appears to have returned. Marcus Bontempelli is officially back as the cleanest and classiest midfielder in the competition, Aaron Naughton is going to be anything, Josh Dunkley is already a genuine gun who is nowhere near full potential, and Jack Macrae and Lachie Hunter are having very good seasons.
Naughton's kicked three! #AFLDogsCats pic.twitter.com/wVlrOgoqnI

— AFL (@AFL) July 6, 2019
The Bulldogs like to create an underdog feel, and when they do, they thrive off it. They won't have that luxury in the next three weeks, as they will be on home turf at Marvel Stadium and will start favourite against Melbourne, St Kilda (an "away" game) and Fremantle.
THE RUN HOME Are there shades of 2017 about these Tigers?
If they can negotiate their way through that favouritism, they will then probably be left with a simple equation to reach finals: win two of their last four against Lions, Bombers, Giants, Crows.
The old racing adage that's suffocating footy
Will leave it to others to properly dive deep into the reasons for the often-boring style of football in 2019.
But am prepared to offer one theory. Self-protection tactics of coaches.
Coaches don't care one bit for the spectacle, and that's OK, they're not paid to care for it.
But it too often means we are forced to endure three quarters of snooze-fest footy, before the looming deadline of the final siren compels the players to actually play unencumbered by the conservative directives of their coaches.
Exhibit A from round 16. Hawthorn v Collingwood, Friday night. In the final quarter, the Hawks more than doubled their score.
Hanrahan snaps truly to keep the Hawks in it! #AFLHawksPies pic.twitter.com/ffuv2ofwD3

— AFL (@AFL) July 5, 2019
Exhibit B. In the final quarter, the Western Bulldogs doubled their goal tally to surge away from the Cats.
Bailey Smith with the perfect snap!

The Dogs have kicked four in a row! #AFLDogsCats pic.twitter.com/neCDuA11ce

— AFL (@AFL) July 6, 2019
Both were fantastic wins for the clubs concerned, but for neutral observers, near-unwatchable contests save for the final 30 minutes.
Too many AFL coaches are issuing instructions similar to the old horse trainer advice to his jockey when he was in the mounting yard at Flemington.
"Wait for the clocktower (about the 200m mark) before you go for home," was the standard advice.
Twitter: @barrettdamian