FORMER Fremantle forward and current Collingwood assistant coach Justin Longmuir has emerged as the leading candidate to replace sacked Dockers coach Ross Lyon.
AFL.com.au understands the Dockers have been monitoring Longmuir's potential as a senior coach in recent months and that is expected to intensify in the wake of Tuesday's axing of Lyon.
The 38-year-old is a former teammate of Dockers head of football Peter Bell and has support from a board that Bell sat on less than 12 months ago.
(L-R) Former Dockers Brett Peake, Peter Bell and Justin Longmuir in 2006. Picture: AFL Photos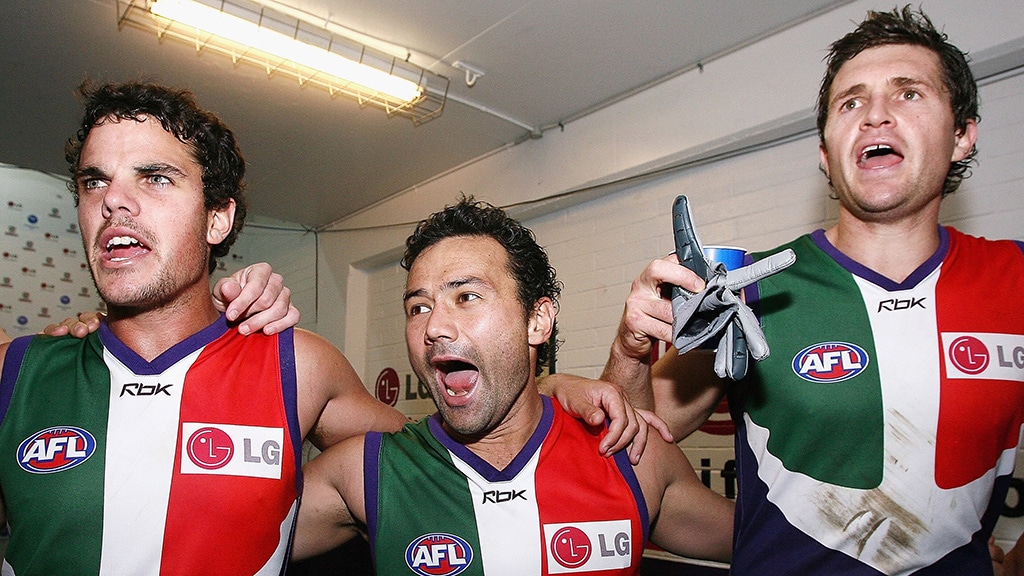 Following the departure of Lyon and CEO Steve Rosich, Bell is now seen as the most influential decision-maker at the Dockers.

It is believed the Dockers' board has discussed pursuing a stronger Dockers flavour at the club with several current assistant coaches also out of contract at season's end.
Assistant coach David Hale will act as senior coach for the Dockers against Port Adelaide on Sunday.
Longmuir is into his second year at the Pies and holds a contract for 2020, however AFL clubs have recently shown a commitment to allow assistants to pursue senior jobs when available.
He has been building his coaching resume in the west since 2010, working as a development coach at the Dockers before moving to West Coast and was part of their coaching team for the 2015 Grand Final.
Charged with team defence at the Pies, he was regarded internally as a major driver in the club's rise from a nine-win team to 2018 Grand Final runners-up.
The search for a new senior coach will begin immediately and the selection panel includes president Dale Alcock, Bell, board members Peter Mann and Sue Murphy, as well as an external panel member.
"This leadership change is about transforming our whole club. We need to act now to ensure we are reinvigorated and reenergised for success," Alcock said.
"The future of Fremantle Football Club is incredibly exciting. We will ensure we nurture and respect what we value highly, while being driven in the pursuit of sustained on-field success and financial prosperity."
ROSS LYON TIMELINE
1985-95 – Played 129 games (127 with Fitzroy and two with Brisbane) and kicked 112 goals as a tough onballer and half-forward before succumbing to injuries at 28.
1996-99 – Assistant coach at Richmond under Robert Walls, his first coach at Fitzroy, and then Jeff Gieschen.
2000-2003 – Served as an assistant coach at Carlton under David Parkin, Wayne Brittain and Denis Pagan, and coached the Blues' VFL team, leading them to the finals in 2000 and 2001 and just missing out on percentage in 2002.
2004-2006 – Assistant coach at Sydney under Paul Roos overseeing an uncompromising midfield brigade that drove the Swans to their drought-breaking 2005 premiership and came within a whisker of back-to-back-triumphs.
2007-11 – Coached St Kilda to four finals series in five years and twice came agonisingly close to lifting the Saints to their second premiership: going down to Geelong by 12 points in the 2009 Grand Final, and drawing with Collingwood the next year before being hammered in the replay.
September 2011 – Lyon still had a year to run on his contract with the Saints when, without the knowledge of his management, which also managed Fremantle coach Mark Harvey, Lyon privately negotiated with the Dockers to replace Harvey before exercising an exit clause in his deal with St Kilda.
2012-2019 – Lyon immediately lifted Freo back into the finals, making the top eight in his first four seasons at the club. The high point was when he guided the Dockers to their first Grand Final, resulting in another narrow defeat for Lyon. After being minor premiers in 2015, Freo missed the finals in each of the next four seasons – the most barren stretch in Lyon's coaching career.
August 20, 2019 – Despite being contracted to 2020, Lyon is sacked.