THE AFL believes there is no link between the booing of Gary Ablett at the MCG on Easter Monday and the fan behaviour that ultimately ruined the final season of fellow all-time great Adam Goodes.

A week after Ablett had liked, and then disliked, a controversial social media post about religious beliefs by Australian rugby union star Israel Folau, Hawthorn supporters booed Ablett throughout the round five match.
BOO GAZ AT YOUR PERIL Scott, Dangerfield say Ablett thrives under pressure

AFL football operations boss Steve Hocking said on Tuesday that Ablett professionally dealt with the booing, during and after the Cats' big win against the Hawks.
"I thought Gary handled it really well, he played exceptionally well, and post-match, the way he and the club handled it was very professional," Hocking said.
STOP IT GAZ!#AFLHawksCats pic.twitter.com/fMPrYMo24J

— AFL (@AFL) April 22, 2019
Asked if he was fearful the booing would continue, Hocking said: "You wouldn't want it to. I do remember him being booed in the 2008 Grand Final (against Hawthorn). It comes back to Gary and how he has handled it.
"I do (have faith) in footy fans, and I would not tie the Adam Goodes stuff (who retired in 2015) with the Gary Ablett stuff, it is a very different situation," Hocking said.
Asked whether the booing of Ablett was prompted by the social media controversy: "Hand on heart, I don't know. He was booed in the 2008 Grand Final. What was that for? Because he was a great player?"
North Melbourne fans booing Adam Goodes at a game in 2015, his final season. Picture: Adam Trafford, AFL Photos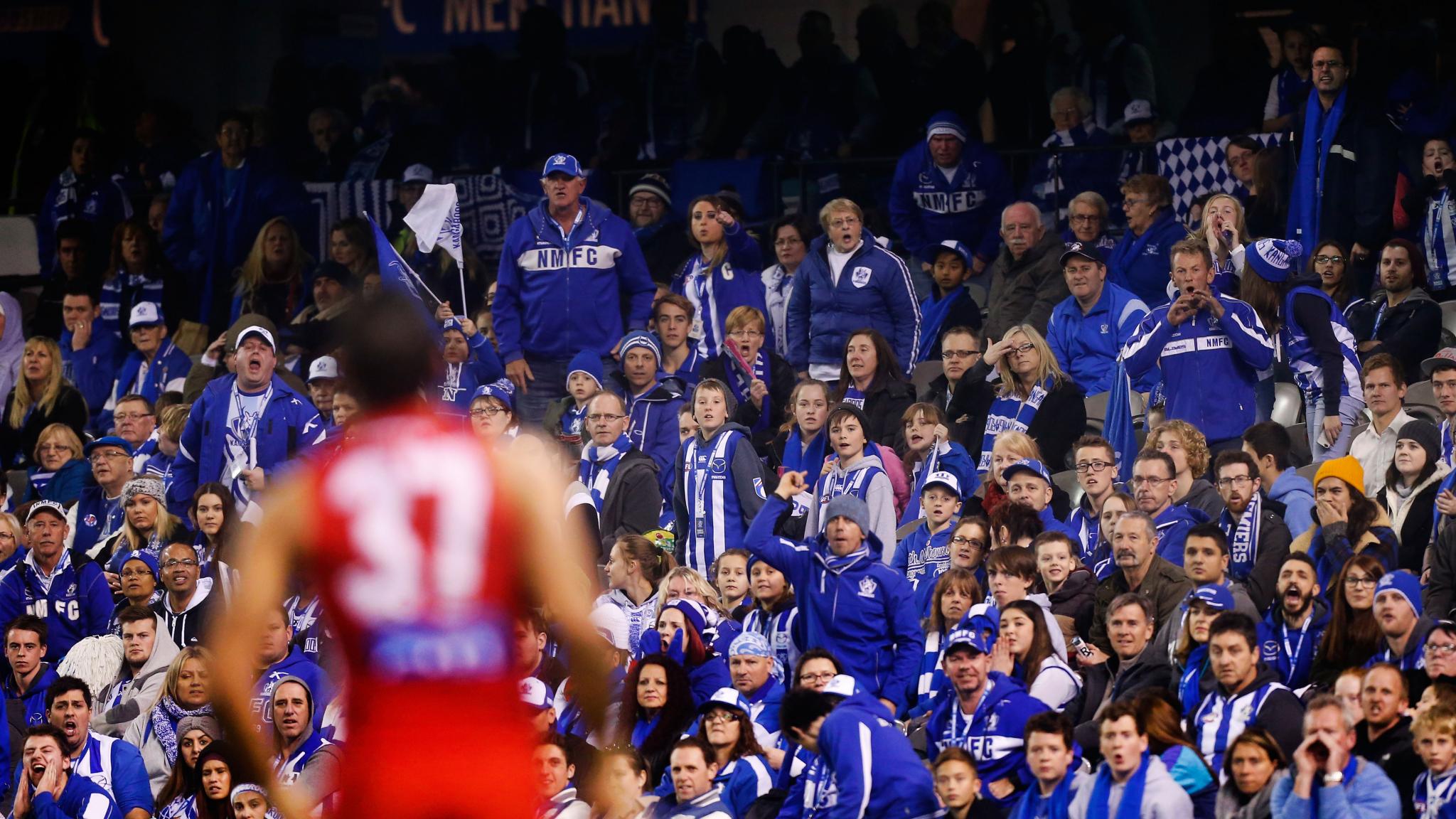 In a wide-ranging media briefing at AFL headquarters, Hocking also said:
The 2019 season's new rules, while not leading to higher scoring at this stage, had achieved the overall aim of "opening the game up" and had also contributed to the increase in upset results (23 games in the first five rounds were won by the outsider, an increase of six on results to this stage of recent seasons);
The score review system was frustrating for everyone associated with the game, including his own administration;
Treatment of umpires needed to be improved;
Clubs would continue to be given a warning for a first breach in each game of the new 6-6-6 positional requirements after a goal.
Find In the Game on Apple Podcasts, Google Podcasts or Spotify
"We have got considerable uncertainty, and we believe that is healthy," Hocking said of the effect of the rule changes.
"And for clubs, that uncertainty is playing out in different ways … upsets are good for fans."
On the problems with the score review system, which included two errors in last Thursday's Brisbane-Collingwood game at the Gabba, Hocking said:
"That is a continual frustration for everybody, including us as administrators. We just have to get better at it. We are doing a lot of work behind the scenes to make sure (of) the education, the understanding, the timeline. We just want to get it right."
#AFLLionsPies pic.twitter.com/3A576S2jZj

— AFL (@AFL) April 18, 2019
Regarding umpires, Hocking said:
"Officiating, we've got some genuine work to do in that space, and it is not within our nine games at the weekend, it is how umpires are talked about, reviewed constantly within games so critically.
"We've got 34 umpires on the list who do a good job in a tough part of the game and if we want those 34 to be replaced we need to change our attitude.
"What you have is players who are super smart and their motivation is 'how do you exploit?' That's what they do, that is part of the game and so that makes it very difficult for umpires.
"And the other part is if we want a genuine funnel of umpires coming through, I think we need to change our language and how they are seen by the game."