Derek Peardon made his Richmond debut as a teenager in 1968, going on to play 20 VFL games. He is the first indigenous Australian to represent the Tigers. In this extract from Rhett Bartlett's revised book 'Richmond FC: The Tigers', he tells his story.
I am a child of the Stolen Generation. I went to a boys' home when I was seven and was there until I was 15. My sister Annette and I were dropped off by the authorities on a September night. She and I were taken from our mum on Flinders Island because of neglect. Annette was left in the car and she went straight to the girls' home. Our mum got three months hard labour for neglecting Annette and me. It took me years to find out all about this.
For a little boy from Cape Barren Island I will never forget it. I was crying and calling my sister Annette, who was nine, 'Mum! Mum! Mum!'. I remember getting some pyjamas in a locker room and there were nearly 50 boys there at the time and I was that scared I wet my pyjamas. I was never ever a bedwetter, but it scared me going from Cape Barren to all of a sudden a place with 50 boys.
I've just about got over it now. I did have a talk to the ABC a while ago and I broke down and I had to stop for five minutes, but I've found out about my life and everything.
In 2006 Paul Lennon, the Premier of Tasmania acknowledged the Stolen Generation. There was a payment, and Annette made a lovely speech thanking the Government for acknowledging the Stolen Generation. I was by her side.
I can remember being on Cape Barren Island, about five years of age, and I had this little rubber football. Day in day out, I'd be on my own and I used to kick this football into a pine tree. I went back there in 2012 and that pine tree was still there. I can't kick much now. I've had six operations on one knee.
I can remember living on Flinders Island and Cape Barren Island, but I always call myself a Cape Barren Islander. I thought I was born there, but I was actually born at Whitemark on Flinders Island. I got all the paperwork from the Government some years ago as I tried to find out a bit about myself. They only tell you what they want to tell you I guess.
A few people have mentioned I'm a very strong-minded person. I never have thought of myself that way.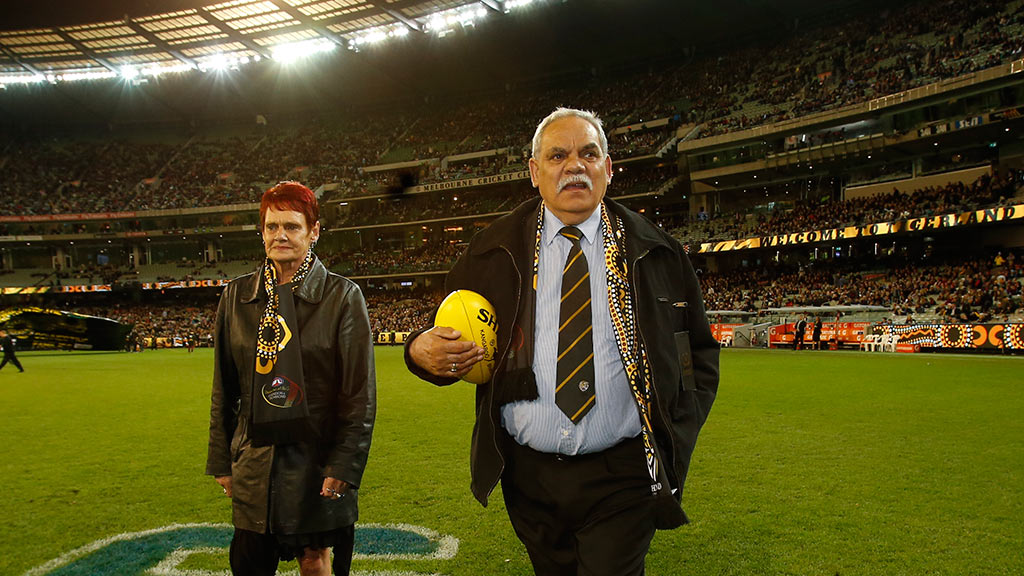 I started off playing with Youngtown Primary School in Launceston. I played my first games there, then I went to Kings Meadows High School just down the road. I never played every week — if you misbehaved you weren't allowed to play.
I was the first indigenous player to play for Richmond. I think I might have been the first Tasmanian indigenous player to play in the VFL.
In 1964 they picked out the best players from tryouts from the north, north-west and Hobart for a Tasmanian team. I was picked to play for Tasmania and we went to Western Australia for the under-15 championships and I came equal best and fairest in the carnival with a little rover from Western Australia. I'll never forget his name – Max Ford.
That's when clubs got onto me. Geelong, Carlton, St Kilda and Richmond flew over and had a talk with me. I got to play with Richmond because of St Kilda. I was only 14 when me and the superintendent of the boys' home were guests of St Kilda at the Moorabbin Oval. That's where I met Ian Stewart, Darrel Baldock, and Berkley Cox who was playing on a half-back flank for Carlton that day. We were up in our motel room and the phone rang and the superintendent said it was the Richmond Football Club asking if he could bring the boy down for a training run Sunday morning. They picked us up and that's how I played for Richmond.
I ran back to the centre and I remember a Geelong player said, 'black bastard'. It fired me up a bit."
They had snuck us out behind St Kilda's back. I wasn't even 15! I had a bit of a run with the seniors at Punt Road on the Sunday morning. I can remember going down to the club rooms and having a small training session with all these great big senior players.
The board and coterie at the home thought the best place for me to be was the Richmond Football Club. They only told me a fortnight before I went to Melbourne. I flew into Melbourne on January 13, 1966. That date is in the files I got from the Government.
I was housed at 15 Goodwood Street, Richmond. We stayed with Keith Cleaver and his wife Elsie. Keith was was a phys ed teacher and a trainer at Richmond. Other boys from the country stayed there as well: Paul Morrison, Daryl Cumming and Wilf Dickeson.
Our under-19s coach was Ray Jordon. I'll never forget one day, we were playing in the U19s at Victoria Park against Collingwood and just on half time I went up to take a mark from behind and it came to the ground and they kicked a goal that put them a point or two in front. Jordon came out and called me a black this, and a black everything. That fired me up. I think I was the best on the ground after that. He came and thanked me afterwards, but I just think it was the wrong way to go about it. I've hated him ever since.
I came third and fourth in the Gardiner Medal (under-19s) and the Morrish Medal (reserves) respectively. I was set for a career and injuries got me. It just wasn't meant to be.
I played U19s, reserves and seniors in the one year. My first game was one of the last games of the year (round 20, 1968) at the MCG against Melbourne. I was only 17. I came on in the last 10 minutes. It was my only game for that season.
It took me two seasons before I kicked my first and only goal. It was at the MCG, against Geelong. I flew down from the wing and Eric Moore, who was playing half-forward flank, marked and handballed to me and I kicked a goal on the run and I ran back to the centre and I remember a Geelong player said, 'black bastard'. It fired me up a bit.
There might have been just the odd abuse from the crowd, but I can't remember that as much as a few from the players. A couple of players would call you black this, and black that. I used to concentrate on the game. Inside me it used to fire me up more when I heard that. It used to make you go that little bit harder. It was motivation.
I played throughout my career on the half-back flank. I couldn't get a game in the centre because you had Francis Bourke on one wing, Dick Clay on the other and Bill Barrot in the middle. That was the Victorian centreline! I had no hope even if I was best on ground every week in the reserves. I played under-13s premiership, under-19s premiership, reserves premiership and I was part of Richmond's 1969 premiership season (he played seven senior games in 1969).
Everything went haywire with my football. I did my back. I missed nine games, played a couple in the reserves then back in the seniors again the following season and then I did my knee and played only three senior games in 1971 but did play in the reserves Premiership side of 1971 against Essendon. I was on the wing and had a run on the ball. After that I just hopped on a plane and went back home. I was sick of Melbourne to be honest.
I've only been back to Melbourne once since. It was in 2015 for the Essendon and Richmond Dreamtime Game. That was the first time in 43 years I'd been back.
I was very nervous. It was very emotional and they gave me a yellow ball and I had to give it to one of the little kids as I was walking back off the ground. I autographed it and all the kids were jumping up and down and yelled out and put their hands out and there was a little boy just behind them and he was just looking at me as if to say, 'Can I have this ball?', and I gave it to him. He never said boo. And all these kids in front of him were yelling and screaming.
The supporters love their club. They're magnificent.
I still follow Richmond. I will never change.
This is an edited extract from Rhett Bartlett's updated and revised book Richmond FC: 'The Tigers' - A proud history of a great club, as told by those who made it happen. Available now at Slattery Media and selected bookshops. Derek Peardon was interviewed in June 2018.
SOMETIMES YOU'VE GOT TO STEP UP How Michael Long found his vision