THE SIGHT of Greater Western Sydney co-captain Callan Ward writhing in pain at GMHBA Stadium sent shockwaves through the Giants camp on Saturday afternoon, but a couple of moments, captured on camera, in the aftermath were as significant as his injury.
When the midfielder's left knee buckled early in the opening term, anybody who saw it knew he was in trouble.
Ward has hunted the footy as hard as anyone across his 12-season, 217-game career, but the pain of a torn anterior cruciate ligament forced even the Giants' toughest player to give up on his contest with Geelong champion Gary Ablett.
Watch the incident: Stephen Coniglio comforts a tearful Callan Ward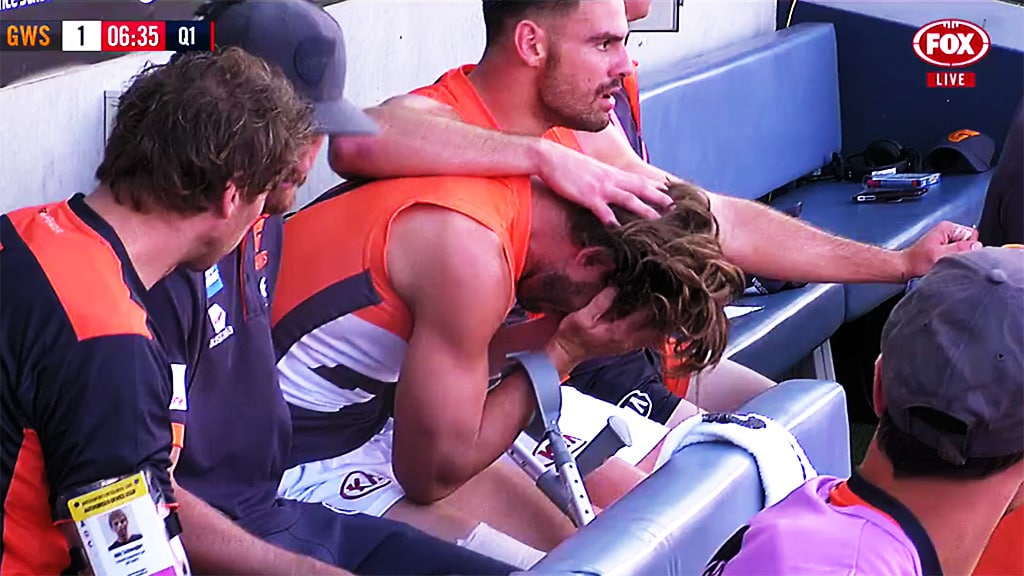 The original Giant, who turned 29 in the days leading into the round four match, was helped from the field to be assessed behind closed doors, and when he eventually hobbled back to the bench on crutches, the tears on his face showed the reality of the situation.
It was there on the Giants interchange, in full view of the television cameras, that the footy world saw the first powerful reactions to Ward's injury and the realisation that he would miss a year of footy.
GWS vice-captain Stephen Coniglio draped his arm around the sobbing Ward, as the club's welfare manager and former Giants and Western Bulldog teammate Dylan Addison did the same from the other side.
Callan Ward has been assisted from the field after twisting awkwardly in this contest.#AFLCatsGiants pic.twitter.com/xfJhO9IbP5

— AFL (@AFL) April 13, 2019
Coniglio, who has seen housemate Jon Patton go through multiple knee injuries, told AFL.com.au on Tuesday that all he could do was let his co-captain know that he was there to support him.
"It was just so hard seeing him go down and emotional like that. He's the heartbeat of our club and one of my closest mates," he said.
"Unfortunately, I've seen it happen a few times to guys close to me, so I knew how hard the road ahead was going to be for him.
"I won't go into specifics about what I said, but I basically just told him to be brave and try to put on a brave face for the boys when they come off the ground, and he did that.
"The way he spoke to the boys at three-quarter-time was amazing.
"He won't want it to be about him, he's so selfless like that, so when he gets back to the club I'm sure he'll be an important part of the club again off the field."
Ward's address to the playing group at the last change with the Giants down by a solitary point inspired his team to a gripping four-point victory, their first win at the ground.
GWS players and coaches were ecstatic when the final siren went, but their joy was tinged with sadness because of the plight of their inspirational leader.
Award-winning AFL.com.au photographer Michael Willson then captured the other memorable image of the day, a strong and lingering hug shared between the Giants' two co-captains, Ward and Phil Davis.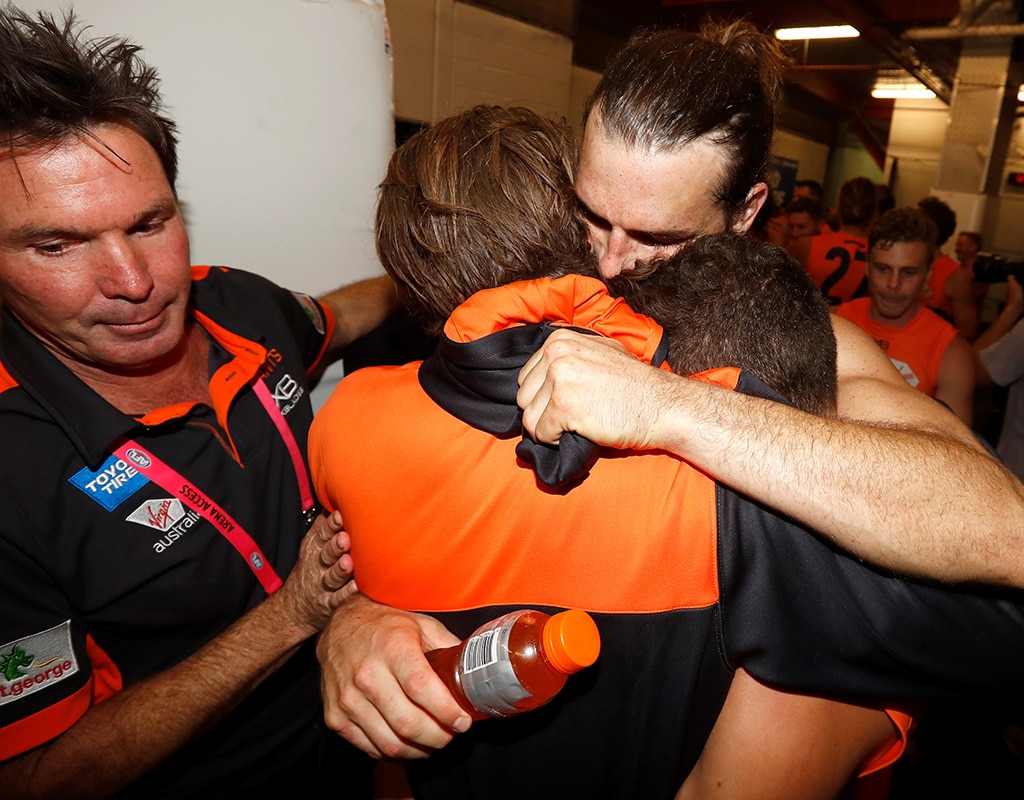 It perfectly showed the contrasting emotions being felt by the Giants, who were both triumphant winners, and unlucky losers on the day.
"I think that moment represents the fact that I knew he was in a bad place, and it was nice to be able to embrace him and be in that moment together," Davis told AFL.com.au on Tuesday.
"I just saw him standing there and I think we both knew how significant the injury was, and we've been through a fair bit together.
"It was definitely mixed emotions because we'd just won and conquered something that had been a big issue for us (in not winning) down in Geelong, but the other half of me was extremely sad that he'd hurt himself.
"I won't go into too much detail about what we said, it was just more about reflecting on how far we've come, and how important he is to everything we do.
"He's a very modest man but he's not silly enough to not realise what a significant figure he is at this footy club."