IN A ROLLERCOASTER two-month period, Levi Greenwood has secured a contract extension, been sidelined with two injuries and endured two moments he wishes he could have back.
The good news first.
After signing a one-year deal last October the Collingwood veteran was desperate to lengthen his stay at the Holden Centre, and he has revealed he recently signed another one-year contract for 2020.
Levi Greenwood, pictured with teammate Steele Sidebottom, will be a Pie for at least another year.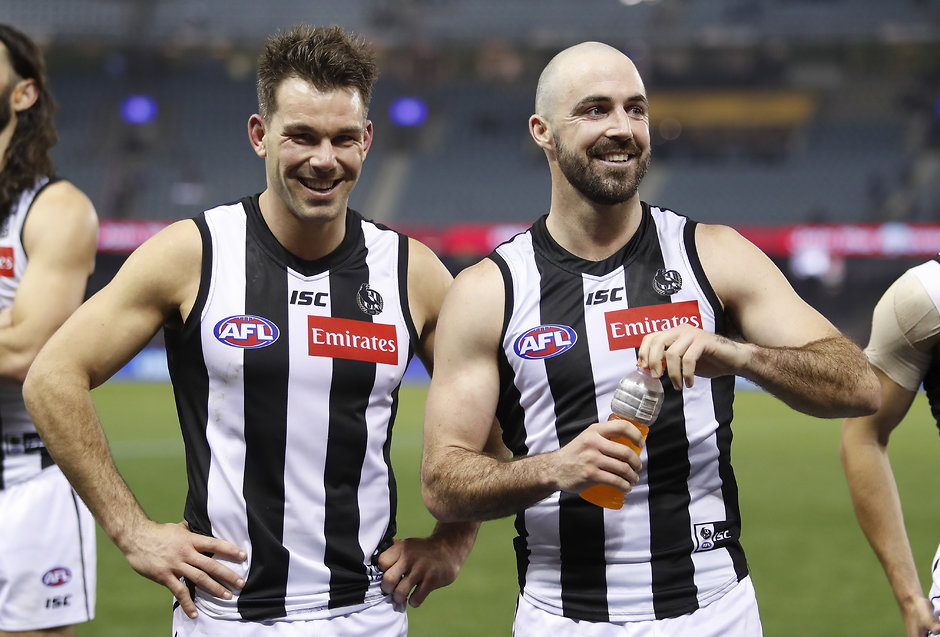 "I'm playing next year. It's been done," Greenwood, who will turn 31 in January, told AFL.com.au ahead of the Magpies' qualifying final against Geelong at the MCG on Friday night.
"We chatted about it halfway through the year and the club decided they wanted me to continue on. It was more about my body, and it's been good.
"It's a load off the shoulders because this is a tough time of year for a lot of players. I'm just glad they still see a spot here for me."
That reward has been hard earned in a season in which the gritty defender has faced a series of physical and mental challenges on the run home and attracted stinging criticism.
Greenwood doesn't shy away from any of it, just as he has done on the field 999 times out of 1000 (we'll get to the one blemish shortly). In fact, his brutal self-assessments, delivered in a matter-of-fact way, go part of the way to explaining how he has remained in the game for 12 seasons.
Collingwood's 44-point hiding from Greenwood's old club North Melbourne at Marvel Stadium in round 15 was a wake-up call for both player and team.
Magpie coach Nathan Buckley foreshadowed a savage in-house review of the performance by admitting post-match that his players had "got out of the way a few times". One of the culprits was Greenwood, whom some experts accused of being "soft" in a contest that was replayed and dissected on all the footy shows.
It hurt a man who has built a reputation for hardness and courage.
Watch from 5:30 below: Greenwood's horror night
"That game was an outlier for our season. Everyone made mistakes and everyone had contests that they'd like to have again, myself included obviously," he said.
"There was that one contest that was highlighted. Don't worry, I saw the footage. I saw it a lot actually.
"I'm embarrassed by it, and I never want to put myself in that position again. That's the polar opposite to the way I want to be seen as a player.
"When a team gets you on the back foot like that and go lower and harder and body-line the ball, if you start second-guessing yourself that's when you can get exposed.
"In that moment you think, 'I hope I get the right bounce here,' rather than thinking, 'I'm going to make sure I win that ball.' The result is that it doesn't look great for you, or for the team.
"If there's a positive it's that it put everyone on notice. I wasn't the only example but I was a big example that week of basically what not to do.
"It was a common theme for us in that game that we needed to sharpen up, and from then on we've played some decent footy and that part of our game hasn't been questioned since."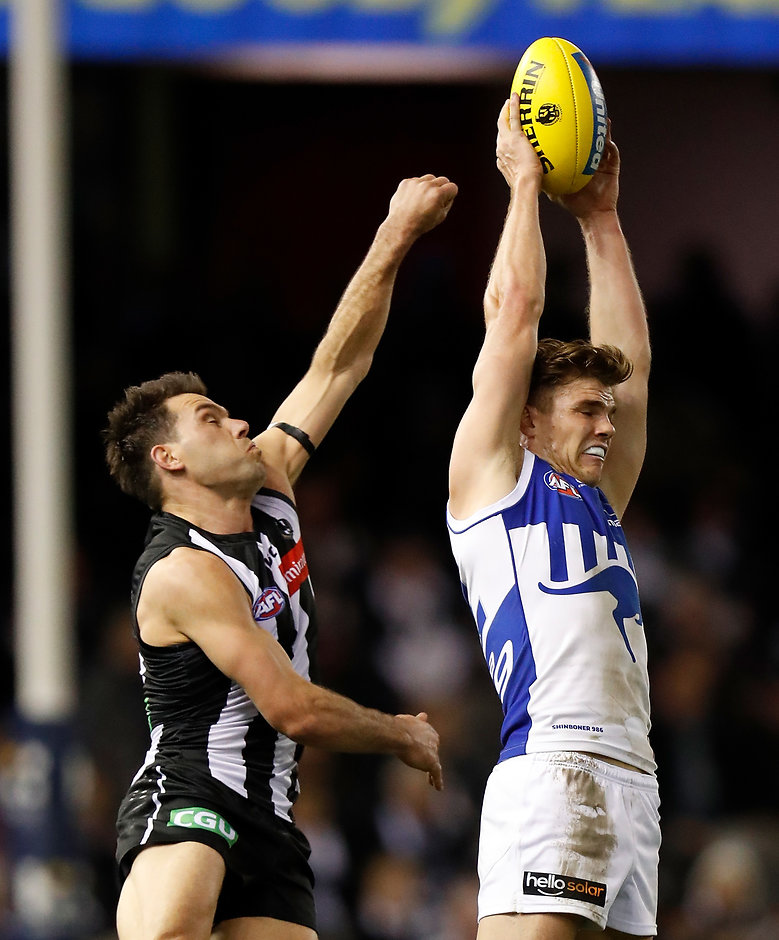 Adding injury to insult, Greenwood suffered a shoulder problem that night and missed the next game. Though conceding he's "sore every game, like most blokes", he was adamant it had no bearing on his approach to that much-discussed hard ball.
"Mate, there's no excuses for shirking a contest. If you're out there you've got to give 100 per cent, otherwise go sit on the bench or don't play at all," he said.
The left-footer returned to help the Woods to a stirring one-point win over West Coast in Perth in round 17 before missing the next two games with a hamstring injury.
Greenwood underlined his value with a comprehensive blanketing job on Adelaide playmaker Tom Lynch in a 66-point victory at Adelaide Oval in round 22, before another bout of soul searching.
In the first quarter of the final round clash with Essendon at the MCG, Greenwood attacked an aerial ball at half-back and didn't see teammate Matt Scharenberg until it was too late. A concussed Scharenberg didn't take any further part in proceedings.
Matt Scharenberg is currently getting assessed by doctors after this heavy collision with Levi Greenwood.

Meanwhile, McDonald-Tipungwuti ran in to kick Essendon's fifth goal. #AFLPiesDons pic.twitter.com/bqd8V3TZV3

— AFL (@AFL) August 23, 2019
"That shook me a bit. I care so much about my teammates, and we're such a tight-knit group in the backline, so to knock one of them out, I felt bloody terrible. I would rather it be me who was knocked out," Greenwood said.
"It was a split-second decision and I made a mistake. I didn't mean to hurt him, but I did hurt him. I would have liked to have had my time again and been able to see 'Shaz' come across and I would have protected him and let him take the mark.
"No matter what happens out there, you have to just focus on the next moment and I struggled to do that. I had my head out of the game for the next 15 or 20 minutes. And just after that I made a critical error.
"Accidents happen, but in that moment all you're thinking about is your teammate's safety and wellbeing.
"Footy's such a mental game and if you can get inside your own head you can become a liability and the team has only 17 men out there."
A shaken Greenwood jogs away from a dazed Matt Scharenberg.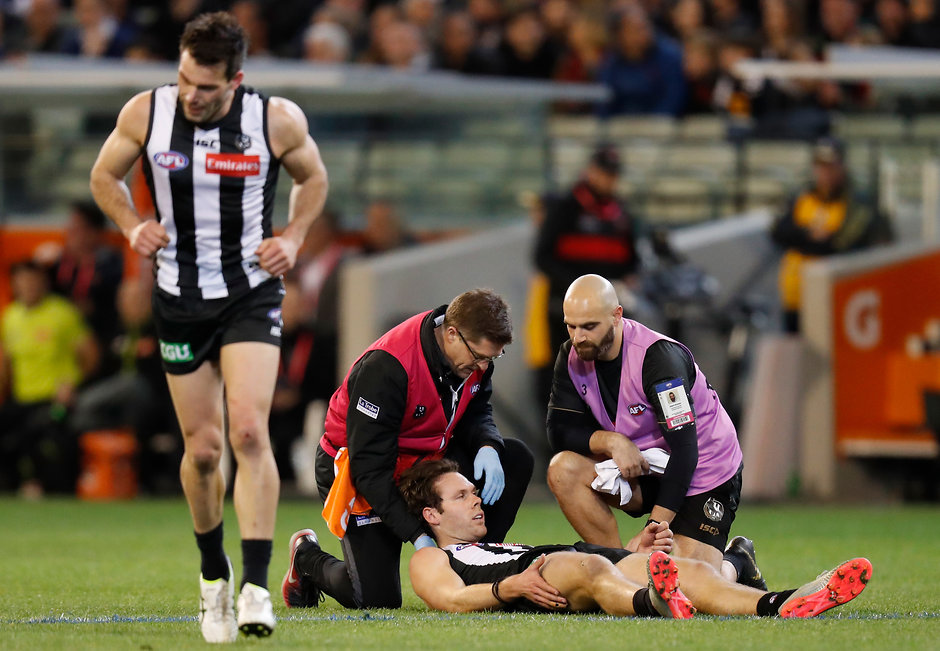 To say Greenwood is relieved that Scharenberg has recovered well from his concussion is an understatement.
"At least we had a week off after that game and thankfully Shaz has got himself right. I'm really glad he's OK," he said.
The South Australian has played 151 games – 74 for North Melbourne and 77 for Collingwood – but just seven finals. He plans to "cherish every opportunity" in September.
He might have a big say on Friday night, too, given he could be assigned Geelong genius Gary Ablett.
"When I was at North Melbourne I tried to tag him in the midfield and had no success. He had 30 touches every time I went near him," Greenwood said.
"Hopefully I do better if I play on him this time."