ILLNESS is sweeping through the St Kilda camp and reinforcements are on their way, with Ben Paton and Nick Hind making a last-minute flight to China after Jack Billings, Shane Savage and Daniel McKenzie missed Saturday's training session.
That trio is in doubt to face Port Adelaide on Sunday afternoon but football manager Simon Lethlean is confident all will take to the field.
FIRST LOOK Geary reveals huge scar after emergency surgery
"We had three guys who felt ill on Friday afternoon and while they are recovering well, we wanted to cover all bases," Lethlean said in a statement.
"Speculation of a specific meal being the cause of these minor illnesses is completely false. As everyone knows, travelling overseas can present these challenges and we expect the players to be back to full health tomorrow (Sunday).
"With Blake Acres already withdrawn from the team with a virus, it made sense to ring over Nick and Ben. At this stage, we expect both will be onlookers tomorrow."
The club says the illness that ruled Acres out of the crunch clash was different to what the trio has contracted.
Hind and Paton were not among the four emergencies named for the clash. The Saints wouldn't be penalised for fielding a player not originally named in the 26-man squad as long as they didn't line up ahead of one of the existing emergencies.
On Saturday evening emergency Brandon White was withdrawn from from the Saints' squad and replaced by Hind.
Shane Savage in action during Friday's training session in Shanghai. Picture: Michael Willson, AFL Photos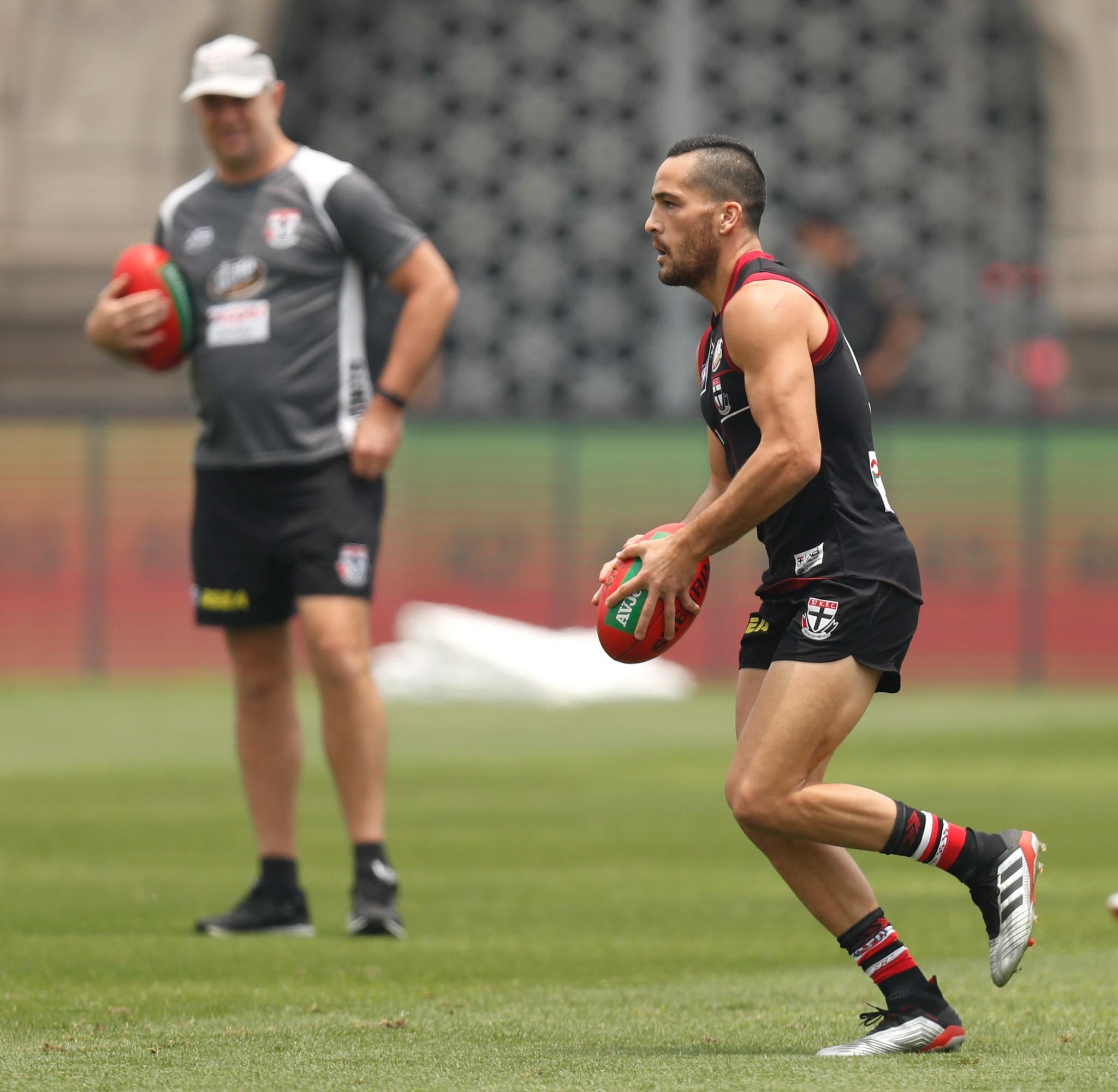 The illnesses haven't been confined to the players either, with coach Alan Richardson also feeling off-colour and missing his weekly press conference.
He was replaced by Lade but the assistant coach wasn't concerned about the three sick players being right to face the Power.
"We had a couple stay back at the hotel, but they're all fine. Shane Savage, Dan McKenzie and Jack Billings," Lade said.
A club spokesperson said none of that trio went out for dinner on Friday.
Hard-nosed captain Jarryn Geary was called in to replace Acres. The Saints also have Hunter Clark, Nick Coffield and key defender Darragh Joyce as emergencies.
Hind is yet to debut and is a zippy backman while Ben Paton has been impressive down back in his six games this season, before a right knee issue kept him out of last week's win over Carlton.
Both were due to line up for Sandringham on Sunday against Coburg.
Richardson also skipped the training session.
"Richo's just feeling a little bit off, so he stayed at the hotel and will get a bit of rest and hopefully he'll be right tomorrow," Lade said.
Saints coach Alan Richardson has fallen ill after taking charge of Friday's session. Picture: Michael Willson, AFL Photos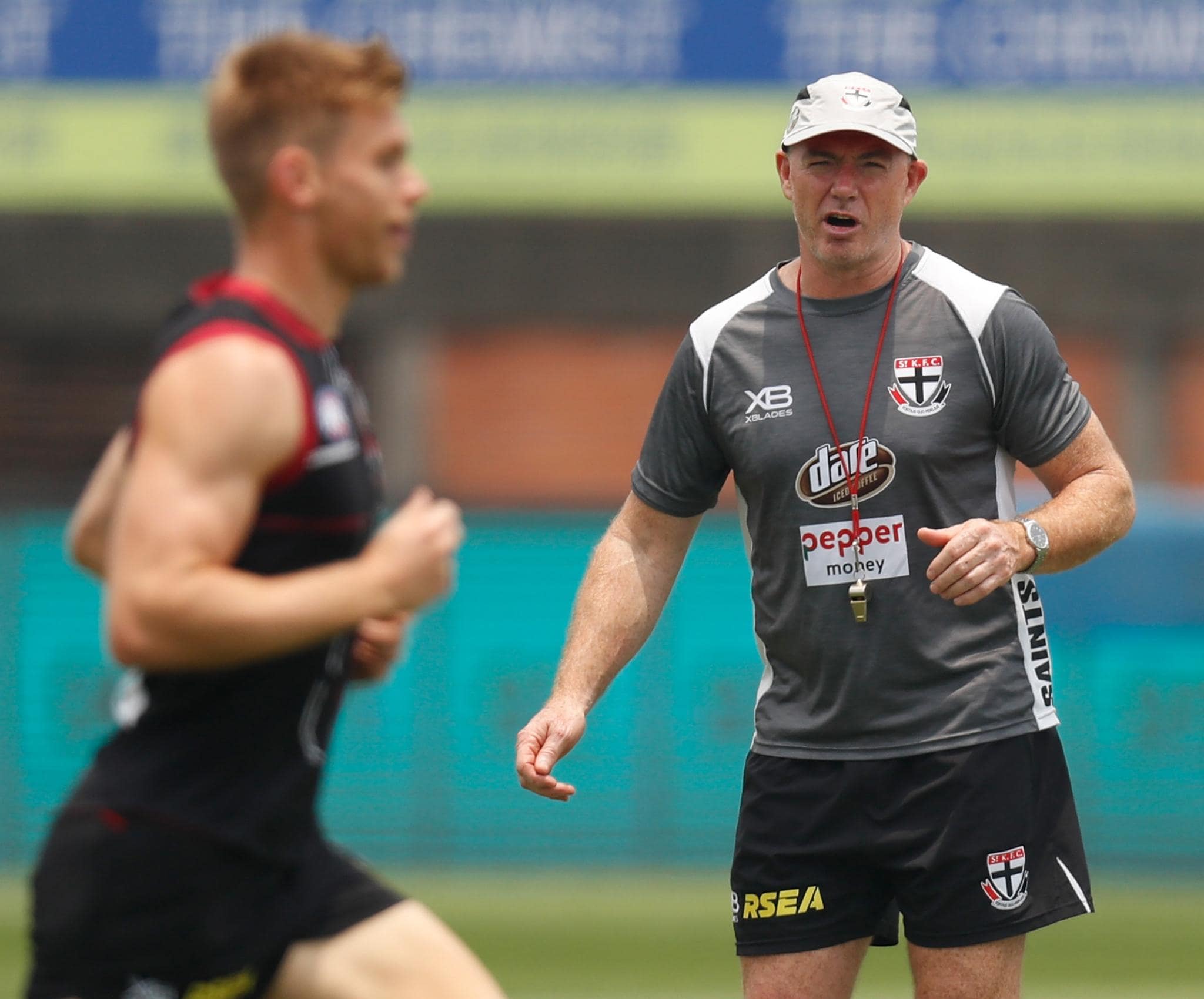 Despite the complications, Lade insisted the side hadn't been deterred from making the trip to China.
It's the Saints first time in China, and they have signed an agreement to face the Power here in 2020 and 2021 as well.
"Definitely not (enough to put us off the experience). It's great coming here to Shanghai. I've been here the last two years with Port. For a group to come over and spend four or five days here, that's really good for the group and we just need to get the result now," Lade said.
Find In the Game on Apple Podcasts, Google Podcasts or Spotify