STEPHEN Coniglio is firming for an against-the-odds comeback in Saturday's Grand Final after his biggest session post-knee surgery on Monday.
The Greater Western Sydney midfielder has hit full speed and now faces a make-or-break hitout on Wednesday in his bid to convince coach Leon Cameron to he's fit to tackle Richmond.
After a cautious start to his rehabilitation in July, Coniglio continued to ramp up his agility movement on Monday.
Stephen Coniglio at training last week. Picture: Getty Images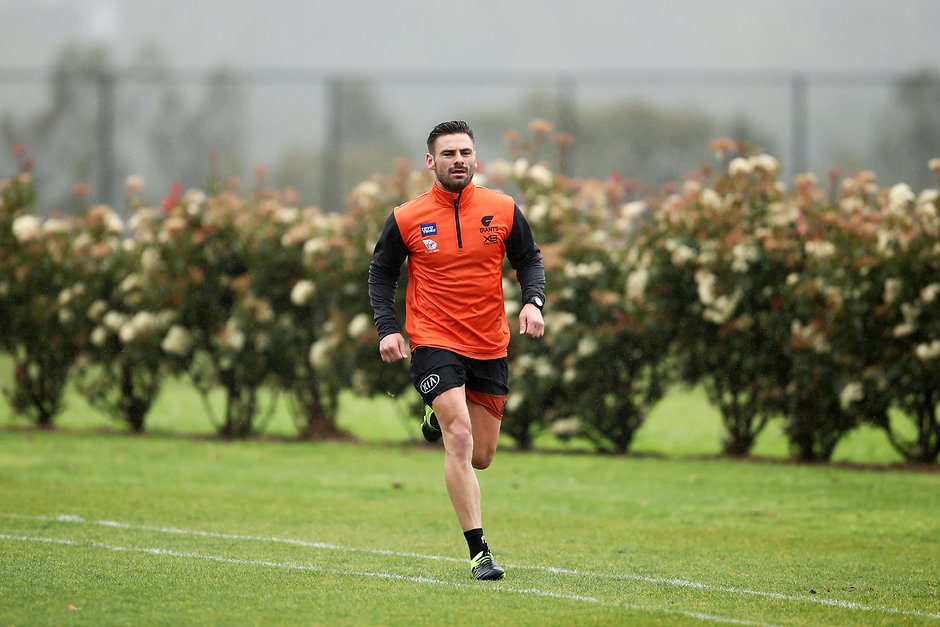 "I did some more footy stuff which I haven't had a lot of time doing," Coniglio said at the club's Brownlow Medal function at Giants Stadium.
"I've got to get back in the team, Leon has to pick me, then we'll have some chats from the medical staff in the next 48 hours and get some recommendations off them.
"For the coach's perspective as well, there's probably a little bit more that he wants to see, and I'll get over that over the next few days.
"I felt really good and pulled up really well which is the main thing. - Stephen Coniglio
"Our fitness staff have been really good. Early stages of my rehab I just wanted to make sure I wasn't (doing anything to) detriment my knee, long-term wise.
"Then as it's gone on I've felt better and better. I'm in a good space, over the next 24-48 hours will be big."
Cameron said Coniglio's history in returning from injury layoffs would work in his favour. In 2017 he collected 24 and 27 disposals in two matches returning from lengthy ankle setbacks.
"His next major session will be Wednesday when we train, if he gets through that and we think he can play a full game of footy, then obviously he'll get the nod," Cameron said at the Giants' function.
"Stephen will make that choice with us. He's had a really good 10 days, so that's going to go in his favour if he gets the nod this week.
"It's a load thing, it's a stability thing, we know Richmond are going to go the distance. We've got to be really careful about taking players in that might be a little bit underdone. He's got a good record first-up which goes in his favour."
Fellow midfielder Lachie Whitfield will push his case for a return at open training on Tuesday following surgery to remove his appendix.