2019 INDUCTEES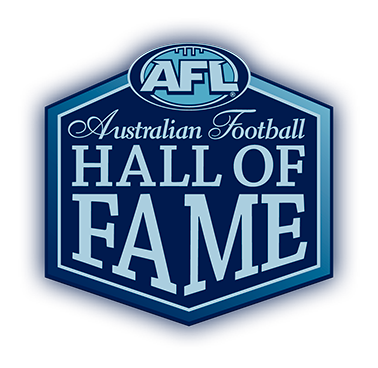 TREVOR BARKER
THE LATE Trevor Barker was a footballing rarity – the standard bearer at his club in virtually every conceivable way.
He was his club's best player, most skillful player, most spectacular, most athletic, most courageous, most selfless, most loyal, most versatile, most committed, its hardest trainer, best tackler and most popular personality.
Barker, who has been inducted into the Australian Football Hall of Fame, was also his club's pin-up boy with a playboy image to match, blessed with boyish teen-idol looks featuring blond locks and suntanned skin.
And, tragically, Barker is also one of football's most mourned figures following his death from cancer in 1996 at the age of just 39 when a St Kilda coaching career beckoned.
Trevor Barker – 2019 Australian Football Hall of Fame inductee

| | |
| --- | --- |
| Born | October 7, 1956 |
| Playing career | St Kilda (1975-89) |
| Games played | 230 |
| Goals | 134 |
| Player honours | Two-time St Kilda best and fairest (1976, 1981), St Kilda captain (1983-86), St Kilda Team of the 20th Century, St Kilda Hall of Fame Legend, 6 State-of-Origin games for Victoria |
| Coaching career | Sandringham coach (1992-94) |
| Coaching honours | Two-time Sandringham Premiership coach (1992, 1994) |
Never mind that the club he represented for 15 years was the struggling Saints, who claimed seven wooden spoons and won just 27 per cent of their games in his era, or that Barker still holds the unflattering record of playing the most games without a finals appearance (230).
"I know that used to hurt 'Barks' but, looking back, he was a winner – in every facet of life," former teammate Danny Frawley told AFL.com.au.
The pin-up boy who flew
The son of local footy legend Jack Barker, who – like Trevor – has an oval named after him, Barker grew up barracking for the Saints and came to their attention while playing for Cheltenham.
After just one reserves game for St Kilda in 1975, the 18-year-old made his senior debut as a lightly built half-forward and produced an impressive first season in a team that finished just outside the finals.
Looking at him on the ground it was almost like seeing a polar bear in the Sahara, or a lion in the Arctic."
The next year coach Allan Jeans swung Barker to full-back, where he was dwarfed by many of his opponents. Excited by the challenge, the high-flyer Barker made a quantum leap, winning St Kilda's best and fairest.
"I always thought it was a good move. Probably because I could jump it never worried me," Barker told author Russell Holmesby for the 1995 book Heroes With Haloes: St Kilda's One Hundred Greatest.
And, boy, could he jump. Barker's coaches gave free reign to his extraordinary marking ability, resulting in some acrobatic, skyscraping grabs that feature on a highlights reel that rivals that any of the game's great aerialists.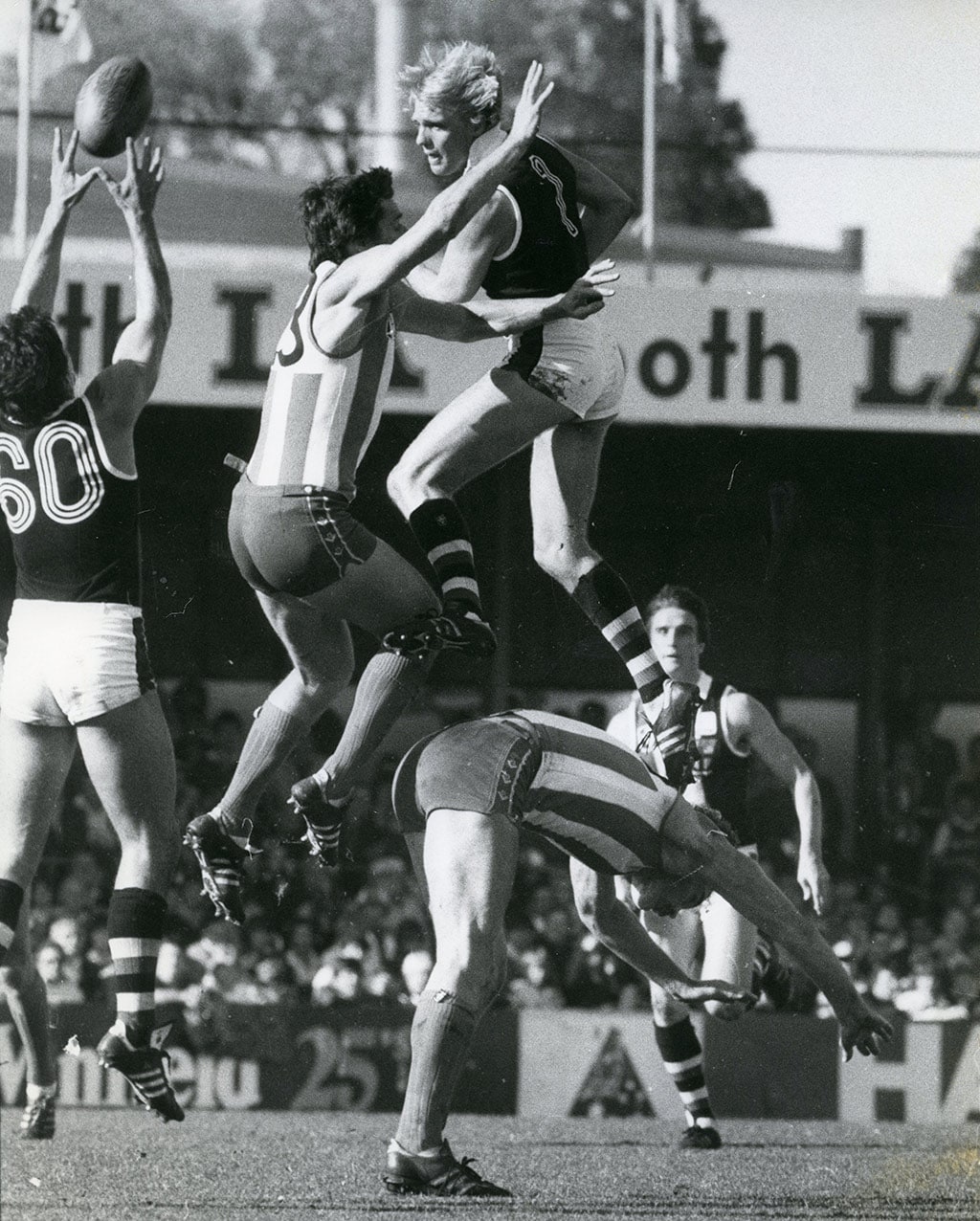 "He was only six foot (183cm) and less than 80 kilos and he was playing on guys like Michael Roach, Peter Hudson. His one-on-one ability was the best I've ever seen. He was just a huge competitor," Frawley said.
I remember looking around the ground and everyone had his No. 1 on their back."
The adaptable Barker was ideally suited to a half-back flank, where he won his second club best and fairest in 1981 (when he also finished equal fifth in the Brownlow Medal) and where he'd earn posthumous selection in St Kilda's Team of the Century in 2000.
Underlining his value, he also starred as a ruck-rover and proved dangerous when thrown forward.
"Through those late 70s and 80s, it was Trevor Barker or bust really," Frawley said.
"I remember looking around the ground and everyone had his No. 1 on their back."
'I wanted to be Trevor Barker'
One of those Barker fanatics in long sleeves was a young Luke Beveridge, now Western Bulldogs coach.
"I wanted to be Trevor Barker," Beveridge told AFL.com.au.
"Looking at him on the ground it was almost like seeing a polar bear in the Sahara, or a lion in the Arctic – he just stood out.
"He was a good-looking man and he was only medium-sized but he had amazing courage and he could virtually play anywhere."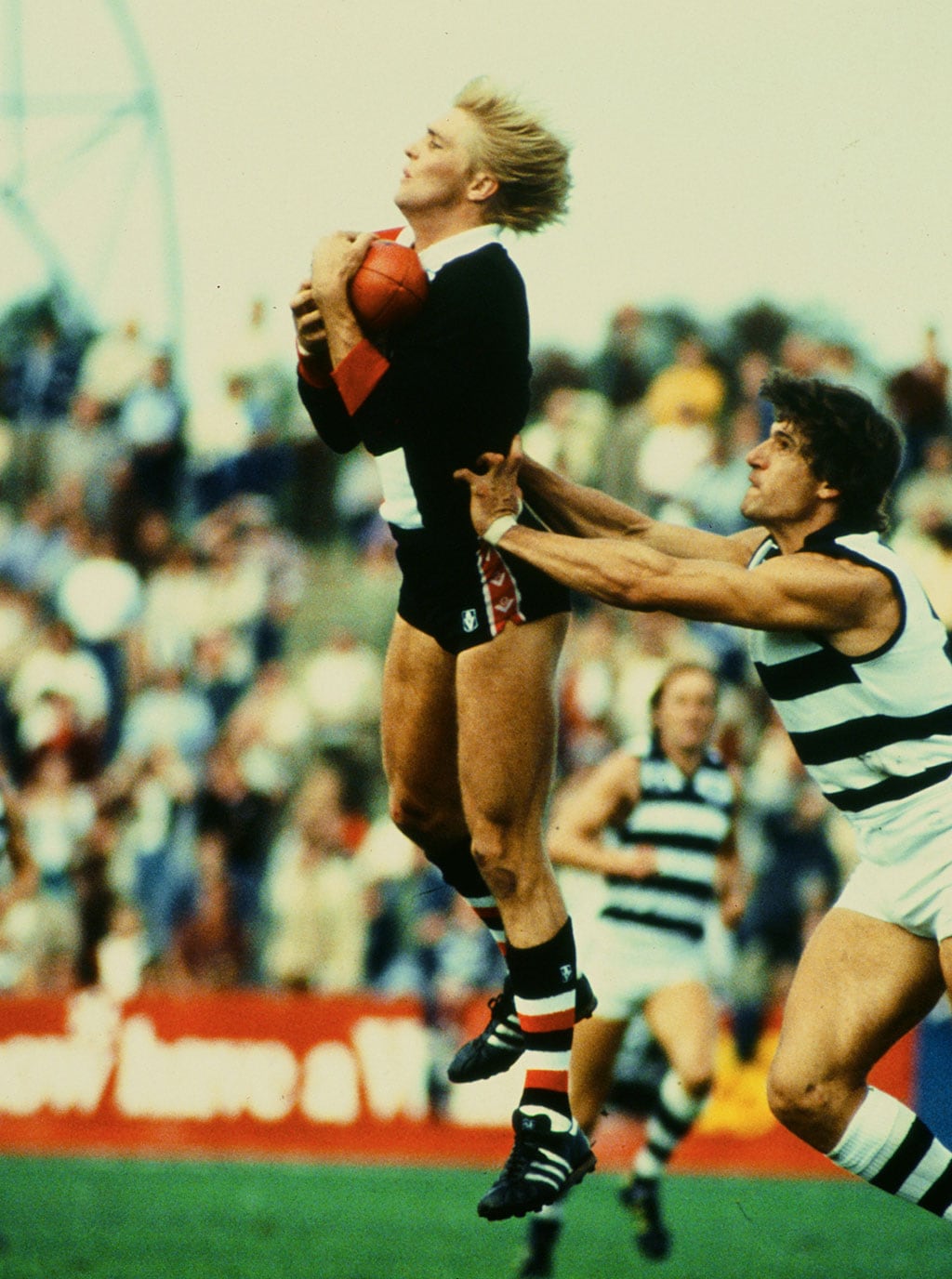 Frawley believes some of Barker's marking prowess can be attributed to his "great" wicketkeeping skills in cricket.
"He never fumbled. He was just a freak. His hand-eye coordination was some of the best I've ever seen," Frawley marvelled.
A leader who took pay cuts without complaint
Barker captained St Kilda from 1983-86 and proved a popular leader.
"He was very inclusive. He would've been a great leader in any era. He didn't judge. If you wore the St Kilda jumper, you were a part of his fold," Frawley said.
Bigger clubs made lucrative offers to Barker but he rejected them all out of loyalty to the cash-strapped Saints. In fact, he accepted pay cuts without complaint and even donated his 1981 best and fairest prize, a car, back to the club.
An emotional Frawley said the Saints' Latin motto 'Fortius Quo Fidelius', translated as 'Strength Through Loyalty', was "all about Trevor Barker".
The hammering Barker copped from bigger opponents eventually wore him down and his final seasons were derailed by injuries.
He was appointed coach of Sandringham and built a selfless culture that drove the club to premierships in 1992 and 1994.
Other AFL clubs offered Barker roles but he returned to St Kilda as an assistant coach under Stan Alves.
Frawley and Beveridge (who played under Barker in the Saints' reserves) have no doubt he would have been the club's next coach.
In tribute, St Kilda named its best and fairest the Trevor Barker Award, while Sandringham (the Saints' VFL affiliate since 2009) renamed its Beach Oval headquarters as the Trevor Barker Beach Oval.
WHO'S IN THE HALL OF FAME? Find all the Legends and inductees