AS THE 2018 season rapidly approaches, AFL statistician Cameron Sinclair has run the rule over this year's playing group.
Wondering which current player has the most career kicks? Or handballs? What about the players who have played for the most clubs? The tallest, the shortest, the heaviest and the lightest? They're all here too.
Read on for all the facts and stats you need to know - and even some you don't...
Players with the most
Most clubs listed by: 3 - Kyle Cheney (Melb/Haw/Adel), Stewart Crameri (Ess/WB/Geel), Jed Lamb (Syd/GWS/Carl), Lachie Henderson (BL/Carl/Geel), Josh Caddy (GC/Geel/Rich), Koby Stevens (WC/WB/StK).
Players listed by multiple clubs: 187 (all 2018 players who have been listed with another AFL club prior to their 2018 club)
Most games: Shaun Burgoyne (Haw), 341
Most finals: Shaun Burgoyne (Haw), 33 (14 with PA, 19 with Haw). Ranked second all-time

Most goals: Lance Franklin (Syd), 860 (580 with Haw, 280 with Syd). Ranked 10th all-time
Most behinds: Lance Franklin (Syd), 616 (422 with Haw, 194 with Syd). Ranked fifth all-time
Most marks: Brendon Goddard (Ess), 1966
Most disposals: Gary Ablett (Geel), 7683
Most kicks: Luke Hodge (BL), 4308
Most handballs: Gary Ablett (Geel), 3674
Most tackles: Gary Ablett (Geel), 1326
Most frees for: Joel Selwood (Geel), 673
Most frees against: Lance Franklin (Syd), 541

Most Brownlow votes: Gary Ablett (Geel), 234
Most best and fairest wins: 6, Gary Ablett, (Geel 2007, 2009; GC 2011, 2012, 2013, 2017)
Most Colemans: 4, Lance Franklin (Syd), (Haw 2008, 2011; Syd 2014, 2017)

Most premierships: 4, Luke Hodge (Haw 2008, 2013-15), Grant Birchall (Haw 2008, 2013-15), Shaun Burgoyne (PA 2004, Haw 2013-15), Cyril Rioli (Haw 2008, 2013-15); Jarryd Roughead (Haw 2008, 2013-15); Jordan Lewis (Haw 2008, 2013-15)
Most Grand Finals: 6, Shaun Burgoyne (PA 2004, 2007; Haw 2012-15)
Most Grand Final losses: 3, Lance Franklin (Haw 2012; Syd 2014, 2016); Jarrad McVeigh (Syd 2006, 2014, 2016)
Can Gary Ablett add to his six club best and fairests? Picture: AFL Photos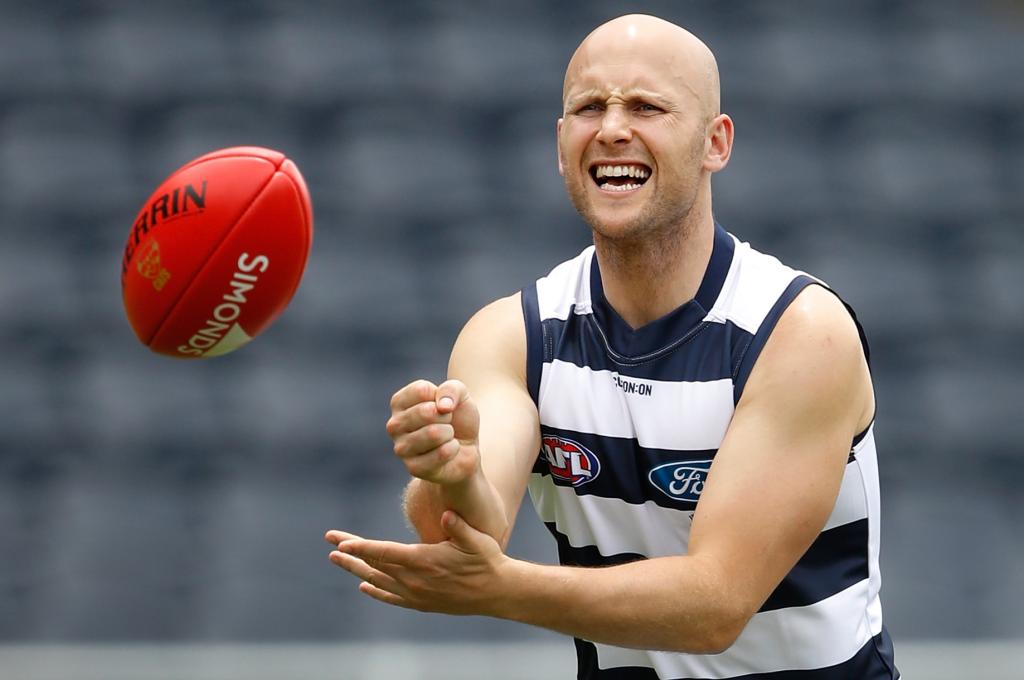 Age and experience
Youngest: Tom McCartin (Syd), 30/12/1999. Aged 18 years, 85 days at round one
Oldest: Shaun Burgoyne (Haw), 21/10/1982. Aged 35 years, 154 days at round one
Teenagers: 151
Twenties: 600
Thirties: 57
* All ages based on first game of the 2018 home and away season
Yet to debut: 186 players
1-99 games: 419
100-199 games: 155
200-299 games: 43
300+ games: 5
Sydney's Tom McCartin in action at the NAB AFL Draft Combine. Picture: AFL Photos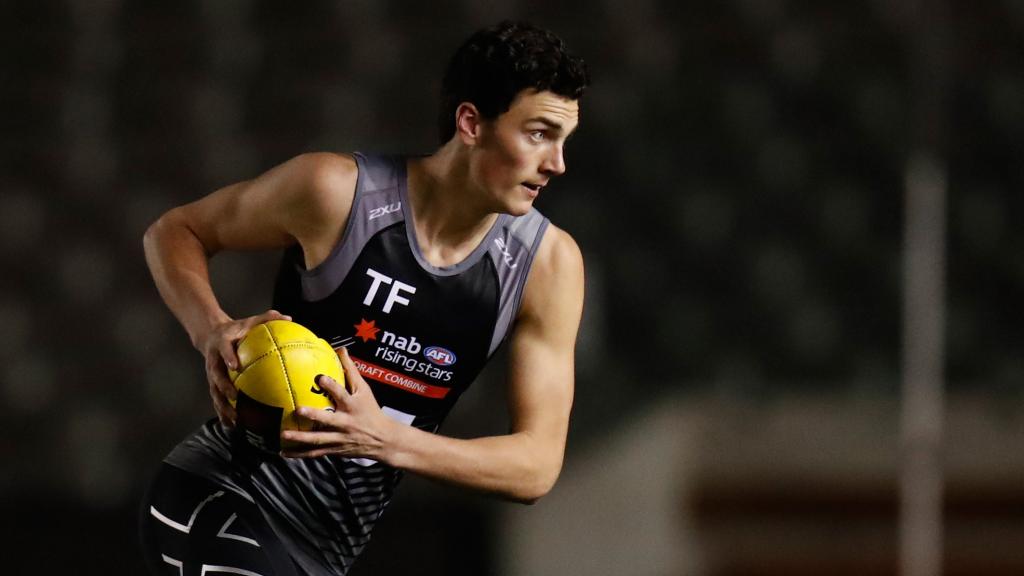 Heights and weights
Tallest: Aaron Sandilands (Frem), Mason Cox (Coll), both 211cm
Shortest: Caleb Daniel (WB), 168cm
Heaviest: Aaron Sandilands (Frem), 118kg
Lightest: Dylan Moore (Haw), 66kg
Mason Cox dwarfs James Aish during a boxing session. Picture: Getty Images.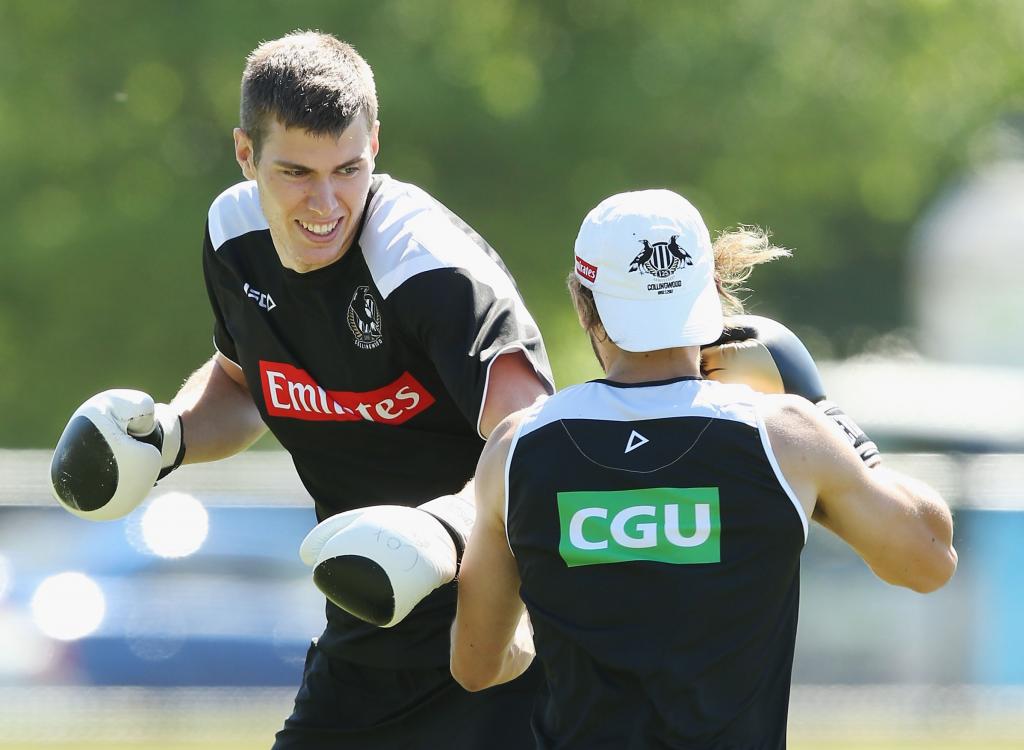 Draft facts
No.1 NAB AFL Draft picks still playing:
Cameron Rayner (BL), 0 games
Andrew McGrath (Ess), 21 games
Jacob Weitering (Carl), 42 games
Paddy McCartin (StK), 22 games
Tom Boyd (GWS, now WB), 49 games
Lachie Whitfield (GWS), 90 games
Jonathon Patton (GWS), 77 games
David Swallow (GC), 97 games
Tom Scully (Melb, now GWS), 151 games
Jack Watts (Melb, now PA), 153 games
Matthew Kreuzer (Carl), 161 games
Bryce Gibbs (Carl, now Adel), 231 games
Marc Murphy (Carl), 236 games
Brett Deledio (Rich, now GWS), 250 games
Brendon Goddard (StK, now Ess), 312 games
Luke Hodge (Haw, now BL), 305 games
Tom Boyd and Luke Hodge are the only current No.1 picks to play in a premiership side.
Tom Boyd celebrates his famous last-quarter goal in the 2016 Grand Final. Picture: AFL Photos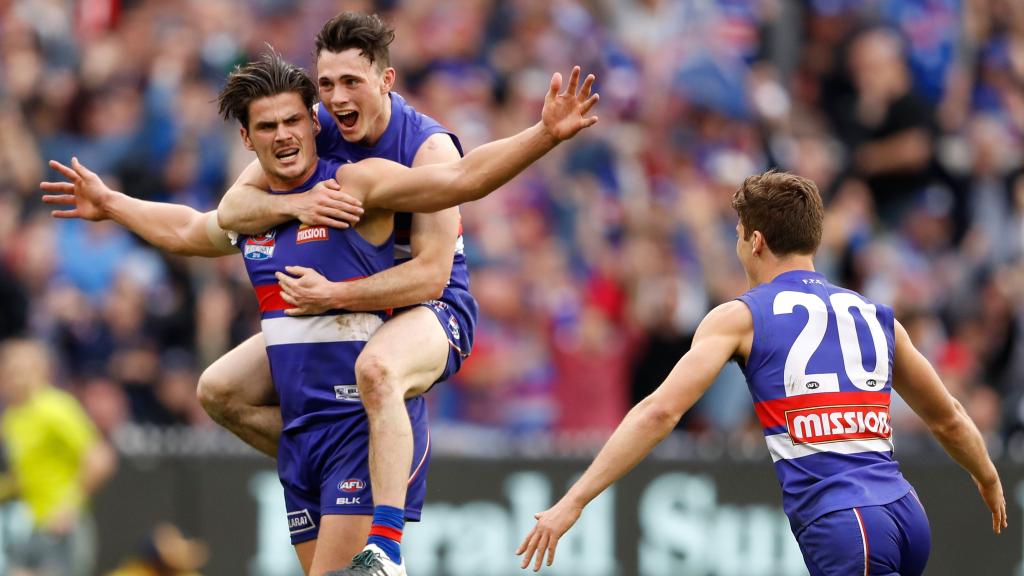 Highest drafted current player: No.97 – Jake Barrett (GWS, now BL), 2013 NAB AFL Draft (18 games)
There are eight current players drafted with higher picks than 97 but they were all either rookie elevations where the highest possible pick is always used to elevate a player, or a recycled player being re drafted. Barrett at 97 is the highest original selection of the current players.
Brisbane Lion Jake Barrett, the player originally drafted with the highest pick. Picture: AFL Photos

Where they're from
Victoria - 430
Western Australia - 114
South Australia - 102
New South Wales - 54
Queensland - 42
Tasmania - 27
Northern Territory - 17
ACT - 8

Overseas – 14
* Based on the state they first played their football in